Exciting names to know and follow in the world of jewellery.
LEEN HEYNE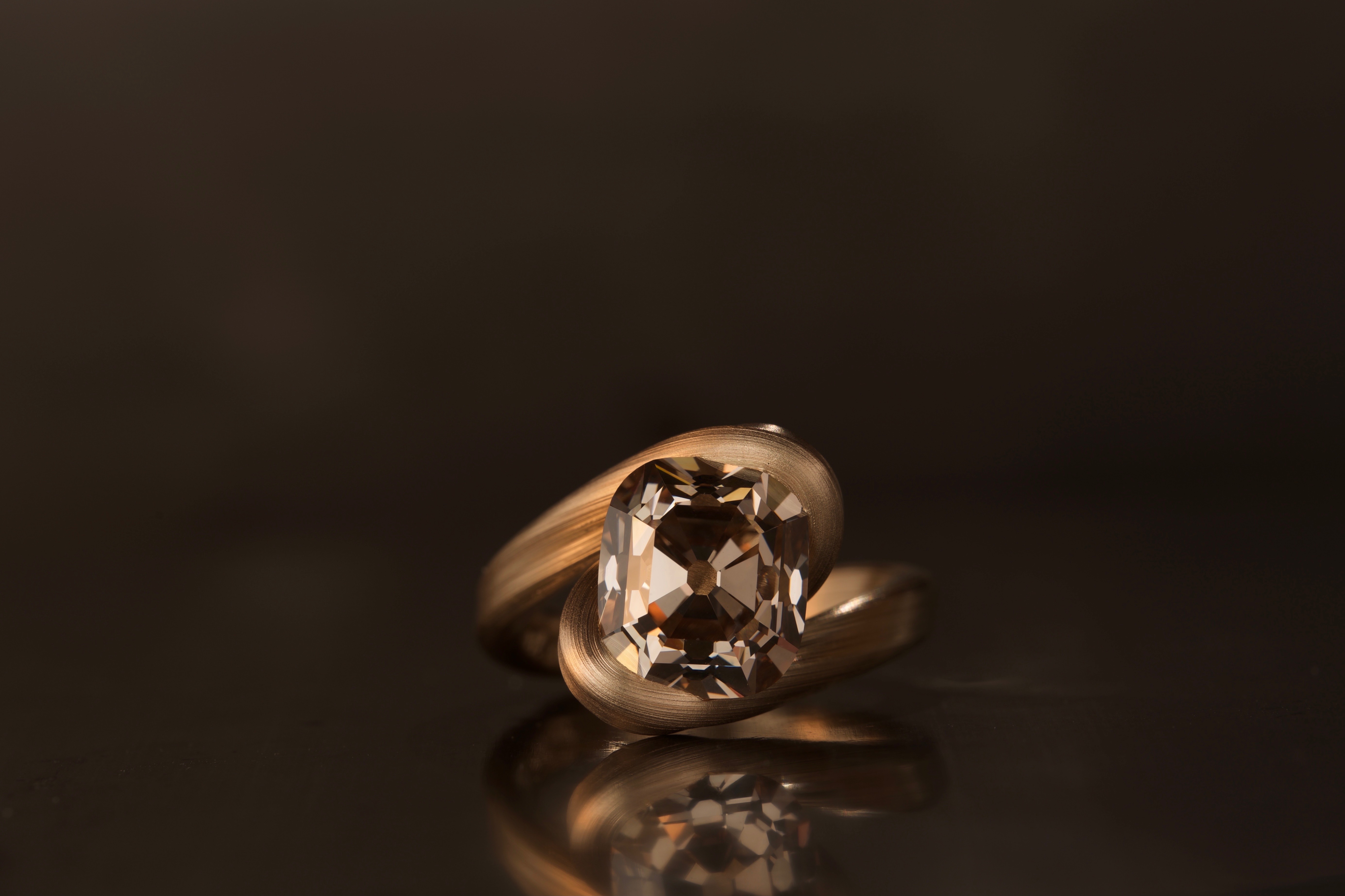 When Leen Heyn was about seven years old, he would often make jewellery for his mother or his teachers at school. Growing up in Tilburg, in the south of the Netherlands, Leen was influenced by everything Dutch, but, when he began goldsmithing, it was Jugendstil – the artistic style that arose in Germany and swept across Europe – that captivated him.
"Back in the day, I had a small studio where I'd experiment with materials, tools, and gems," Leen reminisces. He studied goldsmithing in the Netherlands (Schoonhoven), but also learned a lot from master goldsmith and jeweler Jos van den Elzen, in Den Bosch, where he apprenticed for a few years.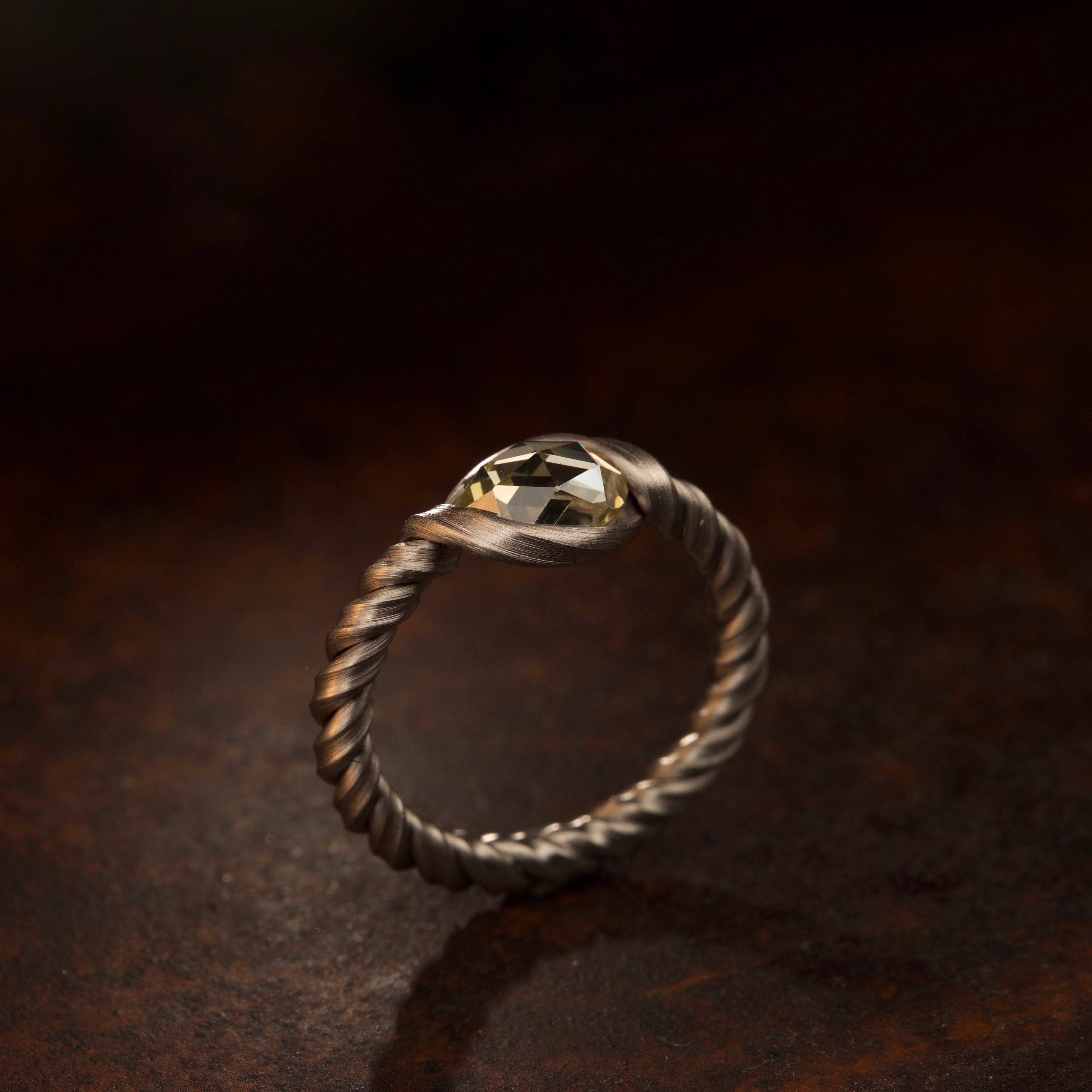 His eponymous brand started with a ring, nearly ten years ago. Today, metals tend to influence the shapes and forms of his designs. Rings, bangles, and cuffs fold, wind, knot, twist and loop into sinuous curves. He articulates metal compositions in an exquisite symphony with diamonds. Brown diamonds, grey golds, and old European brilliants are cradled in his gold and platinum pieces. Roman tube making techniques and Viking twists are adapted by Leen, as he plays with tension setting. "I came up with a way of pushing the metal around the stone so as to envelop it better," he says. His diamond rings and bangles may remind you of the exposed roots of a tree winding around a rock. Each piece of jewelry, he explains, starts with a single strip of precious metal, teased into wavy forms.
Examine closely and you will see deep lines, like brush strokes, on the metal surface. "I meticulously pre-sand the strips before working on it. This ensures the deep lines formed on the strip flow and bend along as I turn them into rings or bangles." Dispensing with soldering unless he deems it crucial to the process, he adopts welding to work on his precious creations. "It is, therefore, challenging to recreate the same piece."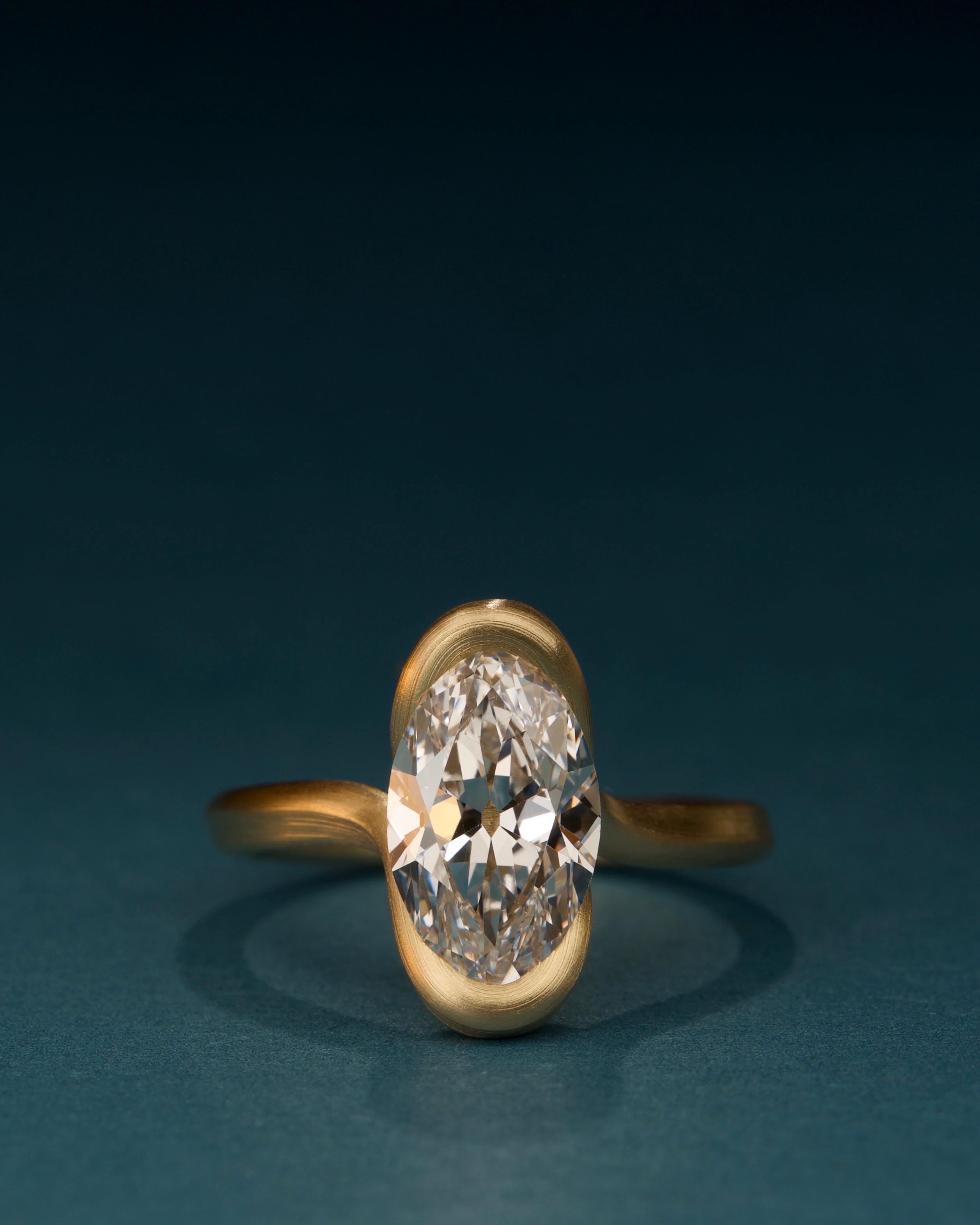 The designer allows the gems to "talk" to him and tell him what designs he should make to complement the stone. The designer also seeks out old-mine cuts. "I often prefer the way they are cut over modern cut diamonds. They are cut to the crystal, showing its true nature. These stones are cut by hand, which would take months; no two old-mine cut diamonds are the same – and this imbues the gem with a unique personality."
Each new idea is translated into a sketch and he works with copper or a less precious metal. "I never use wax nor do I cast anything. Every model I make is hand forced." Many of his rings are also a great pick as alternative bridal rings – engagement rings and wedding bands.
These days, the designer is busy at his Tilburg studio obsessing over a beautiful piece of jade. "The ring is far from finished but I'm already loving its misty beautiful green appearance. Let's see how it turns out," says Leen.
MING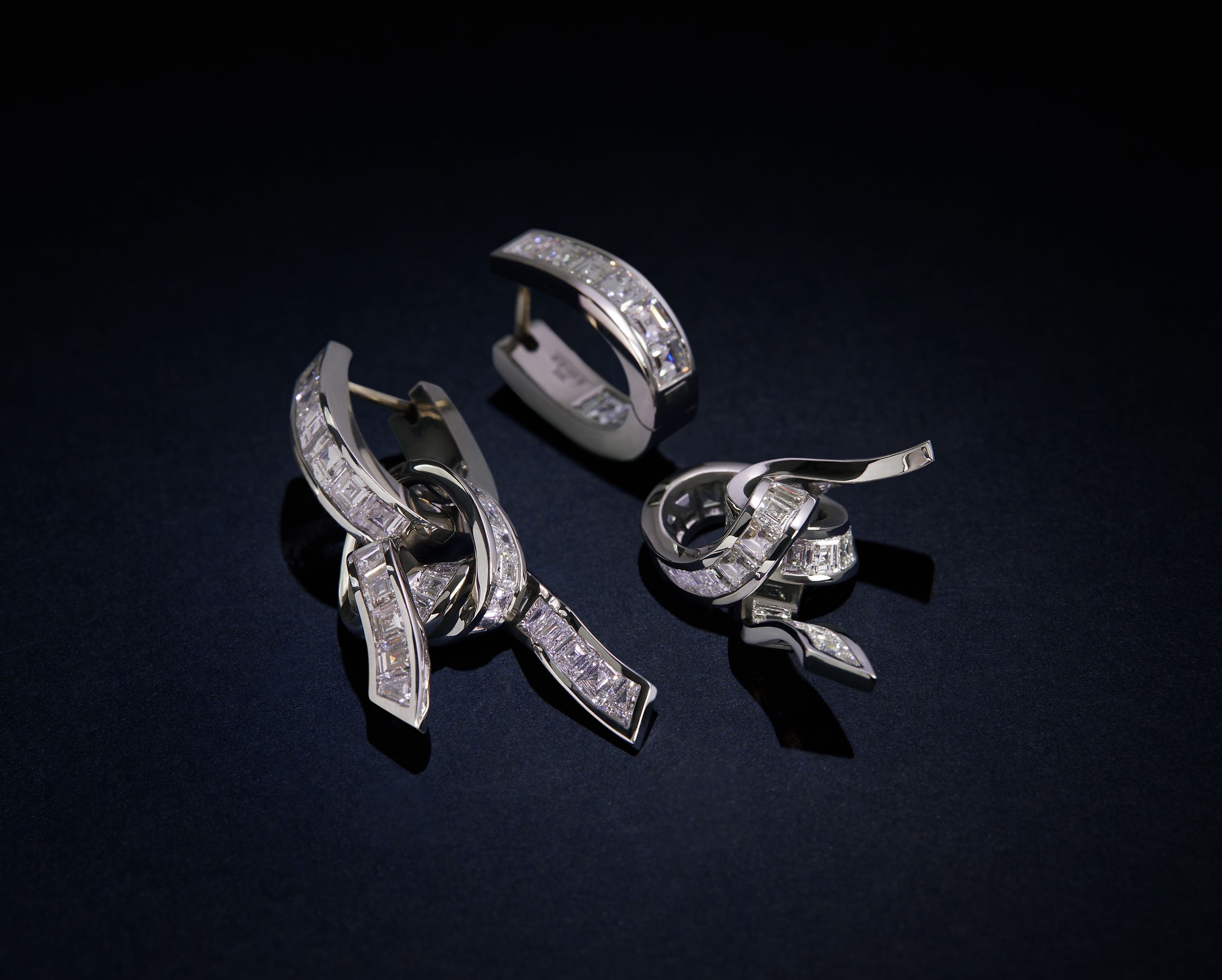 England-raised Ming Lampson she was born in Sydney, travelled to India and Sri Lanka, and stayed in Asia for over two years before moving back to London. As a result, Ming's luxurious wearables are blended with ancient and contemporary influences from her travels. Her creations are unmistakably her – classical with a hint of Asia and a dose of punk. "From this standpoint, I explore themes to create sculptures from stone and metal," she adds.
The designer recalls her time in India as being immensely influential to her career. While she was there, she learnt goldsmithing from the local craftsmen and gemology from the many cutters and dealers who worked in the city. "Having such exposure to traditional techniques of working by hand and seeing such a wide variety of gemstones has shaped my work ever since," says Ming.
"I enjoy challenging myself and pushing the boundaries of my craft. I always want to try things that are innovative or technically difficult," she shares. Her training in jewellery making at a London University (now called The School of Art, Architecture and Design), Diamond Diploma at the Gemmological Association of Great Britain, and studying Coloured Stones and Pearls at the Gemmological Institute of America (GIA) have shaped her unique vision that enables her to make immensely desirable jewels.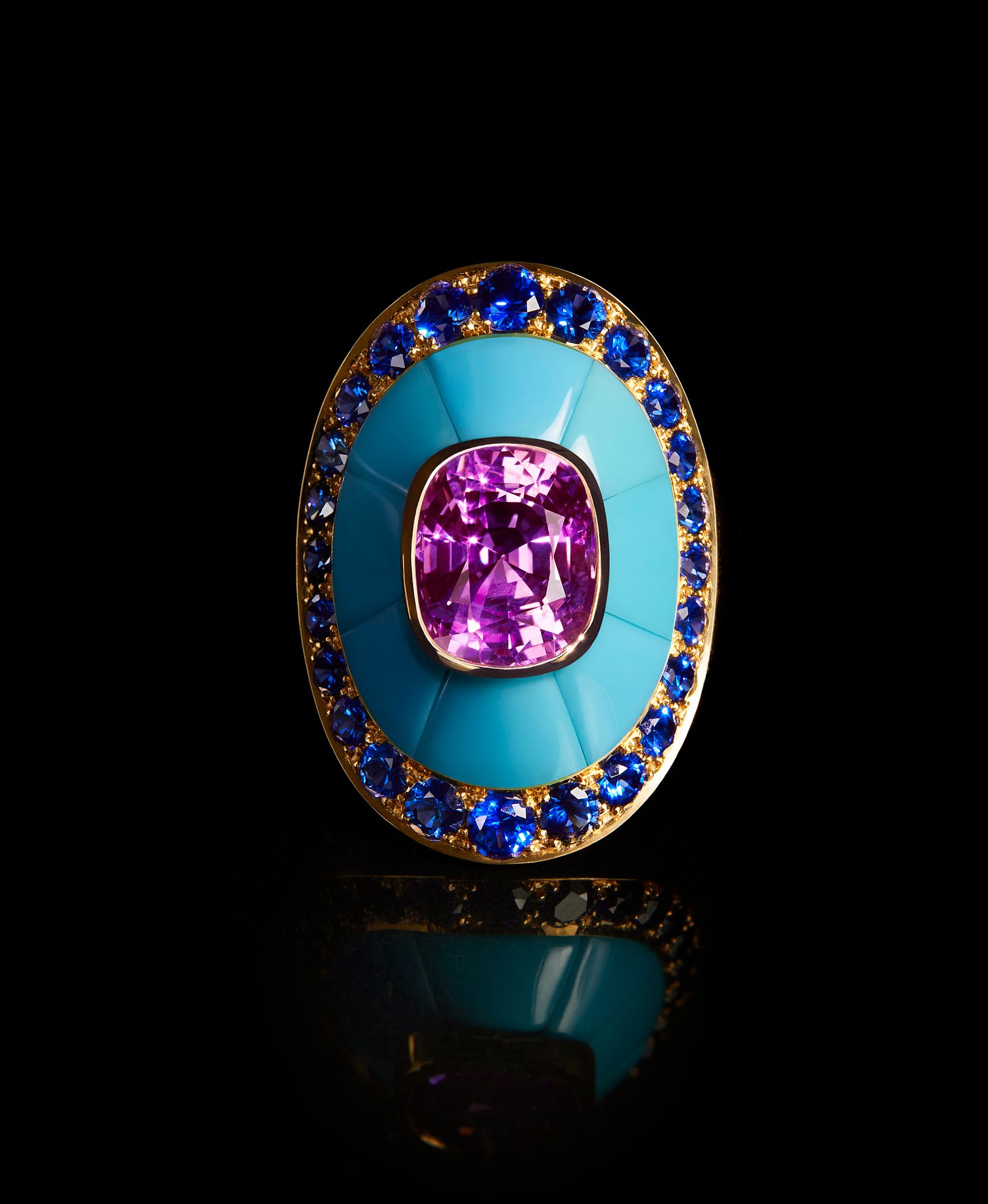 Since launching in 2000, her brand has been about "gemstones and bold sculptural shapes." Her creative aesthetic hinges on geometry even when she is busy drawing organic or floral shapes. Ming also adores gemstones. "Even though I have been making jewellery for nearly 30 years, my passion for stones is greater than ever. It is impossible for me not to use bold gems and cuts as these are the stones that I am transfixed by."
In her recent works, the designer is exploring how jewellery are the totems of stories and secrets. "Who it has been worn by, where and when it was given to them, and for what reason?" These stories, she notes, are hidden unless shared. Some are lost to history, points out Ming. "This has led me to think about what else in the world might hold such stories and secrets that are also hidden from view. Some may be as simple as a chest or a basket concealing treasures or a beaded curtain concealing what is in the room beyond," she reveals.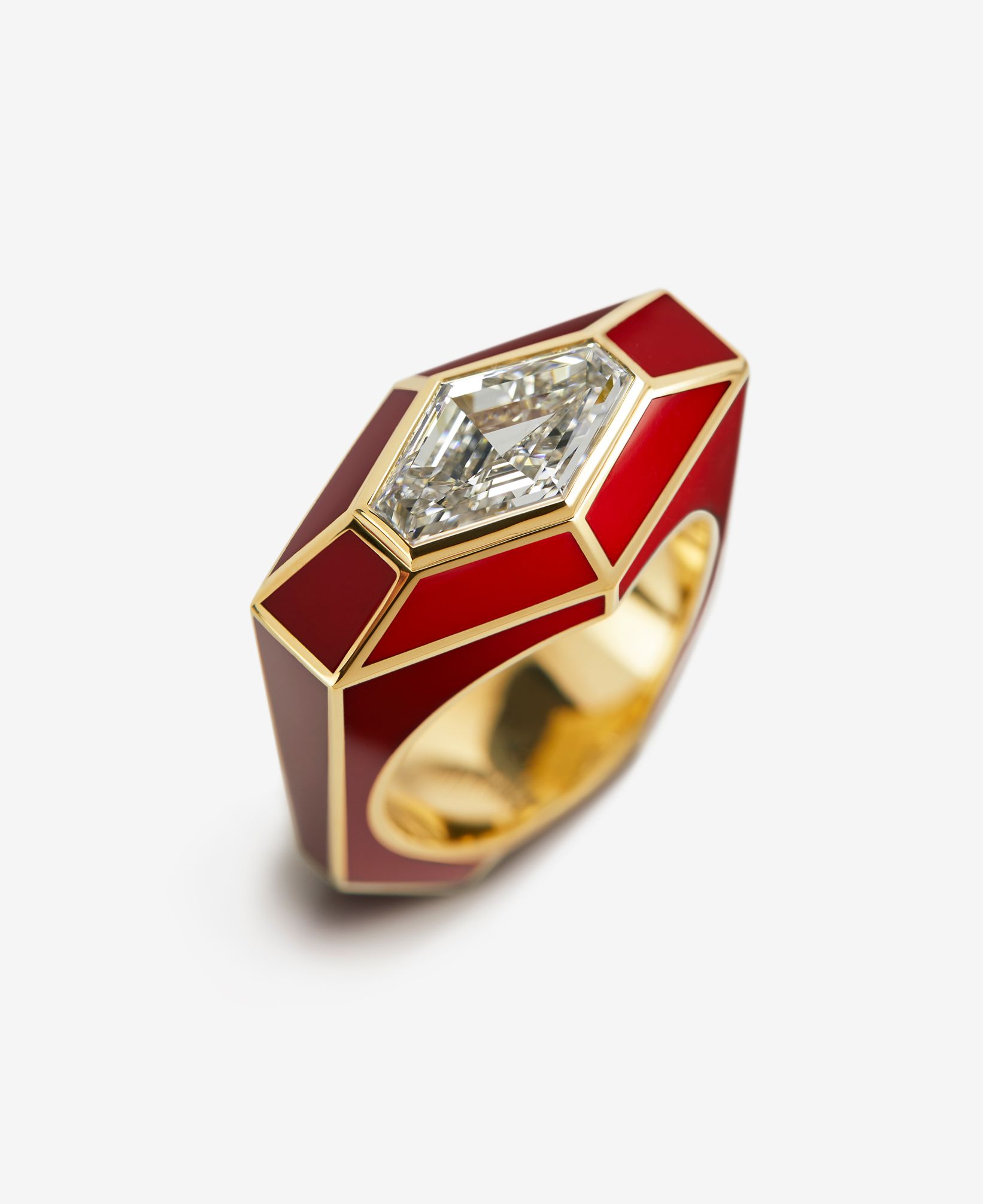 The aim, she informs, is to say something new with each piece. "I will use any process that enables me to create what I have drawn. I love to use custom-cut gemstones and unusual combinations. Traditional enamel alongside modern ceramic." Her designs are always about trying to create a piece that is "befitting to the greatness of the gem" – the Ribbon Ring, Shield Ring, Basket Ring, and the Stained-Glass Ring all focus on how she communicates with materials and gems.
GEOFFREY GOOD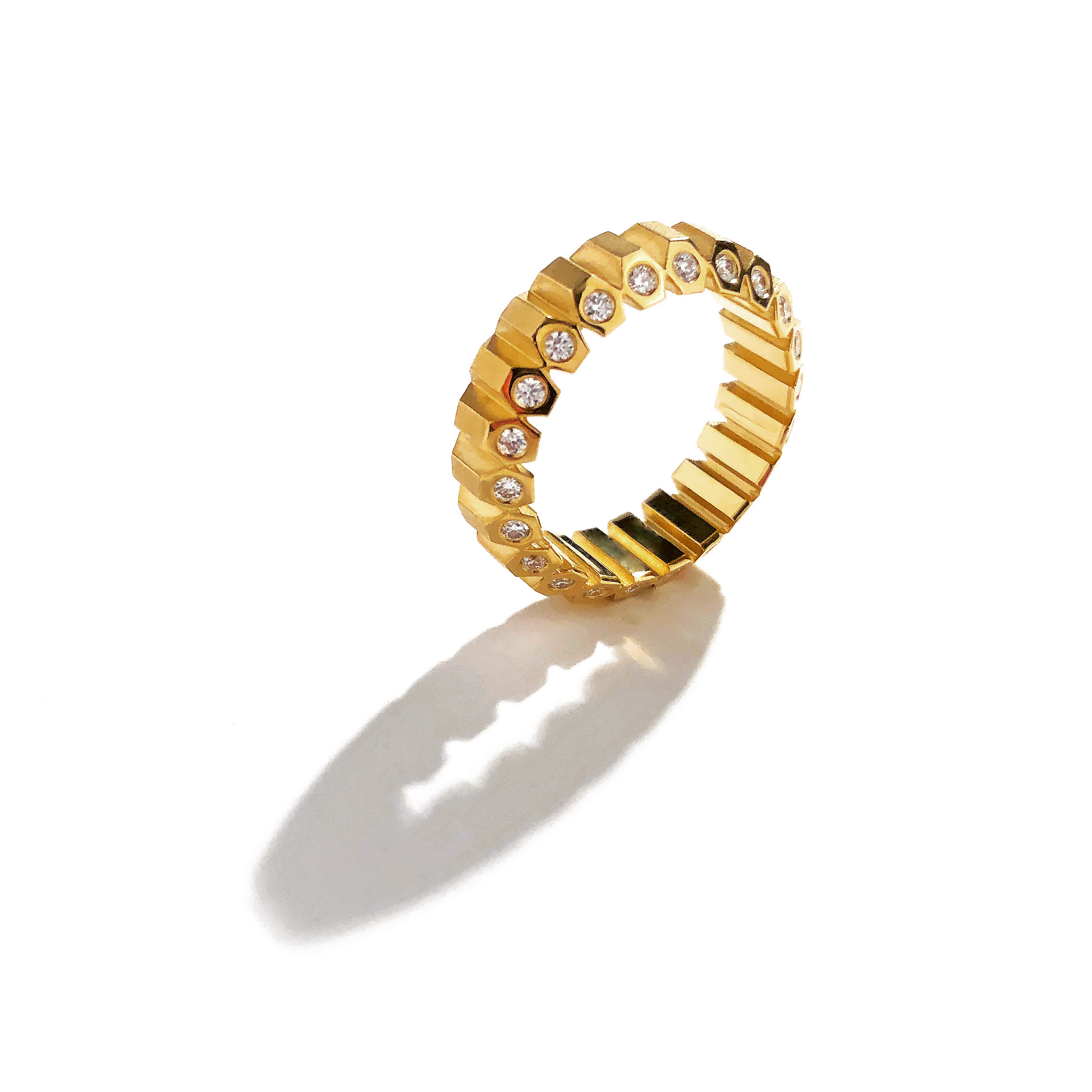 'Less is more' describes so many aspects of the Hex Bar pieces designed by Geoffrey Good. The designer-craftsman brings a cool sensibility to geometric forms, with jewellery that encompasses eternity bands, bar pendants, necklaces, cuffs, stacking rings. and hoops. Restraint is at the core of his pursuit.
Working as a bench jeweller for nearly 25 years, Geoffrey has created some of the most ornate and expensive jewellery in the world for Cartier, Christie's, Sotheby's, Verdura, Taffin, and Fred Leighton. "Having the skills to do so gives one great power as a craftsperson," confides the former Fashion Institute of Technology alumnus. Geoffrey has never worked in any one style and continued to suspend his own aesthetic to focus on craftsmanship and technique. "Only now, after 20 years of making my own pieces – for myself and my clients – do I feel like my own voice is clear and authentic," he says. "But just because one can, doesn't always mean one should." His observation draws on a quote by Mokokoma Mokhonoana: "A minimalist does not charge you for what he did. He charges you for what he did not do."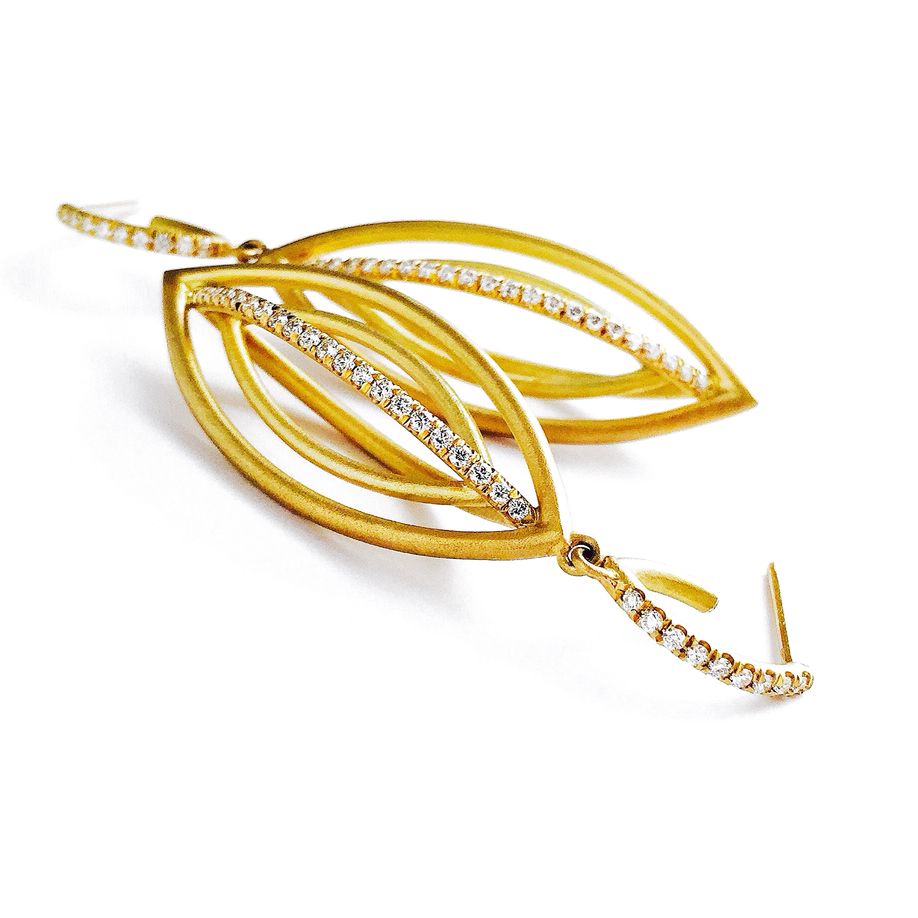 With most of his jewellery influences coming from the work of long-gone jewellers and designers, Geoffrey fashions quiet luxury by forcing geometric forms to conform to the requirements of the human body. His fascination with geometry has rightfully grown into an ambitious offering of wearable designs: The signature Dakar and Revolver bands, Harness and Lamu rings – all adhere to his belief that "jewellery must be both beautiful and functional."
At his atelier, shininess is used thoughtfully and sparingly; contrary to how most contemporary pieces are made today. "Questioning why things have always been done in a certain way has led me to beautiful discoveries," says Geoffrey, who specialises in bespoke jewellery. Clients are often drawn to the obliqueness of his jewellery made in gold or platinum. He often sets stones on angles and in hidden places rather than putting it all on top. "It goes back to the idea of restraint, and also of leaving something to be discovered or seen from an unconventional angle." Case in point: the Hex Eternity bands that have been immensely popular and have diamonds set on the angled ends of the ring rather than on top. Jewellery, observes the designer, might be considered art, but it requires functionality in a way that a painting or sculpture might never need.
SAJJANTE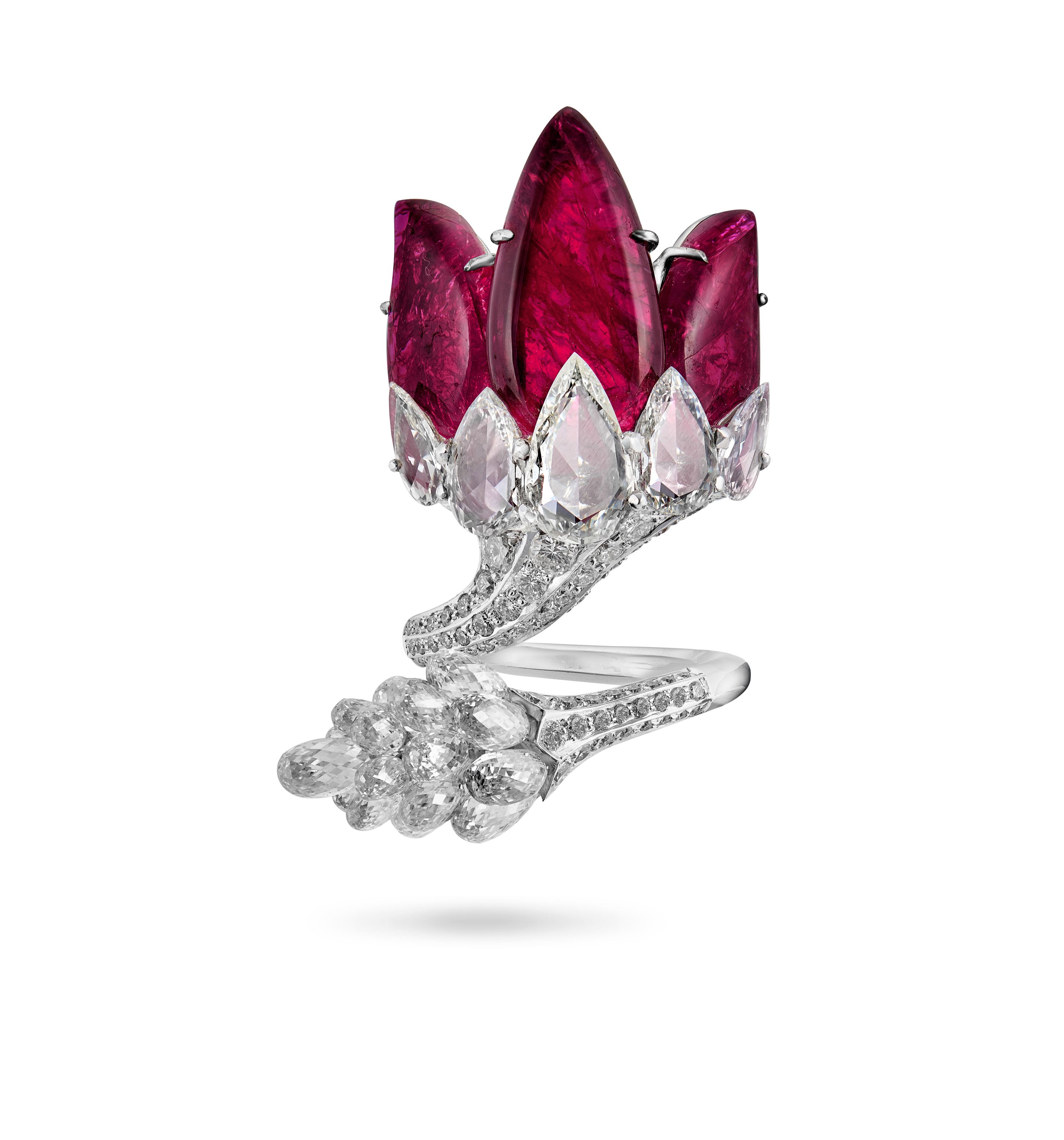 Sajil Shah's narratives in gold explore flora, Mughal motifs, Islamic and Indian art, and architecture. His work also emphasizes traditional craft heritages through contemporary forms. Sajil's penchant for fine, detailed goldsmithing techniques points to his Indian roots, while his signature style nods to his strong understanding of metal and gemstones. "India, its history, culture, people, cities, architecture, and art, has had a huge influence on my work. I firmly believe that all design aesthetics stem from one's experiences," says Sajil, who grew up around dinner table conversations that centred on diamonds, because his family had a diamond manufacturing business.
He began working at a young age in the family-run business and was soon enamored by precious stones. Sajil then decided to join a jewellery school in Florence, Italy, to delve into hand-making techniques. "The unique hand working technique struck a chord with me. The finish on the metal was something that I had never seen before. I still use these age-old techniques in my jewels and combine them with contemporary design, while also referencing Florentine techniques," says the designer.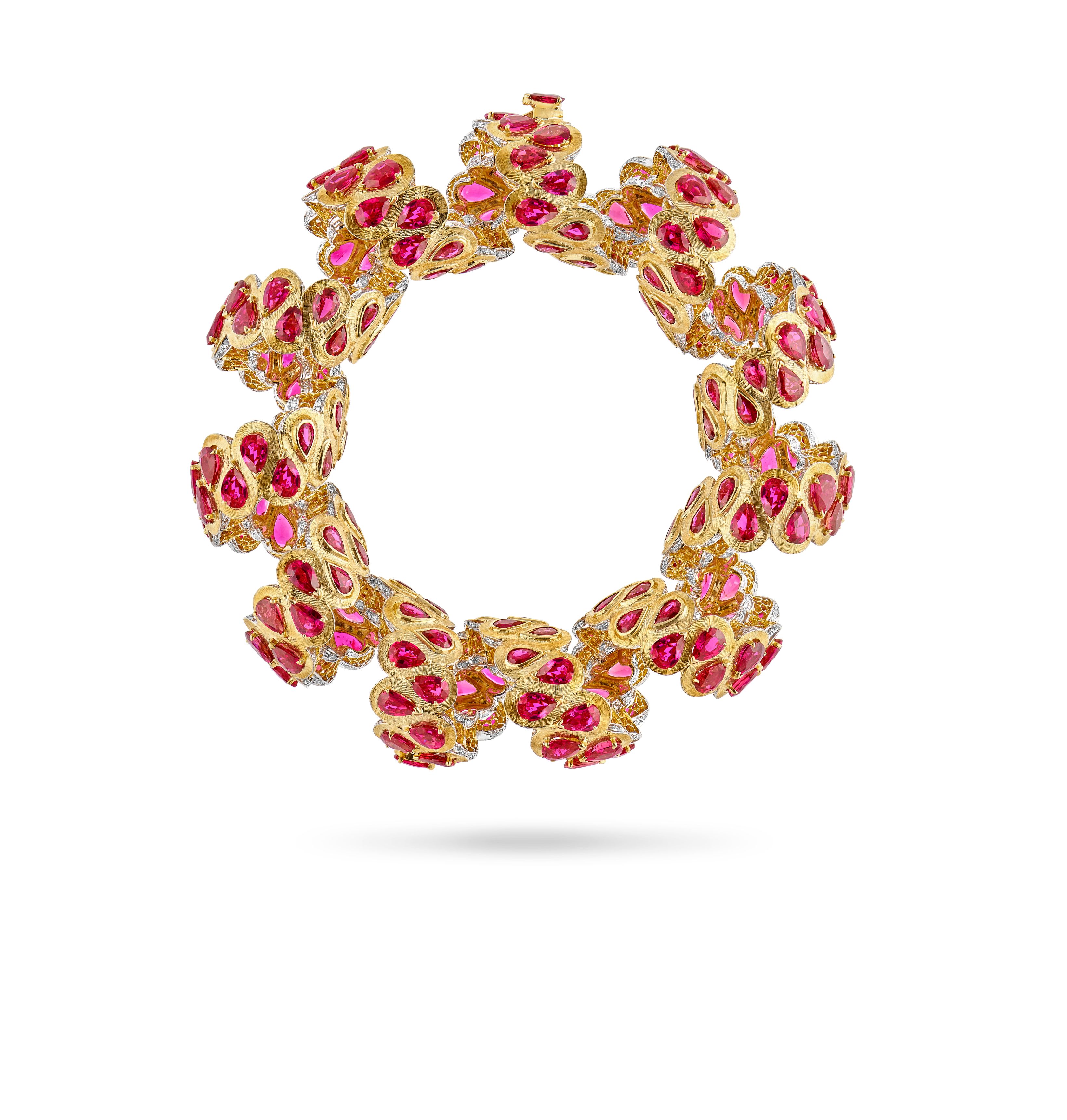 Launching his own line, Sajjante, in 2010 was therefore a natural progression. Gold and diamond mold into a visual language achieved by employing nuanced, dexterous handcraft: Nido di vespa – honeycomb-like lace created from a single sheet of gold metal; Rigato – hand engraved lines on the metal that lend a satiny sheen; and Segurito – infusing a textured feel that resembles fine sand grains. "I still engrave and work on a few pieces myself. I do it mainly to appease the artist within me; I also find it very relaxing," says Sajil, who has trained a small band of artisans that works tirelessly to bring his vision to life.
Ancient Florentine goldsmithing methods are fused with new experiments, leading to prongless diamond settings, as seen in his latest designs. Sparkling diamonds appear to float mid-air. Statement earrings and rings, from his latest assemblage, feature dew-drop like diamonds that perch on the edges of gold. Briolettes and rose-cut diamonds dot his tasteful creations, as do emerald drops. The designer primarily employs emeralds, rubies, and pearls to accent his one-off pieces.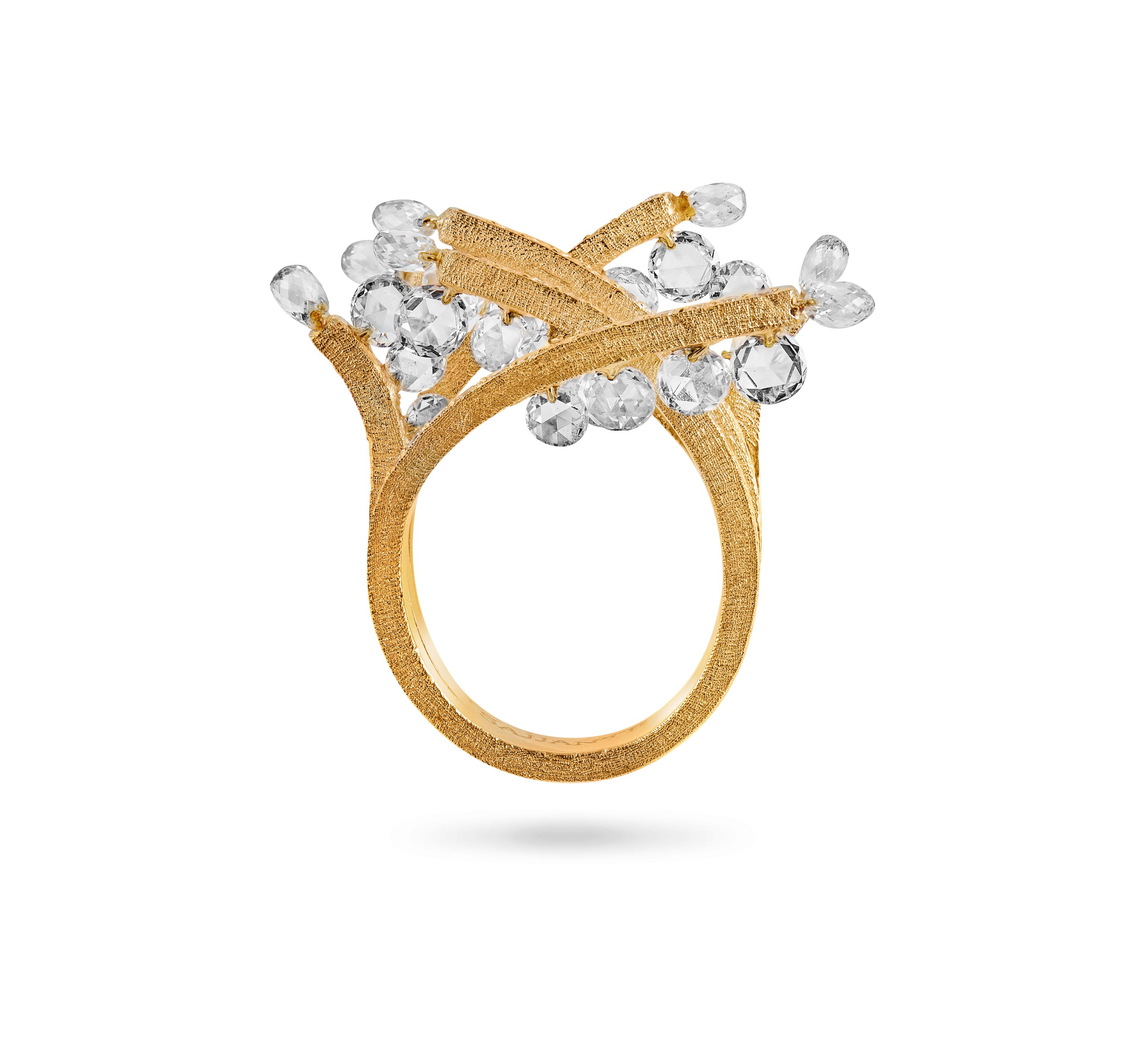 His resolve to steer away from custom designs is intriguing in a mid-pandemic world. "That just doesn't excite me," says the designer. Wondering if there are any takers for these eclectic keepsakes? Sure. They are snapped up by seasoned seekers in his home country, as well as in the Middle East, Russia, USA, and the UK.