With the rise of new-age technology and the proliferation of mechanised production, there's been a resurgence of contemporary jewellers who are reviving, restoring, and celebrating ancient techniques. Here are four notable ones.
Gold Engraving
For centuries, the earliest craftsmen adopted carving and engraving as a mode of artistic expression. This has always been a distinguishing mark for Milanese jewellery house Buccellati. The brand's pieces are so distinctive and instantly recognisable because of the rich textural quality first introduced by Mario Buccellati. Every creation is hand-engraved, using their signature gold etching dating back to the Italian Renaissance.
Top: Buccellati Opera cuff bracelet with the signature yellow gold and white gold rigato engraving technique, set with diamonds and rubies
Bottom: Buccellati Aura Eternelle ring with the honeycomb tulle technique in white gold 
"We have preserved and refined a way to create an artistic effect on gold that is now part of the brand's DNA," says Andrea Buccellati. Buccellati's Opera cuff bracelets are engraved with the rigato technique, which involves etching fine parallel lines onto gold, giving the appearance of woven silk. The gold is then embellished with precious gems, each set within an ornato engraved foliate border. The tulle technique is also a process exclusive to Buccellati, creating lace-like honeycomb perforations by piercing the metal to obtain relief and contrast, as illustrated in the Aura Eternelle ring.
Cameo & Intaglio
Cameo, which literally means "raised above," is carving in relief used on a variety of Mediterranean shells and hardstones, and was first traced back to ancient Greece and Rome. Jeweller Amedeo Scognamiglio works solely with this ancient medium in his hometown of Torre del Greco, the centre of cameo making. He started to carve cameos at 14, learning from his mother. "The method of carving cameos hasn't changed much from 200 years ago. We still use hand tools to carve through the different layers of the shells. It takes many years to master the craft, and each artisan develops their own craft, keeping it quite secret from others."
Top: Amedeo Scognamiglio Professor Amedeo pendant with a hand-carved sardonyx shell cameo set in 18kt gold, sterling silver, white diamonds, and yellow sapphires
Bottom: Amedeo Scognamiglio Zeus & Hera' earrings with hand-carved carnelian shell cameo, set in sterling silver and amethyst
Scognamiglio's designs combine the ancient craft with a rock 'n' roll twist, featuring writhing snakes, skulls, and monkeys. He breathes new life into the cameos and transforms them into something whimsical and edgy that reflects the 21st century. By introducing new materials like black marbles and semi-precious stones, he adds new colours for a more contemporary feel. "The brand's humorous and cool approach came from my new perception of jewellery and fashion after moving to NYC and immersing into the pop culture of the Big Apple."
LIZWORKS x Catherine Opie Cornelian cameo earrings set in 18kt pink gold with light blue chalcedony and carnelian
Further reinventing the traditional cameo is LIZWORKS. Founder Liz Swig takes on one of the oldest forms of portraiture and reimagines it through the vision of two leading contemporary artists: Catherine Opie and Cindy Sherman. These new designs offer an updated approach and explore the cameo as a contemporary canvas, blurring the intersection between art and jewellery. "This idea of taking their work into a smaller scale whilst retaining their artistic power was so compelling," says Swig. The cameos were handcrafted under the vision of Gino Di Luca, a third generation cameo maker in Torre del Greco. "Contemporary images with traditional artistry fascinates me. When I approached Gino Di Luca, he was open and excited to update the medium of the cameo," shares Swig.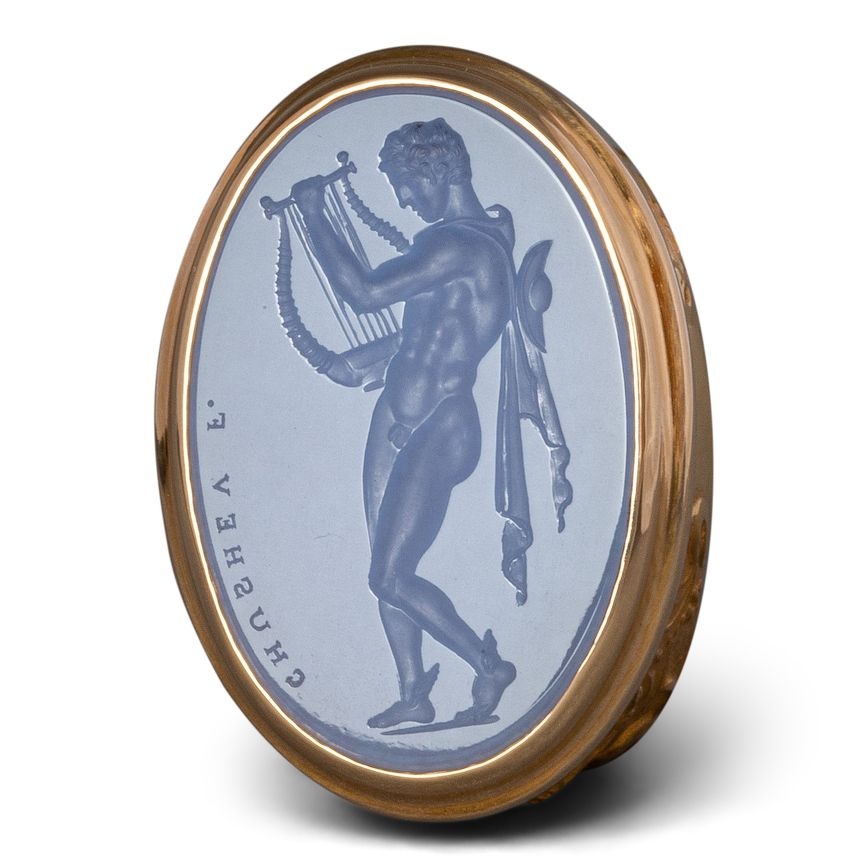 Top: Argentov Intaglio Pendant
Bottom: Olithica Hermes intaglio engraved onto blue chalcedony and set in 18k gold
Intaglio engraving, in contrast to the cameo, dates back to Assyrian and Babylonian times when it was used to adorn cylinder seals. Throughout history, intaglio rings and pendants took many forms and were designed in diverse materials ranging from gold to hardstones with reverse carvings. Jewellers like Olithica and Yaroslav Argentov celebrate the art of intaglio with classical compositions and the tradition of engraving portraits. According to head engraver and co-founder of Olithica, Chavdar Chushev, ancient texts described the images of intaglios as coming alive. "In certain transparent stones, they appear as stunning three-dimensional forms, like modern day holograms."
Chuschev is drawn to mythological figures, archangels, and animals. "I find these subjects very educational and learn more about the ancient world and civilisations from every gem I carve. I also adore the challenge of coming so close to an ancient masterpiece carved a millennia ago."
Inlay & Enamel
The use of enamelling and inlay in jewellery dates back to the ancient Chinese and Mayan civilisation, before being popularised by Romans. Following the expansion of the Byzantine Empire, these techniques spread across Western Europe and influenced European goldsmiths.
Bea Bongiasca Vine Drop Hoop earrings set in 9kt rose gold with red enamel on silver vines and fuchsia sapphire pavé
Today, contemporary jewellers like Veschetti and Bea Bongiasca are bringing back the ancient and colourful art of enamelling in unprecedented ways. Young Italian designer Bea Bongiasca's signature aesthetic includes brightly-colored enamel vines tipped with sparkling gemstones. She transforms the traditional decoration into something sculptural and organic, by adding a splash of colour and a Pop Art flair to her vine-like jewels. "I like enamel because it's the only material that allows me to use any colour I like in my design. It took a while to study how to technically develop the curling of the enamel vines."
Veschetti Clio 18kt white and yellow gold cuffbracelet featuring three carved emeralds, brilliant-cut diamonds halo, and enamel inlay
Veschetti's luscious coloured gemstones are nestled seamlessly into voluminous, dramatic convex rings offset with a vibrant veneer of enamel. Glossy, colourful, and smooth to the touch, their jewels wonderfully capture the Italian exuberance of the La Dolce Vita aesthetic. Laura Veschetti says, "Enamelled jewels are given a vitreous glaze that is fused onto the surface by intense heat to create a resplendent decorative effect. Whereas, the inlay setting used in our rings, earrings, and necklaces is done by inserting precious stones of a contrasting colour into the shallow surface of the jewel." The two techniques combined create a refined, bold, and contemporary appearance, showcasing the gems' maximum beauty.
"With the development of technology and modern industrialisation, there has been a global appreciation and revival of ancient art forms in jewelelry," says Veschetti. "Reviving the craft of inlay and enameling and bringing both techniques back to the forefront of modern jewellery allows us to connect with the authenticity of the past."
Micro-Mosaic
A deep passion for mosaic art brought the Ravenna-based Italian brand SICIS Jewels to study the micro-mosaic technique, history, and its application in jewellery. Micro-mosaics are composed of tiny fragments of tesserae, made from opaque enamel or glass. This technique dates back to the 17th century when Roman mosaicists embellished objects and jewels for the Royal Families of the Paris and St. Petersburg courts. It was perfected in the 18th to mid-19th century, when exquisitely crafted micro-mosaics were sold to travellers on their Grand Tour through Italy. Today, SICIS Jewels produces infinite colour combinations applied onto sculptural three-dimensional surfaces.
SICIS Jewels Calypso Blue Necklace in white gold with three strings of Akoya Light Blue pearls, diamonds, and micromosaic drop motifs
As you might expect, composing an image using micro-mosaic is an inherently fastidious and painstaking process assembled entirely by hand. When viewed at a distance, these chromatic tiles are fused by the eye to form a common solid colour somewhat evocative of Pointillist paintings. One of the most impressive pieces is the Calypso necklace, rendered in a paisley pattern with shades of sapphire blue and white, evoking the shimmering ocean foam. "It took 245 hours for our mosaic masters to create the mosaic pattern. The necklace was then embellished with three strings of Akoya light blue pearls and enriched with diamonds," reveals Creative Director, Gioia Placuzzi.