Cindy Chao reflects on 15 years in the business and growth in her latest collection
The past five years have been phenomenal for Cindy Chao.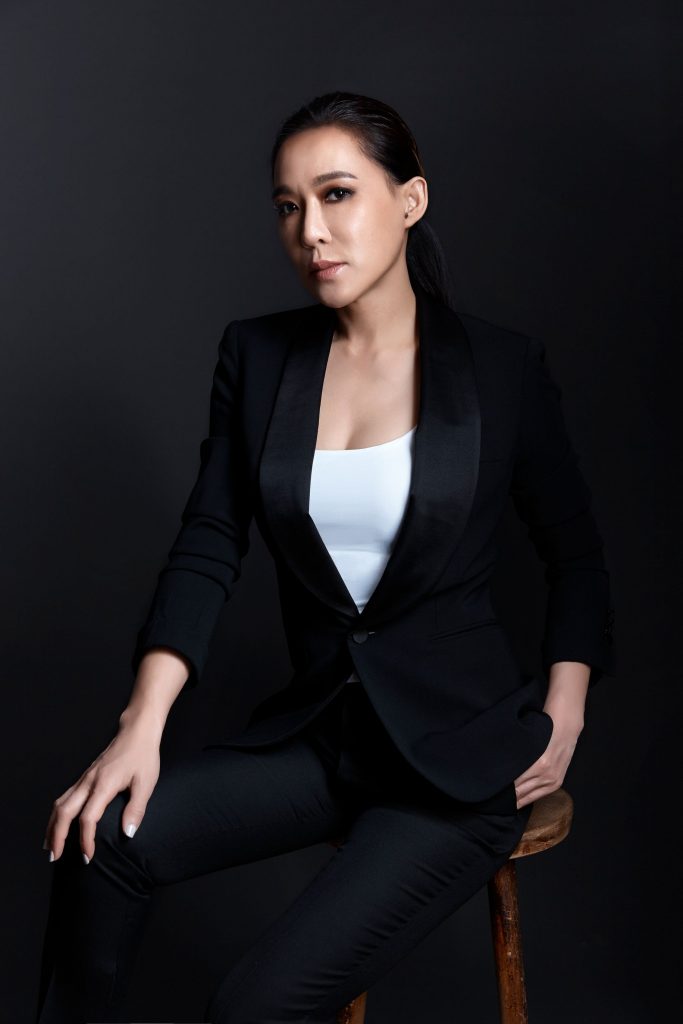 Her award-winning sculptural jewellery graced the red carpets of the Met Gala and the Oscars, impressing fashion pundits with her undeniably Asian aesthetic. Then there are the museum acquisitions that cemented Chao's creations as 'art jewels' – the most significant of which was Musee des Arts Decoratifs inducting Chao's Ruby Butterfly Brooch to its modern jewellery collections in January 2020.
It may seem that her eponymous brand, Cindy Chao – The Art Jewel, has reached its peak. But the 45-year-old reckons that this is just the beginning of things to come.
"When people tell me that I am now at my pinnacle, I said that we are just getting there," Chao reveals. "The next 10 to 15 years for our brand is going to be our golden period. I'm just 45, and I've matured enough to know better."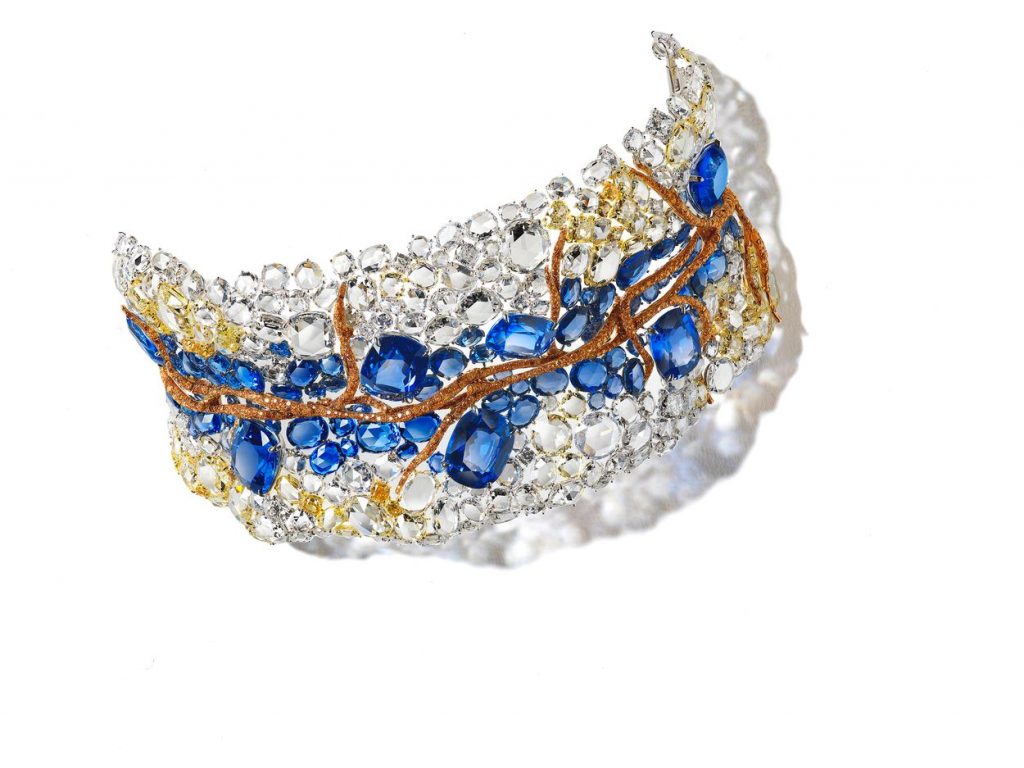 Reflection Bangle 
As one of early adopters of titanium in jewellery, Chao's innovative creations are often lauded as advanced for its time. But now with workshops in Geneva and Lyon, backed with an established international presence, Chao is more than ready to take her label to its full potential as it celebrates its 15th anniversary.
"We were young, we had a lot of ideas, but we weren't mature in terms of craftsmanship in the beginning," she shares. "Along the way, a great creator must have a substantial level of life experience. I know what I'm capable of what I'm not capable of."
At the TEFAF Maastricht 2020 in March, clients and journalists had the chance to preview Chao's latest collection. Her booth, appropriately themed 'Reflection', also shared a glimpse of Chao's progress over 15 years with some of her older masterpieces, such as the Winter Leaves Necklace and Damask Rose Brooch.
Like her pieces, the displays are just as theatrical. Branch-like sculptures, inspired by one of Chao's classic motifs, takes guests through a wonderland of jewelled works. In collaboration with Dutch architect Tom Postma, the bronze displays serve as the only décor in Chao's dark booth and throws all attention back to its contents.
The seemingly simple layout of her booth is a nod at Chao's new 'less is more' approach with her pieces. Recent creations see lesser embellishments and more gemstones. Working with fewer prongs and thinner settings, Chao emphasises the natural brilliance and colour of the diamonds, sapphires, emeralds, and rubies she uses.
(Related: Who is Cindy Chao?)
Chao is also taking time to revisit her cultural roots. Newer pieces now sport branches of yellow and brown diamonds, an homage to her grandfather, Hsieh Tzu Nan, who was an architect for Chinese temples and a significant influence on her designs.
"Right now, I'm trying to take out unnecessary elements. The collection is more colourful with more layers. There's freedom within the pieces. The pieces hold strong impact and whoever views it will feel empowered."
That's what she achieves with the Green Plumule Brooch, boasting a massive 30.06-carat pear-shaped Colombian emerald that sits snuggly in a spindly titanium skeleton together with another 486 fancy-cut emeralds. It is possibly the most expensive bejewelled feather in the world, she muses. It certainly is one of her boldest works so far, and for that, she nicknamed the brooch 'Fearless.'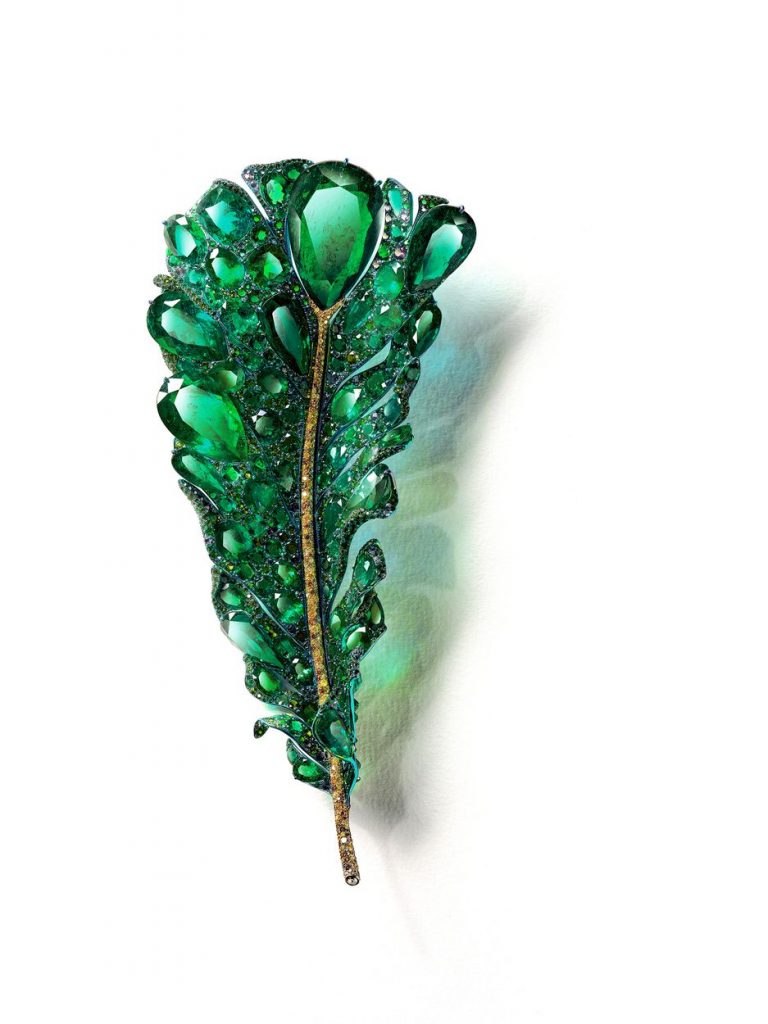 Green Plumule Brooch
"My craftsman said I was merciless for doing that," she laughed. "That emerald could have been on a ring or a pendant, but I wanted a bold creation."
The skillful craftsmanship resurfaces in the Reflection Bangle, a sculptural bangle inspired by Chinese landscape paintings. Over 1,500 diamonds and Ceylon sapphires, collected by Chao and her team over the years, were set over 30 components with six flexible articulations to mirror the moving reflections and ripples in water.
Her innovative approach extends to her resourcefulness with materials, experimenting beyond her titanium works.
Chao experiments with aluminium for her Aurora Butterfly Brooch, the latest addition to her popular Annual Butterfly series, embellishing the lightweight metal with four 'pigeon's blood' Burmese rubies. While the brooch boasts nearly 250 carats of diamonds, sapphires, and rubies, its titanium and aluminium body keeps the weight to a wearable 78.12g.
She further explores ebony in her Ebony Diamond Earrings, with hand-carved wood frames for a 25.7-carat diamond and a 20.11-carat yellow diamond.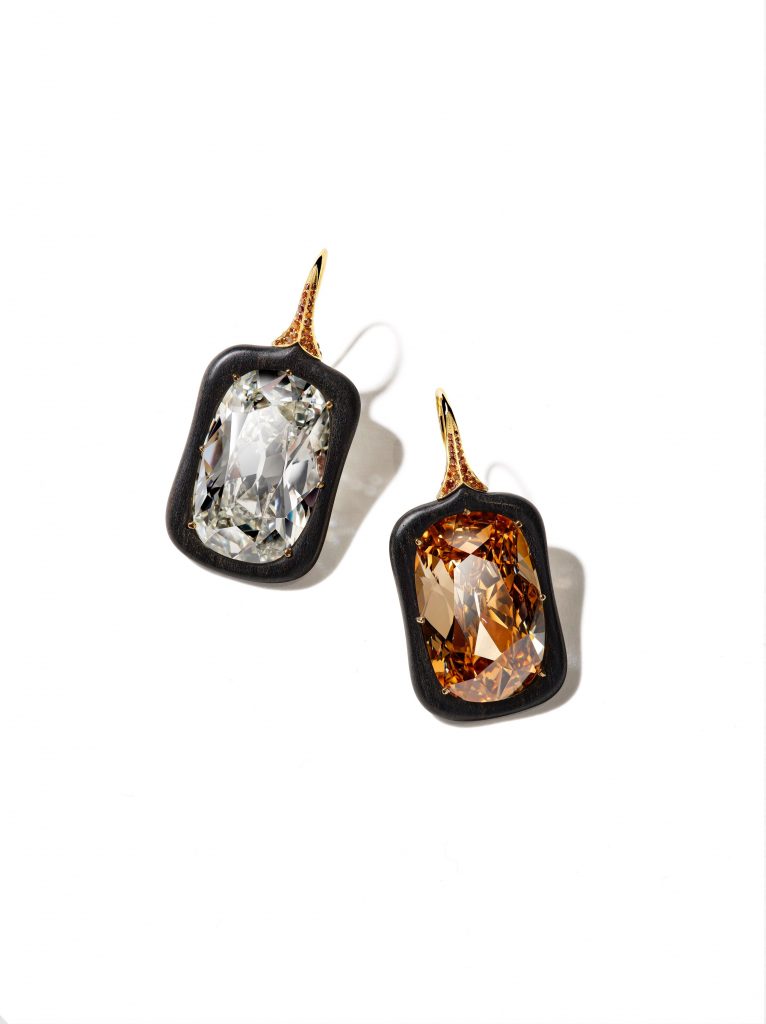 Ebony Diamond Earrings 
"It's the first time I'm using ebony, a comparatively inexpensive material, to set these expensive diamonds. When I told my craftsman to do this, he looked at me and asked if I'm okay," she laughs. "But if you're competent enough, it doesn't matter what material you use. Design and creativity matter."
After 15 years, her craftsmen are no strangers to Chao's novel ideas. But the relationship hasn't always been smooth-sailing, especially with the cultural differences involved. Chao recalled the numerous fights and her difficulty in communicating her vision to craftsmen in the early years of her brand.
"The French are difficult to work with because they have such sophistication and taste ingrained in them," Chao says. "They were arrogant when I was younger. Who would listen to a young Asian girl going to a factory telling them what to do and how to do things?"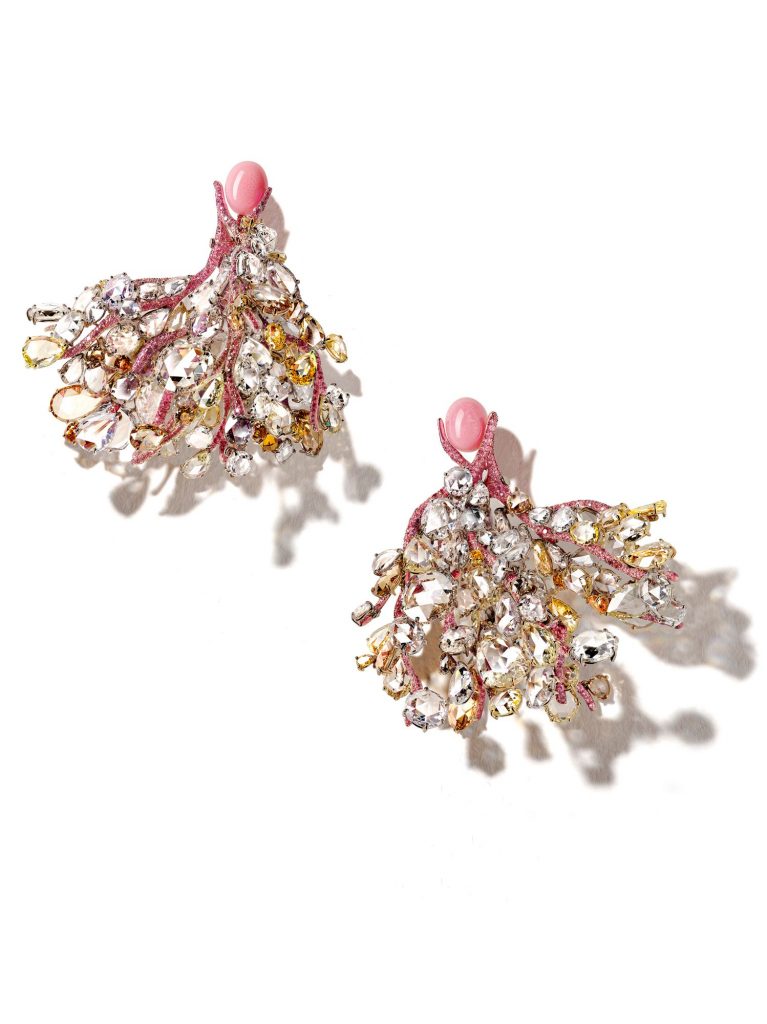 Cameron Falls Earrings 
But the constant struggles paid off with museum-worthy creations. "Now, they believe in my vision, and they try to visualise it," she adds.
And the future, in her vision, is bright and is one worth anticipating. Chao is taking her brand to new heights, with plans to open private showrooms in London and later, in Singapore. Her Annual Butterflies are reserved till 2024, as of March 2020. Even with her increasingly busy schedule, Chao is staying dedicated to a personal project: Publishing a book documenting the temples her grandfather had designed.
"Not everyone will appreciate all your pieces, but it's important to show who I am. This is the authenticity that defines Cindy Chao," she says.