The world went into lockdown last year with the outbreak of COVID-19. Lives changed, lives crumbled. But amidst all the chaos, it gave many of us a renewed sense of purpose. 
It certainly gave several designers inspirations for new jewellery collections.
We caught up with two independent jewellers to check how they fared in their worlds during the lockdown – and to find out what they came up with during months of stay-at-home and quarantining. Turns out the blue sky and marching clouds provided a creative spark for London-based Indian designer Akansha Sethi's new Cloud Collection, while nature and lush fields inspired Cyprus-based Maria Kotsoni to come up with her Precious Grain collection.
The Cloud Collection by Akansha Sethi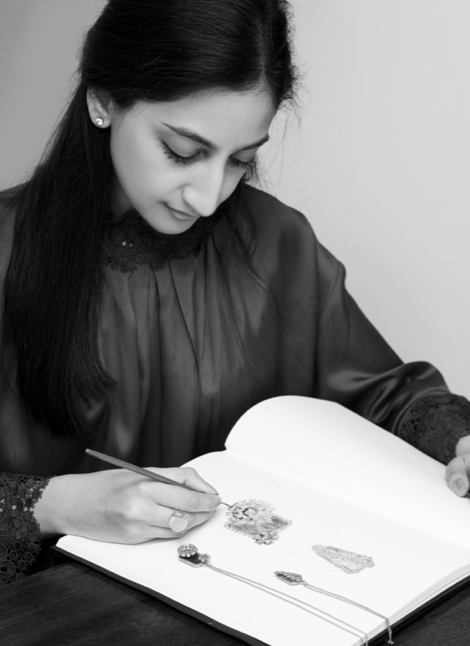 One of the problems during a lockdown is being stuck at home and not having anywhere to go. Akansha Sethi found a fun way to pass the time and boost her creativity. The designer, who was in India during the lockdown, took to painting and dreamt up her new collection. Instead of the opulent, historic palaces in Jaipur or the vibrant Jardin Majorelle in Marrakech, the designer ambled around on her terrace and looked to the sky. She found inspiration in the blue skies and fluffy white clouds sailing past. "That was the only 'outdoor' activity I could manage. As a child, during long drives in the car, I enjoyed making up stories as I watched the clouds," she recalls.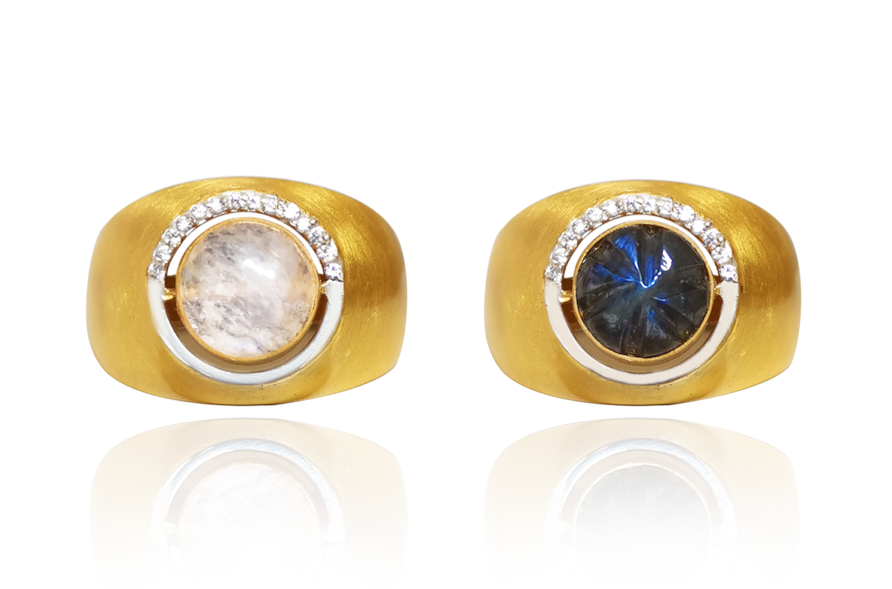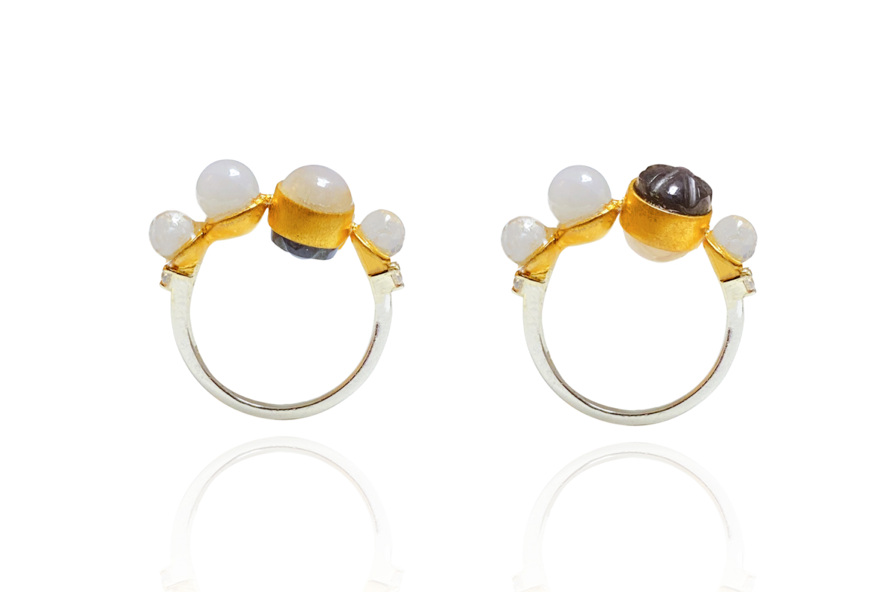 "Seeing how they moved and changed shapes in the wind was my way of relaxing; it made time fly. I guess whilst being in India during the start of lockdown, I started to do the same thing, but this time I started to see the clouds as jewellery pieces – and that's why some of the pieces in the cloud collection have an element of movement."
Through drawing the designs in the evening and turning to spiritual healing and discovering the relaxing properties of the stones, Akansha started to create 'The Cloud Collection' using moonstones and carefully sourced labradorites with diamonds. The collection rendered in 14k white and yellow gold –initially featuring a mini huggie, statement stud, ear cuff, rings, pendant and torque necklaces – has been expanded to include a pair of long statement earrings and a brooch. "The designs focus on the shape and texture of clouds," she explains. An increase in demand for bespoke brooches sparked the idea for this new addition to the Cloud Collection.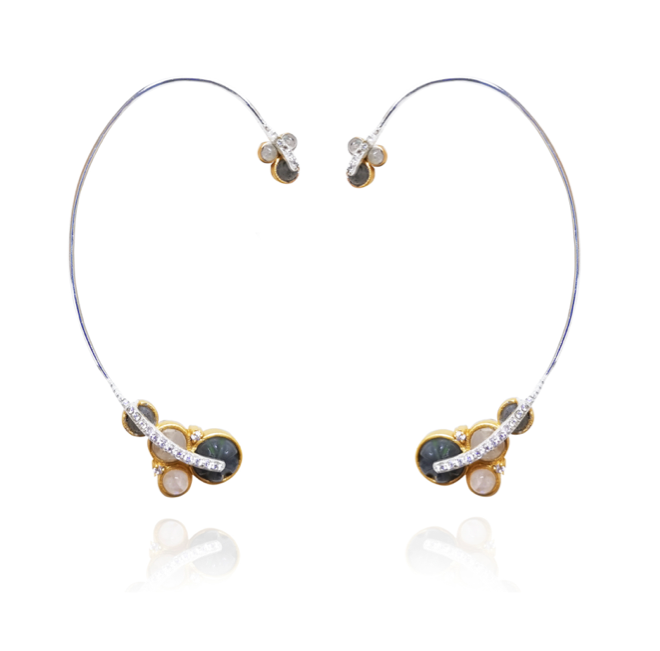 Although earrings were part of the line's initial offering, statement long drops were amiss. With virtual meetings being the norm, earrings have become the go-to style accessory for those working from home. "Realising a gap in the collection for those who enjoy statement earrings, I decided to complete the Cloud Collection with a long statement earring," she says.
The Cloud Collection from AS by Akansha Sethi is now available on Farfetch and on the brand's website here

Precious Grain by Maria Kotsoni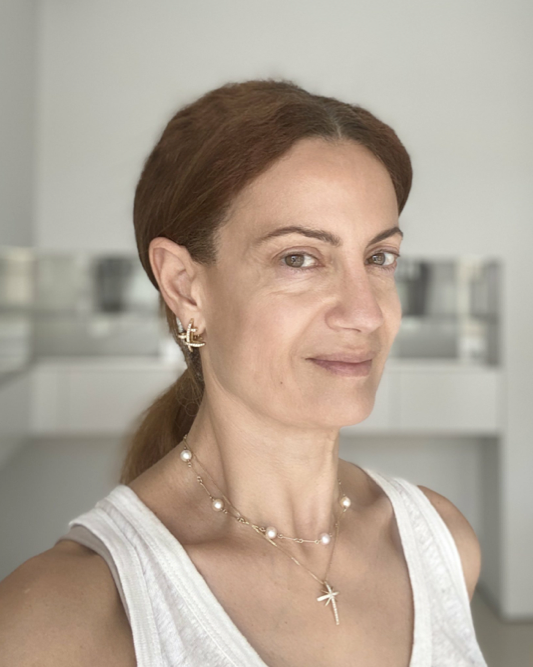 During the lockdown, jeweller Maria Kotsoni was with her family at home in Nicosia, Cyprus. Maria, who has a day job as a teacher, transforms into a designer at night. "I had, like most people, some time to reflect in stillness. Creativity follows inspiration, which follows reflection. As an artist, living and sharing with every other person about what goes on around us, I perceive the moods, the signs of our time. Like anyone else, all of it touches me, generates reflection and triggers my inspiration or an idea that I want to pursue through my work," says Maria, who is an alumna of Central Saint Martins, London.
During the past year, she cycled around the neighbourhood with her nine-year-old, went on walks with her daughter, did some wax carving and worked with her husband, cooked and did all things with her family that she usually never had time for. While walks and soaking up the landscape, she stumbled on the design for her collection, Precious Grain.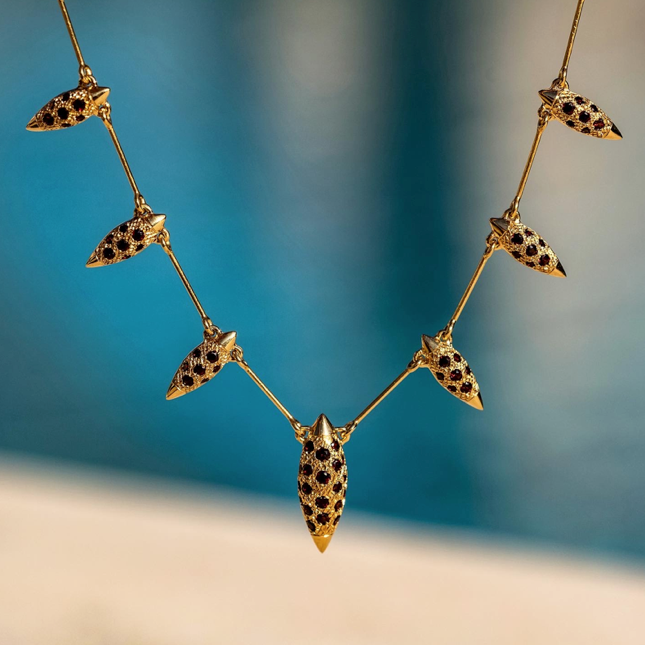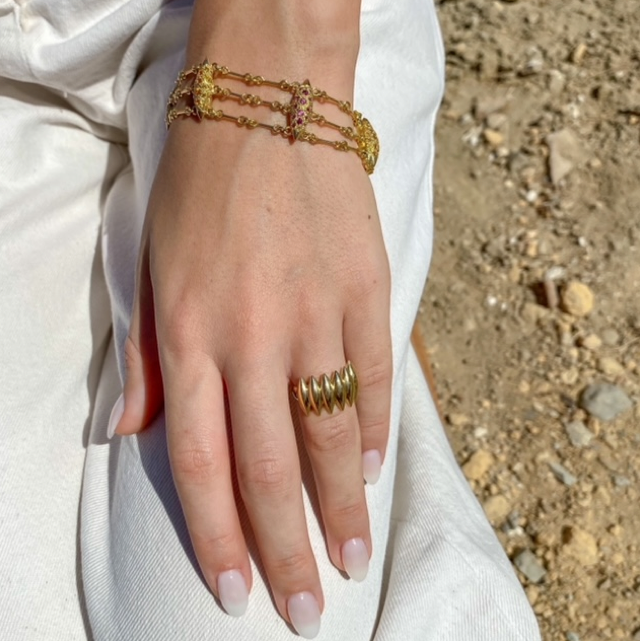 "The inspiration for the new collection stems from a grain of wheat, its shape, and symbolic meaning." Working with local artisans as well as her husband (who helps her with 3-D rendering), she realised the line in 18k yellow gold and coloured gems. The Precious Grain motif is replete with symbolism and biblical references. "The collection revolves around the leitmotif of the 'grain' as a universal symbol of sustainability, regeneration, abundance, fertility and resurrection," she says. Sprinkled on mismatched ear pendants, cuffs, hoops, charm, ear jackets, bracelets, and rotating rings are garnets in red, green, orange and pink colours, Madeira citrines, amethyst, and London Blue Topaz.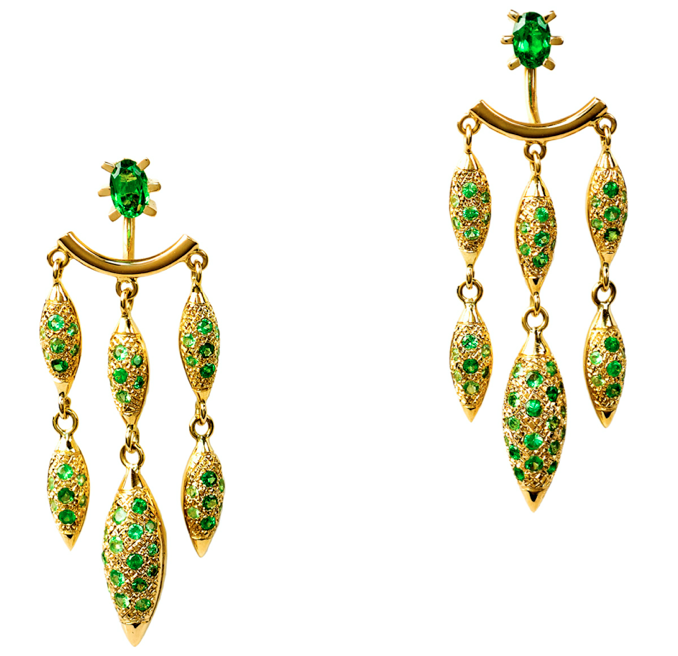 Maria has incorporated movement into couple of her rings. "The rotating grain rings are inspired by the ancient Sumerian cylindrical seal rings. These seals, dating back to the 4th millennium B.C, were broadly used throughout the Near Eastern area, including Cyprus. Besides serving as a form of signature for marking one's property, they were also used for decorative and protective purposes," she explains.