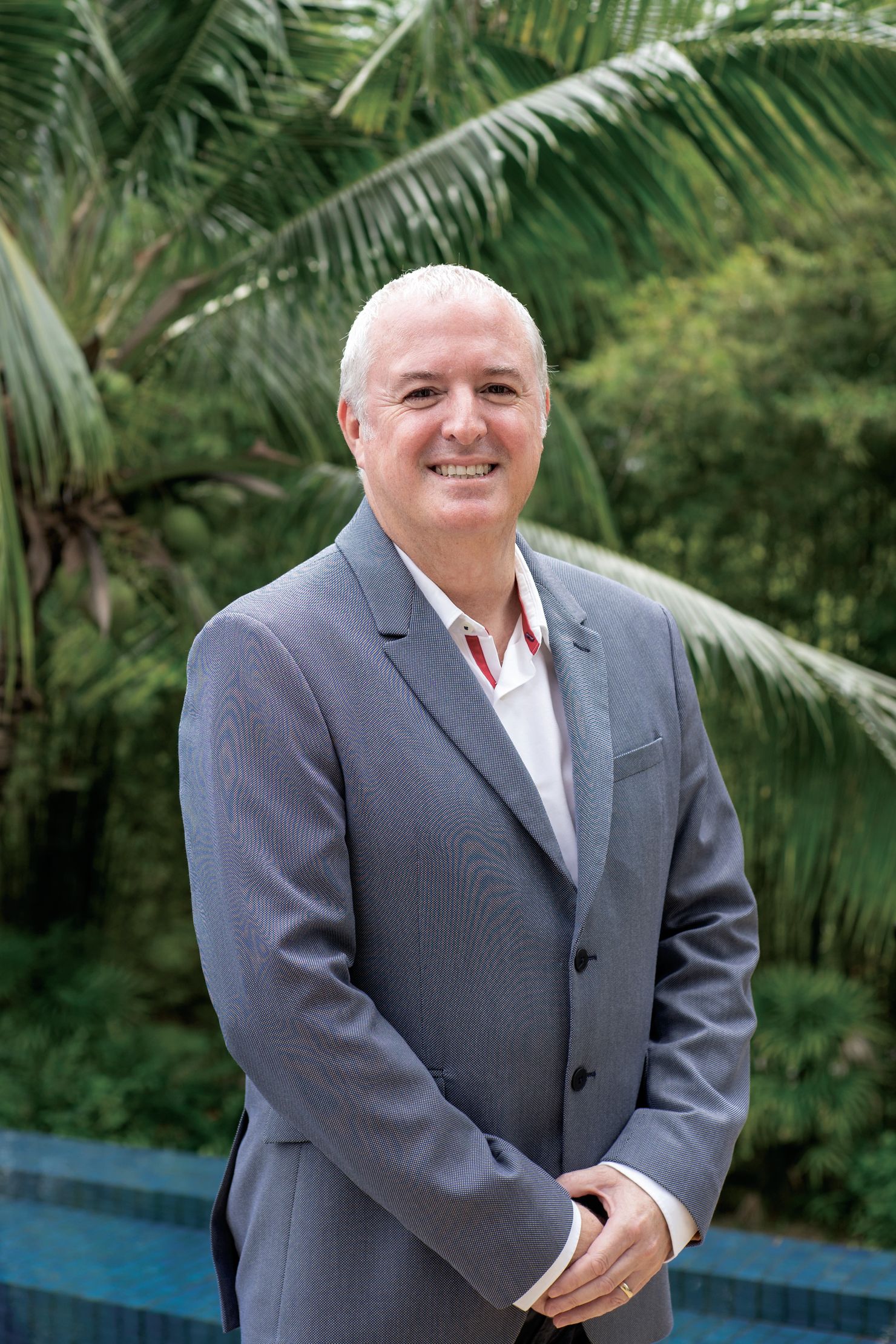 For Mr. Scot Toon, Managing Director for Asia of The Pavilions Hotels and Resorts, the secret to a truly luxurious travel experience is allowing the property and its location to shine
Like most modern romantic tales, The Pavilions Hotels and Resorts started with a Bali love affair, which is where the company's inaugural resort property first opened. "This passion for islands strengthened and continued when our founder, Mr. Gordon Oldham, built The Pavilions Phuket in 2008," shares Mr. Scot Toon, Managing Director for Asia.
At its core, The Pavilions' passion for these destinations is rooted in romance, adventure, art, culture, and food, with additional inspiration coming from a book that the founder and his wife read called The Far Pavilions. Today, The Pavilions boasts a handful of luxury properties in nine countries around the world, proving that the passion it was built upon is alive and well, with no signs of slowing down.
Before he flew off to Bangkok, we managed to catch up with Mr. Toon to find out what The Pavilions has in store for intrepid travelers everywhere and how it ensures that the luxury associated with travel is kept alive.
You mentioned that The Pavilions is one of the last few independently run luxury boutique hotel chains. How does this put you at an advantage compared to your competitors?
We remain unique through our boutique collection of beautiful hotels and resorts that are inspired by the city they are located in. Each property is inspired by the destination, genuine experience, and guest service that The Pavilions Hotels and Resorts offer. The experience of the destination is not just about what's outside the property, but about the experience within the four walls of one of our hotels.
Talk to us about The Pavilions difference. What do your customers look for and what are the USPs of the company and its properties?
The individuality of each of our hotels or resorts is our difference. It is not about the brand, but the destination and the experience our guests enjoy. Our guests can enjoy a glass a champagne at our Michelin-starred restaurant overlooking Rome just as much as trekking in Nepal or riding horses exploring Gengis Khan's ancient capital from the Pavilions Mongolia tented camp.
What did you want to bring to the table when you joined the company in 2018 and what has been done under your leadership since then?
I wanted to bring my experience in developing and managing unique luxury resorts to the group. I saw amazing potential to assist and support Mr. Oldham and the team in strengthening what had already been started.
The Pavilions grew rapidly in the two years before I joined, from three to six hotels, and we currently have three more in the pipeline. For me, I wanted to work with our team to build a concrete foundation in place for the future of The Pavilions brand. Just in the last year, we rolled our back of house systems at all our properties in order to review and manage the business better and in preparation for more properties.
What is your strategy for developing The Pavilions brand for the next few years, particularly in Asia?
We are passionate about the brand and the experiences we deliver to our guests in our current properties, as well as the properties that we are developing to open this year and next in Rome, Lisbon, and Niseko. We are also looking at other unique locations in Asia Pacific to expand through new developments, as well as management agreements with the right partners that align with our vision.
In this period where travel is hardly seen as a luxury, how do you then create luxury for the people who choose to stay at any one of your properties?
Luxury is about many things, such as time and experience. Our hotels offer luxurious amenities, but it is more than just the material things offered in our properties. It is about the little touches, which as a boutique collection, we are able to deliver. For example, the bathroom amenities in each property is unique and not a generic Pavilions brand.
What's more, each property has selected something local that identifies their location, adding to the experience of the destination. Each hotel guest service team knows the destination intimately, so they can send you to one of their secret spots – perhaps meet a local artist in his private studio or a table at an old Phuket town noodle shop. These are things that you should experience, but are definitely not in any guide book. For us, this is luxury.
One of the most exciting destinations you are located in is the Himalayas. Why was this particular destination chosen to open a property?
The Pavilions Himalayas is very special to all of us. It operates as a not-for-profit property and was opened after Mr. Oldham and his friend Douglas experienced the area and fell in love with the people. The hotel and the hotel school has provided many of the local people education to further enhance themselves and gain employment. All the profits go back into this and other local projects like a medical clinic and farm.
In addition to The Pavilions Himalayas, we are also expecting The Pavilions Himalayas Lake View. Can you tell us more about this project and why people should be excited about it?
This is a stunning new resort that has opened on the lake edge surrounded by local flora and fauna in luxury tents. It is located via a 30-minute drive and a beautiful boat ride across the lake from Pavilions Pokhara. I recommend guests stay a few nights in Pokhara, exploring the area and mountain trails, before heading across the lake to enjoy the tranquillity of the Pavilions Lakeview. We also have a lovely restaurant serving local cuisine, as well as a spa to ease those muscles from all the exploring.
For more information, visit www.pavilionshotels.com