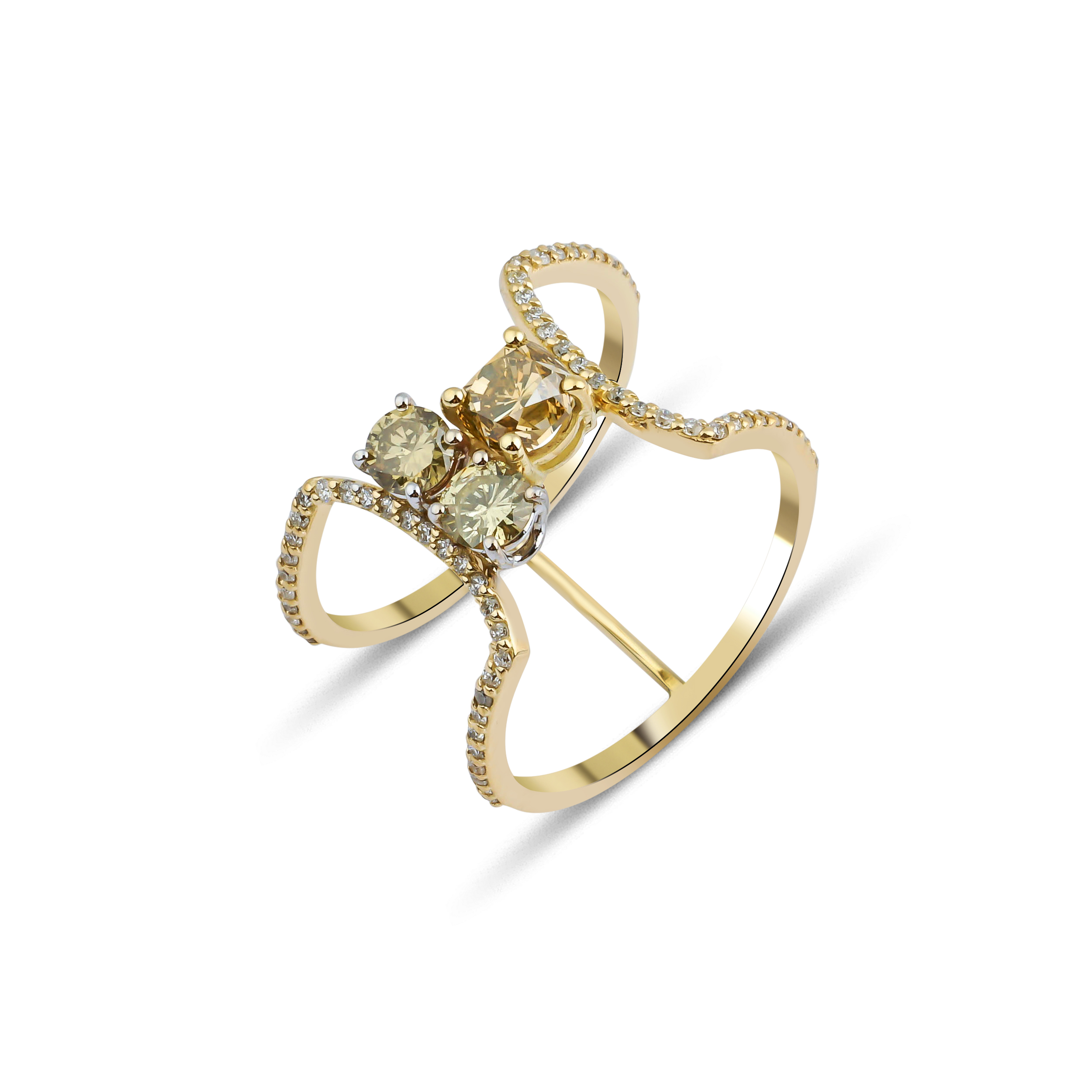 Sonia Diamond Star Ring
Brand:
GFG Jewellery
by Nilufer
Founder:
Nilufer Kizilkaya
Latest Launch:
London-based designer Nilufer Kizilkaya's new diamond line, Sonia, is inspired by coloured diamonds. "They have alluring, golden, and warm hues and I wanted to create designs that would complement the gemstones; so, each piece started with the stones," says Nilufer. The jewellery was made in London and Istanbul, while the fancy-coloured diamonds were ethically sourced from Antwerp. The collection's name, Sonia, has a multicultural origin. "It is a name that is been used all over the world, with additional meanings, such as golden, pretty, and beautiful – I felt it was apt for the collection," she adds. The Sonia collection is set with light pink, yellow, champagne and cognac diamonds.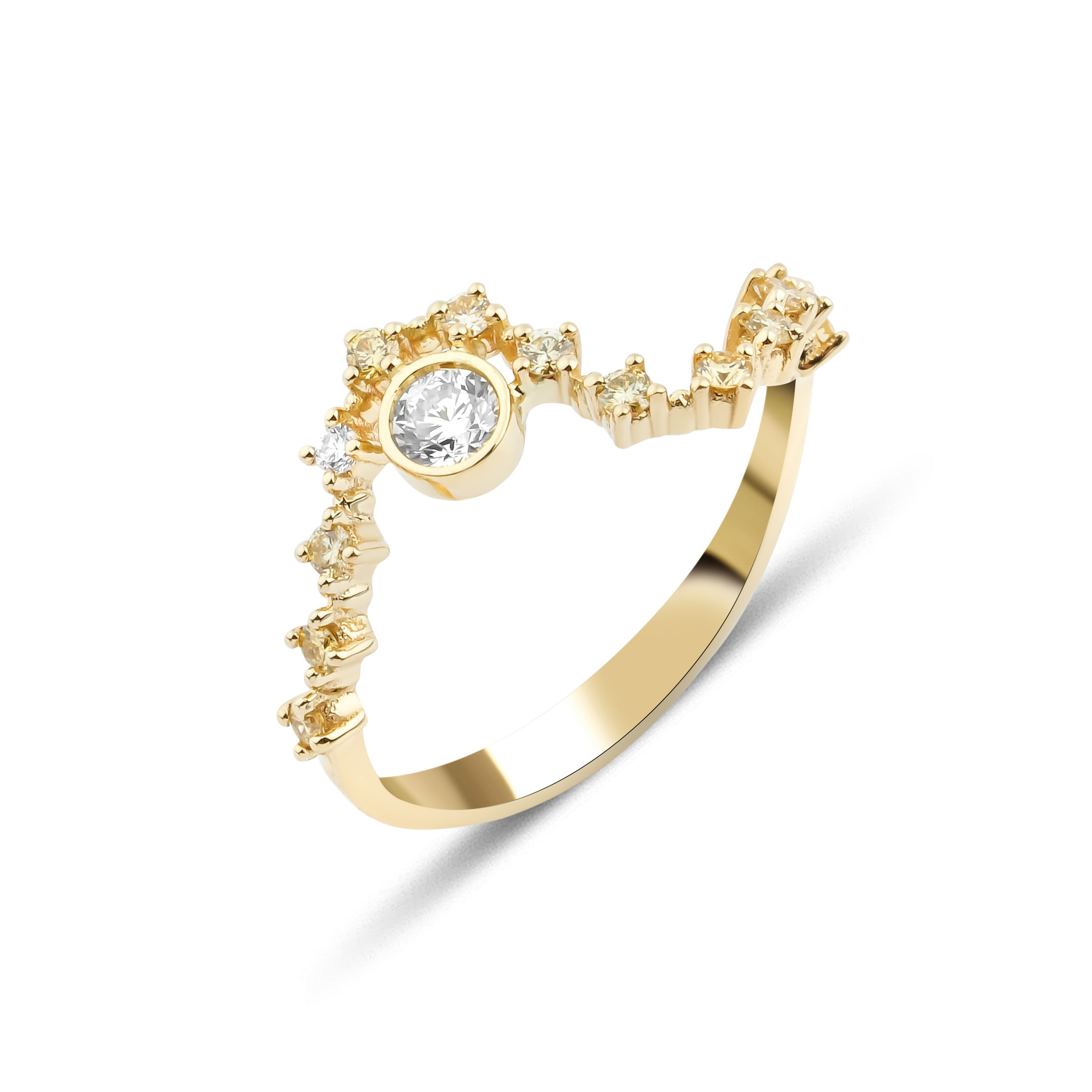 Sonia Wave Fancy Diamond Ring
Design:
The Sonia collection consists of thirteen pieces; among them are two necklaces, each of a different length that can be layered. "The Sonia wave ring is the highlight of the collection," she says. "It has been created with varied gemstones and works well in a stack," she says. The designer will also add more pieces to the Sonia collection later. Most of the pieces are made in yellow gold, while some have white gold. "White gold creates more of a contrast and highlights the diamonds. For the Sonia Star ring, I set the yellow diamonds in white gold, while the remaining parts of the ring are set in yellow gold. I did the same for the Sonia twist ring, which has already sold out with more to be added to the website soon." Nilufer has also used Zambian emeralds for the wave ring. "It complements the yellow diamonds beautifully if you stack the rings, or if you wish to add a splash of a bolder colour to your collection." The long drop earrings embody Nilufer's love of pearls. "Pearls are my birthstone and the golden South Sea pearls are beautiful and unique in their own right; the warm golden yellow tone was a perfect fit for the Sonia collection. I created the earrings with sapphires for the retail price point but I could easily make them, upon request, with white or fancy-coloured diamonds."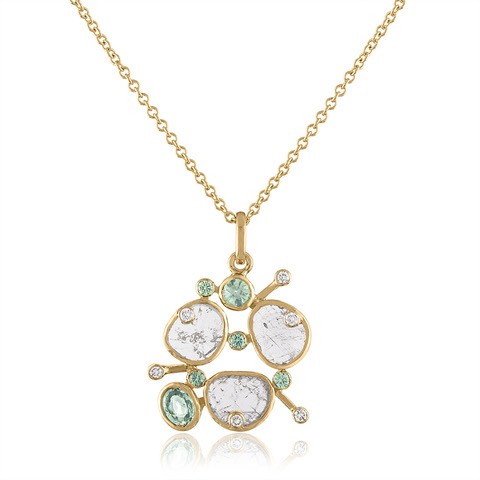 Brand:
Loriann Jewelry
Founder:
Lori Friedman
 Latest Launch:
This spring, Lori Friedman of Loriann Jewelry has added a dash of colour to her popular Reflections Collection – a line of gleaming irregular diamond slices and smaller diamonds made in 14k yellow gold. The designer, who launched her brand in 2017, loves everything organic. She is attracted to things that feel and look natural, and loves the irregularities and imperfections. "This makes them perfect in my eyes. It's a reflection of who I am," she adds. The new additions to Reflections are currently available in twelve styles and are set with pale green sapphires, refined diamonds and clusters of diamond slices. "The modern organic Reflections Collection is intended to rediscover the joy of life. The magical and mirror-like presence results in sophisticated and chic fine jewellery, emoting positive energy," says Lori, who is based in Westport, Connecticut.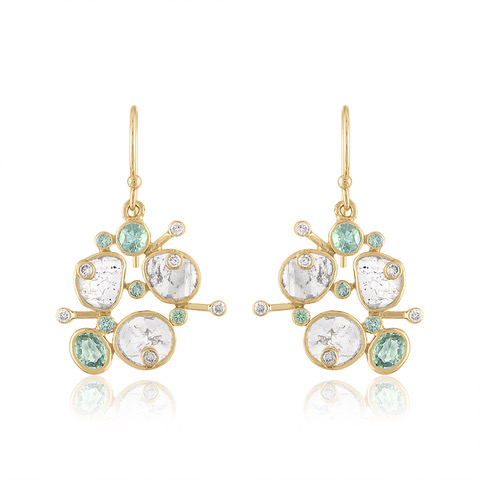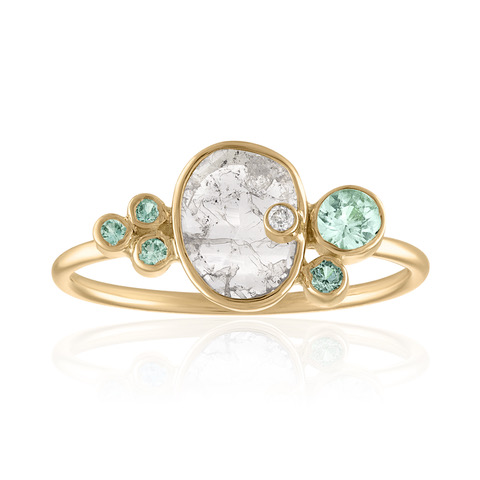 Design:
The design for Reflections celebrates diamond slices, set in organic patterns. Diamond slices are very special to Lori. "I love how stones play off one another. The refined white diamonds are a beautiful contrast against the diamond slices and the signature line over stone and layered gems is distinctive to my brand." Her pieces have an appealing price point – and this, she affirms, has been her aim. "I want to offer a wide range of jewellery at various price points that are designed and priced to compliment a lifestyle. I want to make the pieces an easy self-purchase." Lori was thinking of interesting ways to enhance the natural beauty of a stone and thought it would be interesting to add colour accents to the neutral tone of diamond slices. "I chose to start with light green sapphires as they are subtle and versatile to mix with your wardrobe."