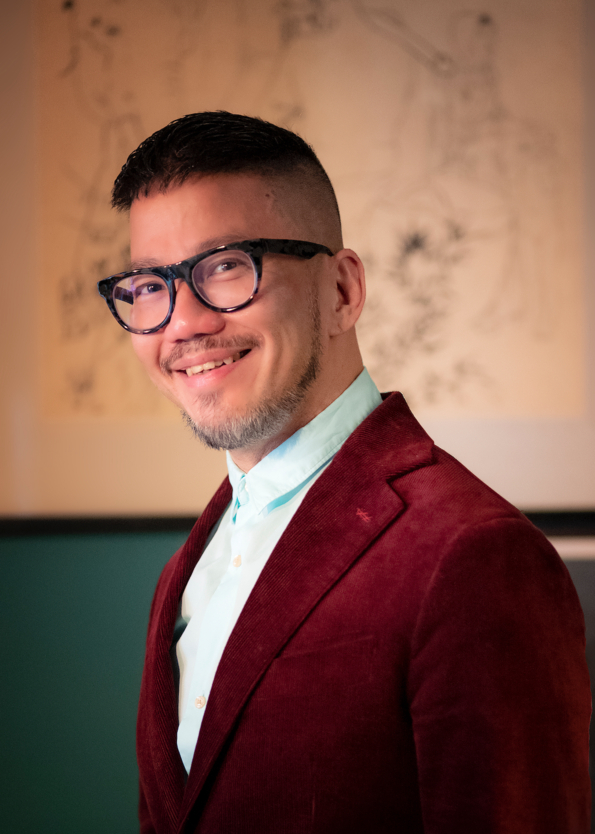 The Creative Director is shaping up the world of Boghossian with his mettle. We caught up with the Hong Kong-based Singaporean designer to discuss travel, jewellery, and his passion – research.
If you weren't a jewellery designer, what would you be?
I have a couple of very, very strong interests. One of my biggest interests is historical anthropology. I would surely research something or the other; I am a researcher at heart. Even now, as a designer, I research historical jewellery. I find very interesting things through my research.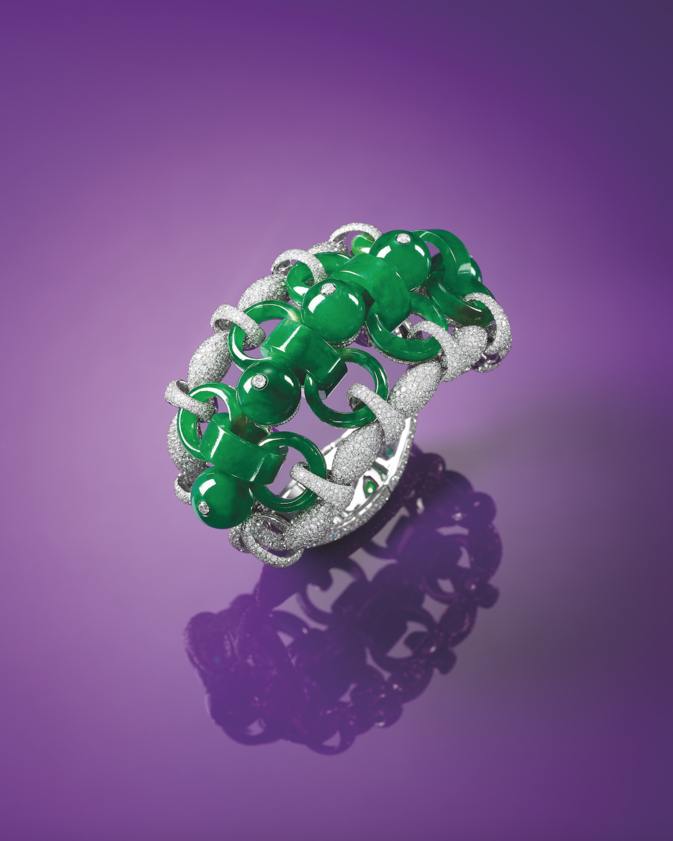 A gorgeous jade bracelet designed by Edmond Chin for Etcetera, his Hong Kong-based atelier and brand
Creativity, for you, begins with curiosity. What discoveries have you made while researching?
Very interesting ones! Although I can't really share details, about ten years ago, a very well-known coloured stone dealer bought a piece at an auction. He told me, "If you look at the piece and the mounting, it feels like it belonged to a particular royal family." He mentioned one of the royal families in Europe. He told me that if I were to find evidence for it, he would give me a share of the profits.
Through my researching capabilities, I managed to make a breakthrough: I discovered the evidence two years ago, but he had already sold the piece! It took me eight years to discover the evidence, but it was too late! He already sold the piece. However, I still experienced immense satisfaction in finding more about the historical piece. How can such an important piece not have a trail? That's the fascination historical gemstones hold for me – it's not just examining or looking at the gemstone, but you look at its story as well. I always think of what stories my jewellery would tell in the future.
On that note, what stories might your creations for Boghossian tell?
It has a lot to do with Boghossian as a brand. They have a lot of very good quality precious gems – and that means these gems and jewellery go to families that are very wealthy and quite powerful. These people may become great rulers or perhaps become beneficial to the world in some way. For example, I have a client who has done very good things for the environment. They switched from non-renewables to renewables; they're such an important company! So, you never know. The jewels belong to these families and are worn within the families, so whatever the legacy they leave behind, the jewels would tell those stories.
What do you think makes your design successful?
When is a design successful? Is it when you finish it or when you think it is beautiful? Perhaps, when you've sold it, and somebody loves it so much? Well, that's not quite the way for me. It's when you've sold it and it is worn at an event and everybody says, "My God! You look so beautiful!" Only then, for me, does it become a success story. When I think of the function of jewellery, I think of all the presents that my father bought my mother, or my mother bought for herself, or when she wore it to a party and felt special. Then, the jewellery did its job well. Does it have any other job to do? For me, how jewellery makes you look is a very important part of its job. I see how women feel so enhanced by jewellery, by something very beautiful; especially earrings. Beautiful earrings have the power to transform you.
One of your latest pieces for Boghossian is the Kissing Collection – Desert Rose. You seem to have found inspiration in the desert. Can you tell us more?
You find beauty in unlikely places. In the Middle East, much of which is the desert, one of the most beautiful things you'll see is a desert rose. Created when water evaporates in a shallow salt basin, desert roses are formed of crystallised minerals included with millions of grains of sand. It has inspired the likes of architect Jean Nouvel, who designed the National Museum of Qatar in Doha – its inward-curving discs, intersections, and cantilevered elements conjure up a desert rose.
Boghossian's Desert Rose collection is inspired by its namesake mineral formation and features hand carved Guava quartz. We felt the form of the desert rose was very wonderful and exquisite – and it is truly like a flower, but it is a flower of the desert. The Desert Rose is one of the pieces we will repeat at Boghossian – when we find a motif that is relevant, we will explore it further.
It seems like the desert and its aridity fascinate you. Why?
If you've ever been to the Middle East, and to Doha, you'll see that the cities are very modern; very comfortable, and the apartments are airconditioned. Once you are out of the cities, it is an endless sea of sand. It is very astonishing and a very special landscape. There are some very beautiful things amidst the aridity. Yemen has these amazing dragon blood trees; they are quite extraordinary. I travel a lot, and the places you can't travel to, you can explore through books, you can experience them on YouTube, and on TV.
What's the most fun thing you've done at Boghossian recently?
That would be attending Albert Boghossian's daughter's wedding! It was Spring in Paris. It was a happy wedding. When you think of a wedding, some are very lavish. And then, you go to a wedding where there is joy – it's so special. I also saw many pieces of my jewellery worn at the wedding and that makes me happy. Often, we don't see the environment that the jewellery is worn in, so it was interesting to go to such a party.
HOW A BOGHOSSIAN MASTERPIECE IS BORN
Edmond Chin reveals the inspiration and artistry that have inspired some of Boghossian's iconic pieces.
The Manuscript Bracelet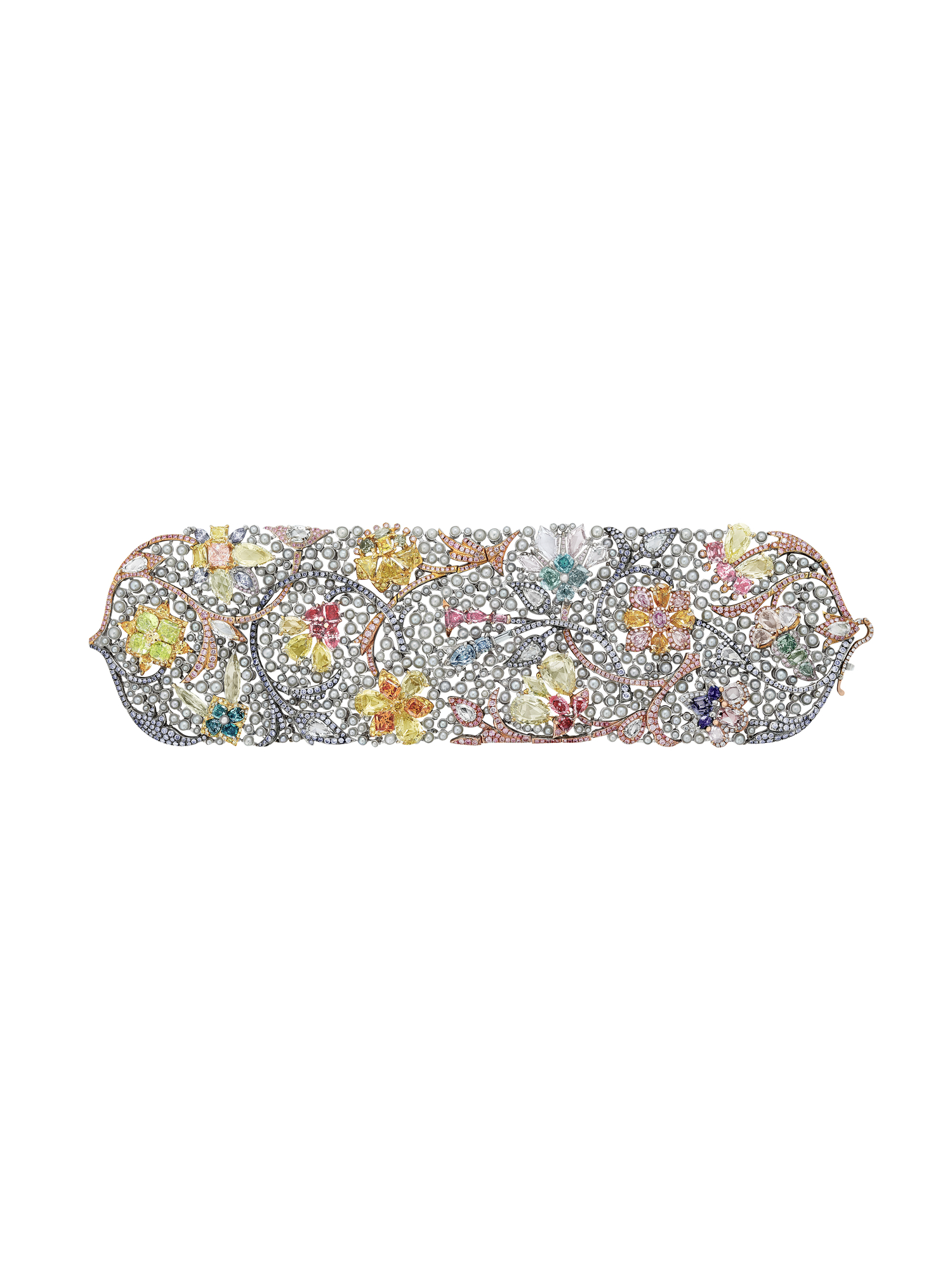 This piece is the example of a unique combination of rare gemstones, artistic design, and innovative craftsmanship. Albert Boghossian collected the rare green, blue, pink, orange, yellow, and violet diamonds knowing that one day they would make a masterpiece. Later, Edmond encountered the Waldburg Prayerbook, a richly decorated 15th-century manuscript that inspired the ornate design. Boghossian's specialist ateliers laboured for eighteen months to assemble the intricate bracelet, wherein the gems appear to float on top of one another – perfectly executed, their settings remain almost invisible.
The Emerald and Diamond Double Riviere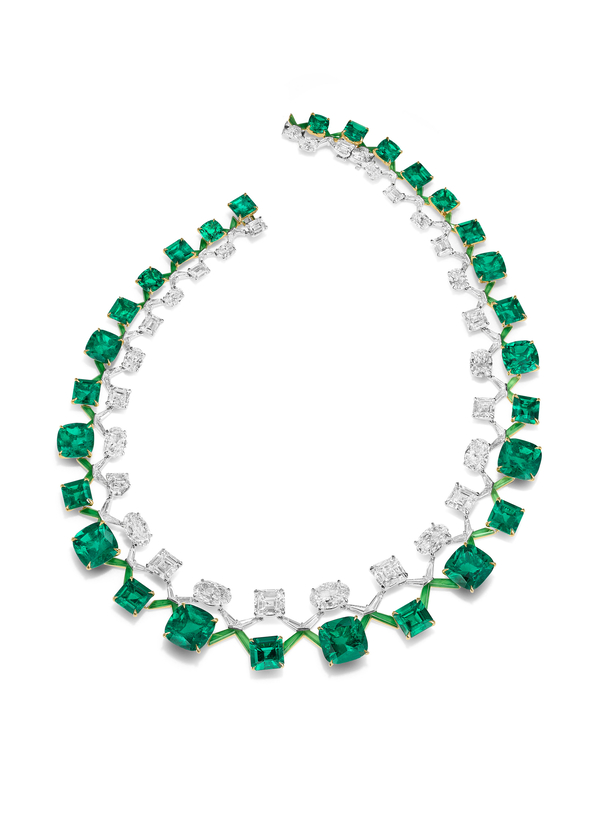 Determined to create a one-of-a-kind piece to rival history's greatest emerald jewels, Albert Boghossian selected the finest, rarest stones for four years. When he finally amassed a collection of twenty-eight natural, untreated, and perfectly colour-matched emeralds, Edmond designed a majestic necklace to showcase their beauty. The double riviere necklace features an extraordinary collection of cushion-cut and emerald-cut emeralds (117.6 carats in total), alongside (59.40 carats of) fine diamonds and green jadeite.
Shield-Shaped Diamond and Diamond Earrings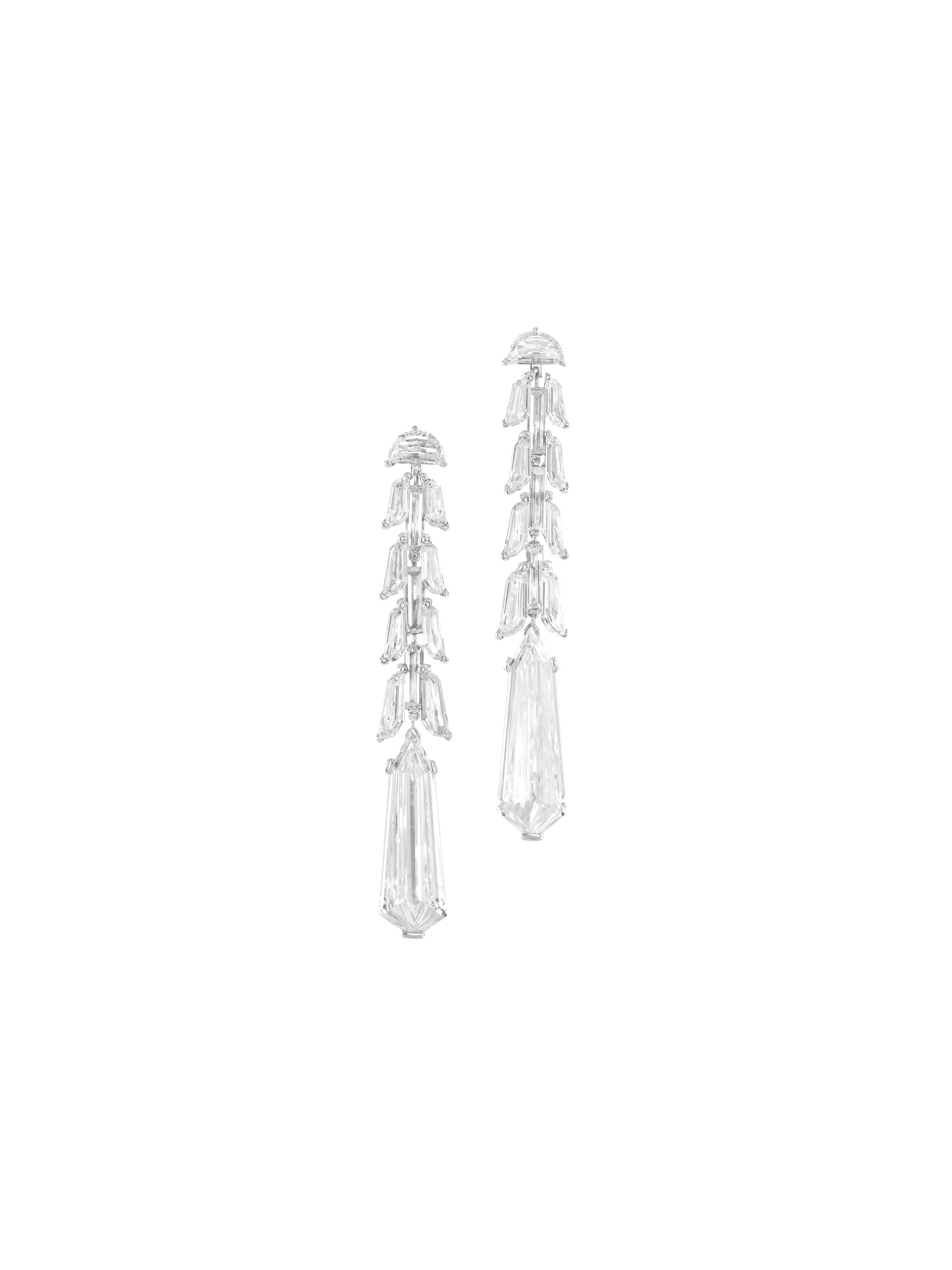 A rough diamond becomes the inspiration for a rare pair of earrings in 18k white gold, set with an unusual shield-shaped diamond. The elongated and fine shape is very singular as the diamond has been cut from one long single rough. The flame-cut diamonds are cut in parallel lines, which is a signature of the maison.
Kissing Collection – Desert Rose/Diamond and Guava Quartz Earrings and Ring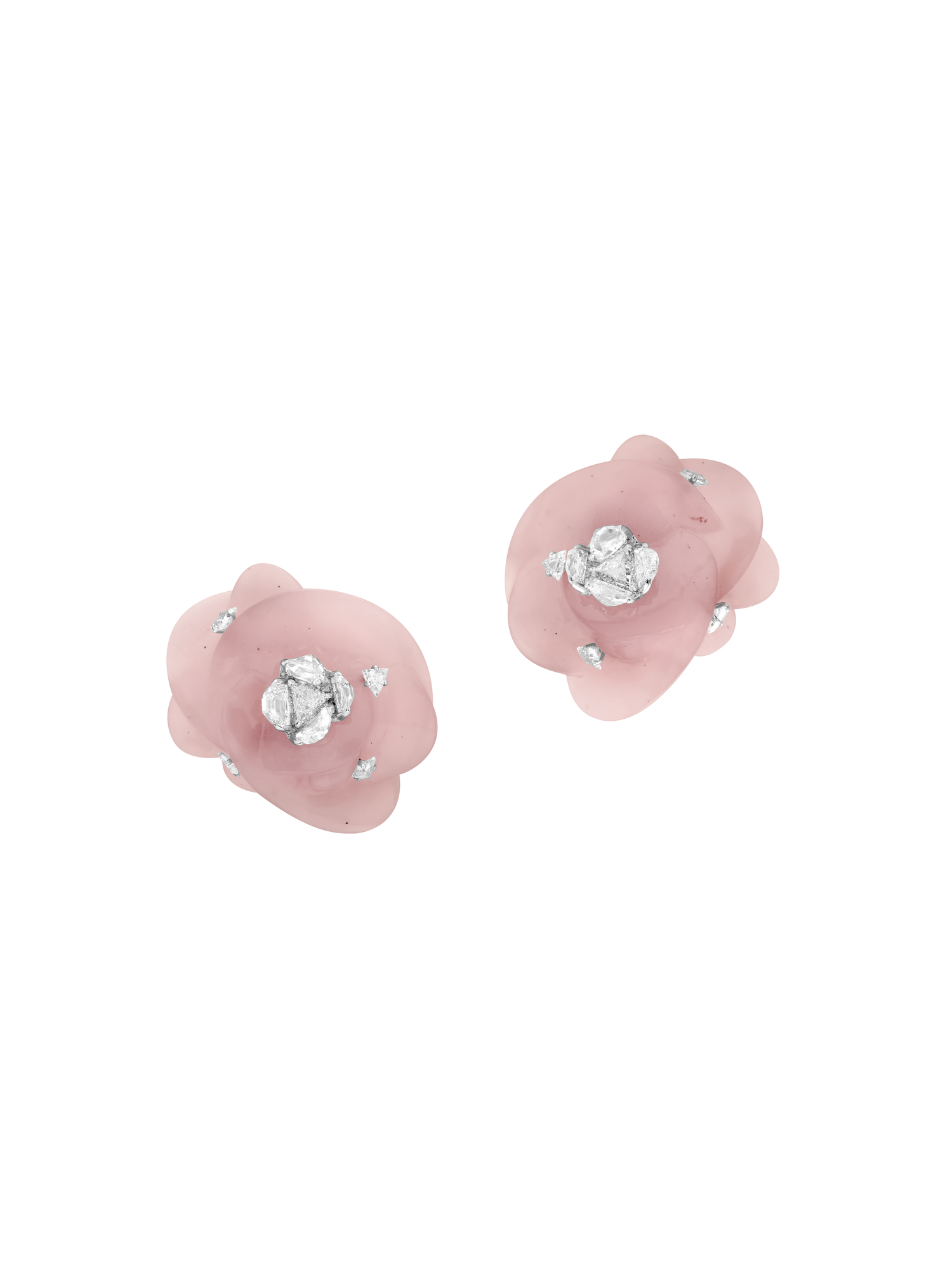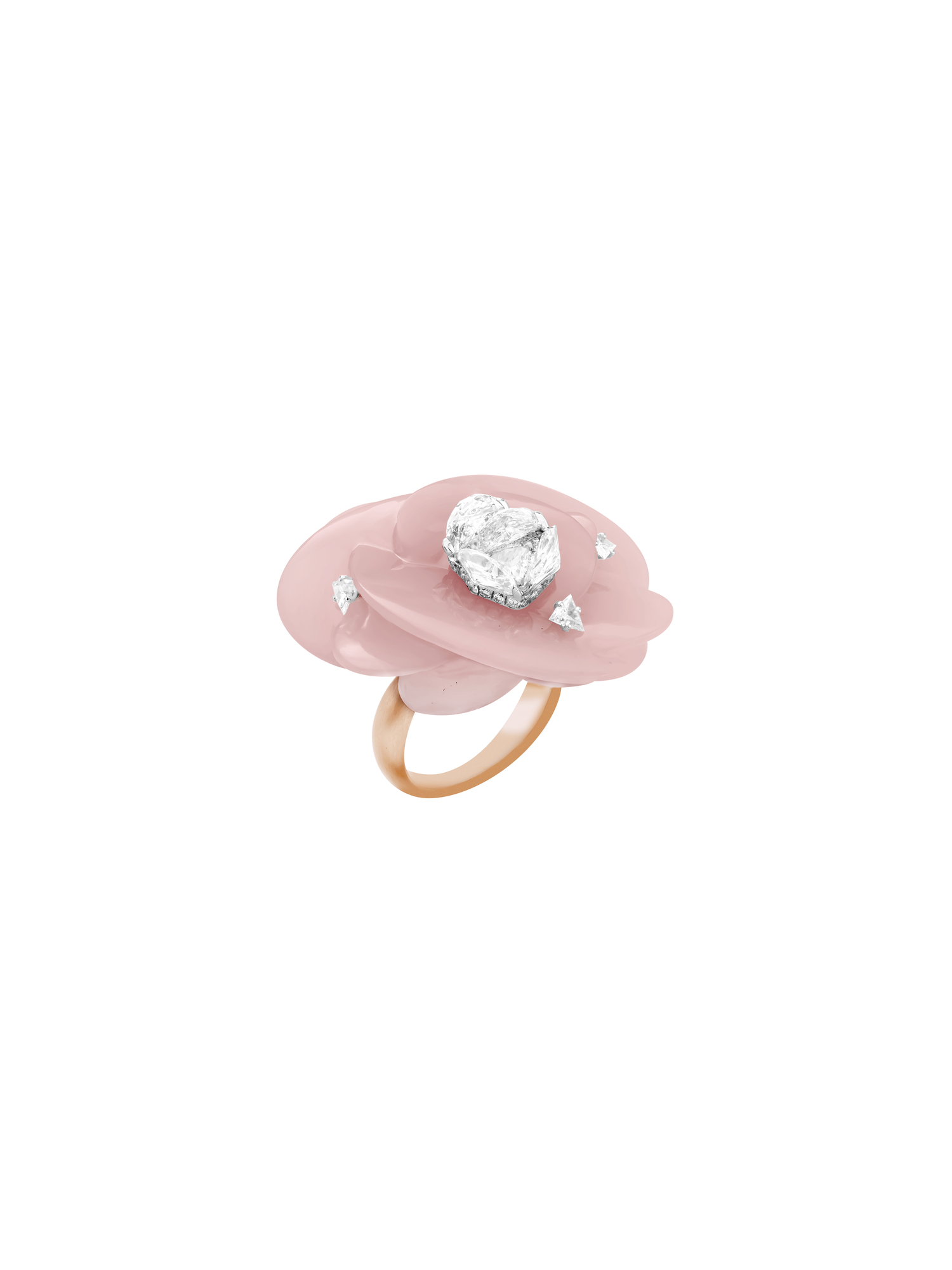 A single piece of sandy-pink Guava quartz is hand-carved into overlapping petals and dusted with half-moon diamonds to evoke the sparkle of sunlight on crystallised sand. The result of years of planning, the one-of-a-kind jewels in this collection are an homage to nature's ability to create beauty in the most unexpected places.
For more information, click here