Susana Martins – Unstoppables
Born and raised in Portugal, Susana Martins is a fine jewellery designer based in Dubai. She launched her eponymous brand in 2017 as a "gateway to share my passion for all things creative, inspiring people's lifestyles through exceptional product experiences."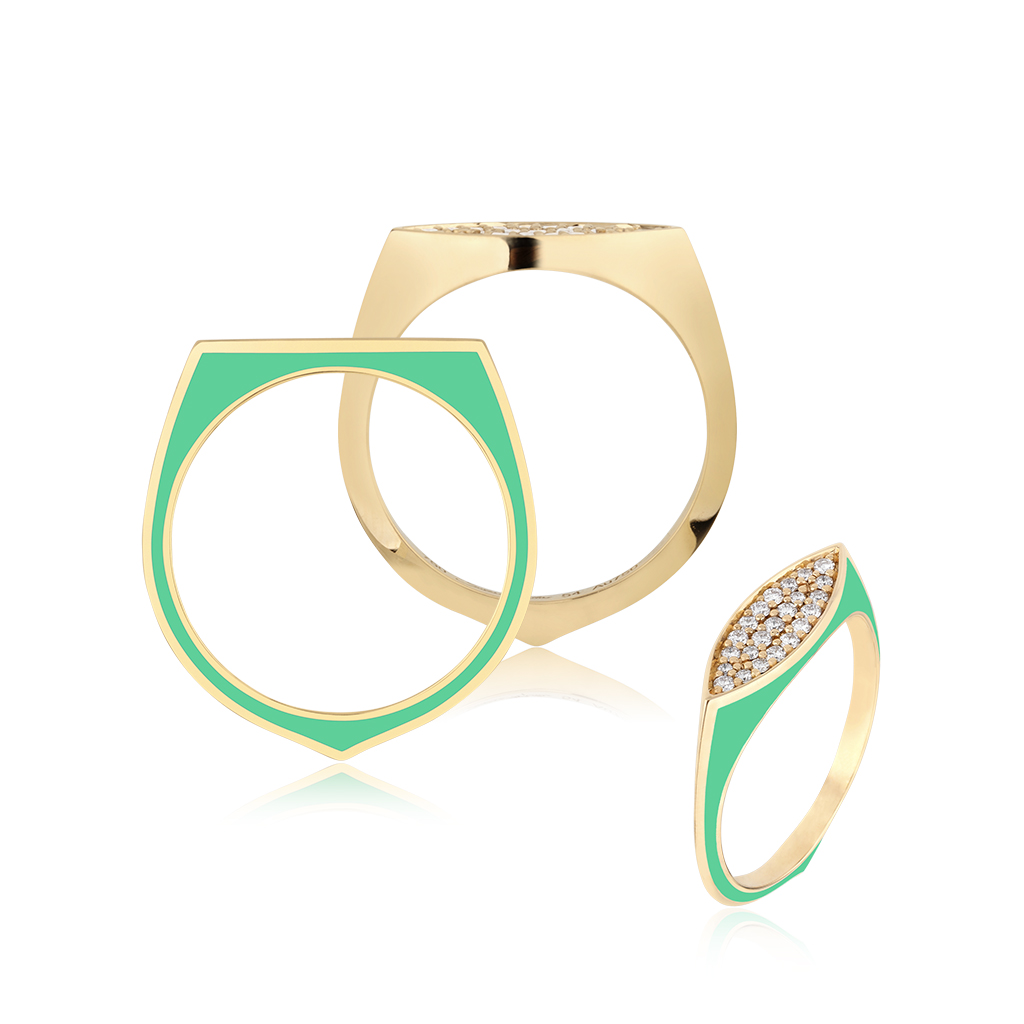 Trained as a goldsmith and stone setter, Susana's works often reference inspirations in art, architecture, and culture from the Art Deco period. Her newest collection, Unstoppables, was created during the lockdown in Dubai. "It grew from the sketches of The Eye Collection, especially the double-faced thumb ring with its marquise-shaped eye," says Susana.
The idea for the line was sparked when she noticed a friend making hand gestures, trying to express herself; her fingers were stacked with some great rings. "As I saw her gesticulate to make a point, I wondered how fun it would be if the forms of the rings could be mirrored on the top and bottom as well, or on the sides," she explains. "The 360° perception present in each piece is inspired by the motion of our hands and the vibrant positivity we project into the activity around us." The first pieces from her Unstoppables line were launched in December 2020, and more pieces and styles have been added this year. The collection consists of ear cuffs, small hoops, thumb rings (square), chubby ear hoops, stackable bands elongated marquise motifs, featuring diamond frosting and enamel accents. Enamel and plain gold styles are also available in the Unstoppables line.
For more information, click here

NeverNoT x Ilaria Lanzoni – Life In Colour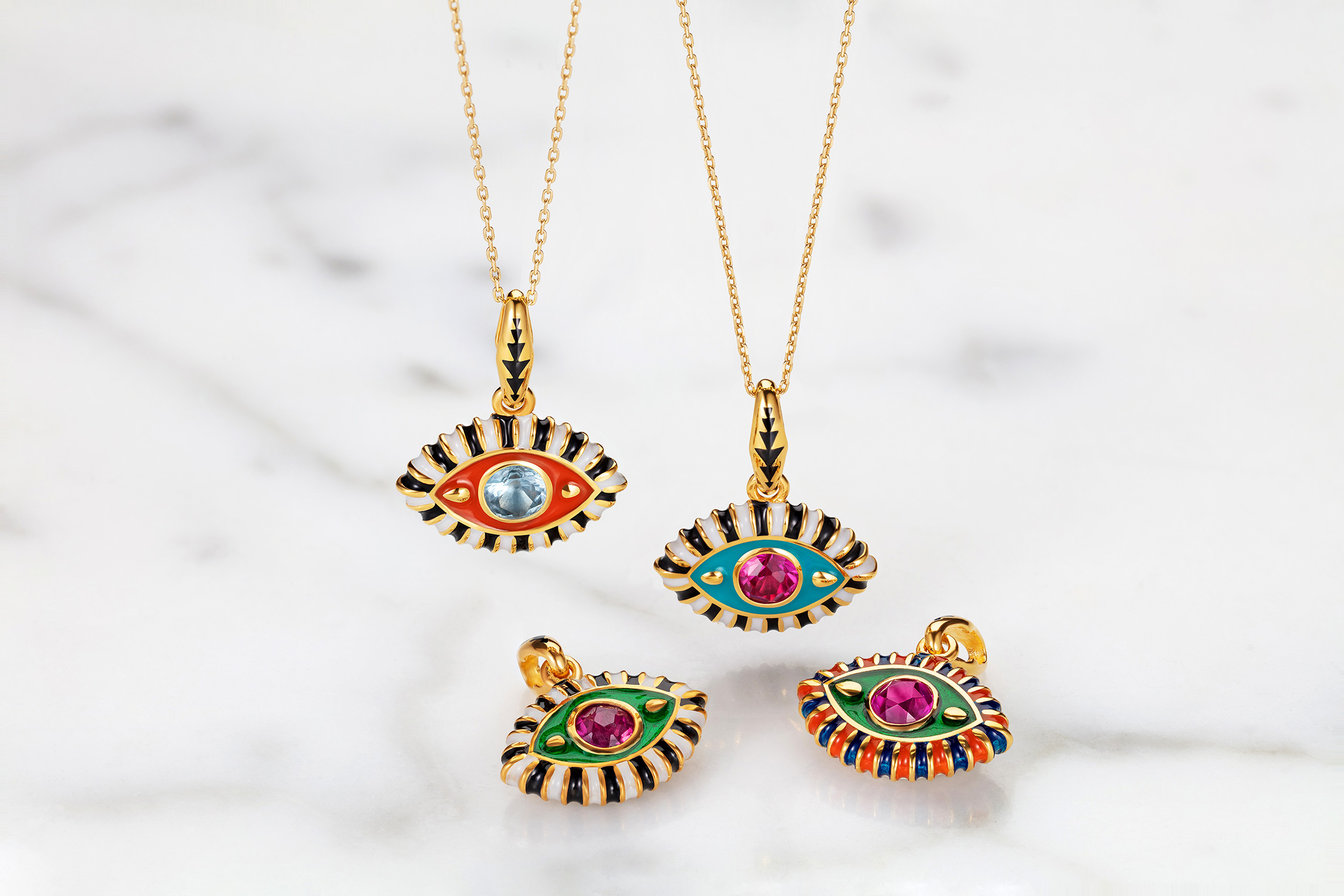 NeverNoT's enamel line, Life in Colour, evolved during the lockdown. "That was the time when we needed support and encouragement; an uplifting piece of jewellery was something we wanted, not just for ourselves, but also for our friends and clients," says Nina Dzhokhadze, co-founder of the brand. The idea for the enamel eye pendant line was inspired by one of their best-sellers, the eye rings. And to design the collection, Nina turned to friend and noted jewellery designer Ilaria Lanzoni. Former head designer for the likes of Hearts on Fire, Garrard Fine Jewellery, and Asprey, Ilaria launched her own line Ilanzoni in early 2020 with The Look Of Love; a simple and beautiful collection featuring the popular eye motif designed in a modern way.
The timing seemed perfect – and they set out to design a talismanic line. "This was the most fun project I worked on last year; I could also show my versatility as a creative designer. When Nina suggested a collaboration, my eyes grew wide with excitement and my mind started visualising pieces of jewellery and my hands did the rest," recalls Ilaria, who lives in New York. The designers started the collaboration in the Summer of 2020 exploring Spring/Summer 2021 trends.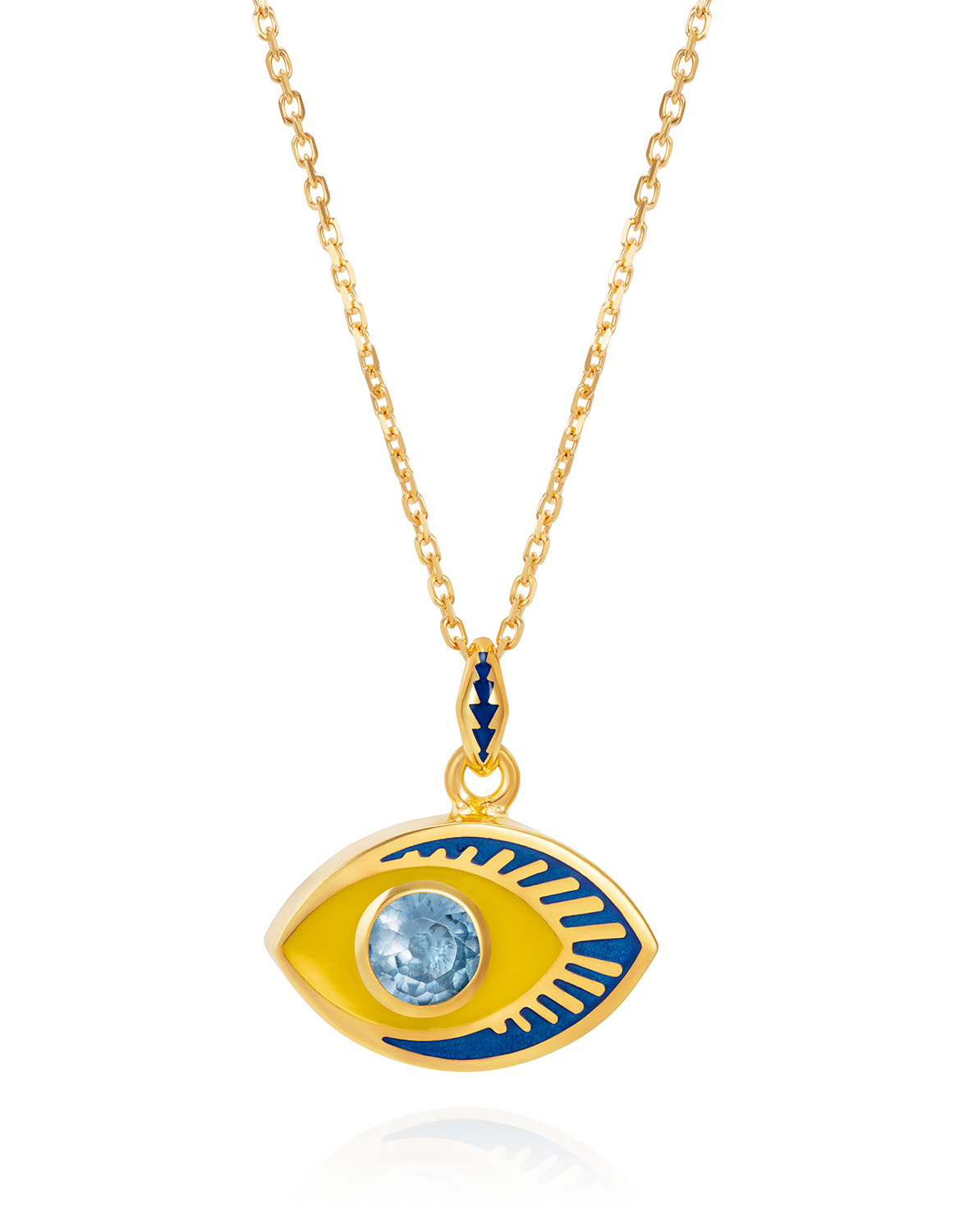 "We looked at the trend forecast for the new season, while also basing some of the colour combinations on NNT's most popular pieces. We had fun playing with different colour combinations," adds Ilaria. The Life In Colour eye pendants – decked out in green, yellow, blue, red, pink enamels – are a pretty summer accessory. The Life In Colour pendants are priced under GBP1,200. "It was a deliberate decision to ensure the collection remains affordable. We wanted people to be comfortable buying one or more pieces online. Often, clients buy a pendant and then end up buying a few more pieces. We have 10 styles of the eye jewel – each design is different and we have them in many colourways," explains Nina. The pendants, set with topaz in colours of pink, blue, and yellow, are handcrafted in Georgia, the hometown of the NNT founders. The pieces can be personalised with initials or names engraved on the solid back of the pendant.
For more information, click here

Anapsara – Dragonfly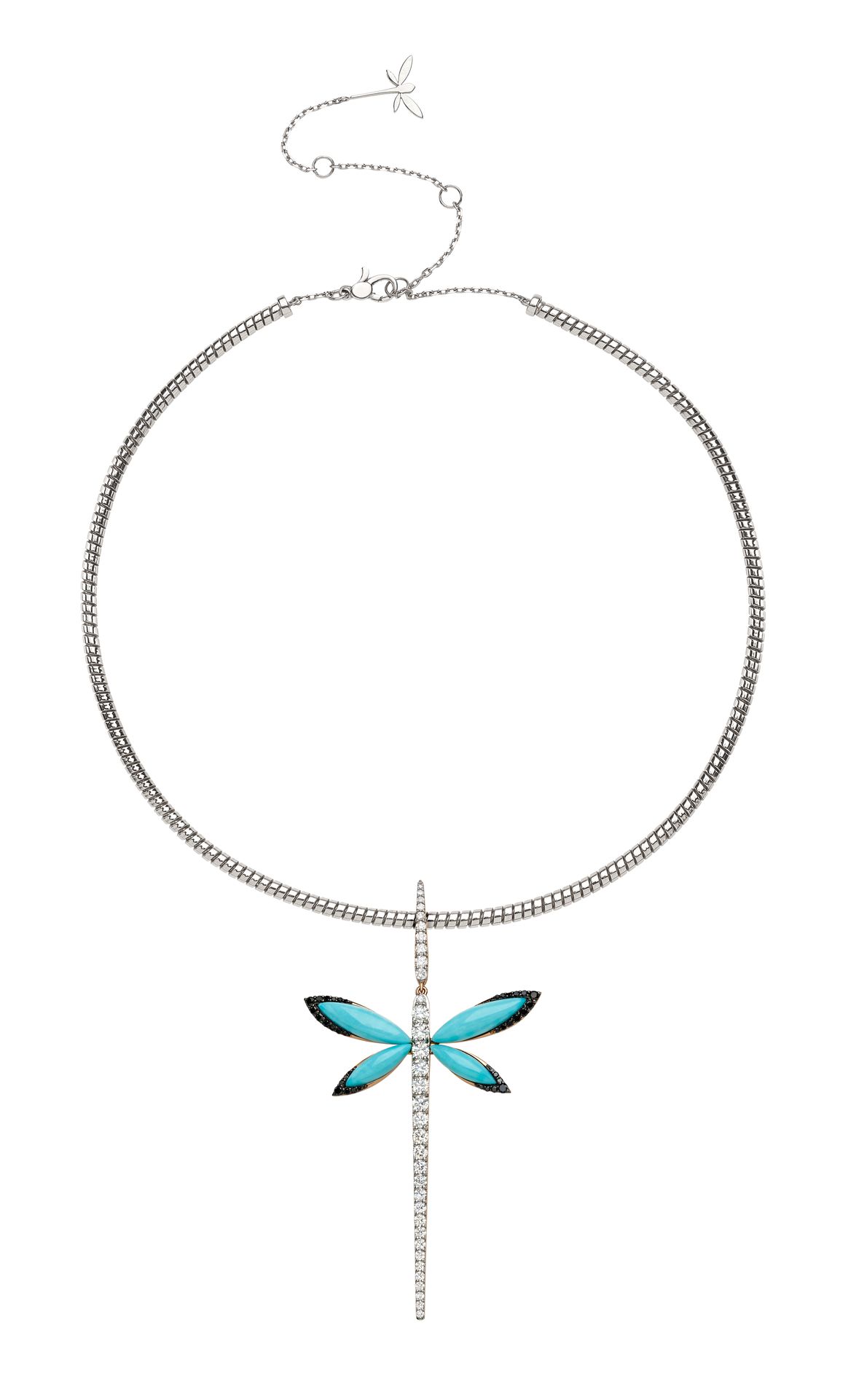 Founded in 2016 by Eugenia Shekhtman, Anapsara brings together the Ukrainian designer's love of jewellery and fashion. Her creations draw on her experience working in fashion, love of travel, as well as reverence for sacred geometry and spirituality. "I had been on a spiritual path for some years before I launched Anapsara." When Eugenia toyed with the idea of starting her own jewellery line back in 2014, she was eager to create a collection that would complement a dress or an outfit. She began working on ideas for wearable everyday pieces. "Anapsara was created on the white shores of Ibiza. It is a very special place on Earth and many creative people have chosen this island as their home. I too have a home here. It is a very inspiring and mystical island with powerful and transformational energy," she explains.
The dragonfly motif is the essence of Anapsara and can be seen transformed into the brand's logo and across many of the jewellery. "I think I have immortalised the mystical and beautiful dragonfly in my designs. My Dragonfly collection is an ever-evolving series. We come up with varied styles, colours and materials," says Eugenia. The core collection has new additions in enamel, semi-precious stones, black, white and brown diamonds in combination with chrysoprase, corals, onyx, mother of pearl and lapis lazuli.

"We launch new pieces in January each year; this year was very unusual, but we still brought out many new pieces and in different styles," she adds. The new additions include the three-dragonfly necklace accentuated with white diamonds and enamel in yellow, pink and green, cocktail ring set with turquoise, slim choker necklace with dragonfly pendant in diamonds and enamel, and two necklaces with pearls and chrysoprase – these are available at the brand's outposts and can be made-to-order.