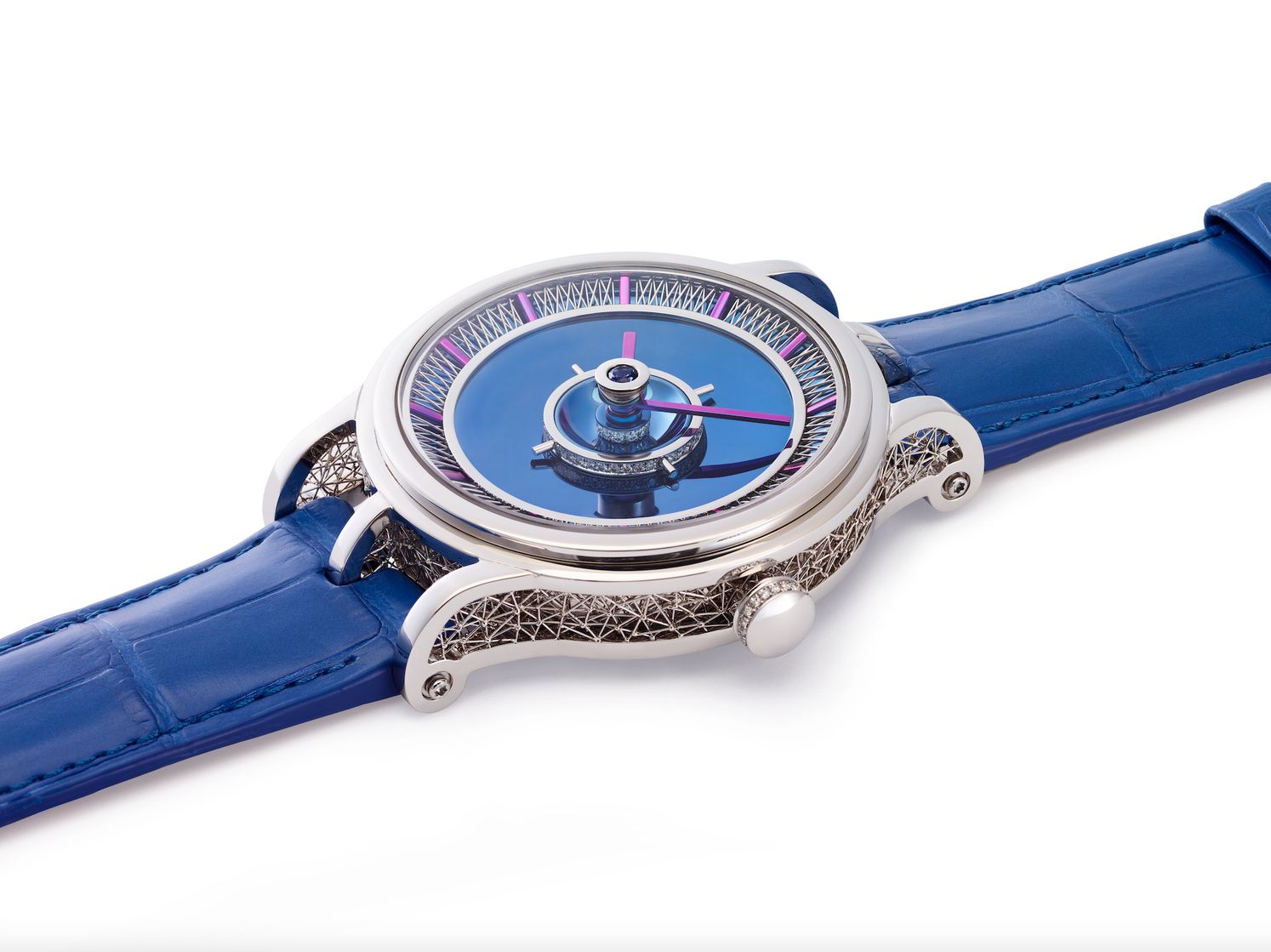 This one-of-a-kind timepiece by designer Tom Rucker hides many firsts within
A shimmering blue platinum and diamond face encased in a curved sapphire crystal magically conjures a dazzling galaxy, a moment of pure joy, for the wearer of Halon, a custom watch created by London-based designer and inventor Tom Rucker.
Halon hides poignant stories: The first is love. It's a commissioned piece to celebrate a husband's milestone birthday. The second is passion, feverish and innovative, that marks every jewel Tom makes. This is his first watch, a challenge in normal times: "But add the chaos of a global pandemic and it takes on the dimensions of a miracle."
Tom explains that the "galaxy" invocation was serendipity. The conscious inspiration was the wire wheel and spinners on a classic Jaguar, an echo of the client's passion for vintage cars.
"My dream was that every single part should be custom made and preferably, a world first." Technical development was finalized within a few weeks and by early 2020, his team was ready to start making the components. But by summer, his network stalled, some even went out of business. "It was end 2020 when a new team emerged and early 2021 when the journey restarted, marked by challenges, thwarted efforts, and serendipity."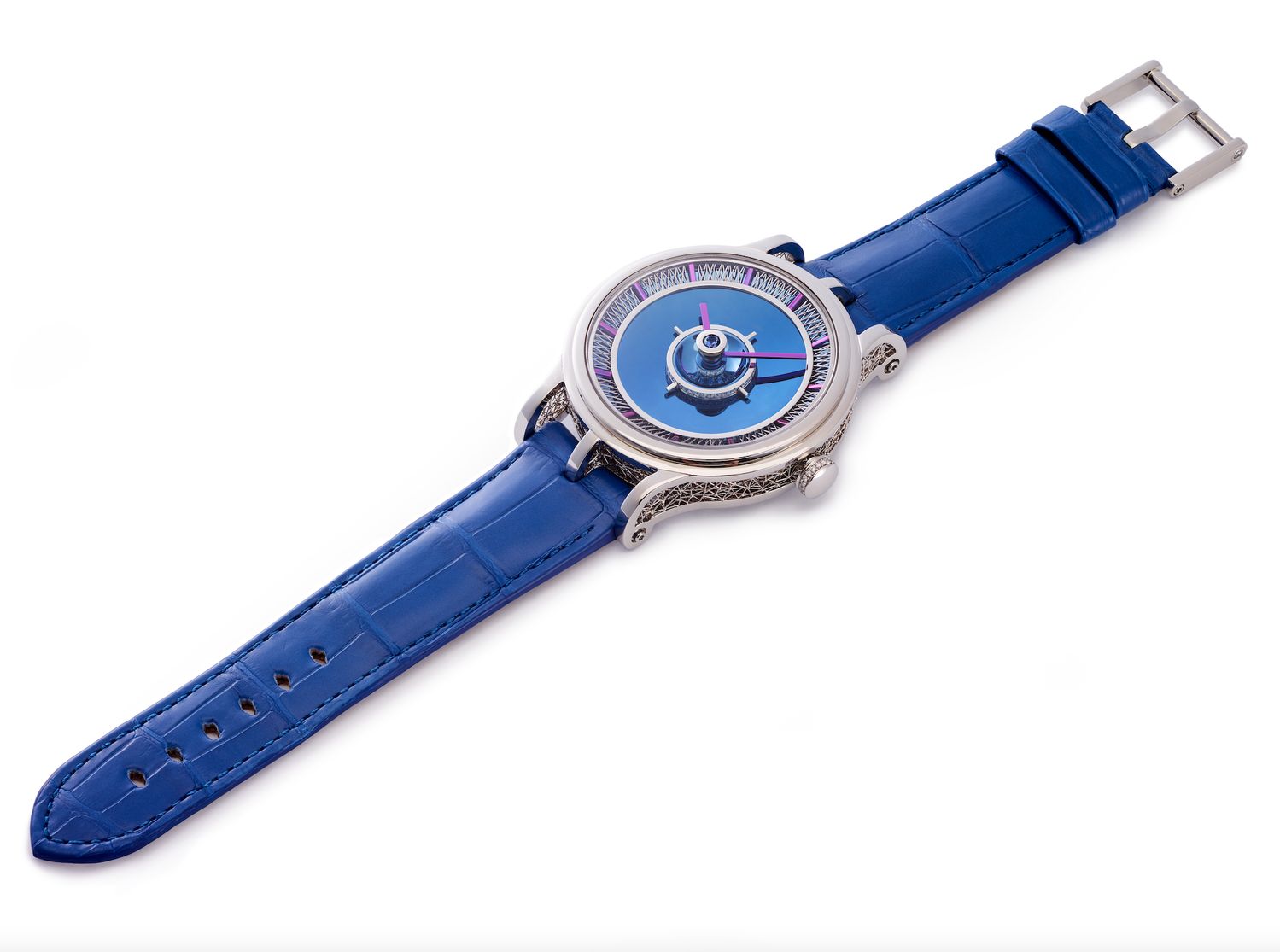 Halon in Platinum 950 and HYDERIAN® blue and pink Platinum 955; total weight of case 195 grams; diameter approx. 48 mm, 69 diamonds weighing 0.36 carat and a 0.12 carat blue sapphire 
He chose 3D platinum printing or additive manufacturing (AM) for the case. AM delivers quality and precision and is a first for a platinum watch. Halon's case has an outer frame with a micro laser welded structure and an inner one for the watch internals. AM worked well for the inner frame, but the larger and more complex design of the outer one proved an insurmountable challenge. "After two attempts and 3.5 kilograms of platinum powder for each try, we abandoned the method. It was back to the bench and trusty hand crafting techniques including forging, bending, manual milling, micro flame welding, and laser welding. The challenge was achieving zero tolerances – the inner case had to fit snuggly into the outer one. Thankfully it did," Tom reveals.
The movement was serendipitous. A fellow inventor and highly skilled craftsman was already working on this movement using tools more than 130 years old. "When he heard my quest he agreed to custom make every tiny piece of the movement for me."
The watch crystal was challenging for the Swiss-based manufacturer: A 40 mm sapphire glass with a specific curvature and anti reflex and scratch proof coatings plus an opening in the centre to carry a precision-cut blue sapphire. "After months of trials and eight glasses later, we got two that were perfect, one for the watch and one for future replacement."
Tom made the arms and indices in pink platinum and made a white platinum buckle for the strap and completed it with blue crocodile leather. "I wanted my client, who is a friend and collector of my work, to have the best watch for his life, one that would make him cry for joy. He did and I did too."