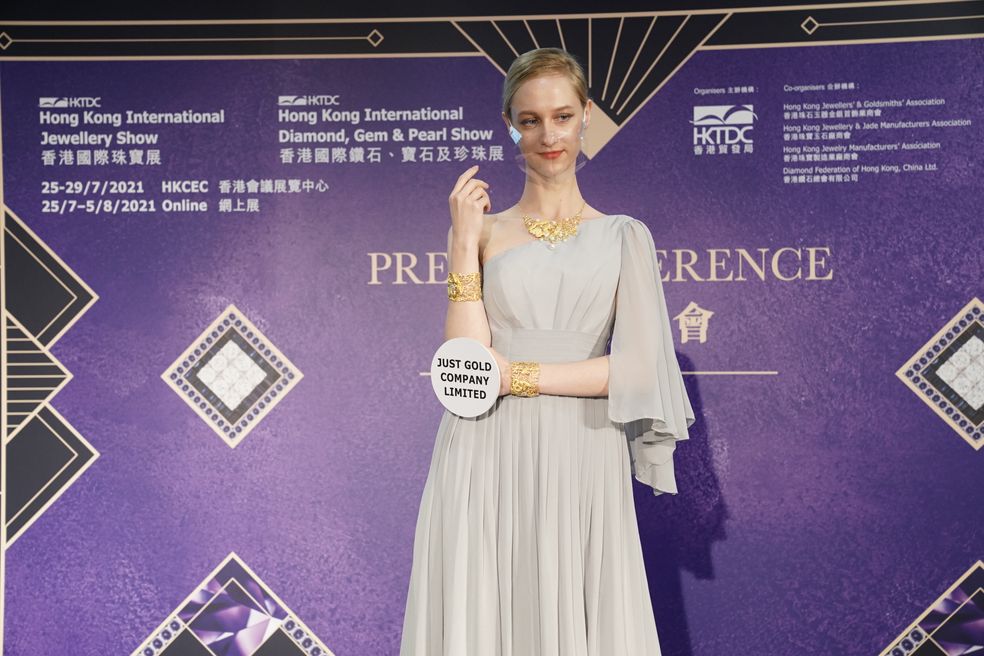 The G monogram collection from Just Gold highlights the company's intricate yet classic designs with fine lines
The 37th HKTDC Hong Kong International Jewellery Show and seventh HKTDC Hong Kong International Diamond, Gem & Pearl Show, organised by the Hong Kong Trade Development Council (HKTDC), will run from 25 to 29 July 2021 at the Hong Kong Convention and Exhibition Centre (HKCEC).
For the first time, the shows will be held in a hybrid format with both a physical exhibition and an online business matching service. The latter will run until 5 August, allowing global jewellers to make business deals through online video conferences. The physical fairs welcome industry buyers and, for the first time, members of the public.
The twin shows, which are the first physical trade fairs to be staged by the HKTDC since the pandemic, have attracted more than 400 exhibitors, majority of which are local companies since travel restrictions are still in effect between Hong Kong. However, some select exhibitors are sending local representatives to participate at the fairs, representing companies from Germany, Switzerland, the United States, Italy, and India.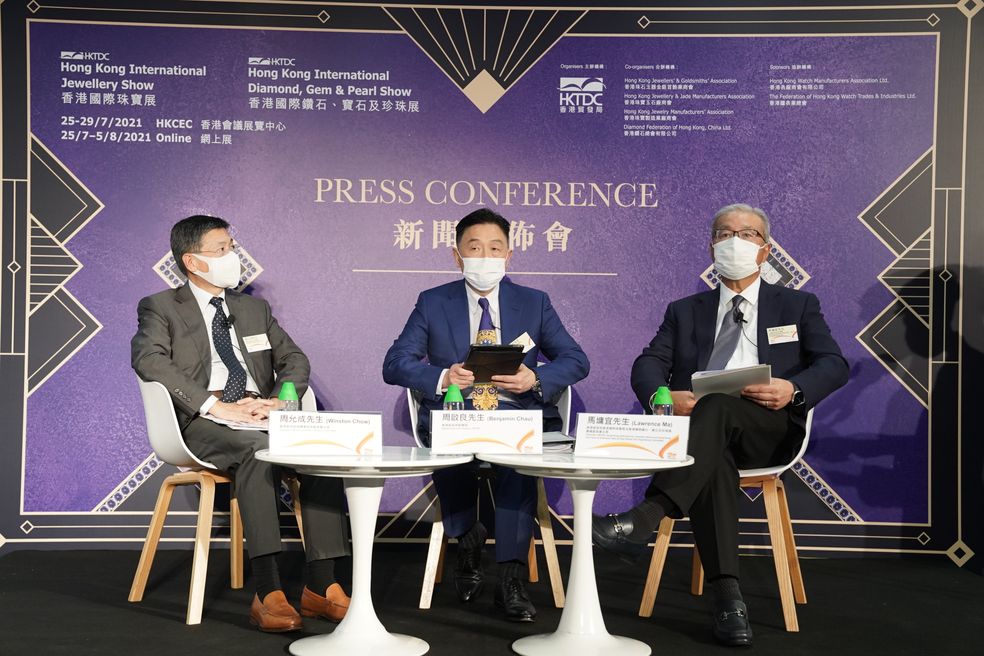 Winston Chow, Chairman, HKTDC Jewellery Advisory Committee; Benjamin Chau, Deputy Executive Director, Hong Kong Trade Development Council (HKTDC); and Lawrence Ma, Chairman, HKTDC Hong Kong International Jewellery Show and HKTDC Hong Kong International Diamond, Gem & Pearl Show Organising Committees
HKTDC Deputy Executive Director Benjamin Chau introduced the twin shows at a press conference said, "The pandemic situation has remained stable in Hong Kong while quarantine and immigration control measures continue to be in place globally. I believe the physical and online hybrid format will become the new trend for trade fairs. This HKTDC-organised one-stop exhibition and sourcing platform is showcasing a huge range of quality jewellery to suit the needs of buyers from around the world, helping exhibitors to build connections and make more business deals."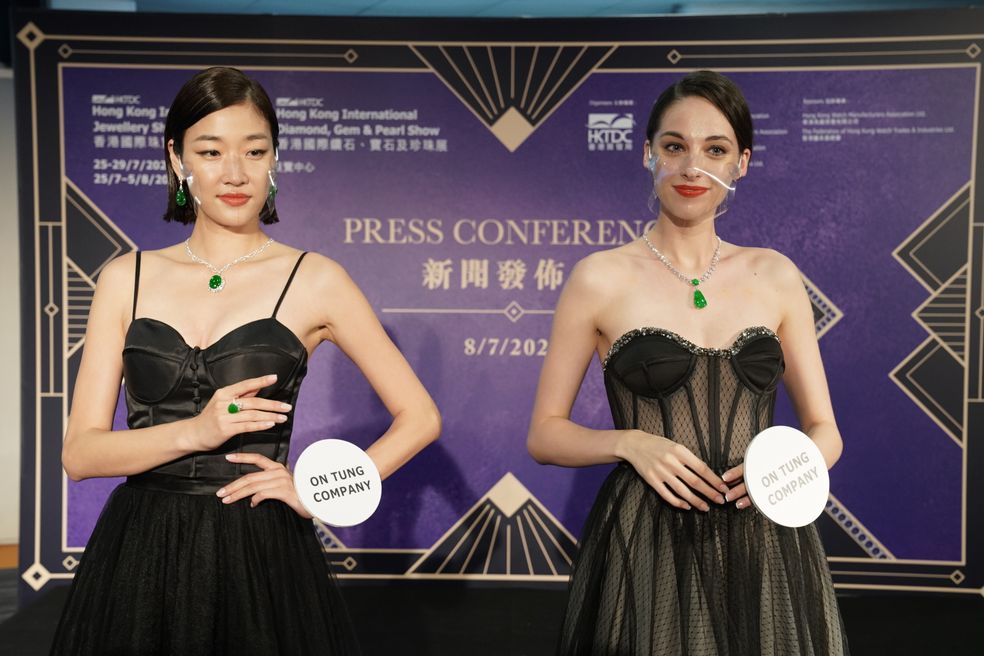 A magnificent Jadeite and Diamond Pendant Necklace (right) from On Tung Company worth HK$8.5 million. The other Jadeite Necklace (left), valued at HK$6.9 million, comes with matching earrings and a ring with the same exquisite design
Precious Jewellery and Modern Pieces Aplenty
Different product zones will be set up at the twin shows this year, including the World of Glamour at the Jewellery Show, which has attracted several well-known jewellery companies to showcase a selection of refined and precious pieces.

What's more, products zones such as Fine Jewellery, Antique & Vintage Jewellery and Silver and Finished Jewellery highlight different kinds of accessories from high-end pieces to casual wear items. These include jewellery made with rubies, Fei Cui, antique pieces, trendy designs, and more.
The Hong Kong International Diamond, Gem & Pearl Show showcases a fine assortment of raw materials including diamonds, gems and pearls. Different zones include the Hall of Fine Diamonds, which showcases prime quality diamonds of different shapes, cuts, grades, and colours. Meanwhile, the Treasures of Nature zone displays various glittering precious gemstones, semi-precious gems, and natural raw materials, while the Treasures of the Ocean zone houses the highest-quality pearls from Tahiti, the South Seas, and other pearl-producing areas.
Seminars to Look Out For
Several seminars will also be held during the twin shows, including one hosted by a representative from De Beers, who will share how the jewellery industry supply chain has changed amid the pandemic. Representatives from Chow Tai Fook will share about online marketing, while speakers from the Gemmological Association of Hong Kong (GAHK) will talk about the internationalisation and testing standards for Fei Cui.
There will also be talks to meet the needs of the jewellery-loving public, including a representative from the internationally renowned jewellery college L'ECOLE sharing on the art and science of rubies. Representatives from the Diamond Federation of Hong Kong and Jade Manufacturers Association will talk on how to appreciate rare-colour stones, while a representative from the Gemological Institute of America (GIA) will introduce the its pearl evaluation methods.
For more information on the HKTDC Hong Kong International Jewellery Show, click here
For more information on the HKTDC Hong Kong International Diamond, Gem & Pearl Show, click here
For more information on the HKTDC International Sourcing Show, click here