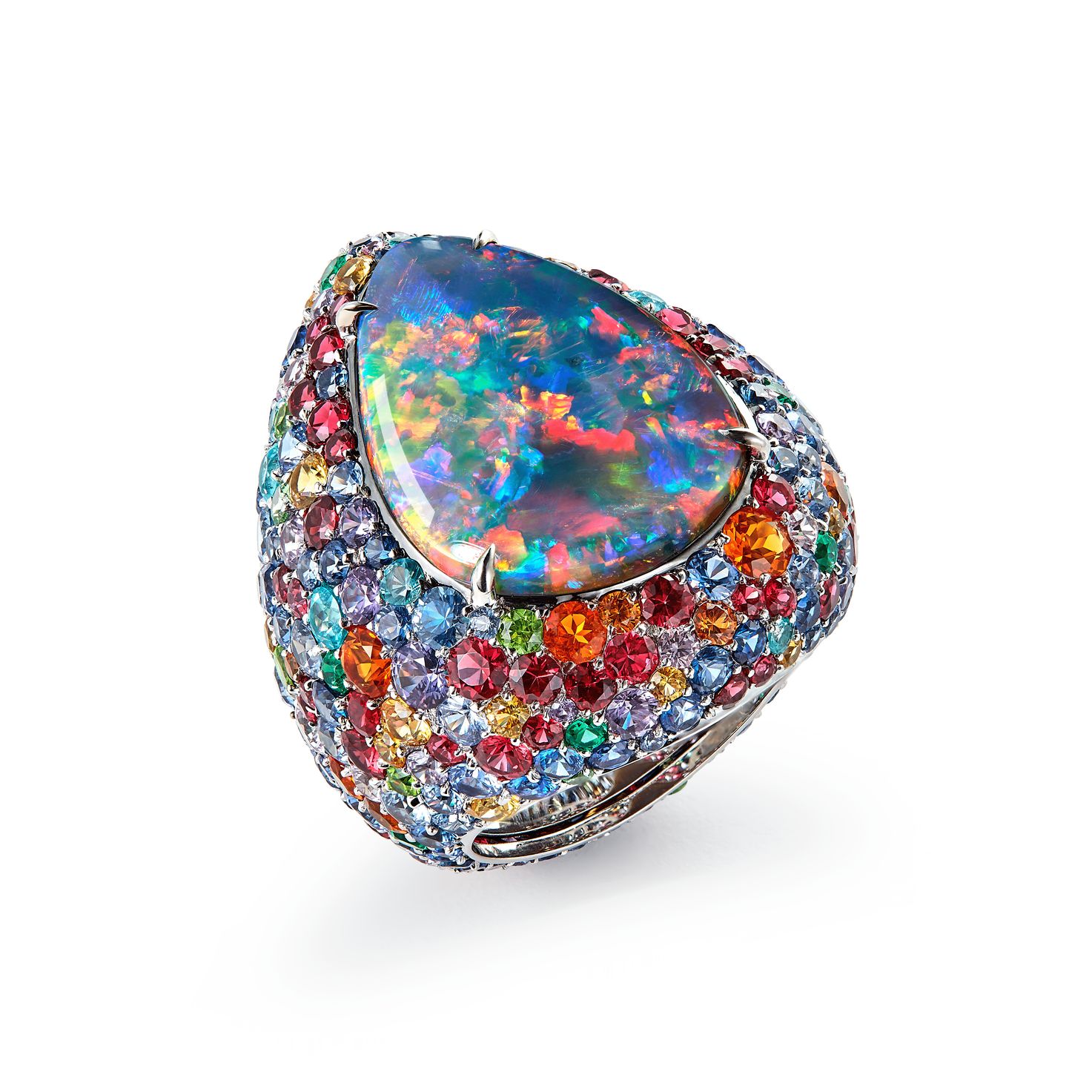 Illusion ring
The Boucheron Holographique Collection is a moving rainbow, illuminating the evolution of colour
French jewellery brand Boucheron never fails to astonish us with their technical mastery and pioneering innovation. This time, the brand dives deep into the science of light, bringing dream-like ecstasy and joy through aeronautic holographic technology. To behold the pieces comprising the Holographique Collection is to imagine a rainbow of reflections.
Colour is a theme that has been interpreted a thousand times in fine jewellery, yet, under Creative Director Claire Choisne, no one has ever pushed the possibilities of colour into the psychedelic realm quite like Boucheron. Hélène Poulit-Duquesne, CEO of Boucheron and Choisne have been working together on the collection for several years, capturing the complexity of light through flashing opals and holographic rock crystal and ceramics.
The collection is composed of twenty-five unique pieces, and explores the very definition of "holographic," a photosensitive phenomenon which means 'to represent everything' in Greek.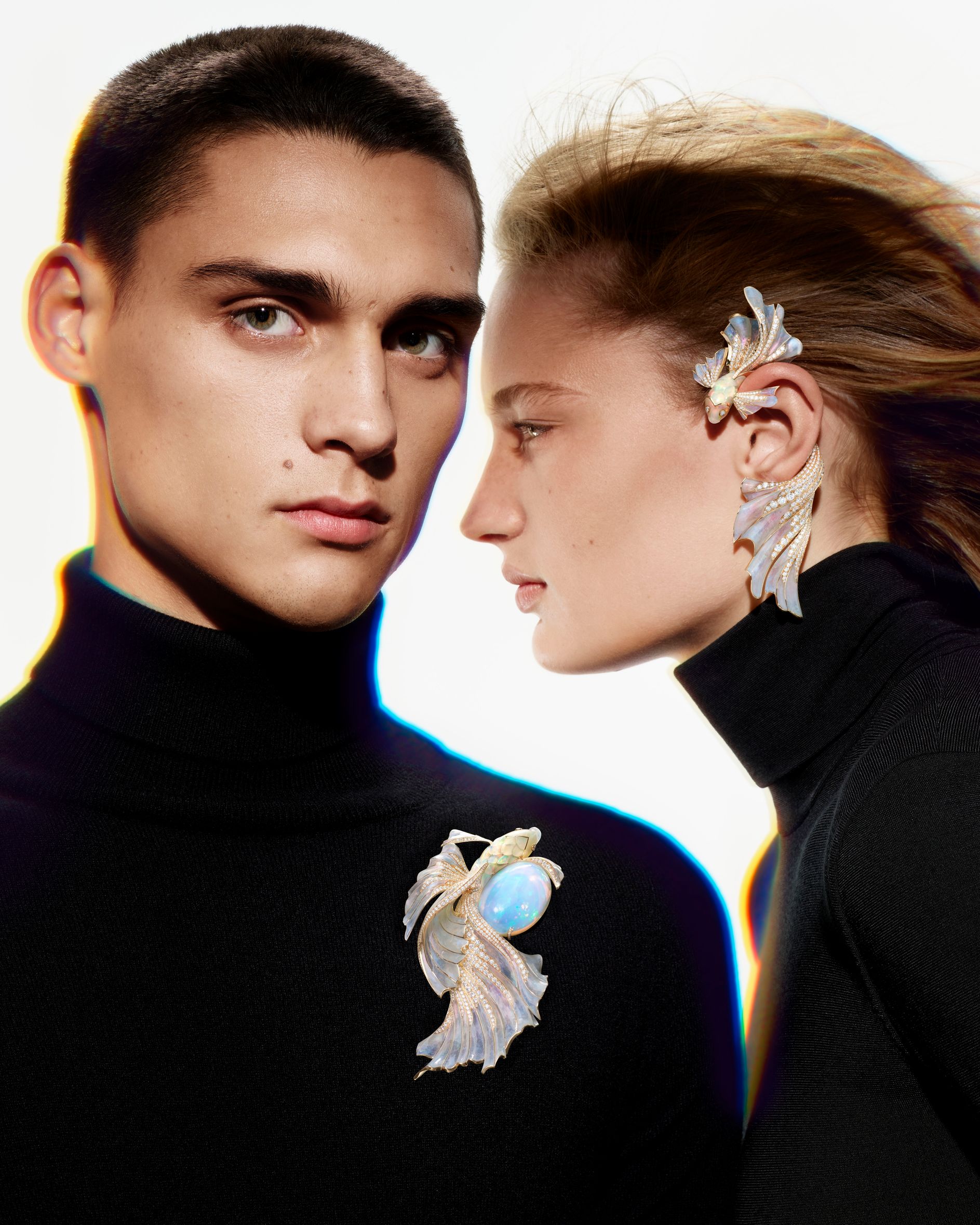 Opalescence brooch and earrings 
The research into the holographic theme initially brought Choisne to using lots of opals as seen in the Opalescence, Ondes, and Illusion series. At the core of these prismatic pieces, Boucheron explores the sensuality of light through the electric colour play of opals, rendering shifting hues on quick water, luminous aquatic fish swimming through undulating waves, to illusionary trompe-l'œil effects.
The second part of the collection is based on extensive experiments on 'holographic' technology with Saint-Gobain, a billion-euro French supplier of building materials. Together they created a strong titanium and silver coating that is sprayed at high temperatures on ceramic and rock crystal. What resulted were rainbow gradients and holographic sparkle, reminiscent of the shimmering hues of tropical fish, butterfly wings, and weightless soap bubbles.
Rarely has a Boucheron collection ever been so colourful. Taking a sensorial approach to high jewellery craftsmanship, Boucheron evokes the exhilaration and joyful nostalgia of encountering a euphoric mirage of refracting colours. "When a rainbow appears, it brings excitement and joy, evoking memories of innocence. It's incredible how nature can give you such a present. The aim of the collection is to release something very positive and very joyful," said Poulit-Duquesne who oversees the in-house Innovation Committee and approves every drawing before it is launched to the market. She added, "We want our clients to feel joy when they wear this collection, as though you're wearing a rainbow on your wrist."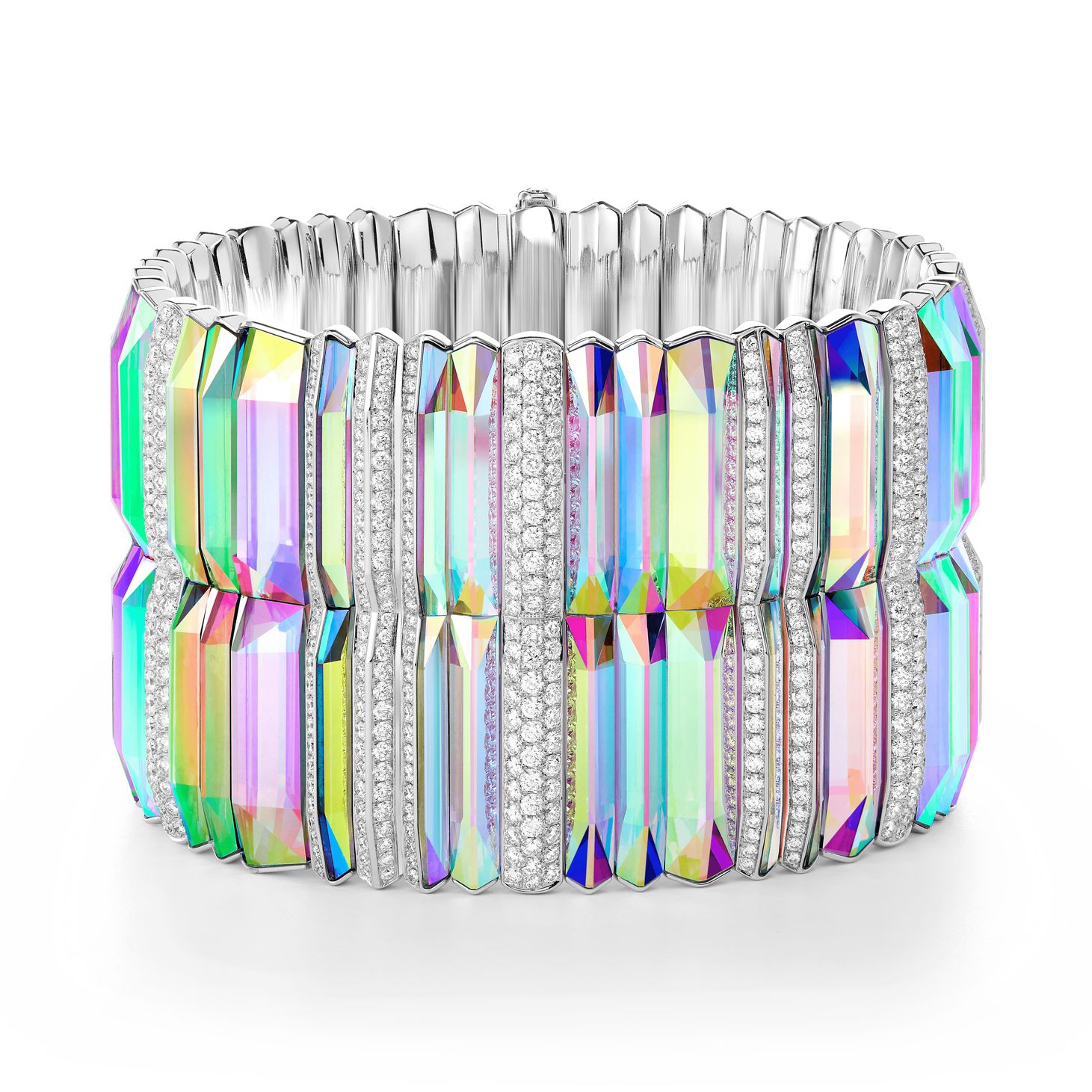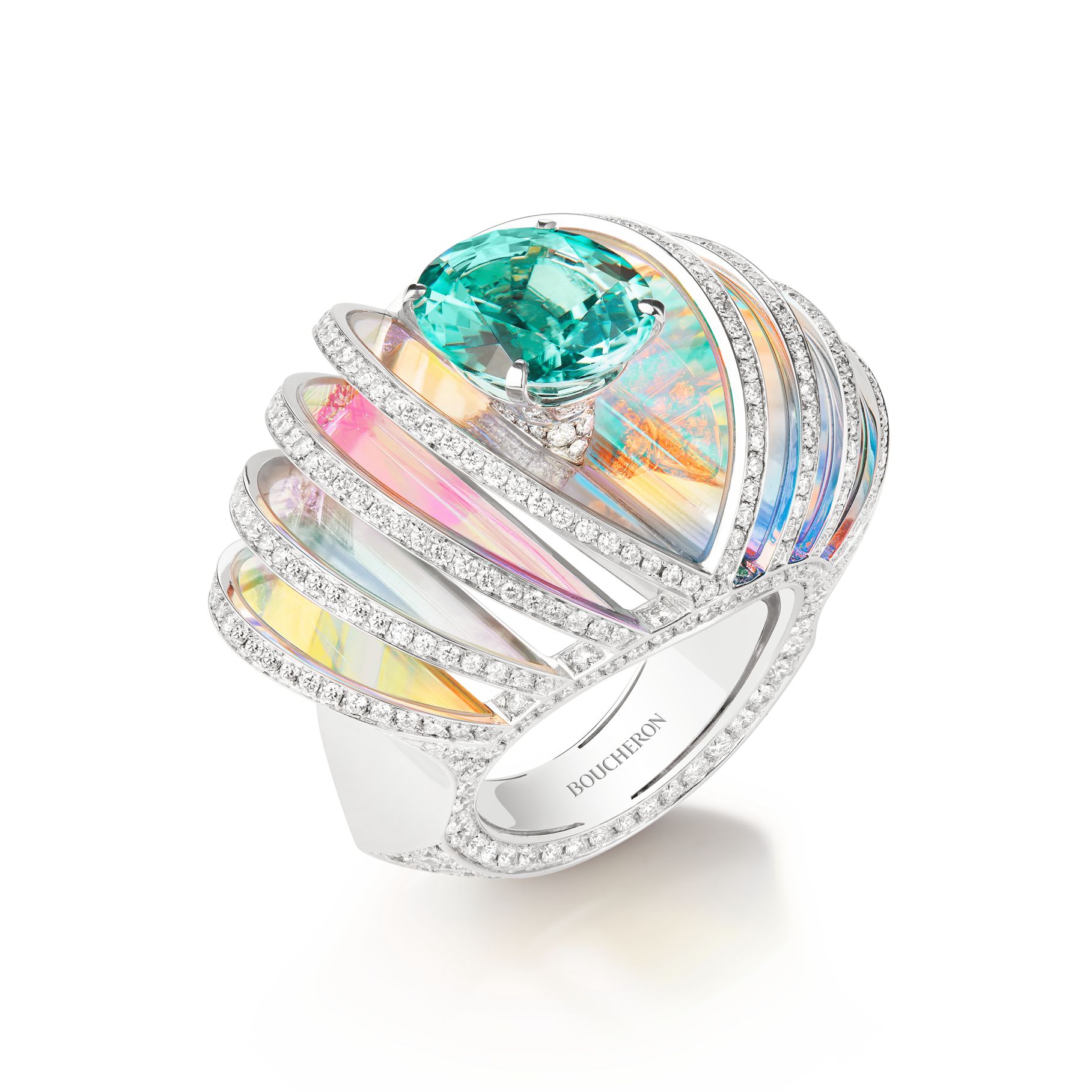 Top: Prisme bracelet
Bottom: Holographique ring 
Poulit-Duquesne explains that it has taken some years for Choisne to pinpoint what colour meant for Boucheron. "Colour is part of Boucheron's patrimony and Claire pursued the dream of showing all the colours at the same time. She dived straight into white light because she didn't want to choose a specific colour. It is both ingenious and funny!"
Choisne veers away from showing the full spectrum of hues by using different stones and represents them all through innovative techniques. It is not the first time for Boucheron to merge different industry sectors together to present bold and powerful collections. Poulit-Duquesne explained, "Claire searched for the technique to create this special effect. She turned to holographic materials because she wanted to capture the rainbow within the jewellery. There are no limits, that's the Boucheron way, even when we crossover to other industry sectors." This iridescent effect is particularly alluring in the Halo series where flowing rainbow spheres are distilled into sci-fi torque necklaces, rock crystal cuffs and ring sets.
The one-of-a-kind Holographique necklace is the highlight of the collection, and also Poulit-Duquesne's favourite piece. "You have the full effects of holography in this necklace and it's design codes are perfectly aligned with Boucheron's patrimony with architecture. The use of rock crystal is very Boucheron," said Poulit-Duquesne.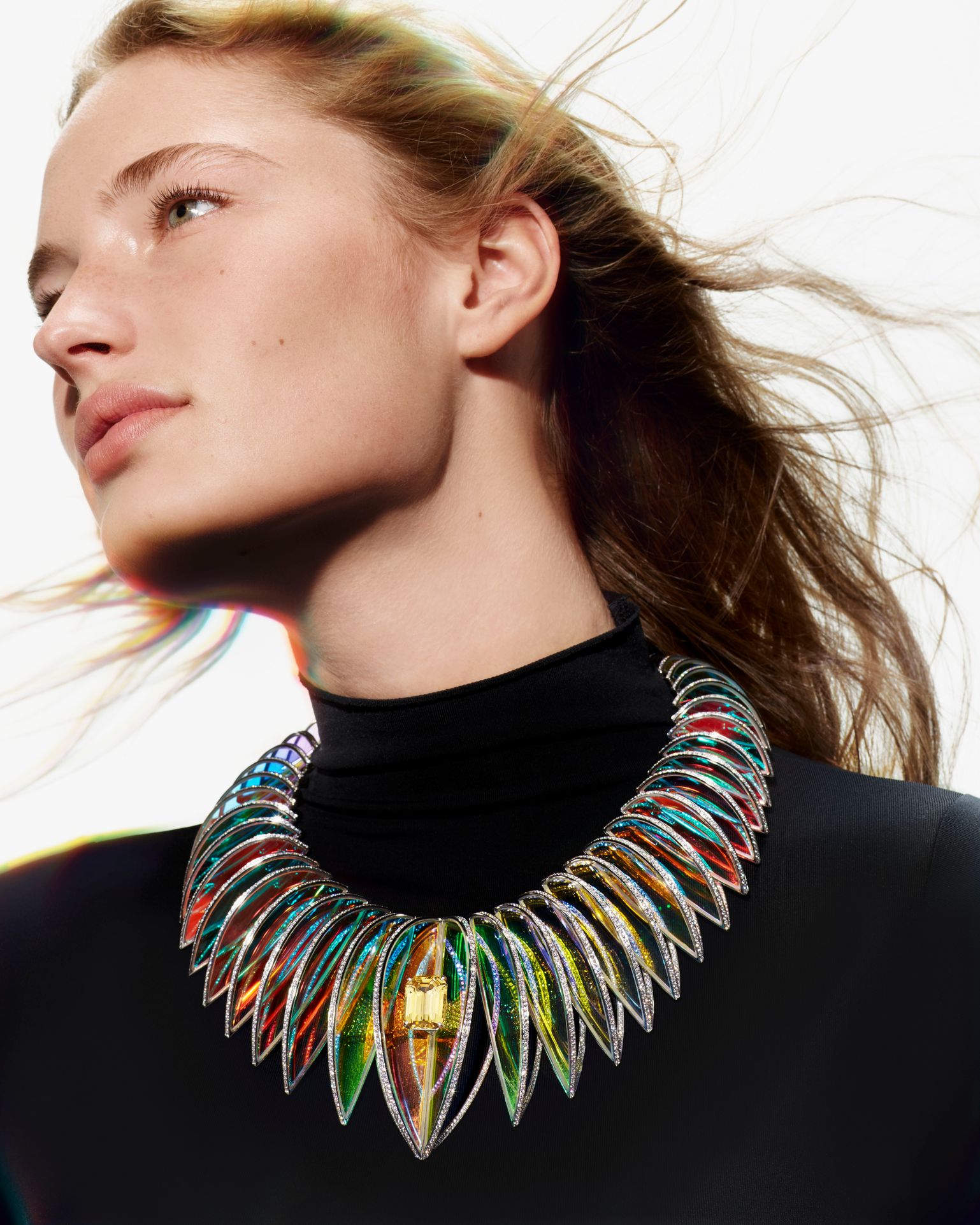 Holographique necklace
This amazing piece breaks the code of high jewellery design, with fine blades of holographic crystal paved with diamonds in white gold and set with a central 20.21 carat octagonal yellow sapphire from Sri Lanka. The necklace is made to be very supple and flexible, to interpret the holographic shifting patterns of light as the wearer moves. Always going above and beyond, the Maison takes into consideration the interaction of light with the wearer and their surroundings. There is a sense of theatricality in the necklace when worn between the day and night. As Poulit-Duquesne puts it, "The room lights up and colours reflect onto the walls. In the evening, there's a disco feeling on an energetic dance floor, and during the day, the necklace feels more nature orientated and peaceful."
 The collection is a world away from the classic and conservative glamour that normally occupies high jewellery. Boucheron's futuristic choice of materials and avante-garde approach elegantly questions conventions of high jewellery, as they elevate the pervasive rainbow jewellery trend to new heights through an injection of psychedelic magic.