As technology and sustainability demand attention and digital and physical worlds interplay, jewellery design and manufacture head to new frontiers. We're certain 2022 promises a jewellery revolution.
The lines between art, sculpture, and jewellery will blur with a value shift to creativity rather than purely precious material content. This, coupled with demand for planet-conscious sustainable jewels will see an increase in new materials and new ways to engineer these: Porcelain, clay, wood, reeds, and even plastics will be "luxurised" to deliver meaningful jewels.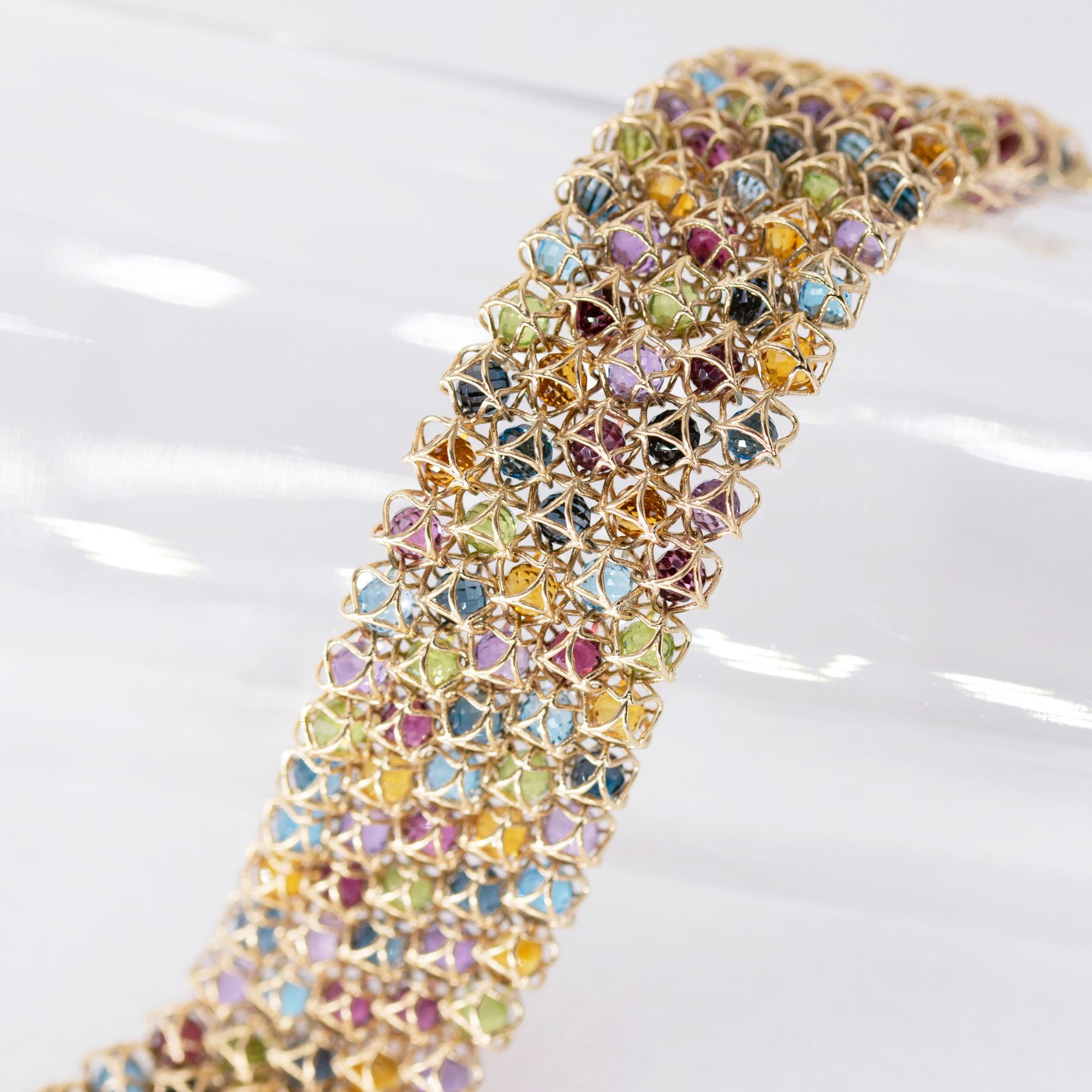 Boltenstern 3-D printed jewellery
Technology will move centre stage too. Jewels printed directly on precious metal from a CAD file will offer voluminous, lightweight jewels; some with gemstones set during the printing process and even a fine precious metal "fabric" with new potential for adornment.
The boldest brands will take the leap into the digital world of blockchain technology and non-fungible tokens (NFTs), following luxury fashion's lead.
Printed Jewels
A 3-D printing technology known as Additive Manufacturing (AM) or Laser Metal Fusion (LMF) can print a complete piece of jewellery from a bed of atomized precious metal powder, cutting out many steps and reducing waste in the production process. For example, lightweight platinum jewels, near impossible to produce with traditional methods, such as casting, can now be printed with gemstones already set within them or created with precision spaces for the gemstones.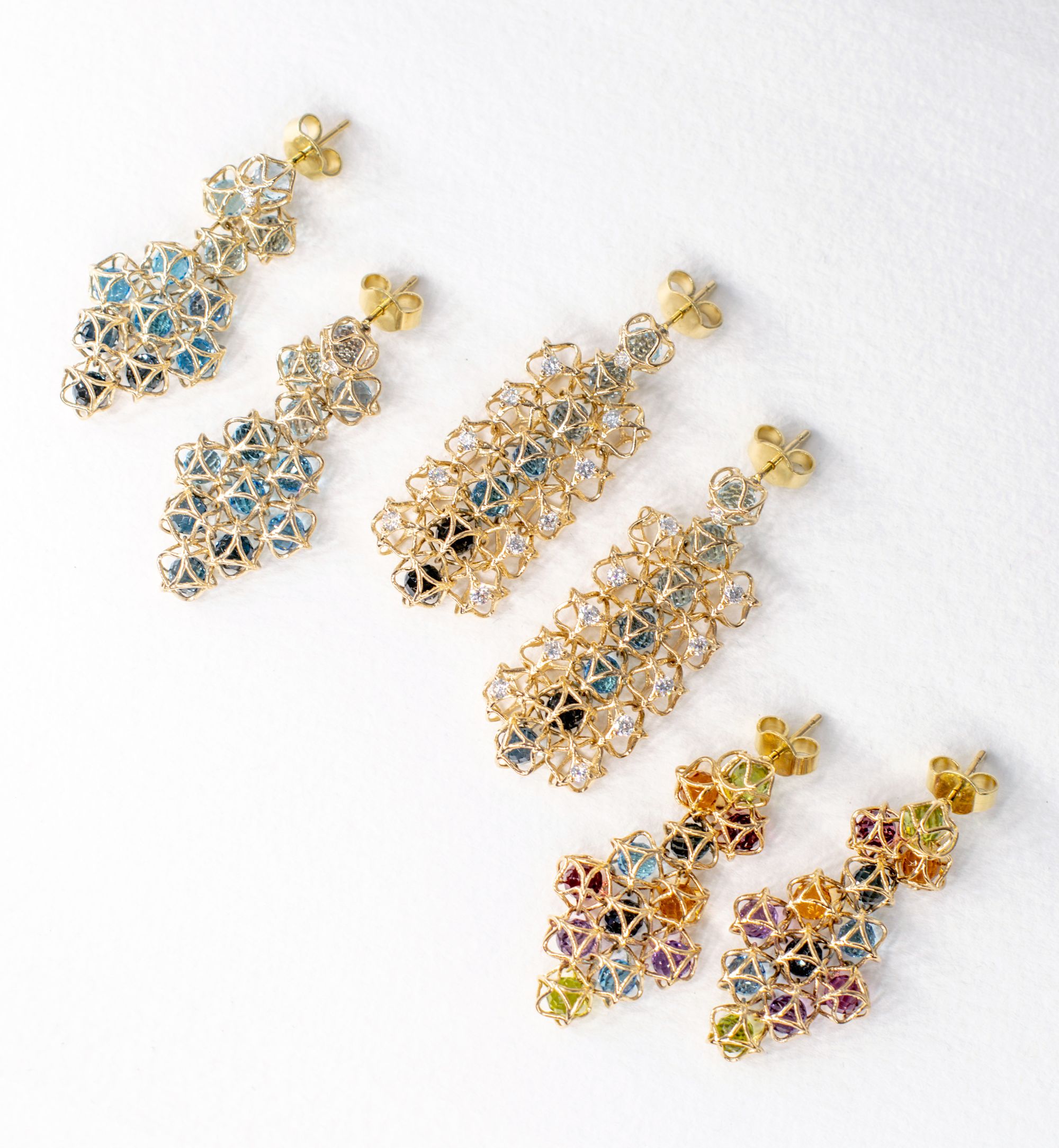 Boltenstern earrings 
A pioneer is Boltenstern in Vienna, Austria. The family-owned company was a traditional fine jeweller until 2015 when the founder's daughter, Marie Boltenstern, a practicing architect with digital technology competency, brought printing to the brand. "Our collections are computationally designed, based on mathematical codes and most are printed as complete jewels, including closures," Marie reveals. "For some collections, even the gemstones are set in the printing process. These only require polishing." Design and print prototyping is done at the atelier in Vienna, direct printing to metal at a partner's production facility in the UK, and "skilled goldsmiths in our Vienna workshop give the final touch to each piece." A printed men's collection in titanium is next. "Our aim is to establish a decentralized print-on-demand business model with no waste, low stock, and personalised customer journey," Marie enthuses.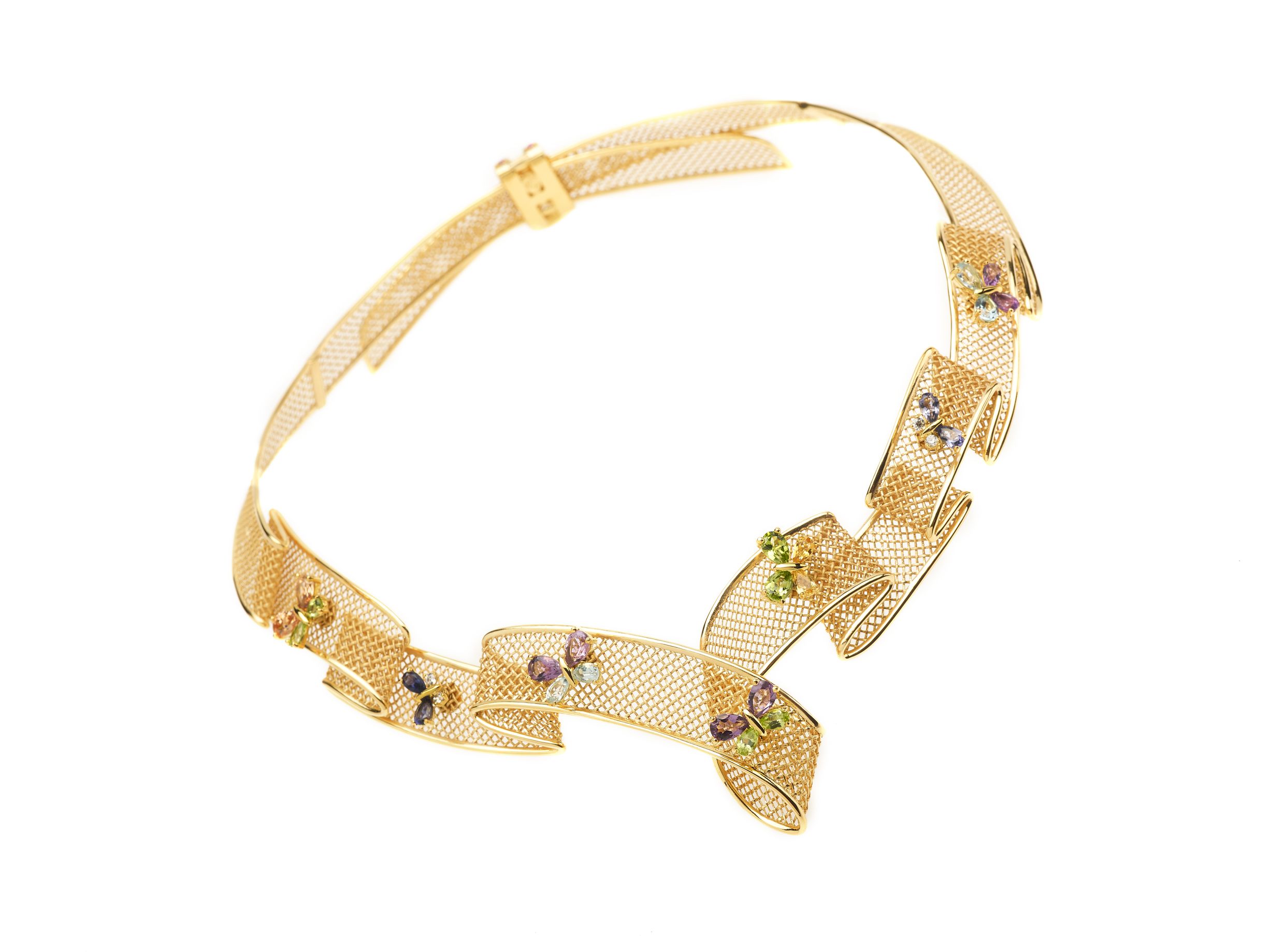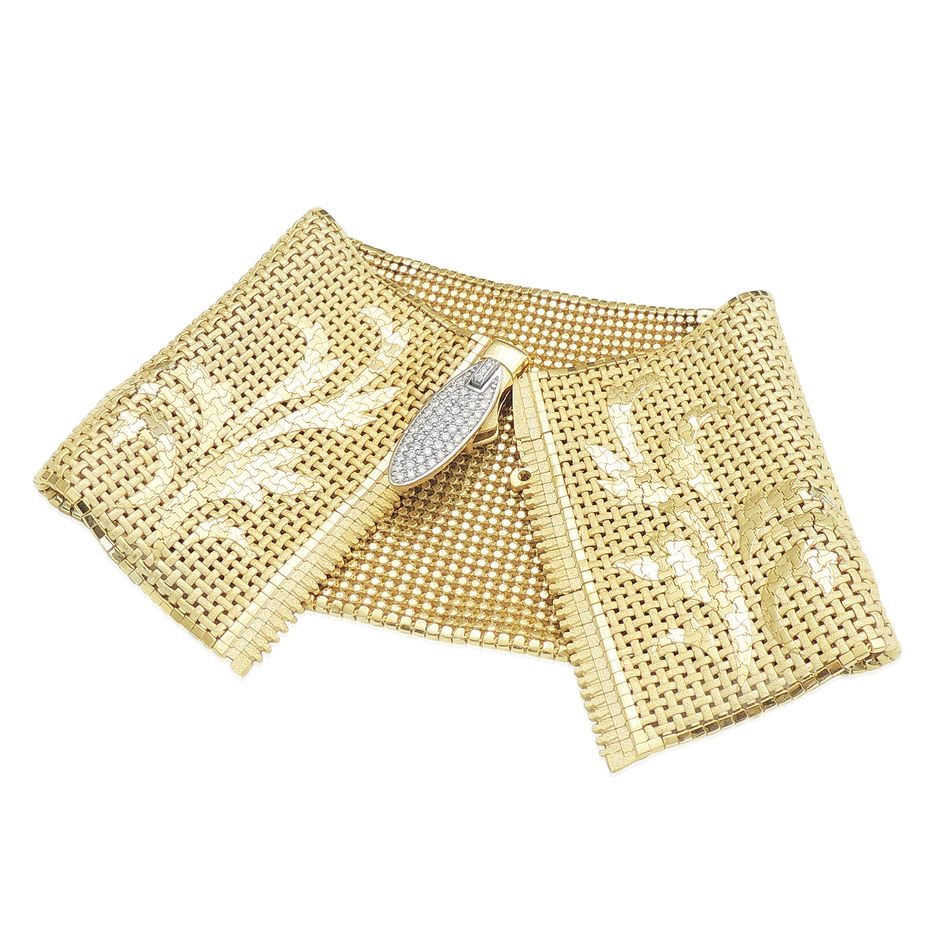 Top: Nuovi Collana necklace 
Bottom: Nuovi metapixel cuff with zipper 
In Italy, Nuovi Gioielli creates and markets a printed consumer brand, plus prints collections for brands in overseas markets. "With LMF, we can create very lightweight yet voluminous structures, completely closed hollow volumes, and articulated and movable parts. We work mostly in platinum, palladium gold, as well as yellow and rose gold," says Damiano Carlesso. The company has its own printers, in-house design, and post-production.
Nuovi's latest, Metalpixel precious metal "fabric", has immense potential to re-create the art of jewellery adornment and bridge a crossover from jewellery to fashion, he says.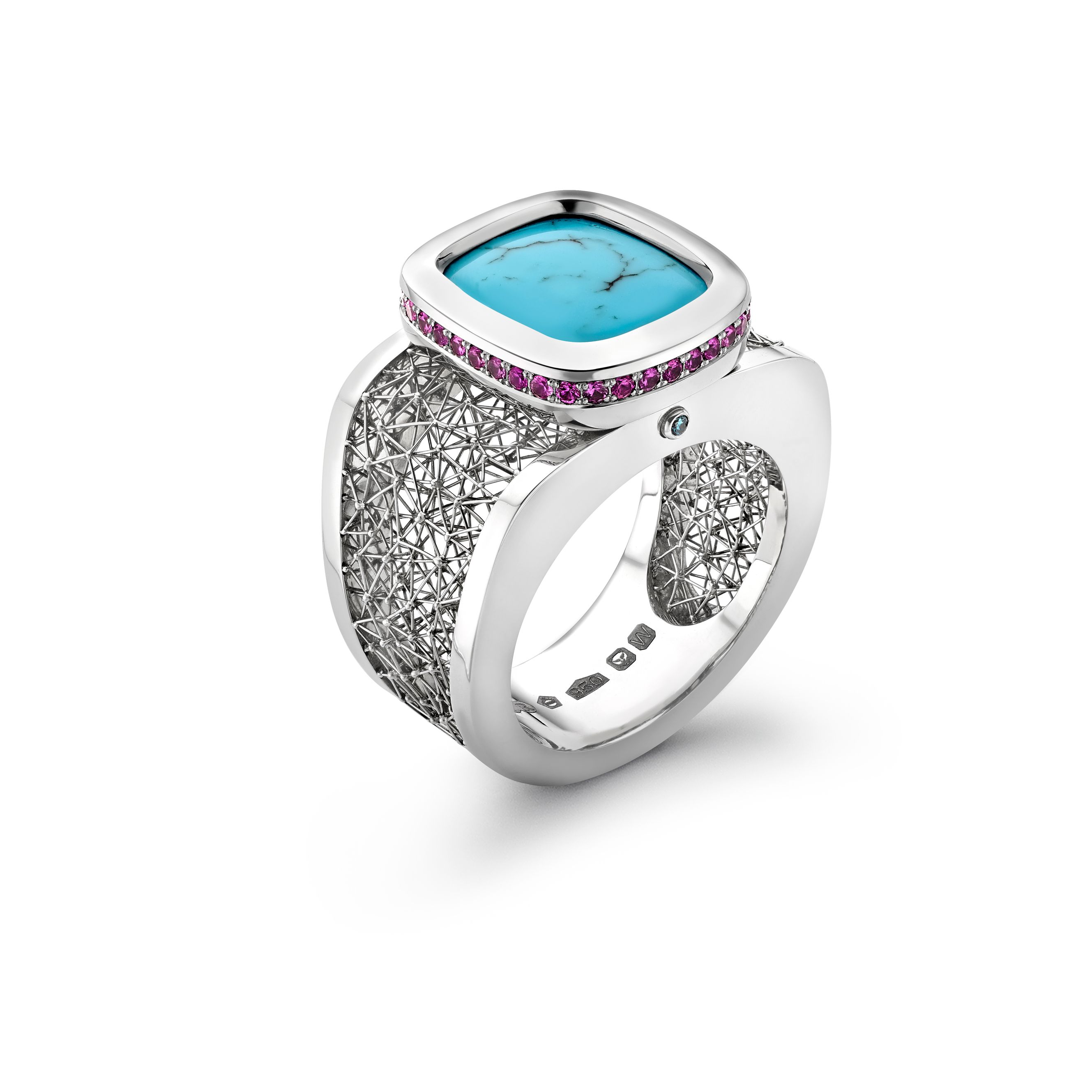 Tom Rucker printed ring frame 
For design innovators such as Tom Rucker printed platinum components become the building blocks for bespoke jewels. He works with German metals' specialist C. Hafner GmbH + Co to print components using their proprietary atomized precious metal powders.
Hafner offers a printing service to designers and works with them to get the best possible outcomes. Most popular is the company's proprietary 950 PlatinGold, a very white alloy with ultra-fine microstructure that enhances the brilliance of polished surfaces. They also recently introduced superior strength 950 Platin S advantageous for filigree designs or heavy wear components.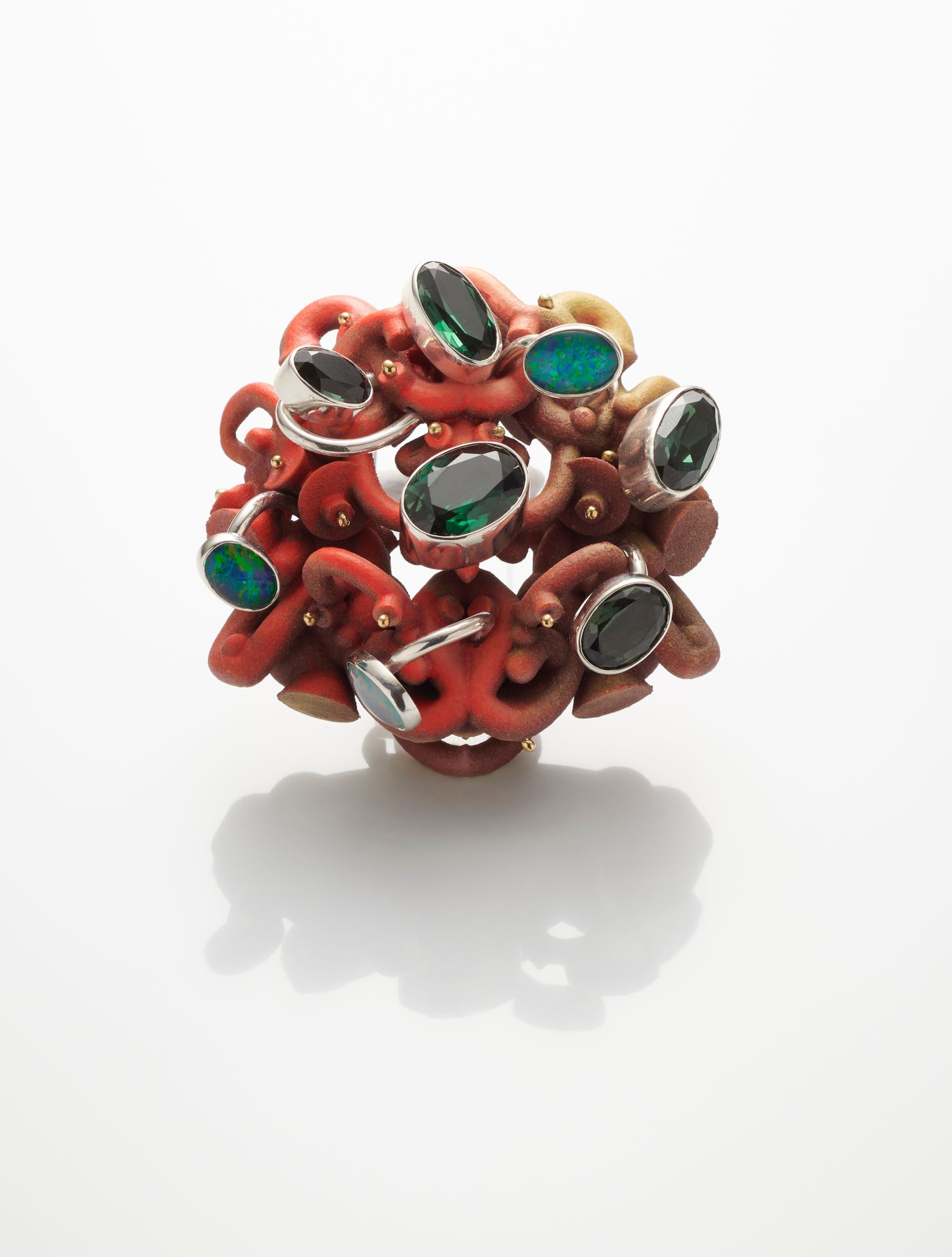 3-D printed jewellery by Silvia Weidenbach
Meanwhile, German designer Silvia Weidenbach, who embraced the art of jewellery 3D printing while at London's Royal College of Art and later as a fellow at the Victoria and Albert Museum, created a proprietary material called Moondust to print voluminous pieces that she embellishes with components of gold and gemstones.
Kinetics and Wearable Art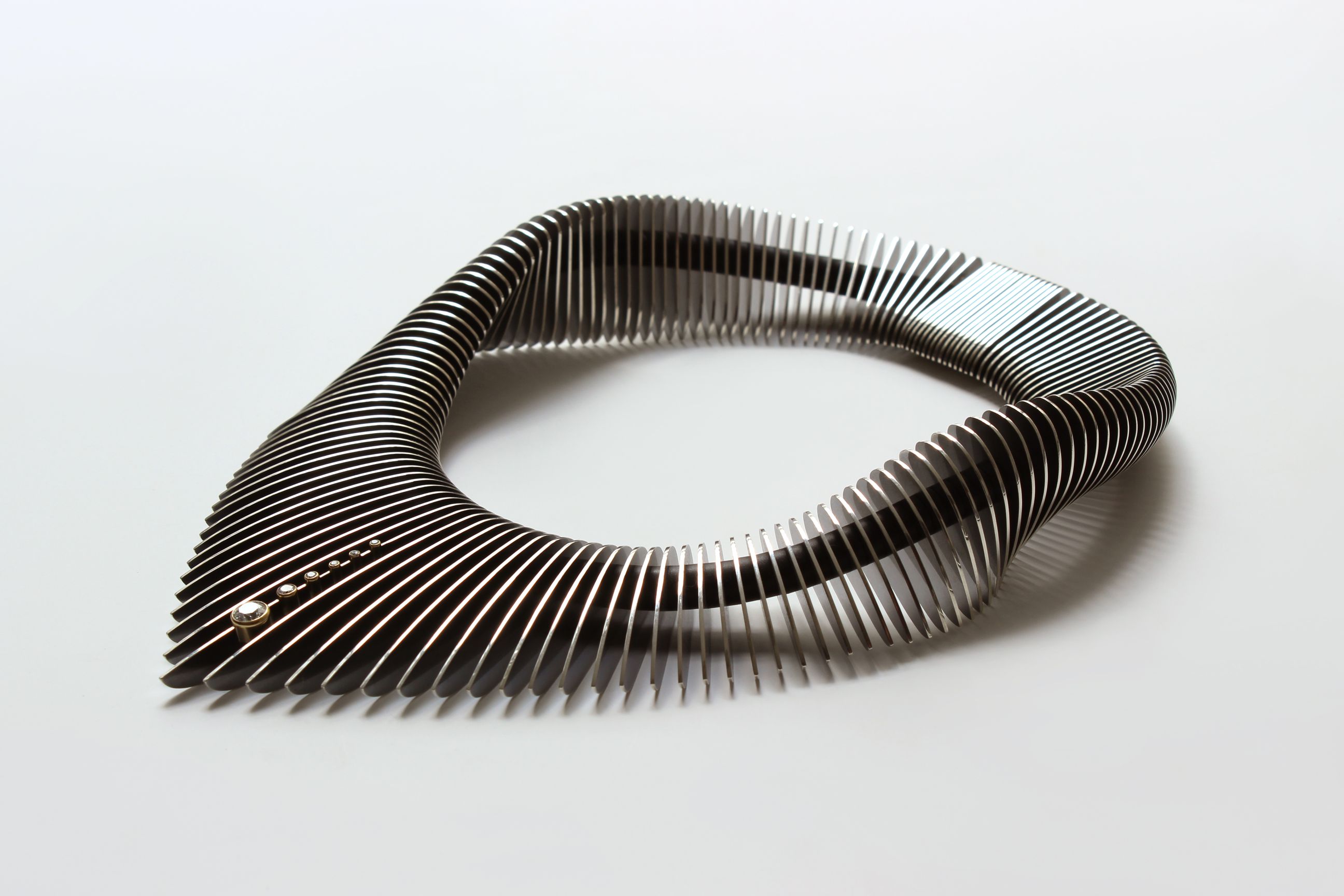 John Moore Vortice II necklace
Celebrated London designer John Moore, who loves to adorn his clients in carefully engineered light-weight sculpture using various materials is, working with scientists to create pieces with moving parts that respond to stimuli, including gesture and sound. He is also collaborating with a well-known ceramic artist to create wearable objects made from thrown porcelain. "I think designers and consumers will increasingly choose non-precious materials and lab-grown stones, putting the health of the planet and ourselves first, placing greater value on artistic merit than materials used," he shares.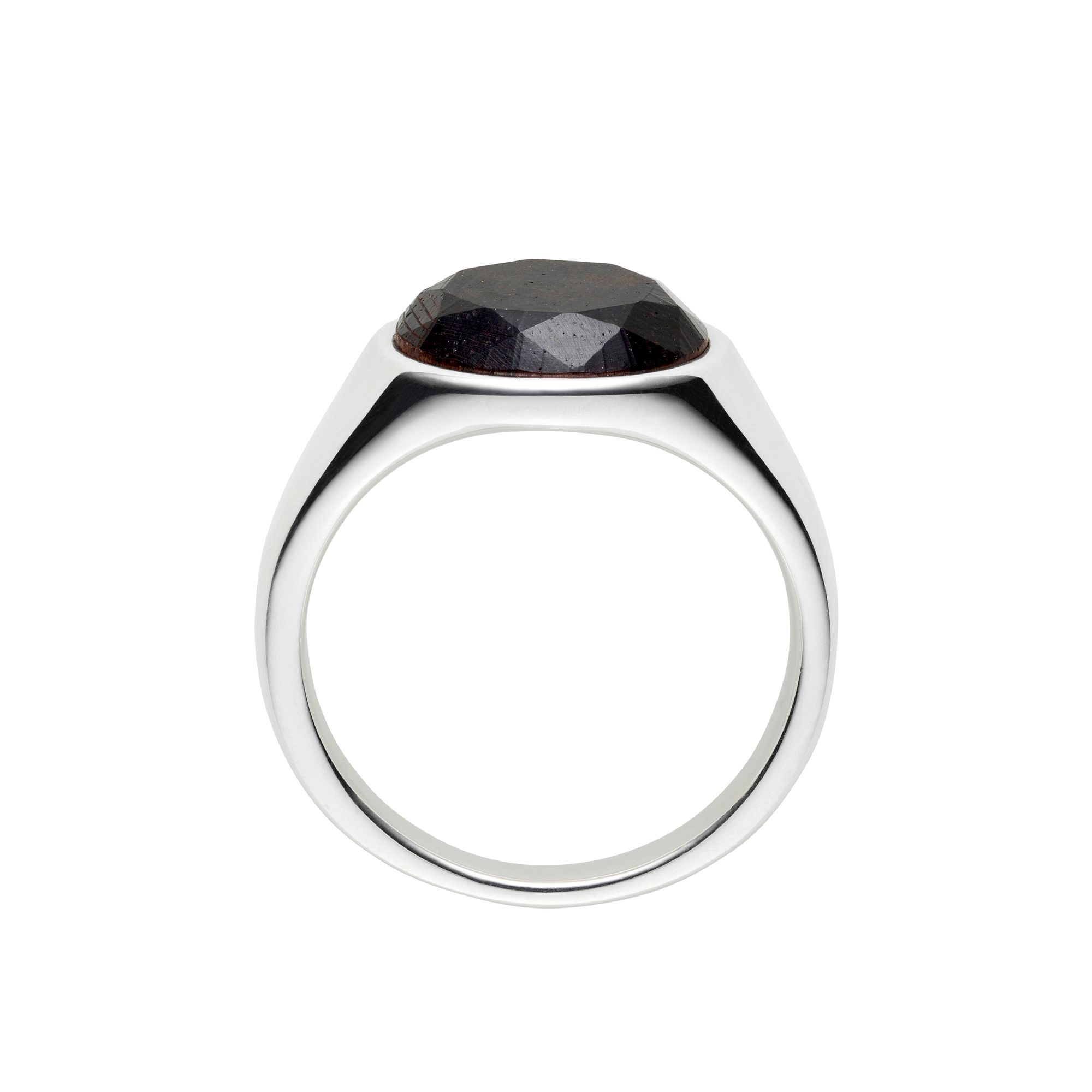 Kinraden silver ring 
Denmark's Sarah Mullertz, founder of Kinraden agrees: "As more consumers focus to stop depleting our planet's resources, embrace sustainability and intrinsic ethical values, they want meaningful jewellery that is not just decoration."
Sarah uses just three materials: Retrieved 18-karat gold and sterling silver, mostly from old tech products, and off-cuts of black heartwood from the Mpingo tree, mainly used in classical clarinet production, and sourced from a WWF-protected forest in Tanzania. "Being the densest wood in the world, we realised it could be cut like a diamond, so we have our 'living diamonds' cut in Denmark using traditional diamond cutting machinery to create Brilliants, Cushions, and old European cuts, each with their unique expression."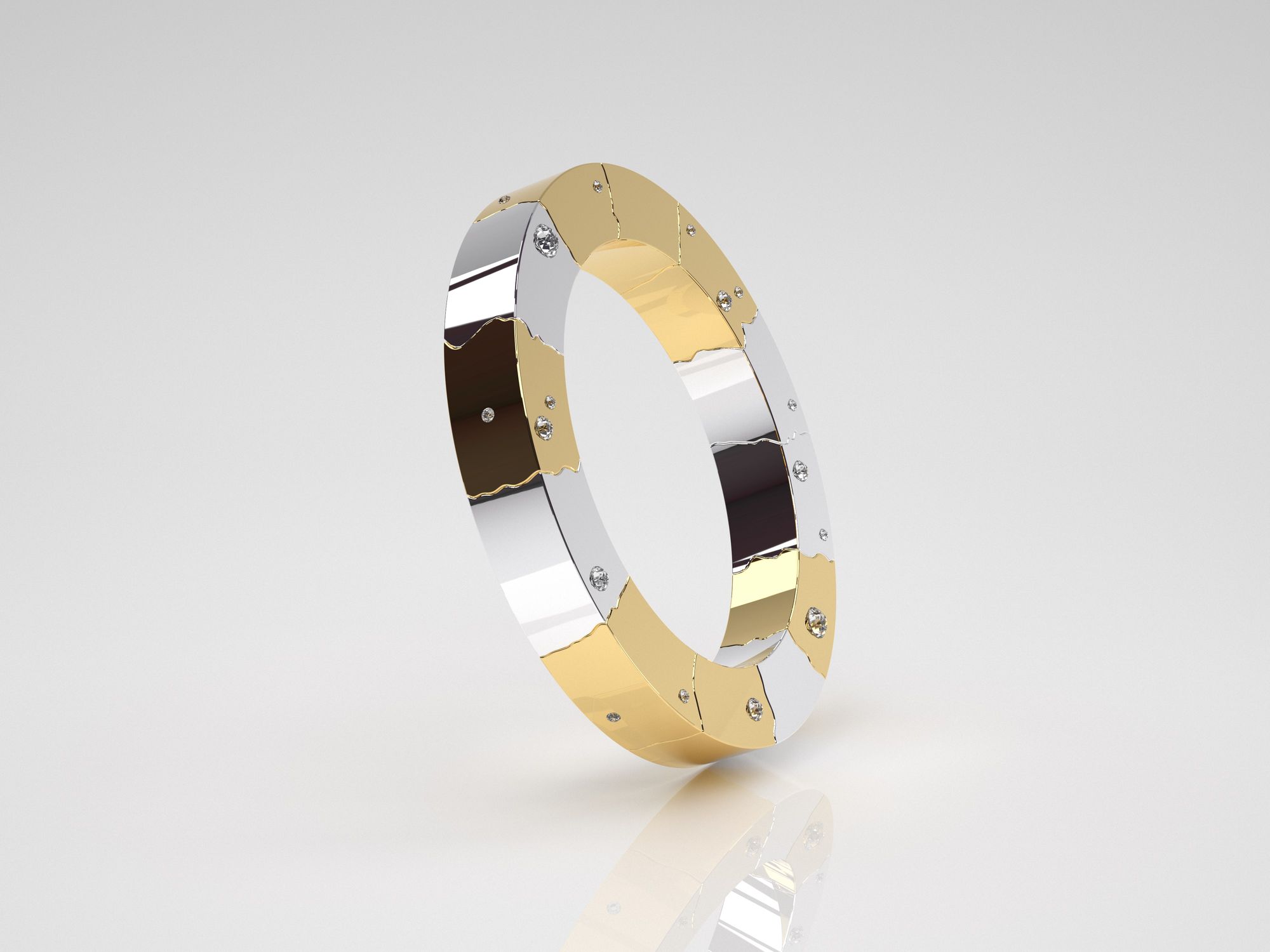 Simone Faurschou Blockchain pendant
Fairmined gold and lab-grown diamonds are on Copenhagen designer Simone Faurschou's mind too, but she used it to build a pioneering bridge between fine jewellery and the digital crypto world. In September, she launched a limited-edition collection Blockchain, offering 12 physical and digital pairs of necklaces and NFTs. The NFTs are on Known Origin, a crypto platform for artists. Hers is the first jewellery NFT and is listed as an NFT Plus, indicating it comes with a physical wearable piece.
"I think we're at a turning point where technology, art and design are intersecting, and the possibilities become more exciting each day. The digital and physical can coexist and should not be considered as completely different entities. Technology has its own language and the ability to connect to our jewellery knowledge and heritage, but it demands respect as being completely unique."