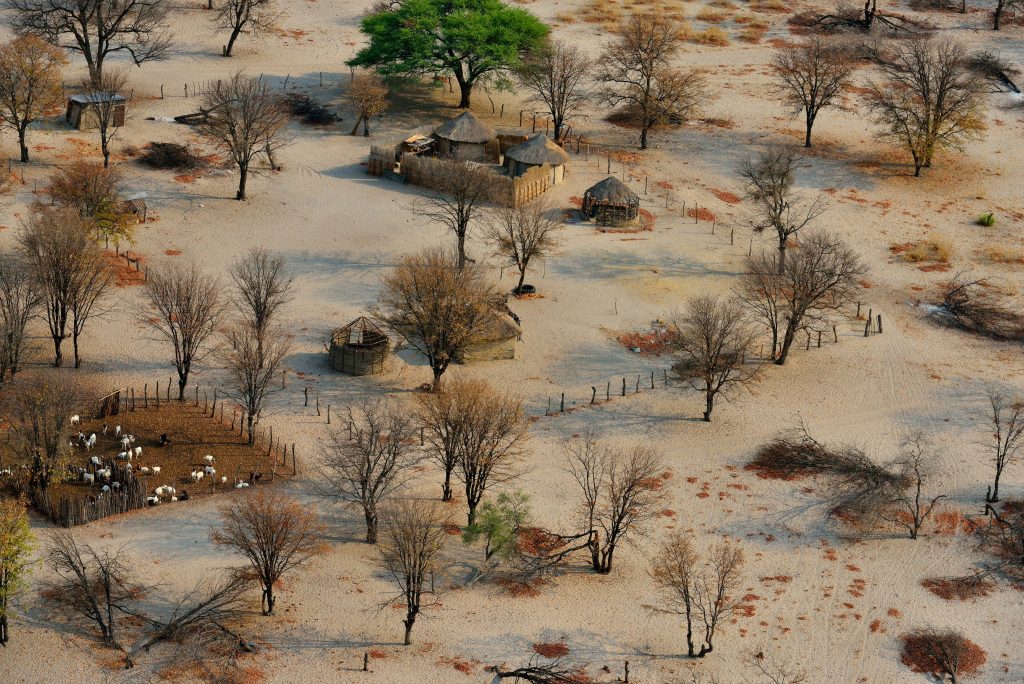 Aerial view of a village in Botswana 
Malaika Gems shines the spotlight on Botswana and East African culture through its creations
Africa has been a perpetual muse for Botswana-based jewellery brand, Malaika Gems. Malaika, meaning 'Angel' in Swahili, is often used to refer to a beautiful girl. Botswana's culturally rich, large semi-arid sandy savannas have become the perfect environment for gem lover and founder Tiantian Guo to consider her jewellery brand and explore how she could make it more meaningful and eco-conscious. Guo and her husband first visited the continent in 2010 when they fell in love with the people and saw a genuine need of the rural community.
Combining fine craftsmanship coupled with responsibly-sourced African gemstones and diamonds, Malaika seeks to evoke the beauty of Africa through handcrafting fine jewellery, while also committing to the spirit of giving back to local communities. Ethics are at the core of Malaika because of Guo's dedication to helping charitable causes in Africa during her time spent working in NGOs as a strategic consultant for a Bill Gates Foundation project. In Botswana, Guo nurtured her diamond knowledge and skills by visiting cutting plants and learned the process of responsibly sourcing diamonds – from rough to polished. Afterwards, she became a trained gemologist and eventually launched her own brand.
When I met Guo, I was keen to find out the inspiration behind the company and her love for this huge and diverse continent.
African Inspired
At first glance, it might seem that Malaika's jewellery design style has little connection to Africa's vibrant indigenous culture. Look a little closer though and you will find subtle visual references to local shapes and styles; from repeated open filigree to interlocking details that echo African basket work. And while these jewels are rendered in a classical style, they also tell us about the rich diversity of African culture, legends, and beliefs.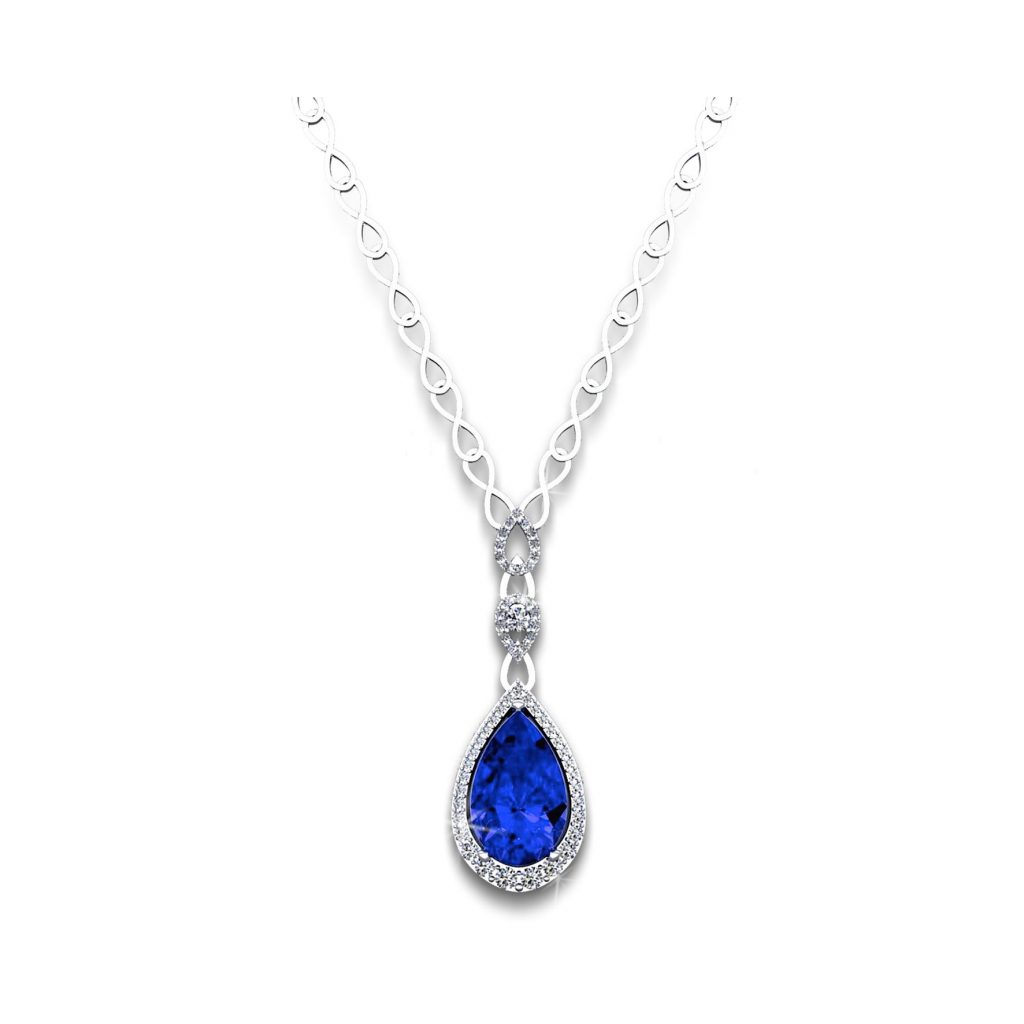 Malaika's Tear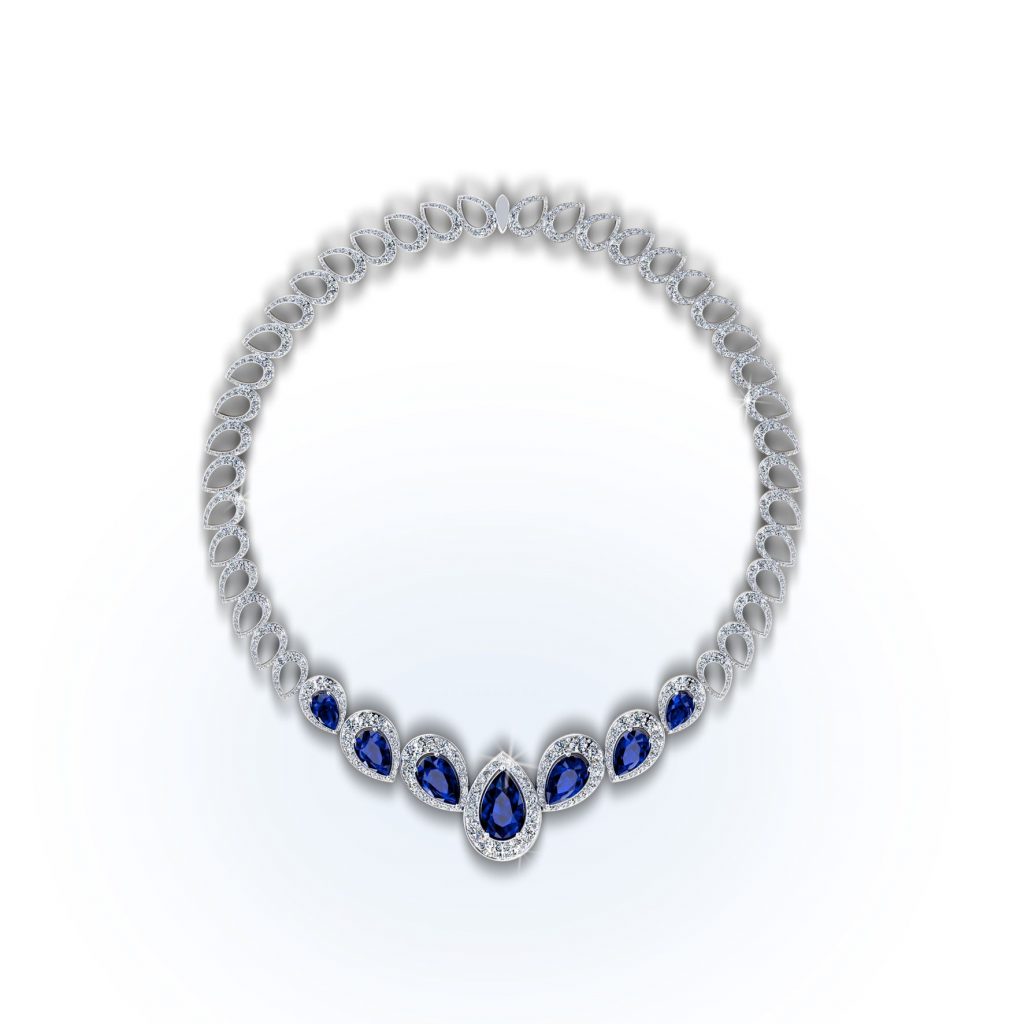 Malaika's Tear necklace, tanzanites with a total weight of 46.8 carats handcrafted in 18K white gold
Malaika's first collection, 'Malaika's Tear', was launched in 2016 and pays tribute to the element of water. It owes its name to the poignant legend of Malaika, a young girl who sacrificed her life by turning into a lake so her village could have enough water to survive.
Legend has it that at the summit of Kilimanjaro, a mysterious blue gemstone was found and brought back to the ancient tribe. A beautiful princess named Malaika was born soon after and was considered to be a blessing from the mountain. She had the same mysterious deep blue eyes, resembling the gemstone. As she grew up as an intelligent young woman and was ready to marry, the Kilimanjaro erupted with lava, flames, and ash. So saddened by this natural disaster, her tears fell to the ground restoring nature and its surroundings. As she continued to shed tears to quell the flowing lava and raging fires, her crying was hardly a match for the volcano's anger. After a turbulent night, a beautiful lake appeared in the village providing much needed water, saving the village. Depleting all her tears, she eventually sacrificed her life and turned herself into a lake to save her tribe. Deep in the water, people found beautiful blue gemstones with a mysterious sparkle similar to Malaika's eyes.
This story is very relevant today with regards to concerns about water conservation and the environment. It is brought to life in a series of teardrop tanzanite jewels, each cleverly integrated into the design. For a country covered mostly in desert, Botswana's water supply has always been a difficulty. Water is one of the most precious resources in Botswana. Drought, coupled with population growth and the likely impact of climate change, poses a risk not only to the mining communities, but also to wildlife and agriculture. Guo explains, "In Botswana, the word pula, meaning rain, is the local currency and common vernacular. Water directly affects economic development and is also important for diamond mining since it consumes lots of water." Aside from producing beautiful jewellery, Malaika takes the concept of social responsibility seriously, with a strong belief in giving back to the continent through education and conservation. To achieve this, Malaika works closely with the Botswana Ministry of Local Government and Rural Development, as well as the Chinese Charity Association of Botswana, to take care of vulnerable children in remote areas.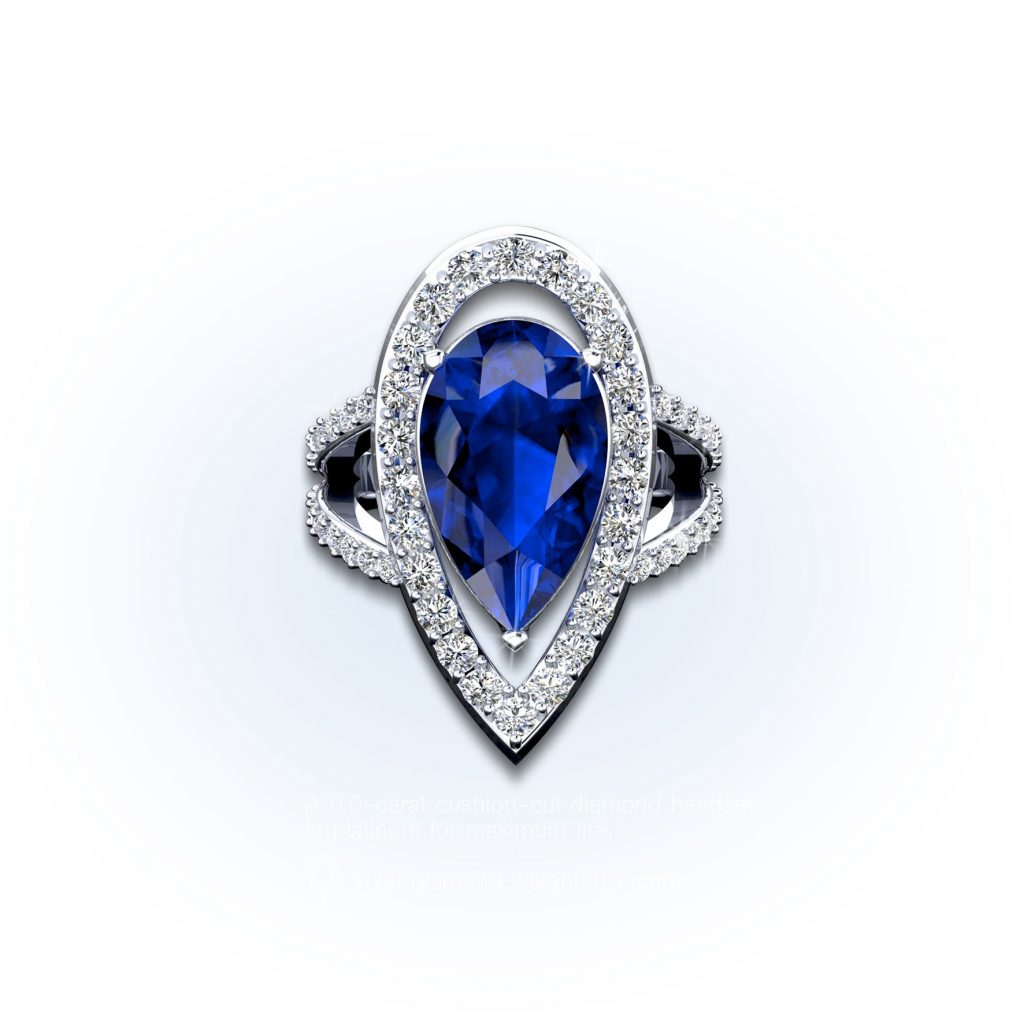 Malaika's Tear ring, set with a 5.8 carat tanzanite in 18K white gold and diamonds
Keen to diversify and to unlock more value domestically for the people, Guo adds, "It is necessary to develop the private sector in Africa. Ethics and environmental stewardship are critical in creating healthy communities for the country to grow organically. During my work at NGOs, I spent some time consulting these remote communities on projects. They are the ones that understand what they are lacking and what will be sustainable in the long term."
Guo spent a lot of time working with local dancers and artists, by organising cultural exchange programmes between the Old Naledi Kgotla orphanage and Chinese nationals. Malaika's creative designs blend both cultures, thus helping promote Botswana heritage and Chinese traditions internationally. For instance, the concept of the Antique Lock necklace was inspired by the beaded wedding collars worn by Maasai women, which were passed down from generation to generation. This cultural milieu reminded Guo of her own heritage, like the Chinese padlock charms worn by children to hold luck and longevity. Guo adds that many of her clients from China are able to identify and appreciate Maasai culture through these pieces.
Malaika's jewellery garners attention from a diverse clientele who are looking for alternative brands. Although Botswana doesn't have a huge consumer market, the brand has seen a growing number of domestic clients from West Africa. Tian also notes that her Chinese clients tend to lean towards large diamonds, unheated rubies, and sapphires: "They are interested in investing in a piece of jewellery that is long lasting. Therefore, quality of craftsmanship is crucial as we want our pieces to be worn for many generations to come. Our clients have shown a lot of interest in Malaika, as they're getting to know more about the quality and value of unheated African gemstones."
The Maasai Spear Collection
Malaika is in the process of extending its brand's reach with the launch of a new jewellery collection named Maasai Spear. The designs take inspiration from Maasai weaponry from East Africa to raise awareness of the Maasai culture and its rich, but little-known cultural heritage. Tribal tradition has it that young warriors were initiated to manhood by taking part in a lion hunt. Although the tradition has been discontinued, one may still imagine the scene of a young boy clad in red, leaving the safety of the village and walking towards the grasslands of Africa, spear in hand, confident and resolute.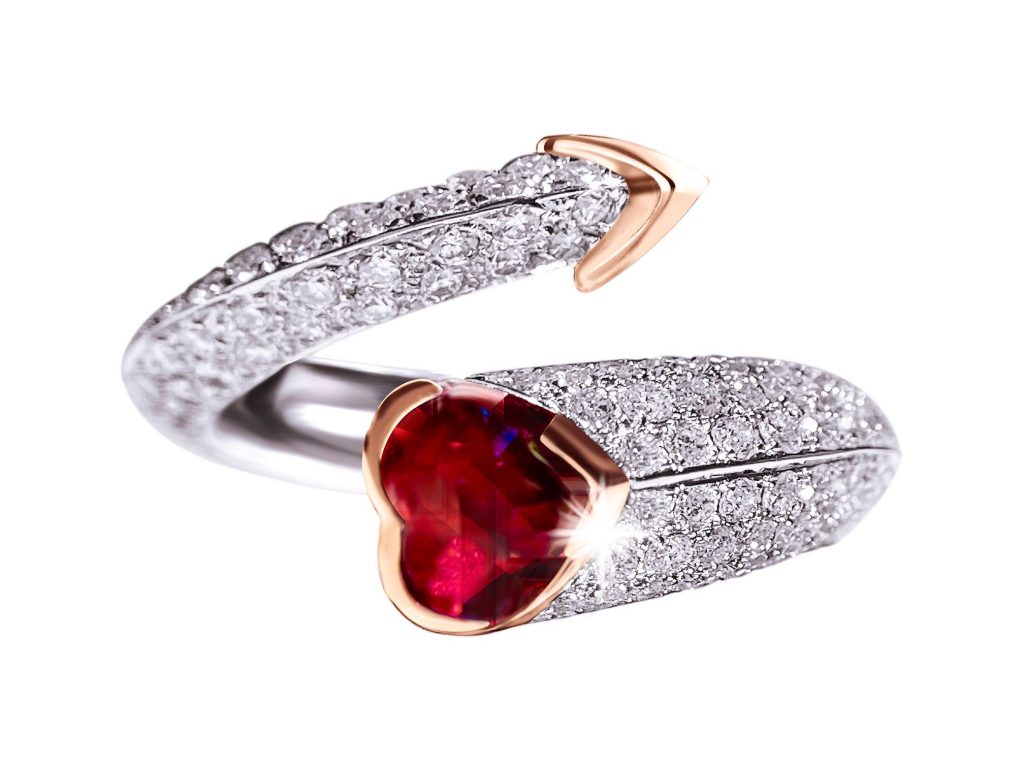 Maasai Spear ring with rubies and pavé diamonds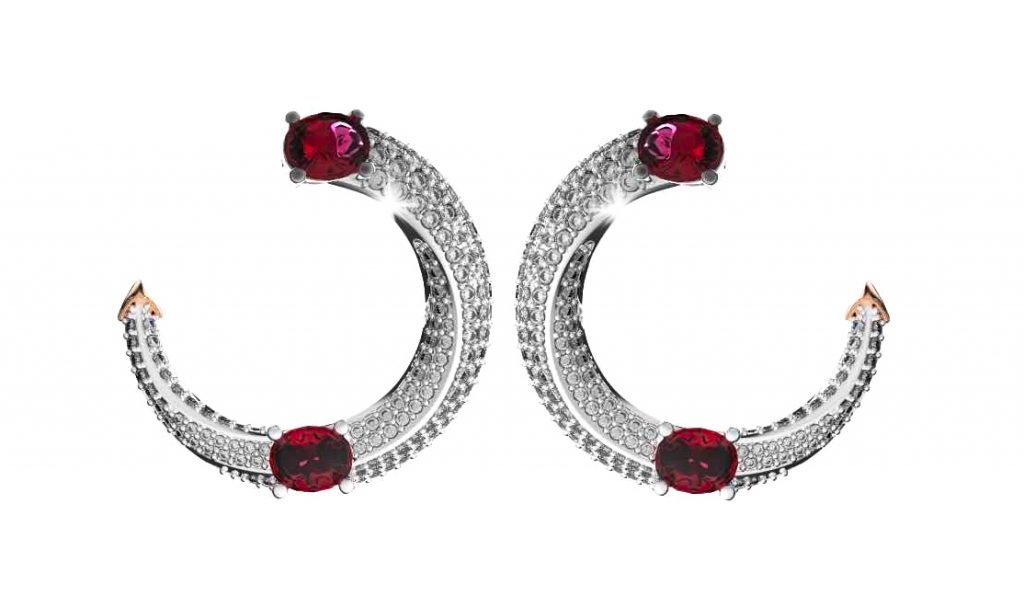 Maasai Spear earrings 
This image of the spear-wielding boy-warrior has been the source of Guo's own courage and persistence. The locals once told her to wear red if she ever needed to walk in the wild as a form of protection. For this reason, each piece features intense red rubies set with pavé diamonds to imbue the wearer with a sense of empowerment. "Fiery red rubies provide a visual reminder of the significance of red in Maasai culture. By adopting the warrior's theme, you too can put on the spears of courage," said Guo.

About the writer
Isabella Yan is a British gemologist, freelance journalist, and PR/marketing expert specialising in the fine gems and jewellery industry, based in Thailand. She was previously an Associate Editor for the Bangkok Gems & Jewellery magazine and has contributed to several jewellery publications globally including Hong Kong-based JewelleryNetAsia and Canadian Jeweller, amongst others. She is the creator of the blog Art Meets Jewellery, which looks at the world of jewellery and gems through the eyes of an artist. Her love for antique jewellery and fine craftsmanship stemmed a passion to cultivate a taste for antique jewellery across Asia. She is always on the look out for new jewellers and cutting edge designers. Follow her on Instagram @izza_gem and on

artmeetsjewellery.com