The House of Geneva, which was established in 2017, was born from a passion for gemstones and a desire to share a unique heritage. What resulted were unique and exclusive high jewellery pieces produced by some of the most talented local craftsmen.
Since its inception, House of Geneva has gone on to create sophisticated, pared-down pieces that allow the most exceptional gemstones to shine bright for an elegant statement.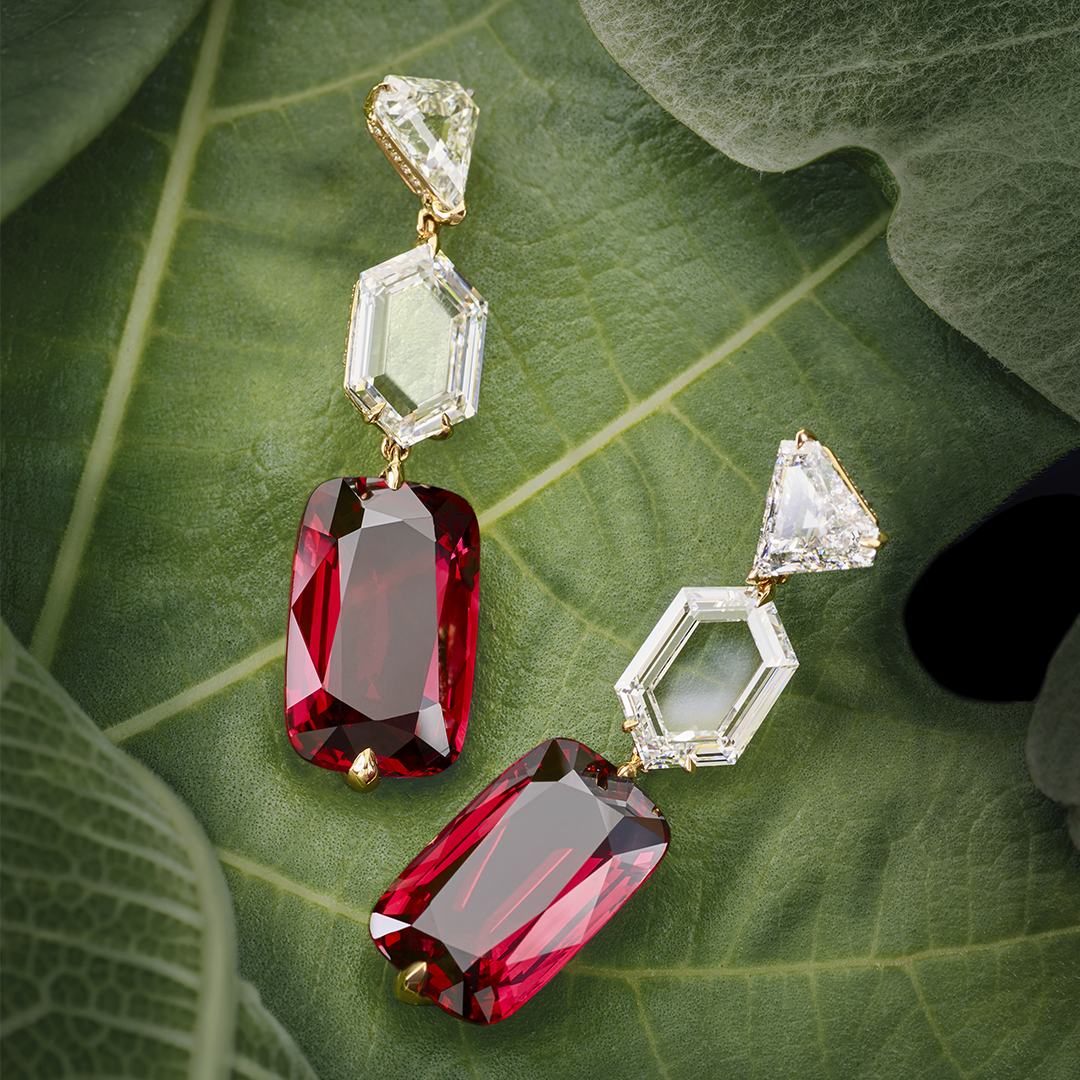 Collection Horloge Fleurie Earrings Numéro 3 – bespoke pair of antique cut unheated Burmese spinels (7,26 and 6,79 carats), harmoniously paired with natural shield and portrait cut diamonds
This year, the Swiss brand looks to nature, particularly, colourful flowers, for its high jewellery collection called Horloge Fleurie. Best described as vibrant, playful, and creative, the one-of-a-kind pieces take direct inspiration from the Horloge Fleurie, which is one of Geneva's most vibrant and iconic symbols.
To find out more about House of Geneva's work and current collection, we spoke to the Maison's creative director who walked us through various aspects of the jewellery creation process — from inspiration and design to the type of clientele and the use of ethical materials.
Tell us about the importance and significance of the Horloge Fleurie in Geneva and why it greatly influenced this jewellery collection?
The Horloge Fleurie, or Flower clock, is one of Geneva's most historic symbol. Designed and created over 50 years ago, the ever-changing colours of the architectural landmark embody the city's vibrant life and places nature at the heart of it.
The Maison named one of its three collections after the Horloge Fleurie as it evokes playfulness, vivid colours, curiosity, Spring, and natural beauty. All the details in this collection's designs are inspired by nature and its phenomena. The overflowing flora and life hidden in the Horloge Fleurie and the neighbouring Jardins Anglais (gardens on the shores of Lake Geneva) are an endless source of ideas. Colours, shapes, movements, and even discreet details can all be translated into pieces of art.
The playfulness and Spring's freshness flamed our creativity. This challenged Genevan craftsmen to craft delicate and poetic pieces, with exceptional details.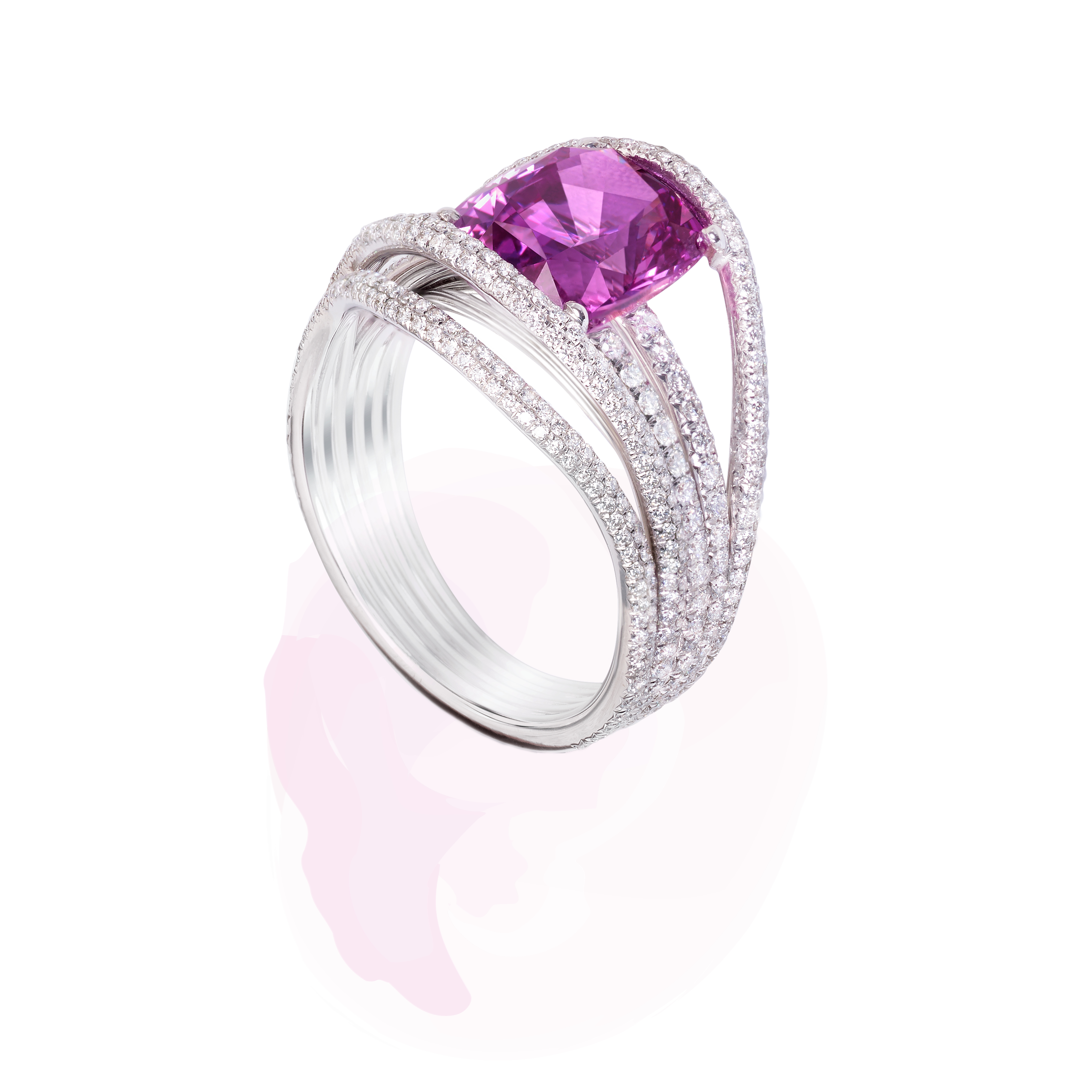 Collection Horloge Fleurie Ring Numéro 8 – pink sapphire of character (5,16 carats), enhanced by bourgeoning lines of diamonds
Can you give us an overview of the design process?
At House of Geneva, we create approximately ten pieces per year. All the pieces of Haute Joaillerie are one-of-a-kind and created around a specific gemstone or diamond. The creation process begins around a gem we've carefully curated. Having been in the gemstone and diamond trade for over 100 years, House of Geneva's founding family has a unique heritage in sourcing the finest gemstones and diamonds.
From the gem, we envision the design that will be best suited to showcase the natural beauty of the gemstone, only enhancing its true beauty. The Maison's design vision is founded on natural beauty and the Horloge Fleurie is the perfect mirror of this vision.
At the heart of the Maison's latest pieces from the Collection Horloge Fleurie are pink sapphires, amethysts; and topaz; a vibrant play of colours that is very much inspired by Spring.
Once we begin design on a jewel, we are looking at an average crafting time of 3 to 4 months per piece. Before we even begin a design, we sometimes take years to collect gemstones because our collections only feature unheated and natural gems of extraordinary character. Our curated selection, in combination with our promise, can amount to a long period of time.
House of Geneva works hand in hand with Genevan craftsmen, who carry the city's proud heritage in Haute Joaillerie and excellence. The creation of each piece is unique and designed to be cherished by many generations.
What kind of client did the House of Geneva designers have in mind when designing this collection?
At House of Geneva, we create pieces for all buyers who love jewellery and are passionate about gemstones! The pieces are infused with the finest details and crafted from historic Genevan savoir-faire. We curate, create, and craft for the aficionado and the jewellery lover.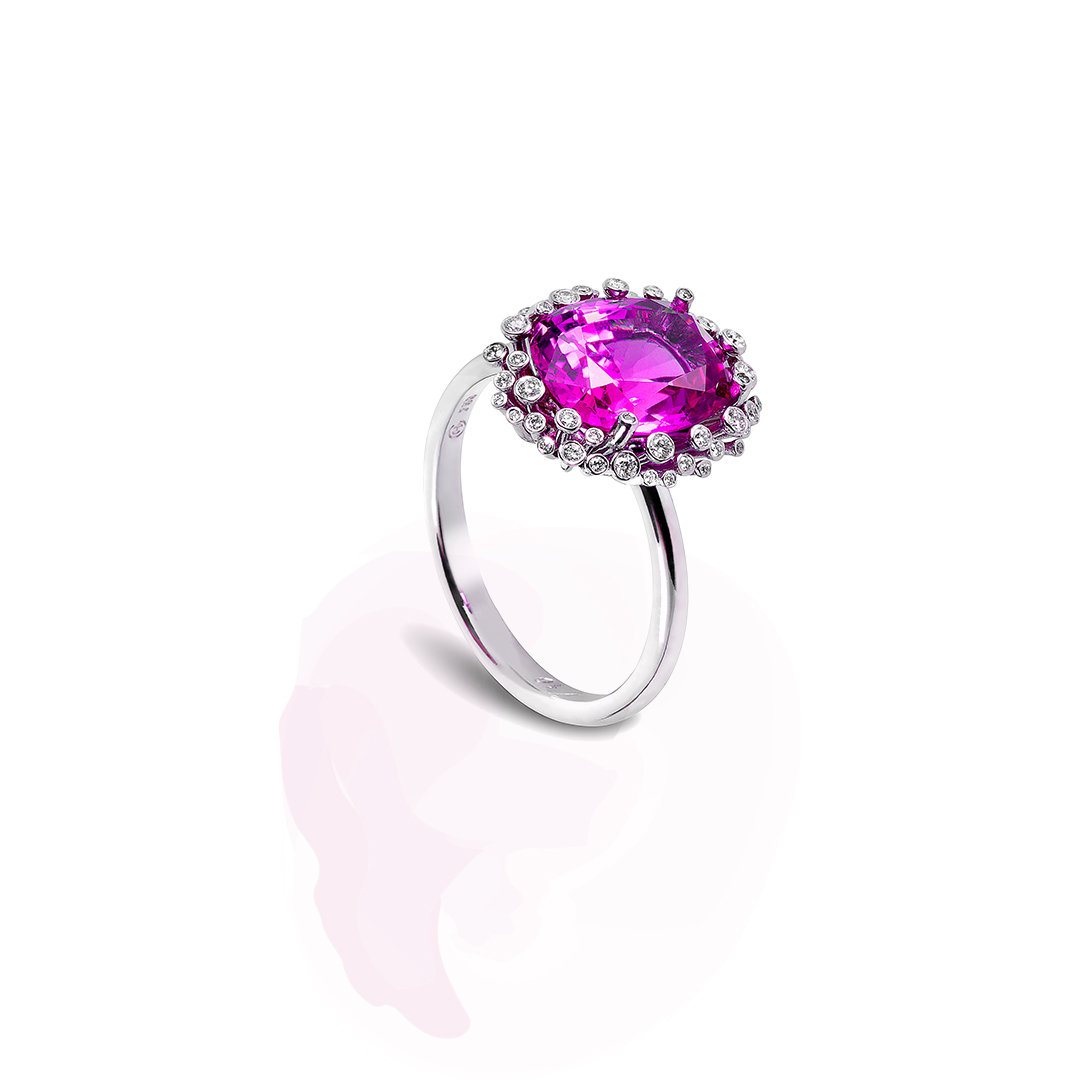 Collection Horloge Fleurie Ring Numéro 10 – oval sapphire (3,90 carats) surrounded by diamonds 
Tell us more about the use of ethical gold in your designs.
The Maison only uses ethical gold for all its creations and across all collections. We are extremely lucky to partner with a Swiss initiative in order to uphold our social and environmental values, which are at the heart of the Maison's vision of Haute Joaillerie. Ethical and sustainable thinking is part of each aspect of the Maison, from raw materials to our Écrins (jewellery boxes), which are vegan. Our social and environmental commitments are part of Our Promise, the Maison's pledge to uphold the highest standards in all aspects.
It's interesting to note that the collection was exclusively exhibited in Singapore. Is the Singapore market very important for House of Geneva?
The Maison's latest pieces were presented as part of House of Geneva's Singapore debut as many connoisseurs are based in Singapore. House of Geneva has a very exclusive and limited number of pieces that are appreciated by the keenest of eyes.
For example, our Collection Horloge Fleurie features a rare pair of natural Burmese spinels. The pair of earrings is one-of-a-kind, and the gems' beauty is only matched by the finest savoir-faire of Genevan craftsmen. Such incredible spinels are rare to find and pair, and, as the heart of our Timeless Beauty exhibition this Spring, they fascinated connoisseurs and jewellery lovers. The Maison's curation of gemstones and diamonds is unique and rare, featuring unheated and untreated natural pieces of exceptional colours, cuts and character.

House of Geneva pieces are currently available for viewing at JeweLuxe Gallery, #01-11, Scotts Square, Singapore