London-based Pippa Small creates ethical jewellery designs. For her latest offering, Old Is New, she has teamed up with Joseph Coplin of New York-based gallery Antiquarium, noted for its antiques, artifacts, and jewellery. The jewellery from the collection features artifacts that date back to 1st Millennium BC. "Joseph Coplin's extraordinary knowledge of history and art, his passion for the pieces and the stories of cultures, civilisations, and empires that lay behind the pieces, brought them to life for me," says Pippa on the collaboration.
She had always been "spellbound" by Joseph's collection of treasures, but it was only two years ago – on a visit to Joseph's new gallery space in New York – that Pippa broached the subject of creating a collection together. They chose some pieces from Antiquarium's collection – artifacts they felt could translate into jewellery. For this collection, as with many of her previous creations, Pippa headed to Jaipur, in Rajasthan. "I have been travelling to India since I was a teenager and it has become my second home; I love it for its magic and madness."
Top: Islamic gold filigree pendant, 11th–13th century
Bottom: Eastern Hellenistic repoussé gold sheet jewellery elements with turquoise inlay, 3rd–2nd century BC
Why does Rajasthani craftsmanship command such fascination in her work? The answer lies, perhaps, in the fact that some of the freelance goldsmiths – especially the ones that Pippa has been working with for decades – are from long lines of artisans.
"From fathers to grandfathers, they have grown up around workshops and have such a knowledge and instinct for the material." Every year, she spends a month or so in Jaipur, working with goldsmiths and stone cutters. "In some ways, the workshops operate in the same way as they did hundreds of years ago. It is very much based on trust and word-of-mouth when it comes to finding skilled artisans. The hand work is very similar – we don't use CADs, computer graphics, or any other technology, everything is hand-made," she adds.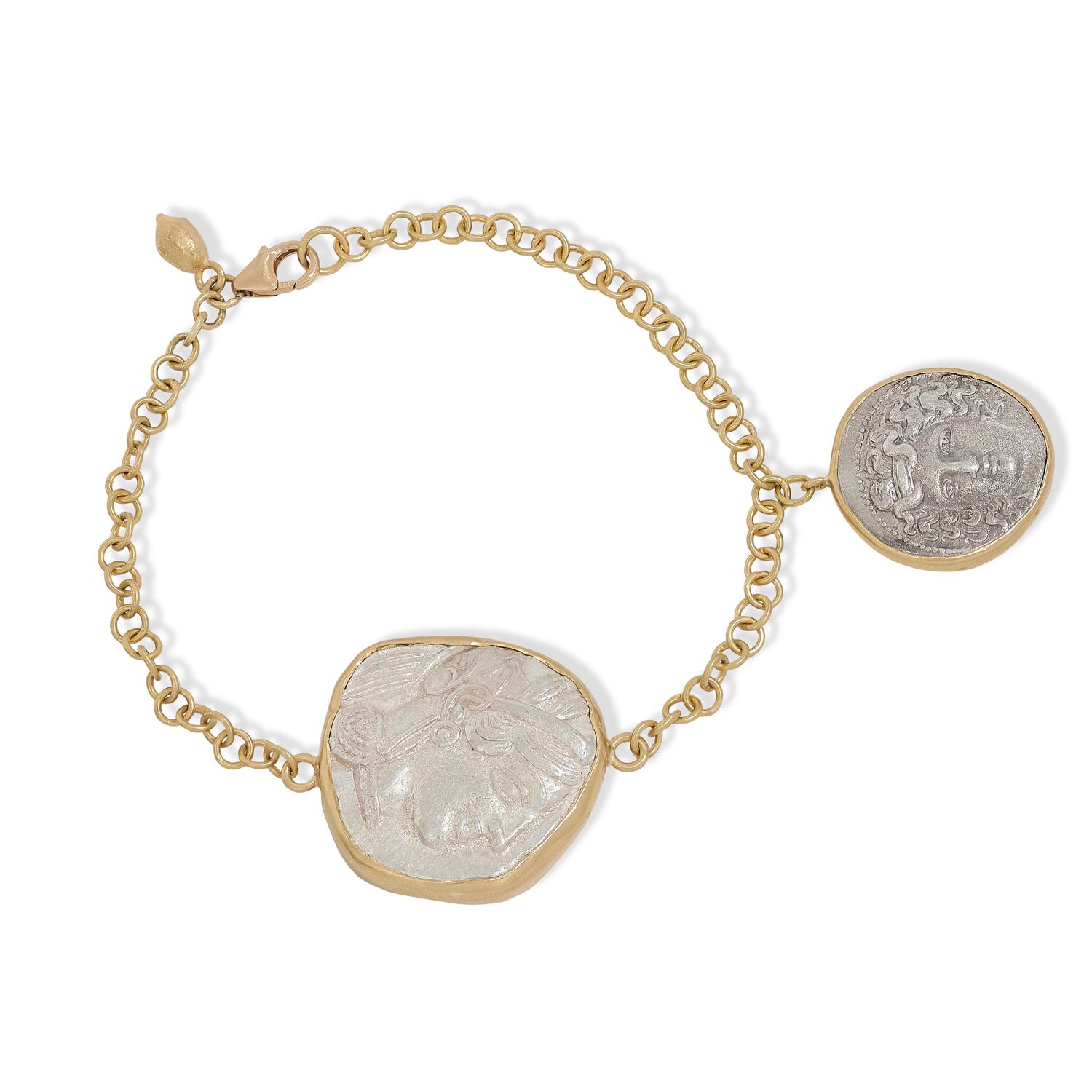 Bracelet with Two Silver Greek Coins
The jewellery, crafted in India, has been nearly two years in the making due to the incredibly rare nature of the artifacts and the designer's exacting approach to fine craftsmanship. Artisan Sushil prefers to work in 22k gold and has a very good instinct with gold and design, explains Pippa. She has worked with him for many years and chose to have him to realise her vision in gold for pieces in the Old Is New collection.
(Related: Pippa Smalls' jewellery with a conscience)
"He has a natural sense of proportion and scale that comes from learning from his father at a young age." Hammered sheets of gold was employed for most of the collection, including the handmade chains. "We wanted to highlight the antique pieces by presenting them in contemporary gold settings, but with a harmonious feel to the ancient," she explains. The gold work used is simple and serves to enhance the ancient piece. "We did not want to distract from the antiquities."
To complete the ambitious project, both the designer and the artisans worked slowly; bearing in mind that some of the pieces are made from ancient glass or Faience and are thousands of years old. Stones, such as lapis lazuli, feldspar, bloodstone, chalcedony, chrysoprase, carnelian, and banded agate, among others, featuring intricate carvings and precious details – from pre-dynastic Sumerian and Neo Assyrian styles – had to be turned into wearables mostly in 18k gold and, on occasions, resorting to oxidised silver to separate the antiquities from the 22k gold setting.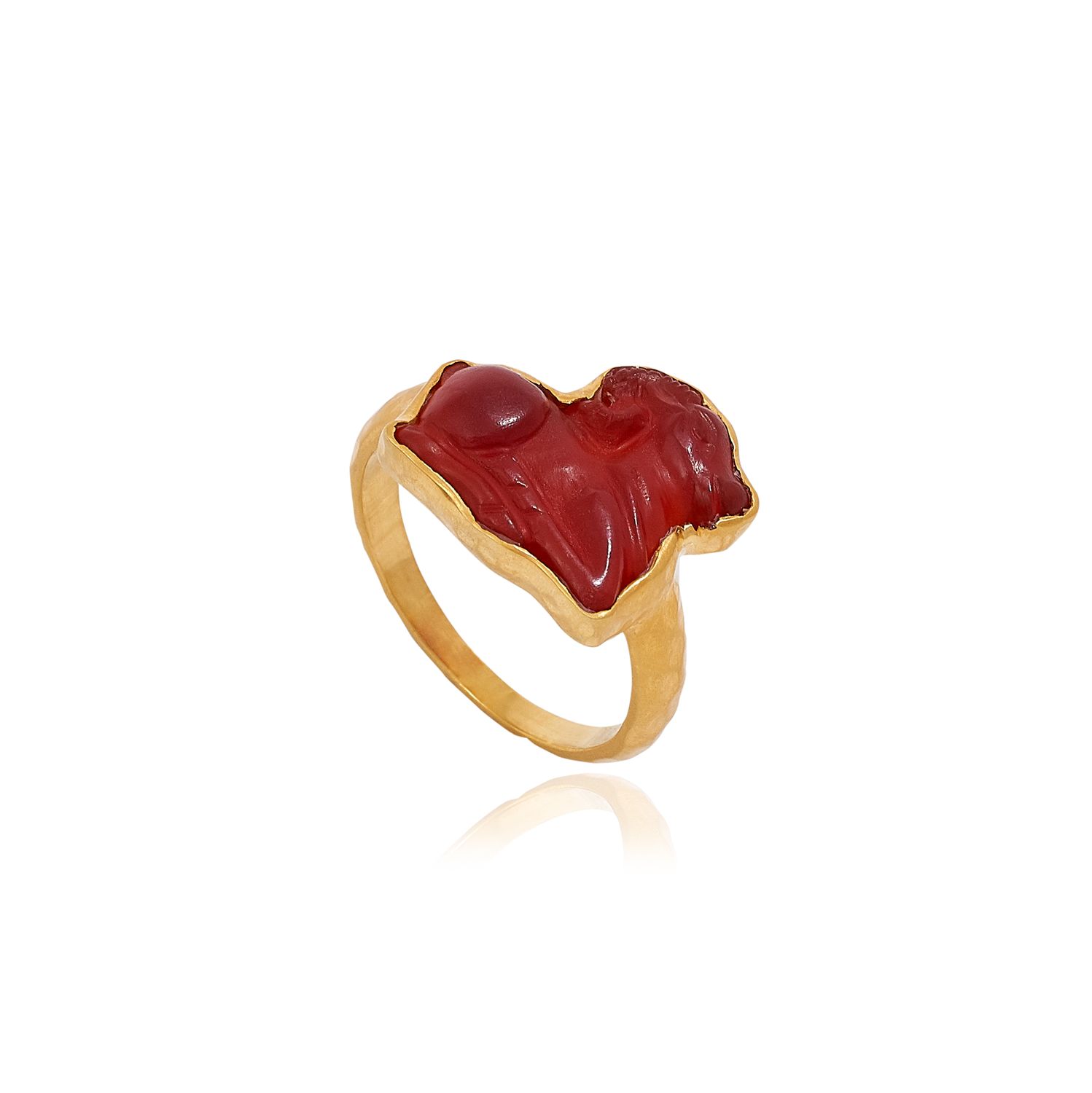 Top: An Oxus opaque carnelian cameo inlay of recumbent oryx, a symbol of power and virility
Bottom: A rare EF grade Achaemenid silver Siglos of Artaxerxes II–III, Persian King in Kneeling stance holding dagger and bow, 375-340 BC
The idea for the collection, informs Pippa, is to act as tiny museum pieces that can be worn. "Full of magic and meaning and infused with the life stories from kingdoms, cultures, and communities past." Phoenician glass eye beads, Greek and Egyptian amulets seamlessly transform into pendants, rings, and bracelets. Intaglios and cameos form a key part of necklaces and pendants, while Islamic gold filigree and Eastern Hellenistic repoussé gold sheet jewellery elements freeze moments in time.
Encased within yellow gold rings, one sees a Wester Asiatic solid gold amulet of an oryx, an Etruscan ring bezel of solid gold dolphin, swimming over a hollow box bezel with beaded wave, and a rare Achaemenid silver Siglos of Artaxerxes II –III (Persian king) in kneeling stance, holding a dagger and bow. "It's an honour to be able to handle, touch, and feel these pieces that would otherwise live behind glass cases in museums," says the jeweller.