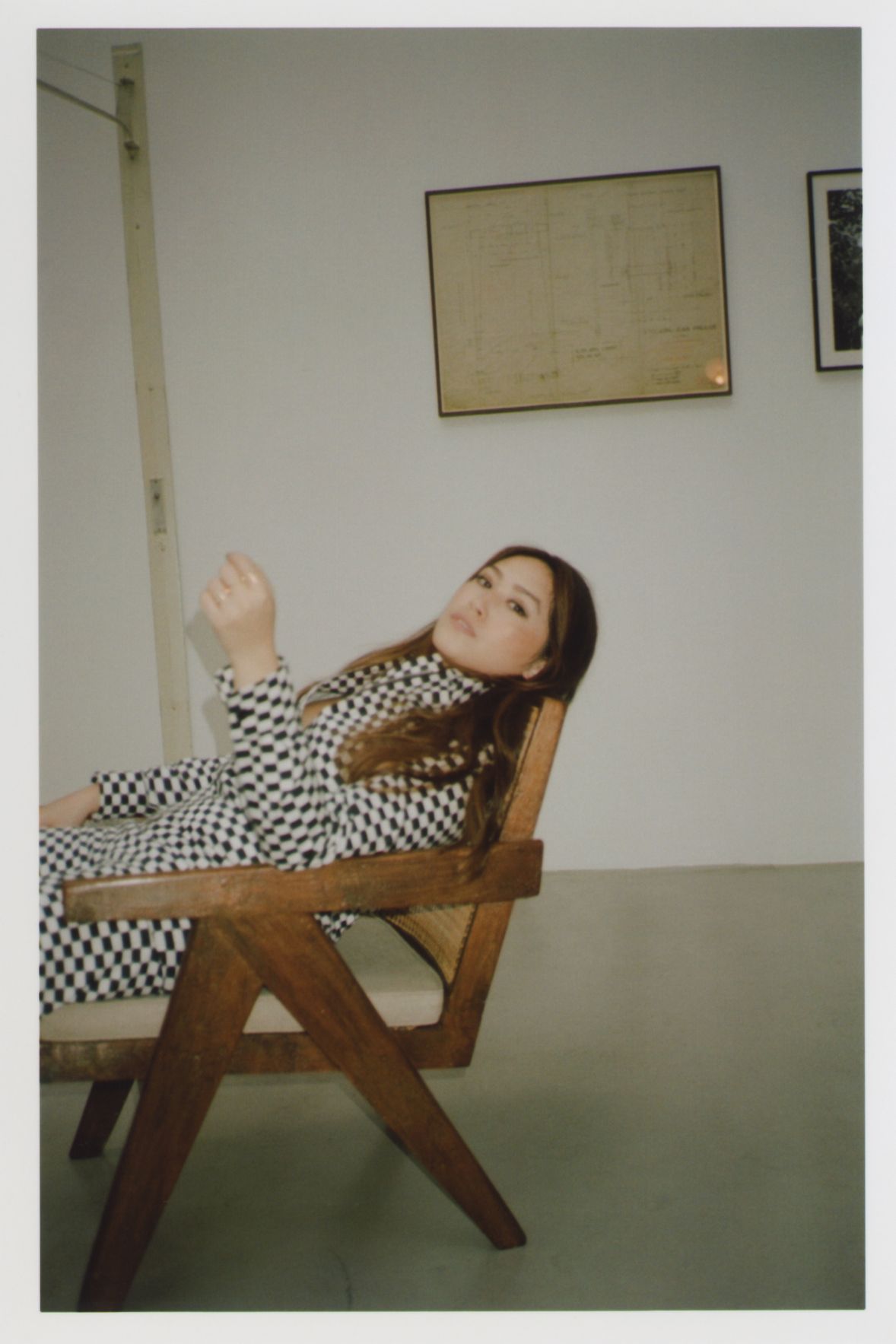 Jewellery designer Patcharavipa Bodiratnangkura is one of the hottest names in Thailand's contemporary jewellery design scene. Here's a peek into her fun, fabulous world.
Born into an illustrious family of inventors, developers, and philanthropists, jewellery designer Patcharavipa Bodiratnangkura began crafting jewellery at the age of thirteen, drawing inspiration from her family's life, legacy, and her travels. Today, her love of earthy organic lines and surprising material contrasts can be seen from her sleek boutique design to the coconut shells in her fine jewellery.
Patcharavipa studied at Chelsea College of Art and Design's art foundation programme in London and then embarked on her Jewellery Design training at Central Saint Martins. She is also a certified gemologist from the Graduate Diamonds Programme of the Gemmology Institute of America (GIA) and the Coloured Stones Programme at the the Asian Institute of Gemological Sciences in Bangkok. In 2016, she launched her eponymous brand, which is stocked in Dover Street Market, London. With her atelier based in Bangkok, Patcharavipa embraces the legend of Thai craftsmanship.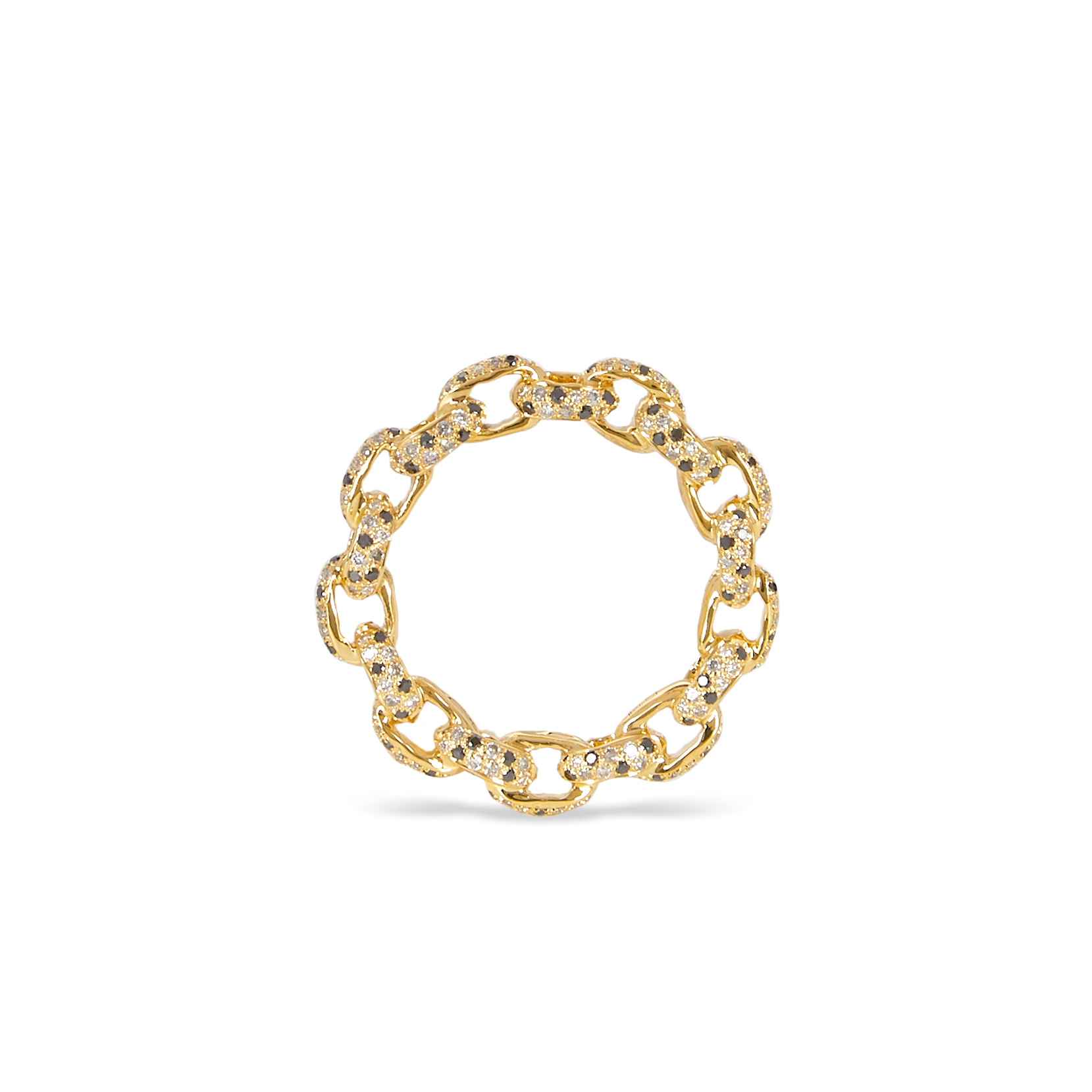 Sepper Chain ring
Patcharavipa started off the year with a striking new collection titled "Clues Sepper S/S2021," a portmanteau for salt and pepper. The collection, created during lockdown, presents a series of black, grey, white and salt and pepper diamonds inspired by the porthole designs of French metal worker Jean Prouvé.
Can you give us a background into your journey before launching your eponymous brand?
I was always obsessed with the world of art and design. When I was 13, I started a costume jewellery brand, "All That Glitters". I was very young and didn't really pursue it as a serious business.
How would you describe your brand?
My brand is tactile and bold in design and aesthetics. All our pieces are made in-house. I like to create unique silhouettes on the body that can transition from day to evening.
How do you choose what gemstones to work with?
This depends on the mood of the collection and the gold or metal I'm working with. Our ready-to-wear collections are set with diamonds for a more neutral and cleaner look. For the couture collection, I used padparadscha sapphire, paraiba tourmaline, and Thai yellow sapphire. I just love the combination of pastels and neon tones together.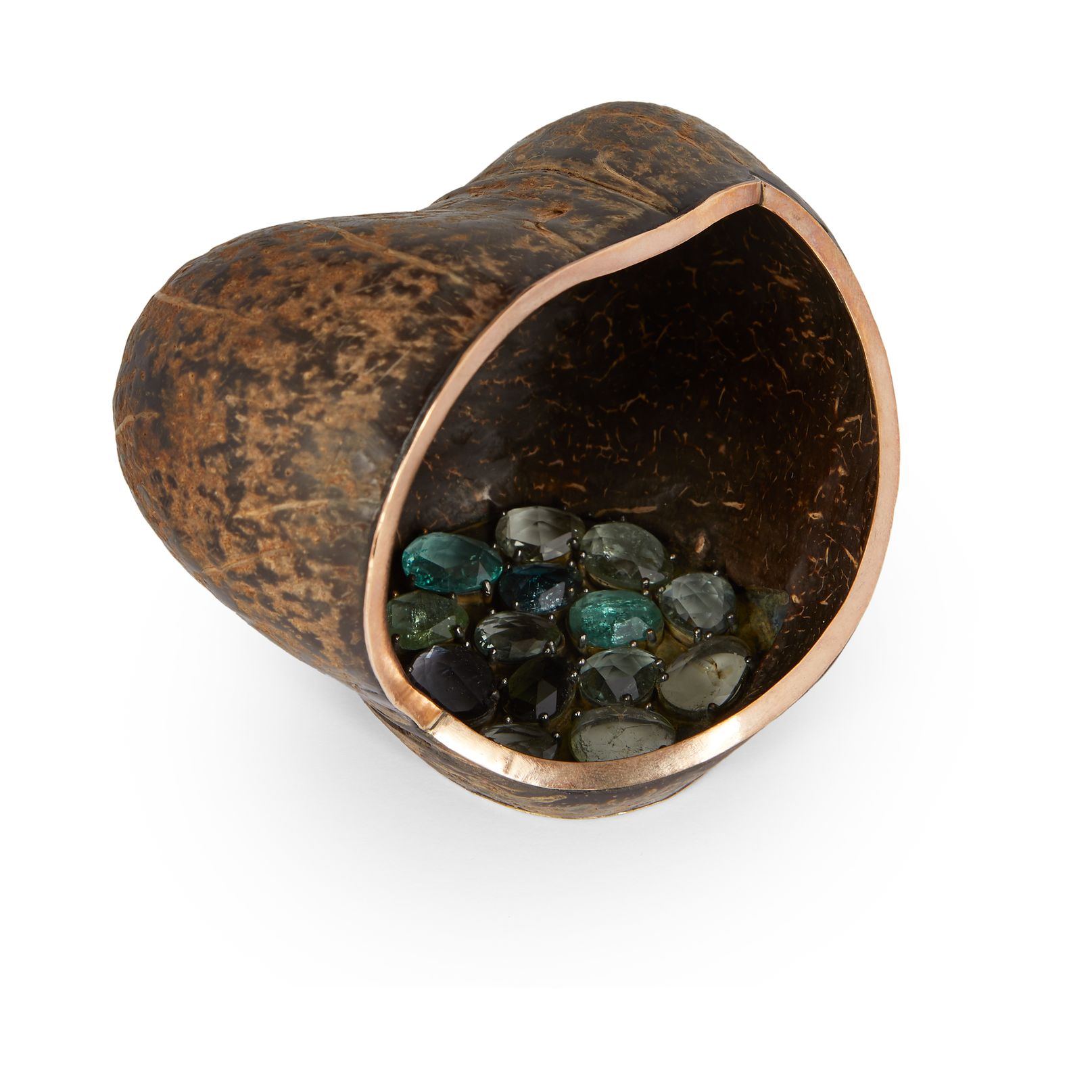 Jewelled Cigass 
Why did you start working with coconut shells?
The coconut shells are recycled, organically sourced, and I was drawn to their feminine shape and form. I've always wanted to explore ideas outside something wearable. So, when I created these objets d'arts, I decided to set gemstones and materials nestled inside the shells to play with the concept that precious things should always be hidden, like the heart inside our bodies.
These coconut shells are found in Amphawa, where my grandparents met each other, so I also wanted to commemorate their love.
Your flagship boutique store in Bangkok looks more like a contemporary gallery than a traditional jewellery store. Could you explain the concept behind this?
We love to express our world in full form through subtle details. For the foam display cabinets, I wanted something soft and tactile that could protect the precious jewels, all while being easy on the skin.
We explored many materials and foam fabric seemed feasible and an exciting material to work with. The foam was made to look like cold, hard concrete, which is a deliberate juxtaposition to the warm gold and preciousness of fine jewellery. There's also a shock element when visitors realise the foam texture of the cabinet!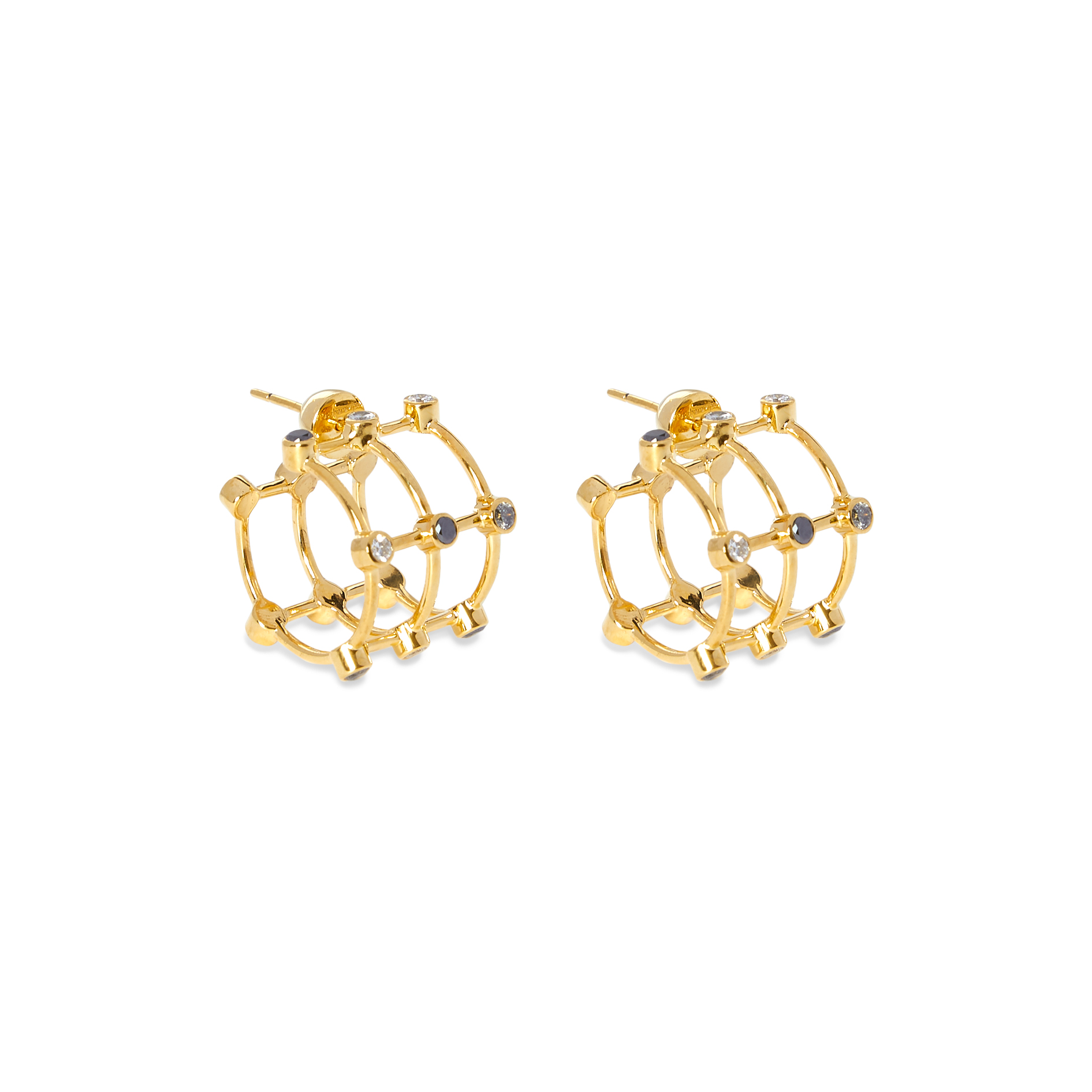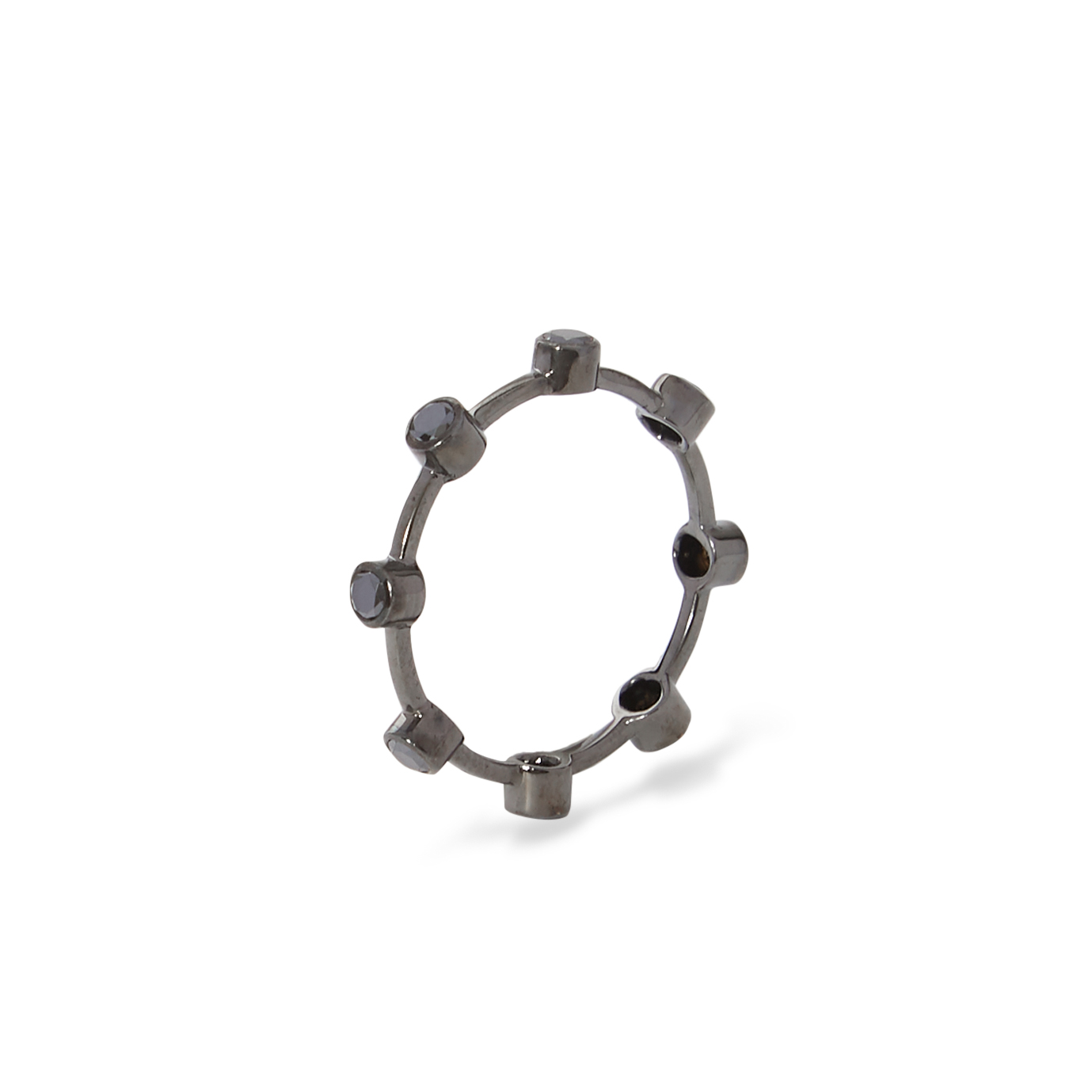 Top: Salt & Pepper Cage earrings
Bottom: Black Pepper ring
Your latest collection Clues Sepper was created during the Covid-19 pandemic. How did this affect your creative process?
I didn't particularly enjoy designing in the confines of my own home because I felt limited. I wanted to express more, but due to travel restrictions I couldn't produce enough samples and tests.
Being locked down at home in London, I felt like wearing something casual and practical. Whenever I went to do my groceries, I didn't want to wear anything too sparkly. The design came to serve the right purpose as the collection is simple, practical, and perfect for daily wear. It's a collection you can even sleep or shower in!
What is the favourite jewel you've designed so far?
It's hard to say… it's like asking who's your favourite child! I am proud of every piece, however I'm particularly fond of my ring designs. I like how all of them can be stacked on top of each other.
Who is your favourite artist and how have they influenced your work?
So many! I admire Richard Serra, the artist and sculptor. His work is so fierce, strong, and impeccable. His use of materials has inspired my work, particularly his silhouettes. I love their shape and movement.
What is next for Patcharavipa?
We will keep growing organically and focus more on our online website, as well as private sales. We hope to have our shops around the world, especially in London.