Did you know that if you're an August baby, you have three birthstones – peridot, spinel and sardonyx – to choose from? This week, we're crushing on peridot, which, according to Fuli Gemstones, has always been associated with 'light and hope.' Perhaps, that's why the Egyptians called it the 'gem of the sun.' The lemony-green gemstone owes its name to the Arabic word 'faridat, meaning 'gem.'
Here are some new peridot pieces you can consider adding to you jewellery collection: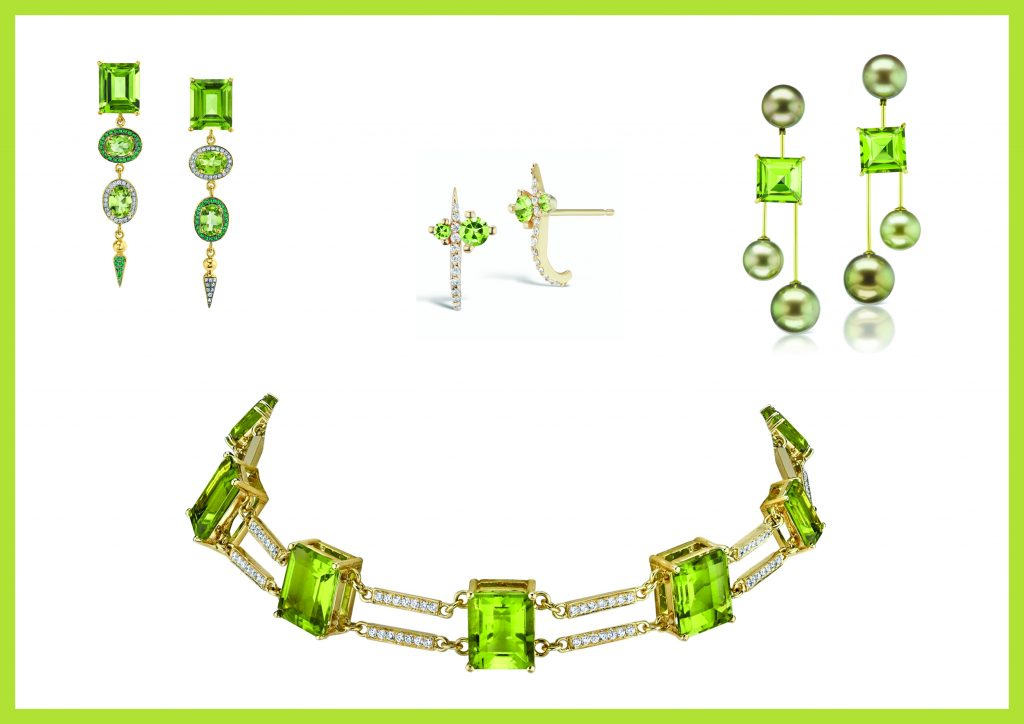 Clockwise from top: Sarah Hendler, Sophie Ratner, Assael, Karma El Khalil
Collage by Niyati Mendapara
Italian designer Bea Bongiasca loves working with colourful elements, whether it's stones, or more recently, enamel. Since its launch, her peppy line You Are So Vine has been a hot favourite among jewellery wearers. The whimsical pieces hinge on the idea that "the iconic pieces from the Floricultural collection (an earlier launch) have been contaminated and intertwined with sinuous colourful vines of enamel on gold that give the jewellery a kinetic movement, as well as a bold pop look." Her Vine Wrapped Cocktail Ring in 9k rose gold featuring marquise and drop-cut peridot, rock crystals and white diamonds and tsavorite pavé is a standout from the collection.
New York-based Karma El Khalil's design for her Railway Choker stems from "an exploration of the principal element of design — the line." The idea, explains the designer, was "to incorporate a gem with a rich heritage into an elemental frame." With the desire to create a sophisticated piece out of very simple and relatable lines, she zeroed in on peridots fascinated by its historical splendour. What else drew her to the gemstone? "The talismanic use of peridot in Ancient Egypt, adorning Cleopatra's jewels and the shrine of the Three Holy Kings in Cologne, coupled with the fact that along with diamonds, it is the only gemstone formed below the earth's crust (while as all others are formed in the crust)," she adds.
The tiny creatures in Anthony Lent's Invisible World represent an ongoing study of worlds in miniature. "Our Ladybug motif, for example, evokes a metaphorical approach to jewellery — the pieces can be thought of as clever references to the frequent appearance of these creatures in sentimental poetry." Lent's 18k yellow gold Ladybug drop earrings set with peridot features a lady bug face stud, quite reminiscent of their signature moon face designs.
Conversations about peridot jewels have to include exotic inspirations by Parisian designer Lydia Courteille. In the Queen of Sheba collection, launched in 2016, Courteille pays homage to Ethiopia and its cultural and geographical diversity, while also espousing her love of big stones and the animal kingdom. Snakes slither along a pair of 18K black rhodium gold statement earrings, set with peridots, white diamonds with tsavorites, yellow sapphires, and green tourmalines adding additional green vibes.
Another New Yorker, Deborah Pagani made a pair of drop earrings for a client born in August. "She was looking for a special piece to celebrate a milestone birthday. She loved the monochromatic palette and silhouette of my Uva earrings, so we decided to change it up and incorporate her birthstone, peridot," says Pagani. "Peridot has been said to bring good energy, and I've always found its vibrant colour to be so uplifting. I'm also intrigued by the idea that it's supposed to bring good health and restful sleep." These Uva earrings are part of what started a shift in focus to customisable limited-edition pieces, as Pagani started to have clients commission them in all different stones and colour palettes.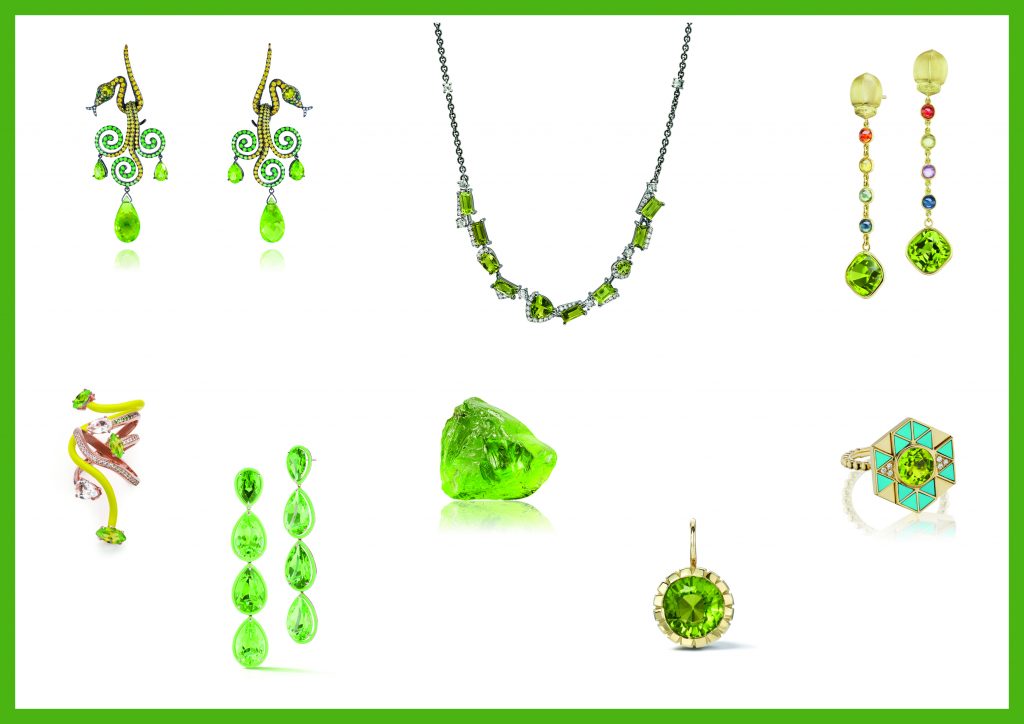 Clockwise from top: Lydia Courteille, Graziela, Anthony Lent, Bea Bongiasca, Deborah Pagani, Fuli Gemstones (rough stone), Retrouvaí, Harwell Godfrey
Collage by Niyati Mendapara

Harwell Godfrey has always loved the 'evil eye' protector motif and the different way it has been interpreted throughout history. Her latest take on this ancient symbology is crafted in 18K gold with turquoise inlay and diamond accents, and peridot as the hero stone. Rings and pendants are part of Godfrey's new offering.
Graziela Kaufman's seeks to show all the shapes of life with her peridot necklace. "I created shapes with diamonds around the stones to give an idea of all aspects and ups and downs that life throws at us. Green is life, it is power and is the air that we breath." The Chicago-based designer has used a rhodium finish for this necklace. "I wanted to create a different look than what's usually seen with peridot and give a darker, more vintage feel to the necklace," adds Kaufman.
New York-based Sophie Ratner's Birthstone Hooked Pavé Studs in 14K gold feature a delicate accent of pavé set diamonds and a pair of coloured stones on either side. The design is also available set with peridots. "This style mimics the appearance of a huggie but it much more versatile." Join the ear party by wearing it in the first, second, and third hole of your earlobe.
Sarah Hendler's inspiration is "always a timeless bold nod to the past with a modern twist – classic Victorian vibes." This pair of yellow gold mismatched drop earrings, in peridots, emeralds and diamonds, plays up geometric shapes and sees the Los Angeles-based designer employing a rhodium finish. "I find rhodium gives great definition to the stones, and I love the extra-green hue it brings out in the pavé emeralds specifically."
Leading pearl house Assael's contemporary take on pearl earrings is endearing. Set in 18K green gold, these beauties with Fijian pearls and square-cut peridot from the Modern Mobile collection were finalists at last year's Couture Design Awards. Charms are hugely popular this year; this round peridot Striped Bezel Charm from Retrouvaí is a pretty piece to add to your charm pile.