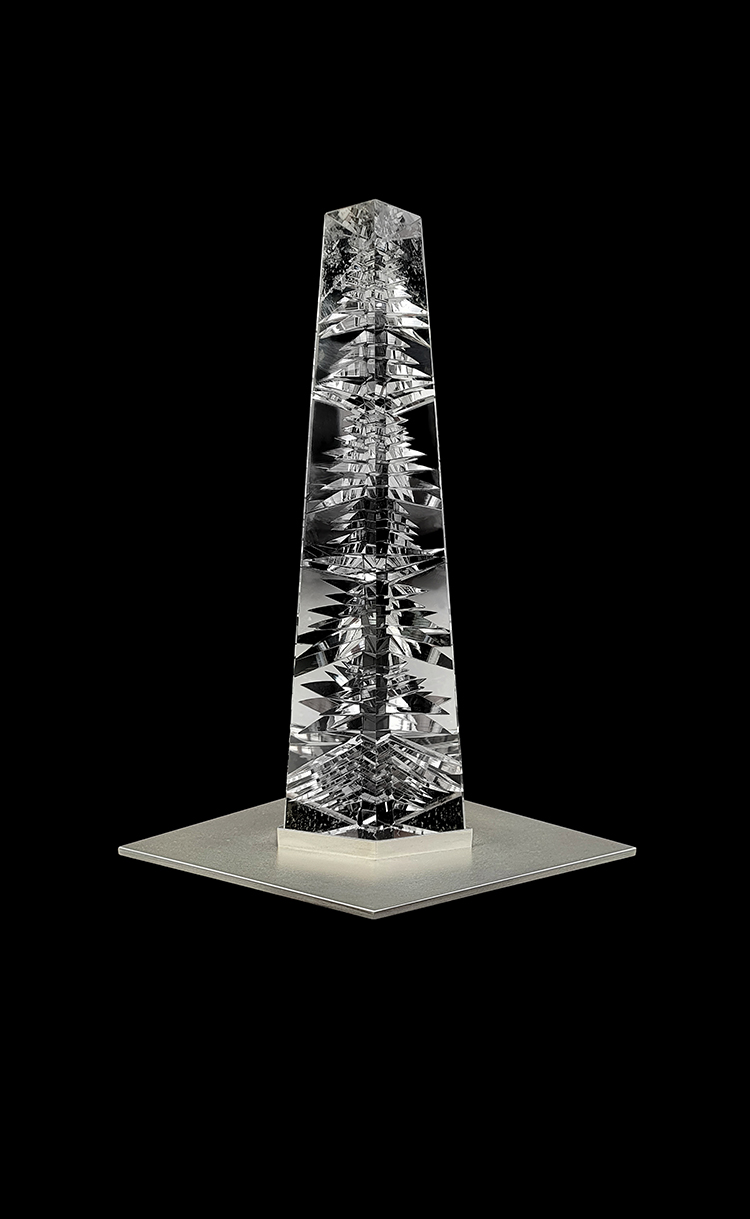 The timeless art of gemstone carving and sculpture, initiated a few thousand years ago by Greek masters such as Epimenes and Dioskourides, lives on in the quiet studios of contemporary masters. They work beyond the public eye, consumed by a passion and obsessive dedication to their art: Following the light, revealing internal beauty, imbuing movement, extracting humour, and inscribing barely visible details to their masterworks. This is their ambition, their raison d'etre.
Idar Oberstein in Germany is the capital of this artistic magnificence and Bernd Munsteiner is the celebrated star. He and his son, Tom, work from their light-filled atelier in Stipshausen, making contemporary masterworks that are beyond imagination. Prior to studying painting and sculpture at Pforzheim's art school, Bernd learnt gemstone cutting from his father, Viktor. In turn he taught his son Tom.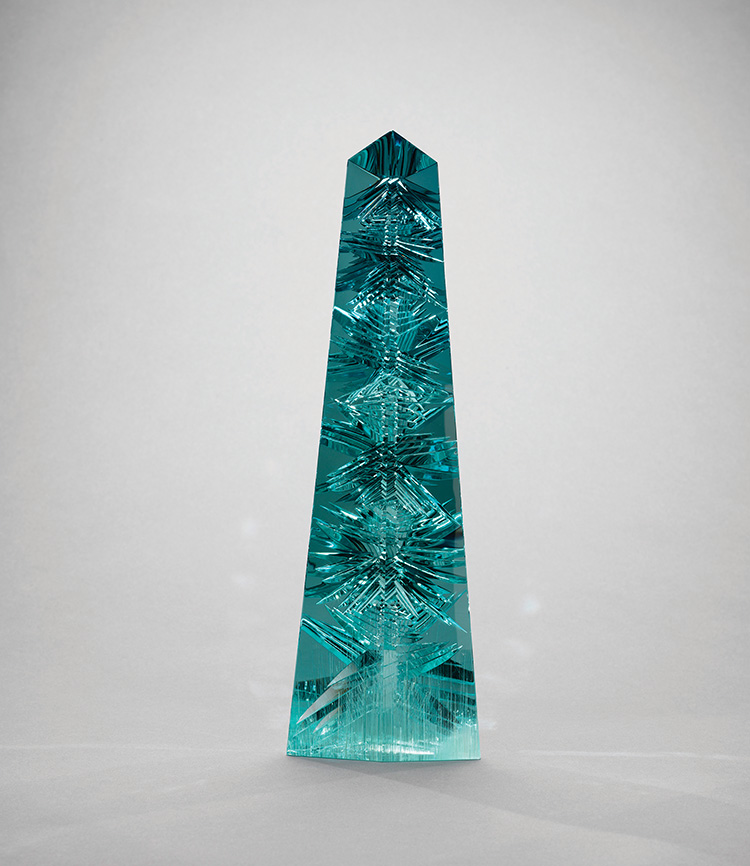 "Making visible the internal life of the gem, freeing the natural beauty hiding within."
He says he has devoted his entire artistic life to the search of the aura of the crystal; "making visible the internal life of the gem, freeing the natural beauty hiding within." This was achieved in spectacular fashion in Dom Pedro , a 35cm high, 10,363-carat aquamarine carving which now enjoys pride of place in the Smithsonian's National Gem Collection in Washington. This masterpiece started as a 52-centimetre high, 26-kilogram rough: "Its unique size and dollar value froze me into inaction for months," he recalls. "One day, I got over the fact it was so expensive, I turned the rough upside down to signify its connection to the earth and inspiration flowed. One year later the final piece was ready."
More recently, he and Tom have been "exploding" light in extraordinary rock crystal from the Swiss Alps. His latest, Light Cycle, is a 702-carat celebration of light, while Tom's pieces Inside Selecting illustrate the duo's quest to sculpt light.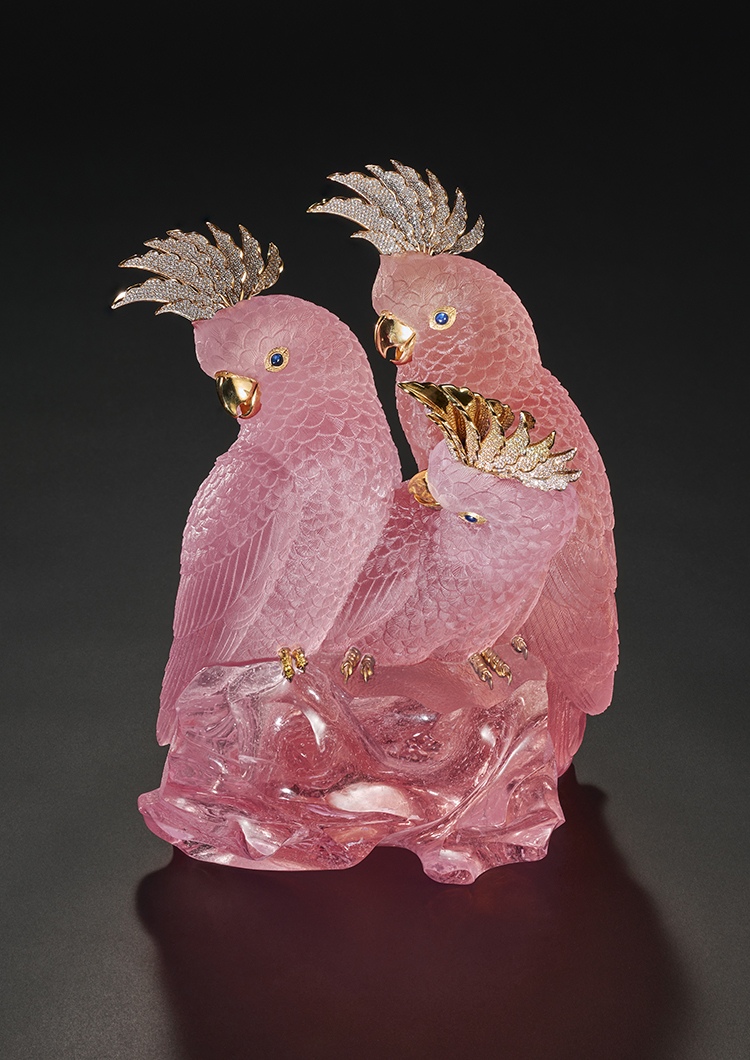 "For an artist, the more materials you can use the more creative freedom you have." – Wallace Chan
Not far away in Hettenrodt, in a small studio crammed with numerous tools, is Alfred Zimmermann, an unsung talent hidden from the world by choice. In the summer of 2019, he was carving Trinity, majestic morganite cockatoos. He shared meticulous sketches and details of work in progress. He paused to point to nesting falcons in the eave of the neighbour's roof: "It is important to observe their movements and intense behaviour; I absorb it and hope the memory seeps out of my fingers when I carve," he whispers. This was his gift, the ability to capture in his carvings the personality and movement of any creature always with outstanding attention to detail.
Zimmermann started his journey as a teenage apprentice with master carver Paul Dreher and later his son, Gerd. After a decade of working on dozens of precious pieces, he earned the master carver title and set up his own atelier pursuing partnerships with companies such as Henn Gmbh that supplied extraordinary material and a client base.
The Trinity cockatoos, a commission by Henn, ranks as his most important (and sadly his final) creation. In the winter of 2019, a stroke robbed him of his ability to work. His co-creation with designer Ingo Henn – a series of miniature carvings for centrepieces of fine jewellery – was far more complex and delicate, Zimmermann says speaking from his recuperation centre. The first, a "Celestial Lion", created from precious Santa Maria aquamarine, was a difficult transition, he recalls, and took months of intense work to complete. "His debilitating illness is a huge loss," laments Ingo. "There may never be another like him."
On the other side of the world in his atelier in Hong Kong is Wallace Chan, a self-taught artist and inventor who went from wondrous gemstone miniatures to show-stopping giants. His most recent work is a 10-metre titanium sculpture, TOTEM, left unassembled as installation work at a solo exhibition at Venice's Fondaco Marcello. The celebrated work poignantly explores the uncertainty of the pandemic and other global issues and follows on from his first large-scale sculpture and installation exhibition, TITANS in 2021.
His early work featured gemstone cameos, a popular accessory for Japanese clients, he says. His "model" for his early training in carving was a cameo of Queen Elizabeth II cast on Hong Kong's 1 dollar coin. Later, he taught himself intaglio carving. From this extensive research and practice came the Wallace Cut, an illusionary carving technique that combines faceting and 3D internal carving. It became an instant international hit with a solo exhibition in Idar Oberstein's Gemstone Museum, where he was celebrated as a prodigy from Asia.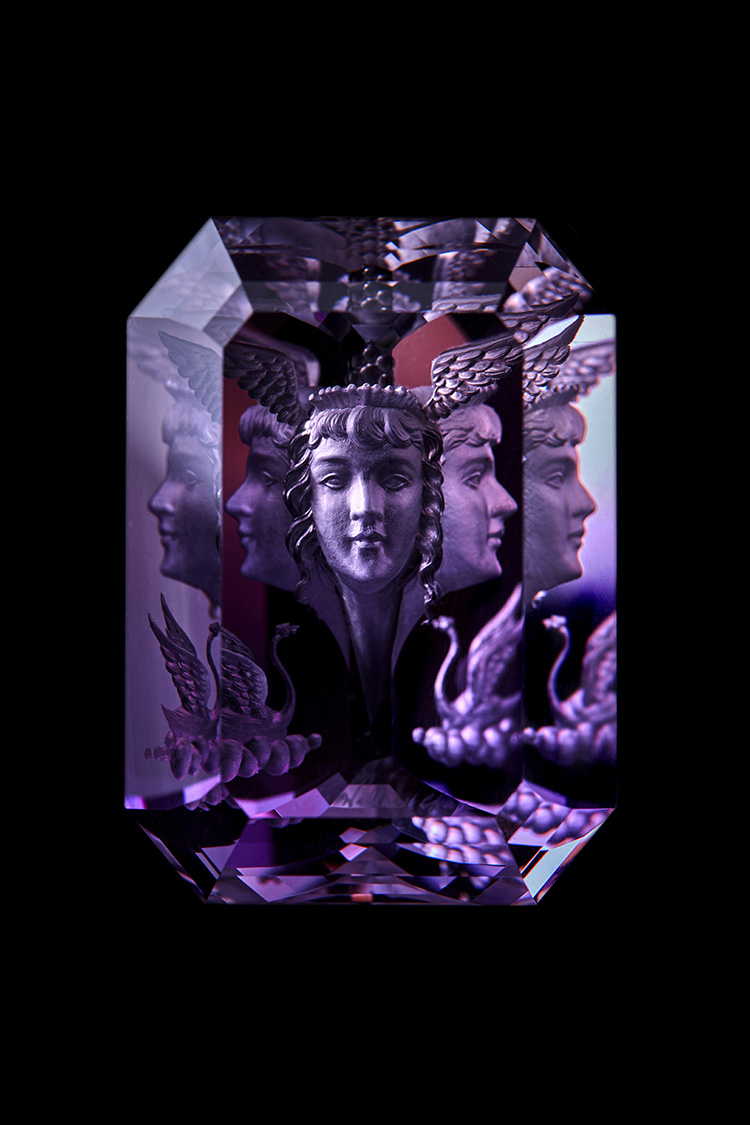 A free thinker and free spirit, Chan's single-minded desire was to "let out the light" in gem material: Expressing the idea of yin and yang by combining carving styles in a single piece. In the '90s, a Taiwanese collector who became his mentor and close friend urged him to study Buddhist scriptures. As he absorbed the teachings, he translated his understanding and interpretation of Buddhist philosophy into abstract, philosophical expressions. The culmination of this work was an invitation to create a Great Stupa for the Fo Guang Shan monastery in Taiwan to enshrine a sacred tooth relic of the Buddha. The creation took over two and a half years. "It was a journey of enriching, but tortuous discovery and subsequent loss," he recalls. His mentor passed away a few months after completion. Devastated, he withdrew on a journey of grief with a Zen master, became a monk, and then returned to create new work in mixed media on themes related to his questions about life, growth, death, and struggle.
He continues to create unique jewellery while sculpting large-scale titanium pieces. "For an artist, the more materials you can use the more creative freedom you have," asserts Chan.
The hope is that the passion and drive of these singular artists will keep the art of carving and sculpture alive for years to come. For the Munsteiners, the focus is on creating more new cuts while preserving and revealing the inner beauty of the mineral or gem itself. "That's our raison d'etre."