If you are a fan of Frédéric Zaavy, who has created famous pieces for Fabergé, you'd be delighted to see more of his works in a coffee table book. The first monograph dedicated to the Parisian artist-jeweller is being launched this month.
Frédéric Zaavy
New York-based photographers John Bigelow Taylor and Dianne Dubler worked closely with Zaavy in the final two years of his life and have created the visual narrative. The book is a "portrait of an artist, who strived to paint the beauty of the universe in precious stones." Stardust: The Work and Life of Jeweler Extraordinaire Frédéric Zaavy illuminates his "creative inspiration, laboratory-like workshop and domestic settings as well as his dream-like creations."
Taylor and Dubler tell us more.
Tell us a bit about the monograph Stardust.
Stardust is the origin of all matter in the universe, including the diamonds Frédéric Zaavy "painted" with and loved so much. He was fascinated that, in addition to their beauty, diamonds resonated deep time. However, he was undaunted by time and space, which he deemed to be inconsequential. He thought of time in eons and knew his moment here would never be enough. Months before he died, he said to us, "I am already dead," but then carried on as if he would live forever! He often acknowledged that he had been here before and would someday return." Stardust' is not a usual biography or monograph. From material generated over the last eight months of his life, it compresses the work, life – and, importantly, the taste – of one man. As he was dying, he was also intensely living. We hope this book allows the reader to experience that precious time in a way that presents and preserves the essence of our friend.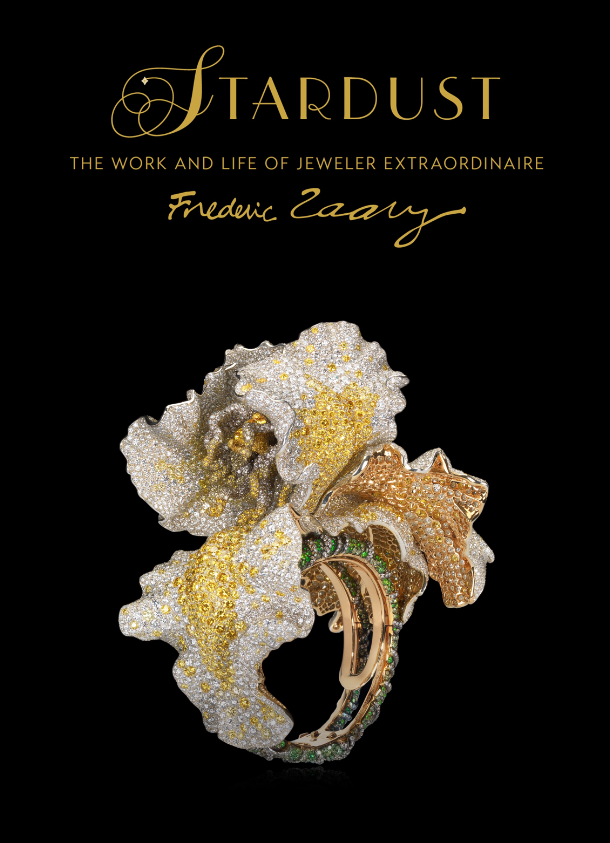 How did the idea for a monograph on Zaavy come about?
We were contacted in 2000 by Zaavy calling, out of the blue, from Paris, asking if we would someday produce a book on his life and work. He had been following our productions with jewellery collections and jewellers, including books on Elizabeth Taylor, Kenneth J. Lane, The Museum of Arts and Design, New York, The Ghysels Collection of Ethnic Jewelry, Brussels, Daniel Brush, New York, and others. During that phone call we asked him when we would begin the book. He replied, "Not for many years – I am just building my career."
How long did both of you work on the project?
For six years, FZ would call three or four times a year to check in. We commented to each other about the unusual nature of that first synchronistic phone call. We felt as though he knew us even before he made that call. Over those six years, we spent hours on the phone getting to know each other, so, when we finally met, we were already fast friends.
In 2006, we were actually introduced to his jewellery for the first time and were astonished at what we saw. He literally painted with coloured diamonds, creating unimaginable shadings and gradations the likes of which we had never seen. The pieces themselves were brilliantly imagined and the technology of their making was extraordinary.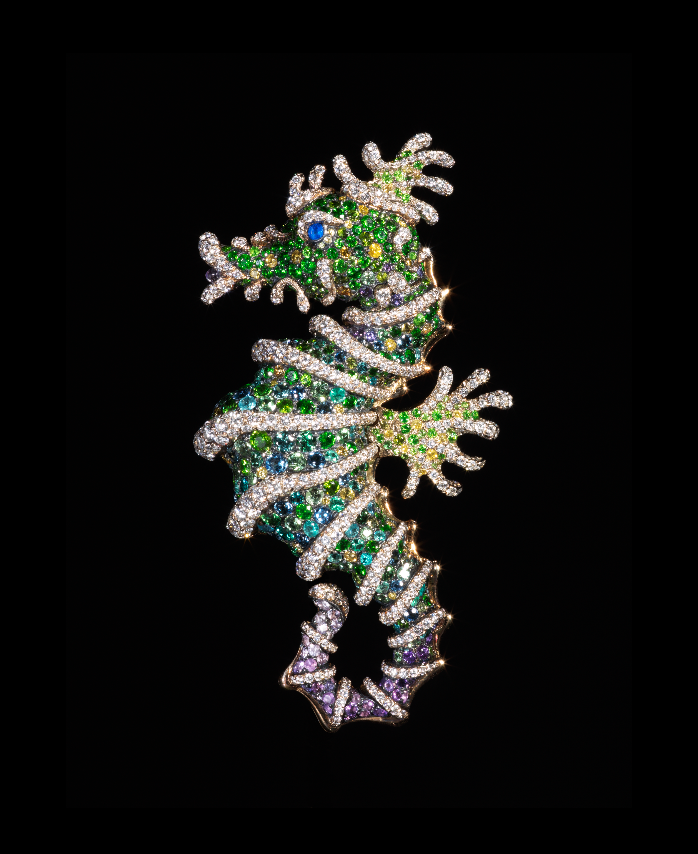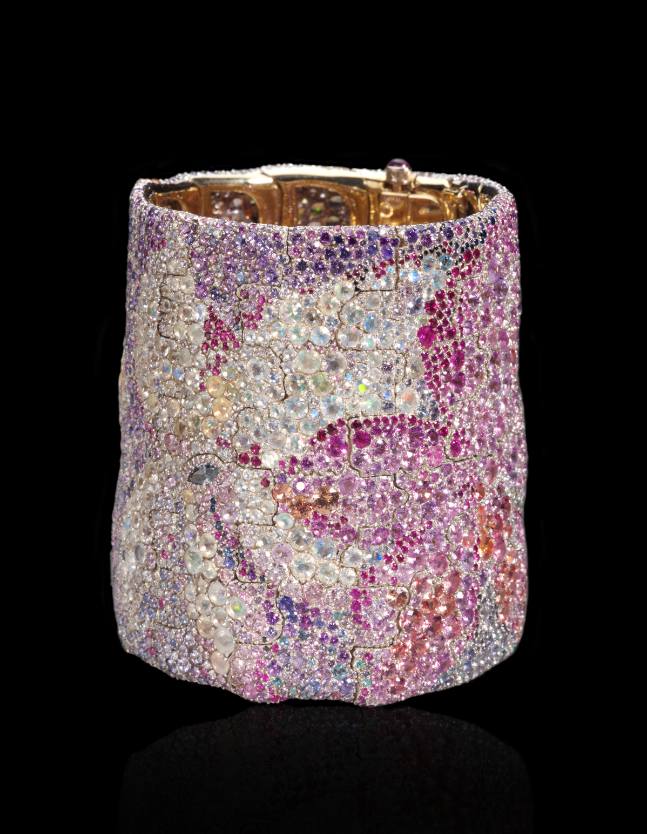 Top: Seahorse brooch
Bottom: Nymphéas bracelet
What are your fondest memories of working with Zaavy?
His elegant atelier off the Place Vendome in Paris, consisted of four jewellers, four setters, and one wax-model maker. They created in the centuries-old tradition of High French Jewellery. Speaking of FZ, one of his workers remarked that he designed a jewel "…that a soul imparts to objects." FZ was a philosopher jeweller.
Over the next four years, while planting the seeds for this book, the three of us made many visits between Paris and New York and travels together to other places in the world.
Towards the end of 2010, we received a call from FZ saying that his previously diagnosed cancer had worsened and we should accelerate our plans for the book immediately. From January through August of 2011, we worked closely together, not only on the photography, but on the search for an appropriate author, whom we found in the French philosophical writer, Gilles Hertzog. We determined that the book would be a very personal encounter with FZ at this period of his life. His jewellery is presented along with the environments of his city, atelier, home and the places we visited together during that last period. We infused the monograph with his taste and sensibilities.
FZ died in September of that year and, while his estate was being resolved, the book was on hold for the next four years. In 2015, his partner in Taiwan, Lisa Chen, contacted us to finish the book. Marco Jellinek of Officina Libraria in Milan, with whom we have produced many books, published ​it​.