As face masks transformed from health and hygiene gear to mandatory wear, a few jewellers got creative and amped up the style factor with chains and beads.
Saskia Diez mask chain
Old shirts really came in handy for Saskia Diez when she set out to sew some simple masks for her and her children in early March. The design of the fabric mask, says Diez, is a very simple one: Double layered, with no folds or rim. "It seemed clear that this would be necessary soon." And as you'd expect, they often forgot to take the masks or left them somewhere. "A friend of mine said 'wouldn't it be great to have a chain like the glasses chain we had in the collection.' It is just a small step from chains for glasses to mask chains. So, I did a few chains, bought fabric and got masks sewn by a tailor for our store in Munich," says the jewellery designer.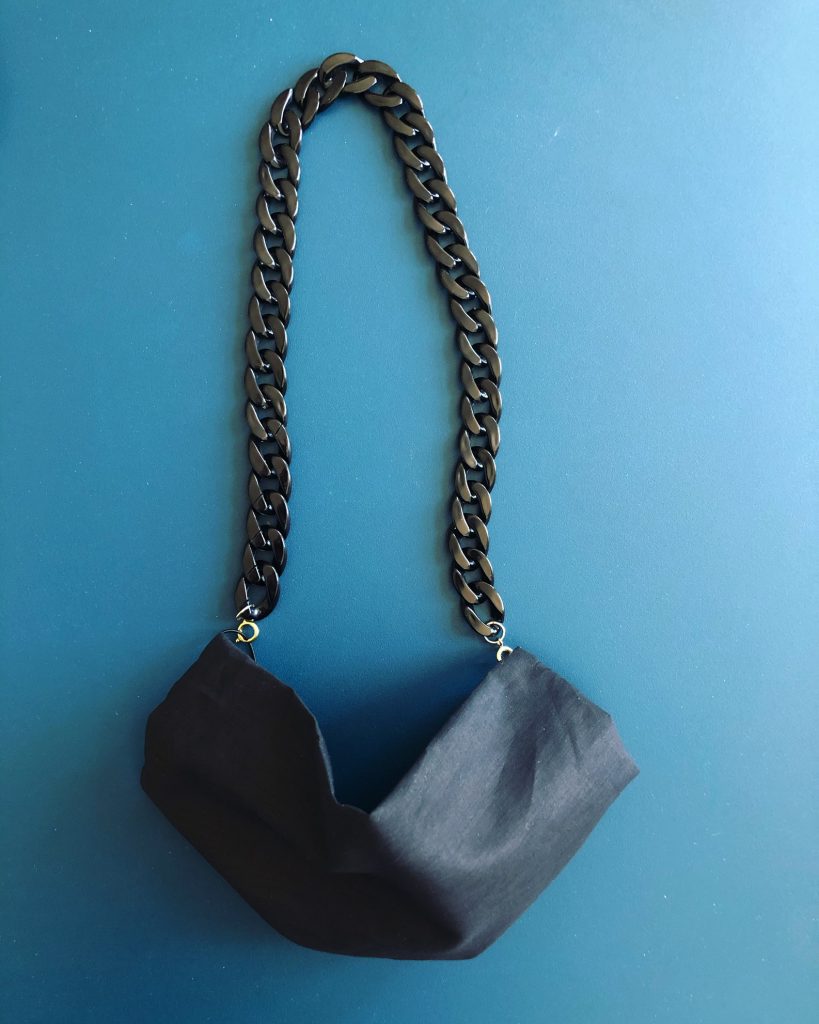 Saskia Diez mask chain
The chain masks for her namesake label sold out immediately and Diez created more. She posted images of the new accessory on social media at the beginning of May and was inundated with orders. To cater to the demand, she bought leftovers of brass chains from different suppliers to keep the pricing low. In the beginning, the accessory featured curbed chains because Diez had bought very different leftovers of chains. "When those were sold, we chose a nice, bold curbed chain and we had them plated in gun metal, silver, and gold." Each end of the chain is affixed with a clasp that makes it detachable. With orders pouring in, Diez now has three tailors sewing and the mask chains are mounted in different workshops.
Aaryah mask chain
Megan Kothari, founder of jewellery brand Aaryah, launched her iteration of mask chains around late April this year. The idea for the beaded chains came about while adjusting to the new mask-wearing reality. "I wanted to find a solution that would make it easy to wear the mask and take off when needed," says Kothari. The chains are multi-functional (they can be worn as a necklace, on a pair of glasses, or as an anklet) and were initially developed with the intention of making mask wearing simple and seamless. Each side of the Beaded Mask Chain has a medium sized lobster claw that easily hooks on to the mask straps. "Our Beaded Mask Chains are recommended for thin to medium mask straps." The mask chains from the New York-based brand features stones like quartz and black lava beads. "Human connection to healing stones has always been a big part of my culture and is an integral philosophy for the brand. It's important to connect our skin to high quality materials and positive energy," adds the designer. These beaded chains are currently made in India at the brand's factory in Jaipur.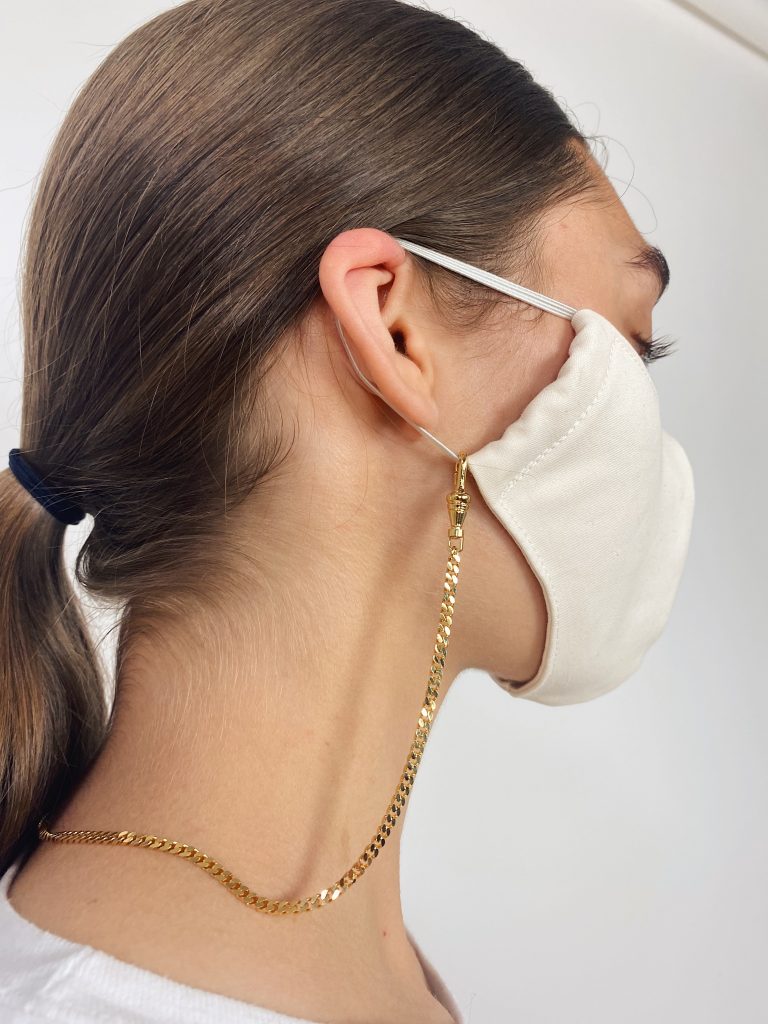 Lady Grey mask chain
The idea of chains and masks was purely utilitarian for Jill Martinelli and Sabine Le Guyader, founders of jewellery brand Lady Grey. "We were going to the park with our kids a lot and once we were settled on our blankets, we were putting our masks in random places and losing them or getting them dirty. We just needed to keep them close, clean, and easily accessible. We were wearing scrap chains as prototypes and figured we should make them jewellery-quality. Masks are here to stay for a while, so might as well make them look nice," says the New York-based duo, who met while studying Sculpture and Metalsmithing at Massachusetts College of Art. 

The first two styles – Curb and Link Mask Chains (made in brass) – has swivel clasps finished in 14k gold plating and rhodium. "We wanted them to feel really classic, sensible, and functional, but with jewellery-quality materials and craftsmanship." The clasps link together and can be worn as just a chain necklace when not used for a mask. The designers have just launched two more styles that have freshwater pearl details as well. "So far, the Curb Mask Chain in gold has been our best seller, it's a delicate but substantial chain with a bright cut edge for a little sparkle."
Second Wind mask chain
Another brand – again in New York City – that has chain masks on offer is Second Wind, founded by stylist Karen Perez. The masks are handmade by master tailors in their studio and feature "removable piercing detail and detachable chain loops that can be worn interchangeably with Lucite or gold-filled necklaces." You can also buy your choice of detachable chains, chunky and slim versions, that are sold separately. Second Wind will be adding more colourways and chain styles to their collection.