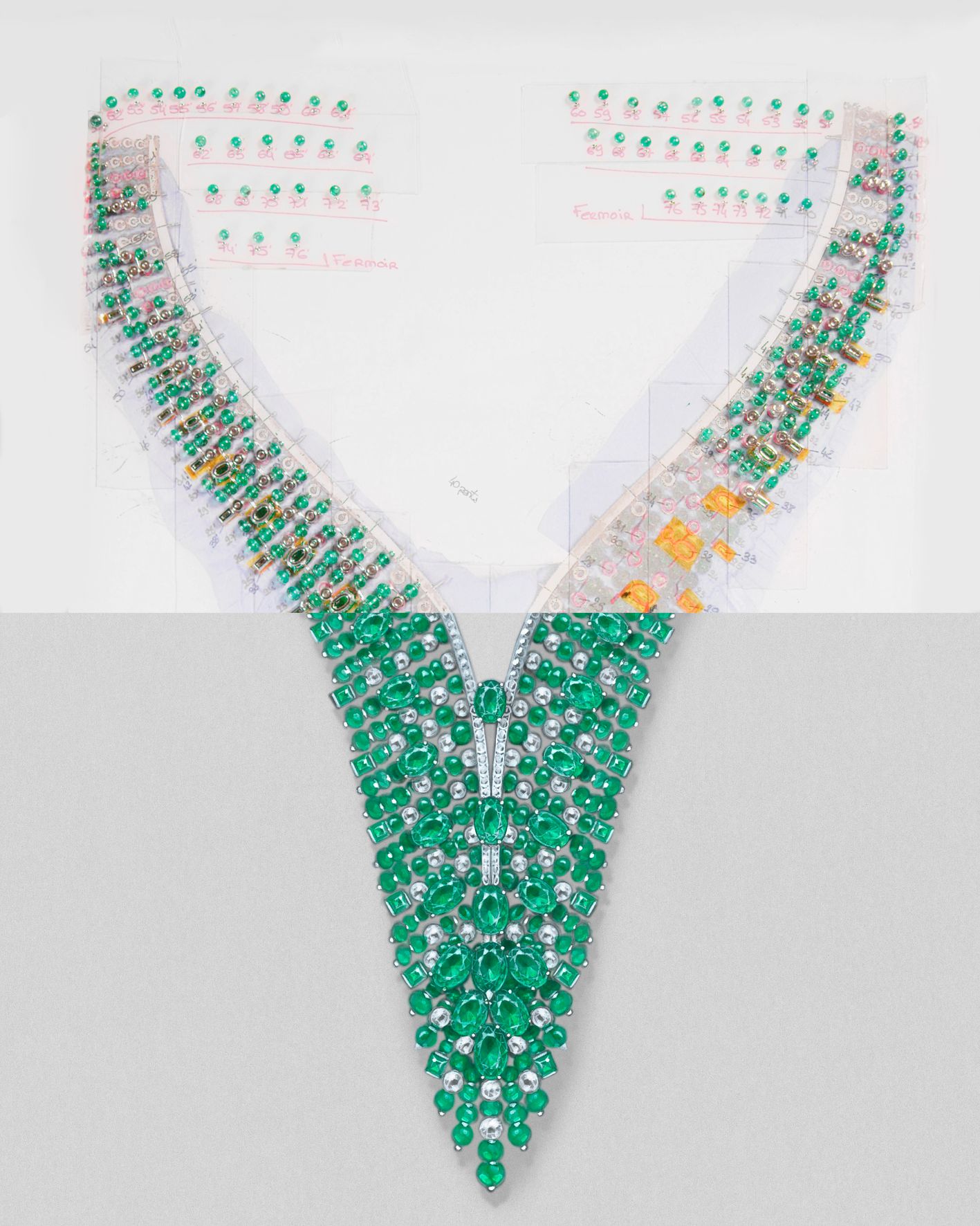 Solitaire gets an exclusive look at one of Cartier's modern high jewellery masterpieces: the Alaxoa necklace from the latest Sixième Sens Par Cartier collection.
How does one perceive the sixth sense? For Cartier, it is a stirring of emotions, sparked by a stimulation of all senses, that can only be felt intimately and intuitively. That feeling is what Cartier attempts to capture in its latest high jewellery collection, Sixième Sens Par Cartier (or Six Sense by Cartier).
To spin that abstract concept into the physical world, artisans express the house savoir-faire into more than 80 magnificent pieces that seek to provoke curiosity and overwhelm perceptions through illusion and sensual ways. Craft takes precedence in the collection, magnified by the use of quality stones, so that each piece moves and shines with the wearer naturally.
(Related: Clash Goes Bold)
It is the small things that give form to majestic results. The Pixelage necklace, a tactile collar built on a Tetris of polished onyx, and diamonds in white, yellow, and orange hues, references the marbled pelt of Cartier's feline muse. The monochromatic Meride necklace offers up an optical mystery, unveiling an Escher-esque dimension of jewelled plates. Even the show-stopping 8.20 carat ruby in the Phaan ring is not as it seems. Resting right underneath is a 4.01 carat rose-cut diamond which plays the part of intensifying and accentuating the rich crimson colour of the cushion-cut gem.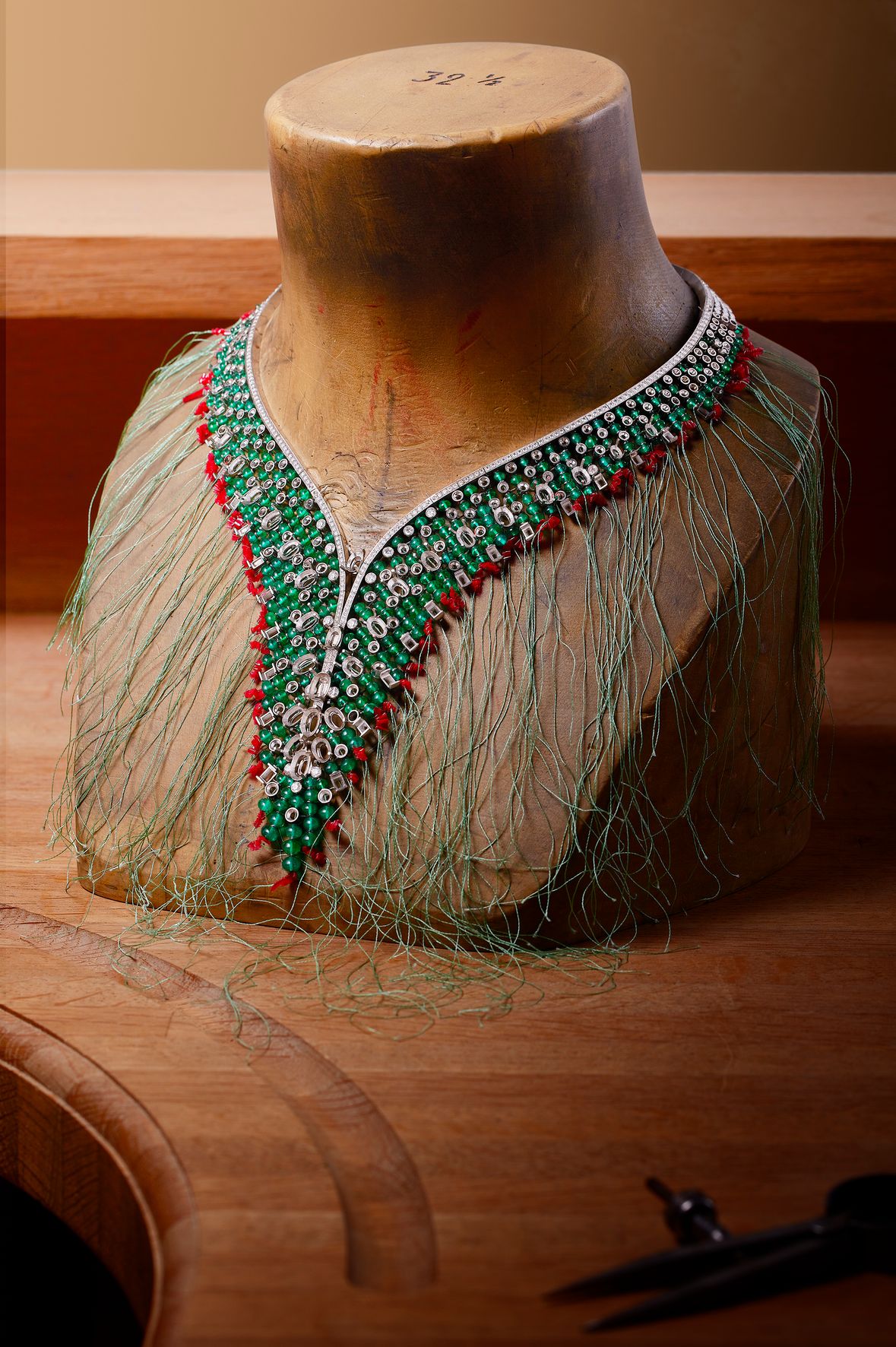 The visual experience Sixième Sens Par Cartier offers culminates with the Alaxoa necklace, a supple cascade of emeralds, diamonds, and platinum. Just like its poetic name – meaning to polish and caress someone in Nahuatl – the necklace's dazzling tassels cloak the wearer's neck, throat and décolleté like second skin.
An exclusive behind-the-scenes peek at the making of the Alaxoa necklace reveals more to the complexity and level of detail in Cartier's craft and design. To create this shawl of emerald and diamond requires precision and thorough quality checks: Every seemingly minor aspect is crucial in weaving the Alaxoa necklace together.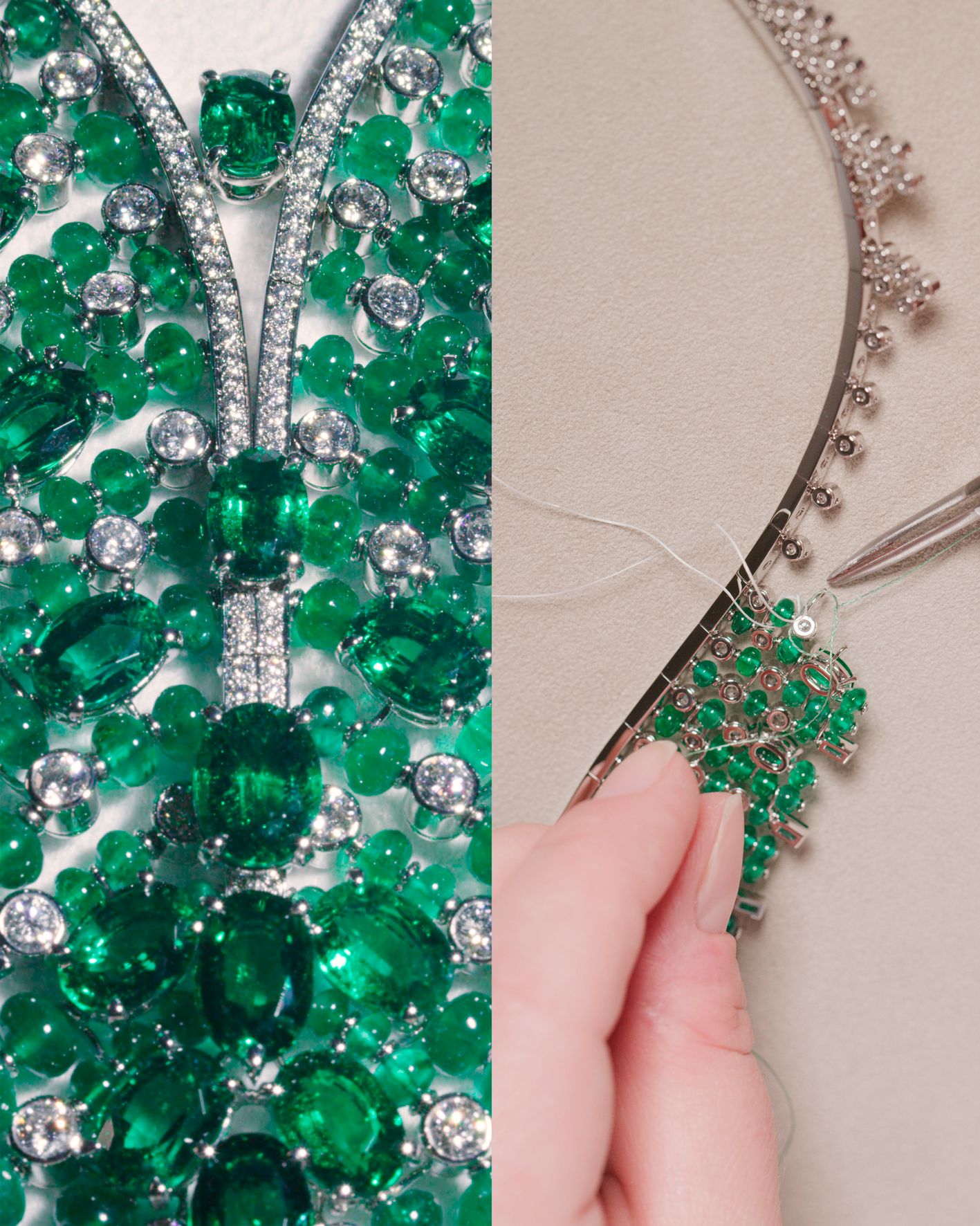 For starters, both gemmologists and designers scrutinise over selecting the right emeralds. Each stone must meet specific requirements for colour, dimension, and depth. The raw gems are then carved and polished by hand to create spherical beads and faceted stones, retaining their natural beauty and getting ready for the next step of selecting and arranging the various components together.
This process is likened to that of completing a jigsaw puzzle. Each gem plays a role in creating a hypnotic wave of vibrant emerald green. Over 350 spheres, interspersed by faceted diamonds and emeralds, must come together harmoniously in colour, symmetry, and placement. Each gem is carefully planned out on paper and laid out for assembly by threading.
The painstaking threading technique, which has its roots in Mughal Indian jewellery, is largely associated with Cartier's vintage pieces and savoir-faire. It's an aesthetic tradition that Cartier has kept going even in modern times: With the Ciel d'Orage ring from the 2017 Résonances collection, the Kanaga necklace from the 2018 Coloratura collection, and the Alizarine necklace from the 2019 Magnitude collection.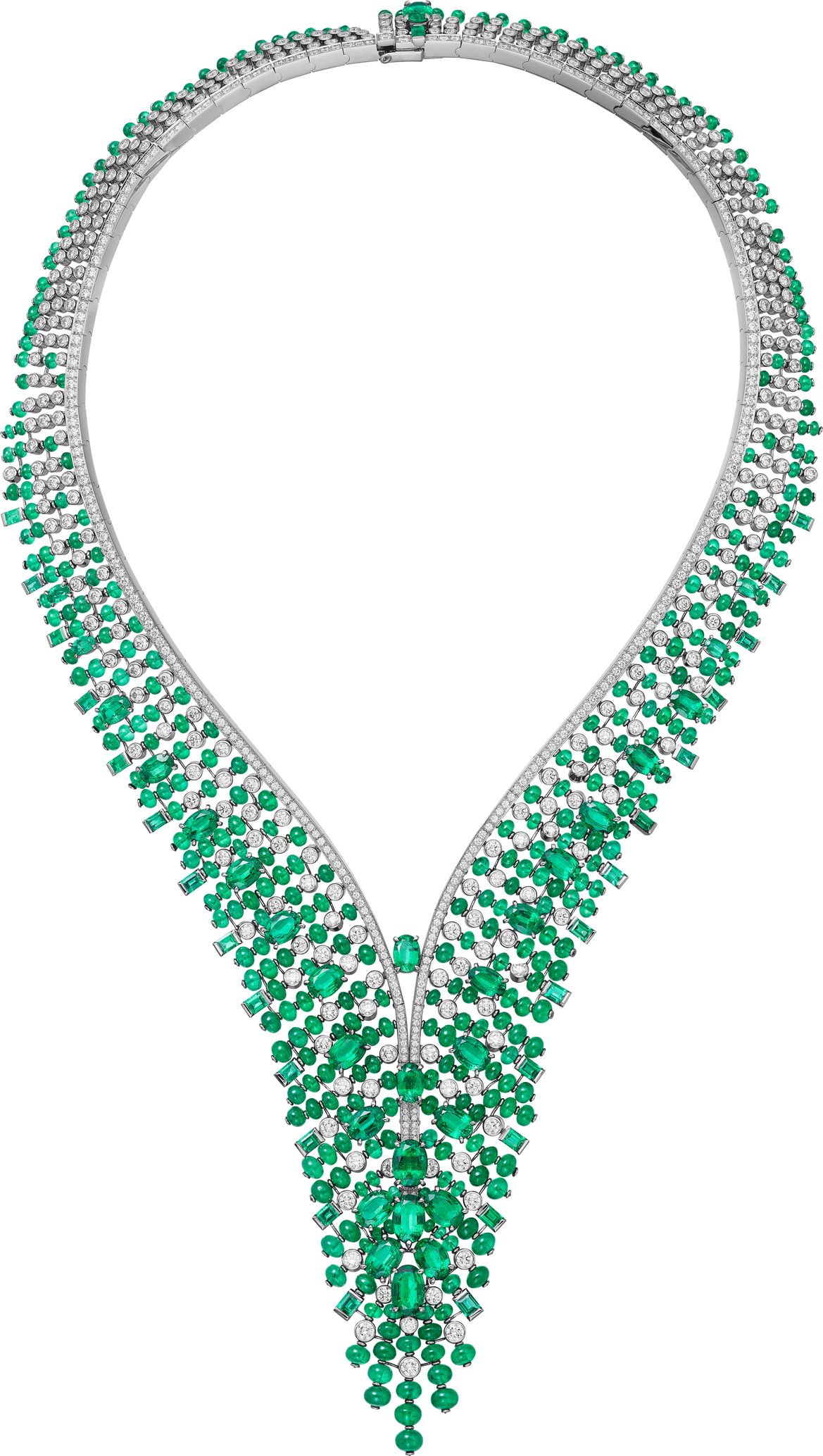 In putting the Alaxoa necklace together, Cartier takes the ancient practice to a new level, bolstered by new approaches to preserve the intricacy and flexibility of the design.
Each small bead or setting is carefully strung on short threads to create a flutter of strands across the necklace's light platinum frame. Round diamonds and faceted emeralds are prudently added into the construction for added brilliance and shimmer.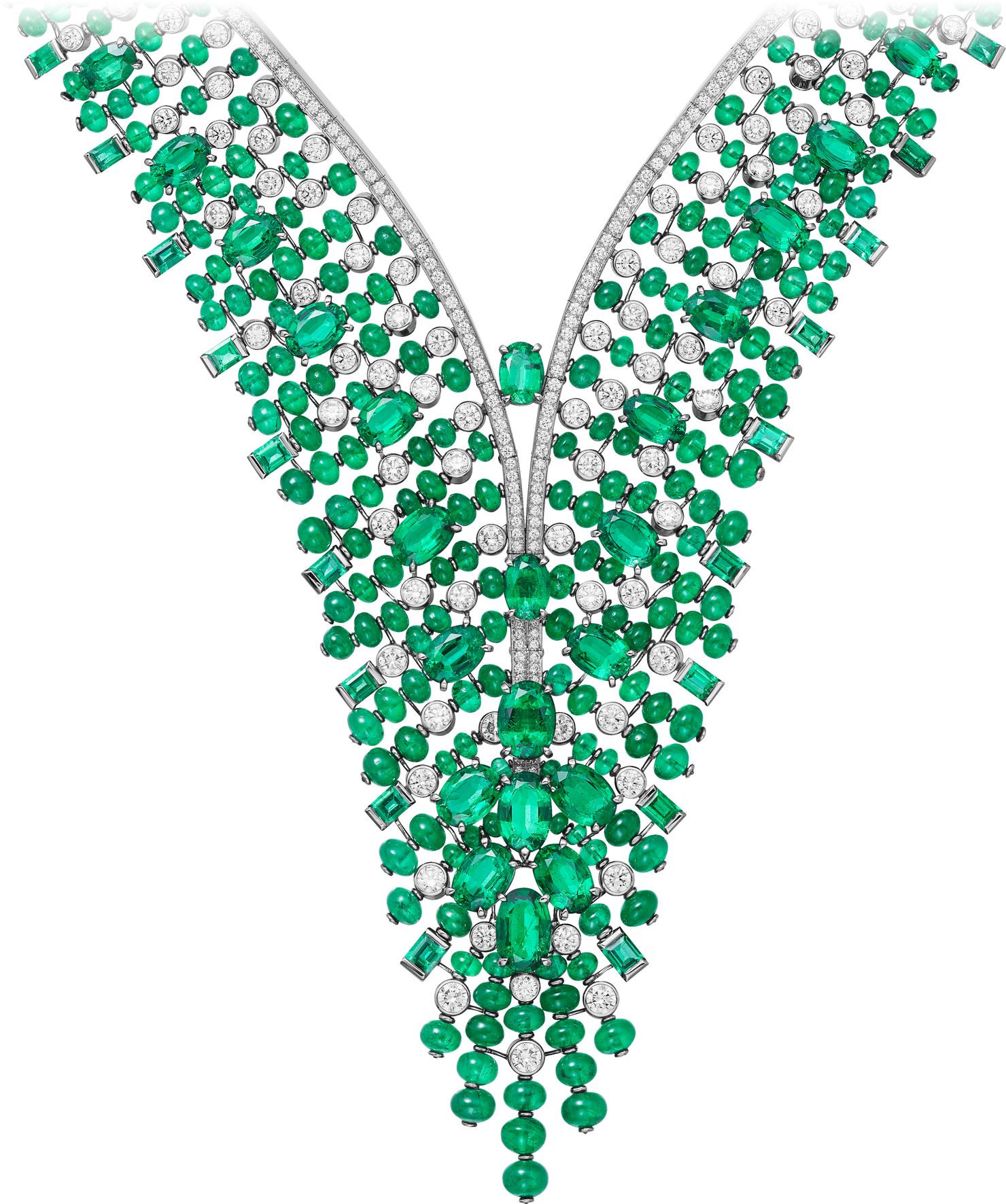 But to keep each strand fanned out across the necklace and still movable takes a bit of clever engineering. Each gem setting doubles up as a small metal bridge, with tiny hoops on either side to hold the jewelled strands in place while remaining dynamic and sinuous. Fine lines of thread and metal work in tandem, discreetly, to create the vibrant green waves of the Alaxoa necklace without obstruction.
In all, the entire piece took artisans over 2,760 hours of work to complete – an overwhelming effort to prove that even the tiniest details are of utmost importance in creating moving masterpieces.