For almost a century, Italian jewellery brand FOPE has grown from strength to strength. It even successfully launched a new collection in the midst of a global pandemic. What is the secret to its success? Diego Nardin, the brand's CEO, tells us more
"The Italian spirit manifests itself through FOPE's cultural background," says Diego Nardin, FOPE's CEO. The brand, which was established in Vicenza over 90 years ago, is blessed to be at the heart of the famed city with an astounding tradition of artisans and goldsmiths. "The city is also full of art and architectural gems," he reveals.
Diego Nardin, CEO, FOPE
Nardin adds that being a successful Italian brand boils down to making the most of what your predecessors have achieved and pushing it further. "The style of FOPE jewellery and the way they are crafted (in Vicenza, of course) represents a unique blend that makes each creation immediately recognisable."
(Related: The FOPE fantasy lives one)
Since it was established, what is it about FOPE that remains unchanged?
It is very difficult to pick one thing, but a signature feature of the founding and owning family is probably their attitude towards innovation, or rather an innovative approach to all things enterprise – from technology to the jewellery itself. Each and every generation of the Cazzola's have contributed with a unique drive towards the progress of the brand, while keeping its core values consistent.
As a jewellery brand that many look up to, what is the secret to longevity and relevance?
It would be coherence, work ethics, and an original style. FOPE has never tried to follow others or jump on the latest trends, but rather worked on improving and updating the incredible assets built across the decades.
Compared to collections launched before, what was it like launching the new Panorama collection in the midst of COVID-19?
We actually presented the Panorama collection in mid-January and we were organising a lot of buzz around it for February and March. There was a schedule set in place, but everything was forced to be on hold and it was the strangest time: We were sitting on a new collection, which waited to be launched properly.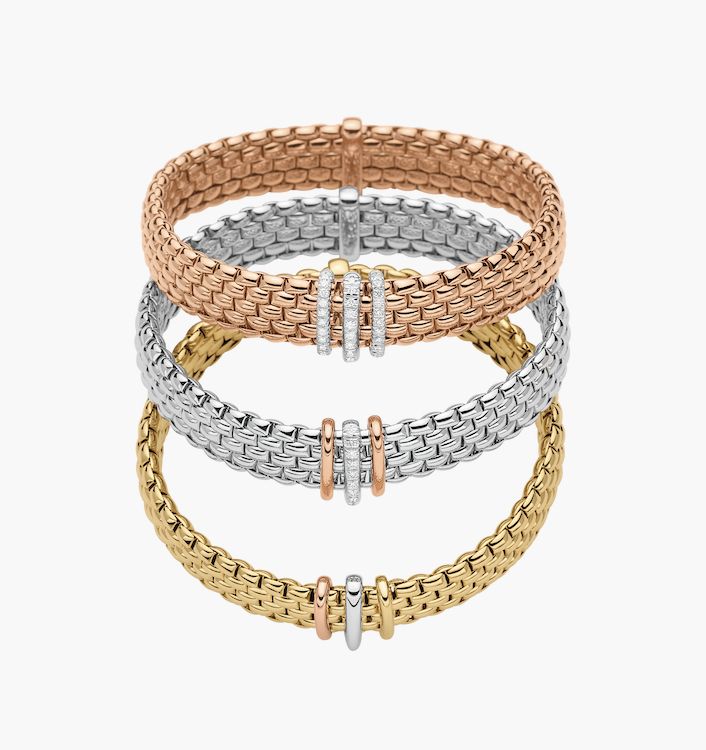 Panorama Collection: Flexible bracelets entirely made of 18 karat rose, white, and yellow gold with gold and diamond features
During those months, the first concern was everyone's health and safety and it was only in mid-May that we started to reconsider the international situation and to re-discuss strategy. At the end of the day we had to (and still have to) be very flexible as each country is in a slightly different position – and we sell our jewellery in more than 50.
As Italy, and the rest of the world, slowly opens up following the pandemic, what are the most important lessons you've learned to ensure the survival and longevity of the brand?
Once again, provided that health and safety are ensured, when businesses start to pick up again, we had proof that our jewellery styles are timeless and elegant with designs that will never go out of style. Such timeless styles will always remain in style and will always appeal to customers across the world.
(Related: The unshakeable Italian spirit)
The digital sphere proved to be a powerful tool for most during this time. How did you take advantage of it?
We have been working on digital marketing for a while, but the pandemic has obviously sped up the process. Our main challenge though remains the balance between the luxury experience and the availability of contents. The web and social media allow for an incredibly personal and bespoke connection with the public, but we still believe in the power of the physical experience – especially when it comes to our fine jewellery, which are very tactile and have to be tried on.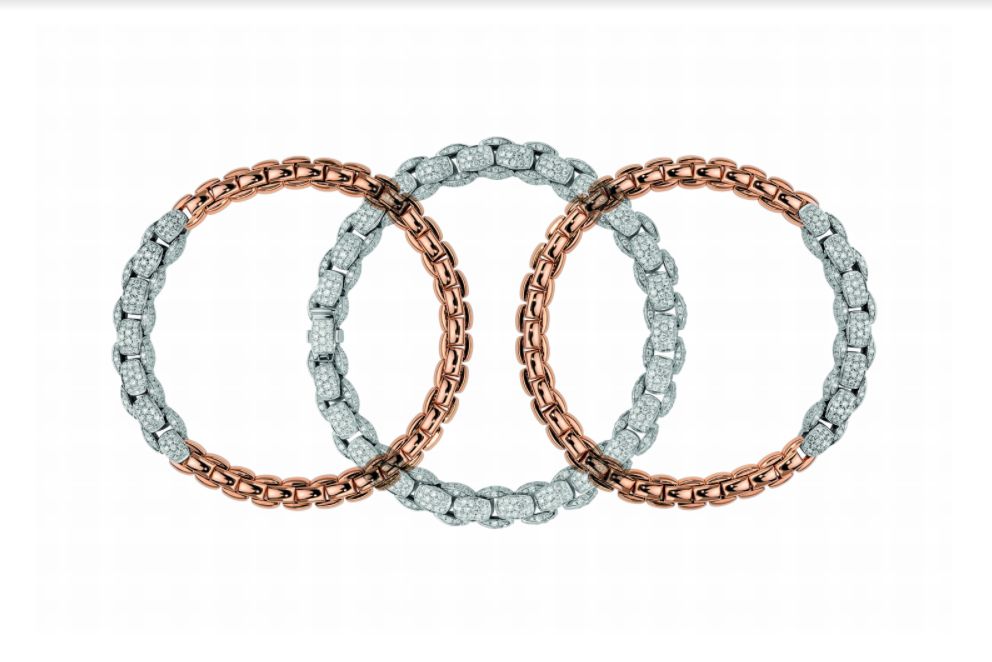 EKA MIA LUCE Collection: Flexible bracelet with diamond pave' entirely made of 18 karat gold and diamond pavé
Going forward, how would you encourage people to buy Made in Italy jewellery when consumers are presented with so many options?
Storytelling is key. FOPE has always grown at a slow yet steady pace because we wish to take the time to tell our story, to introduce the brand, and have people enjoy our jewellery in person.
You can certainly refer to the beauty of the jewellery, but we are not only after that appeal. It is through knowledge that the modern consumer can assess the huge difference of a FOPE piece.
What do you think is the role of jewellery and luxury now?
Luxury and jewellery in particular have had a role in all societies at all times, but it is ever changing and it is also quite different according to the country you are considering. We expect an organic evolution, but beauty and something precious will always be valued and searched for.