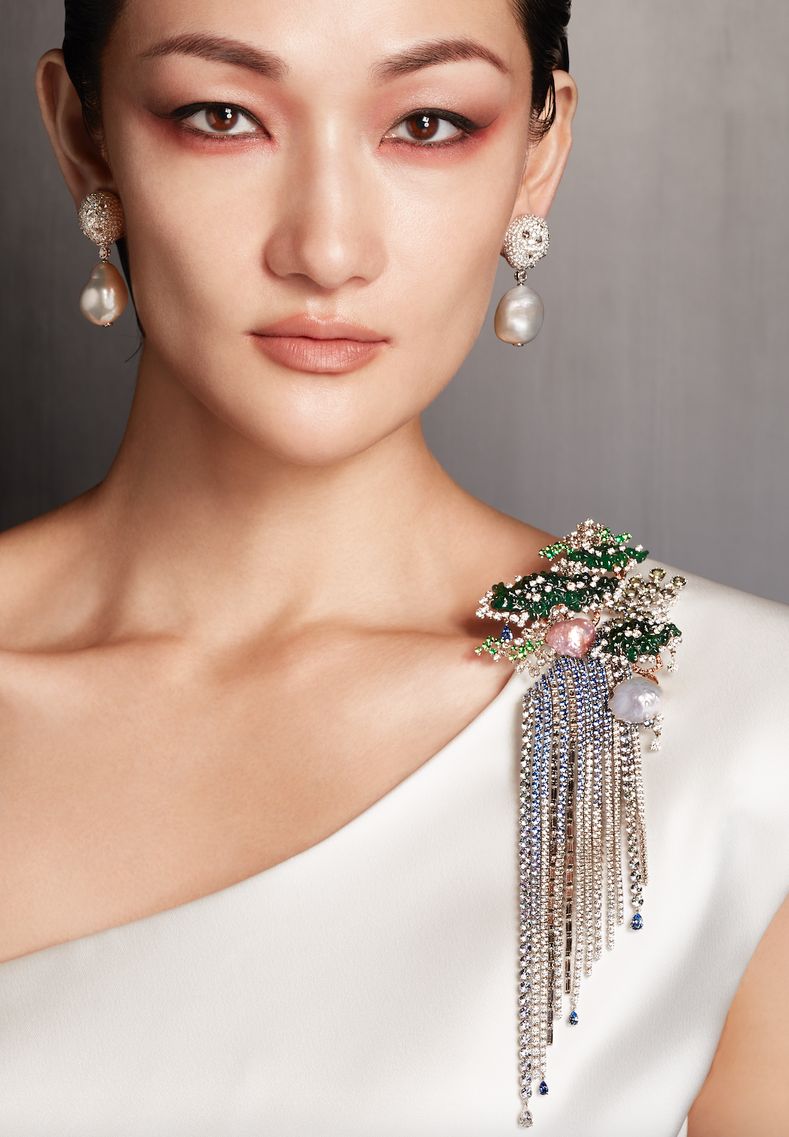 Model Ai Tominaga wears brooch in 18K White Gold, 18K Pink Gold, Freshwater Natural Pearl, Jadeite, Zoisite, Emerald, Sapphire, Diamond 

Mikimoto looks to the inherent beauty of Japanese culture for its latest high jewellery collection aptly called The Japanese Sense of Beauty
Beauty permeates everyday life in Japan – from something as subtle as the way food is prepared and how dishes are carefully chosen to complement it, to something that's more instantly recognizable like the art of ikebana, the architecture all around the country, as well as the four seasons it is blessed with. Ask anyone who has ever travelled to Japan and they are sure to tell you that the country's sense of aesthetics is on a league of its own.
As a Japanese jewellery brand, Mikimoto obviously looks to beauty as one of its main driving forces; a pillar that has carefully guided it over the decades. The journey towards beauty and perfection was achieved by the brand's founder, Kokichi Mikimoto, in 1893 when he succeeded in creating the world's first cultured pearl.
Today, Mikimoto has become a symbol of Japanese luxury and beauty; well regarded as a name that's synonymous with jewellery of exceptional quality. From Kokichi Mikimoto's dream of adorning the necks of all the women with pearls, he and his brand have gone on to enchant the world on a larger scale thanks to Mikimoto's evolution.
Beauty, Above All Else
On July 2021, Mikimoto announced the launch of its latest high jewellery collection called "The Japanese Sense of Beauty". The collection is fronted by renowned Japanese supermodel, Ai Tominaga, who has graced the runways of Europe, catching the attention fashion designers and the rest of the world with her captivating look. Truly, this was a partnership of beauty that was meant to be.
 According to a press statement, "The Japanese Sense of Beauty" high jewellery collection "celebrates the Japanese aesthetic sensibilities that have been shaped and refined over generations by the beauty of nature, showcased through the changing of seasons. We have long been a promoter of the jewellery culture in Japan, bringing together influences from both the West and the East. Building upon our rich heritage, we pride ourselves in introducing a new definition of beauty."
(Related: Up Close & Personal with Mikimoto's Yasuhiko Hashimoto)
Icons of Japan
It's easy to be captivated by the pieces from "The Japanese Sense of Beauty" high jewellery collection. The forms, craftsmanship, and gemstones are beguiling; each piece a masterpiece waiting to spring to life when worn. But upon closer inspection, the jewels take on a deeper meaning. Each piece, whether big or small, is a representation of Japanese beauty that's found all over the country.
Take for example the brooch that is inspired by waterfalls depicted in ukiyo-e landscapes. It translates the energy of a waterfall running rapidly with melting snow. Meanwhile, the graceful column of water and the verdant green of the pine tree motifs capture the beauty of Spring in Japan.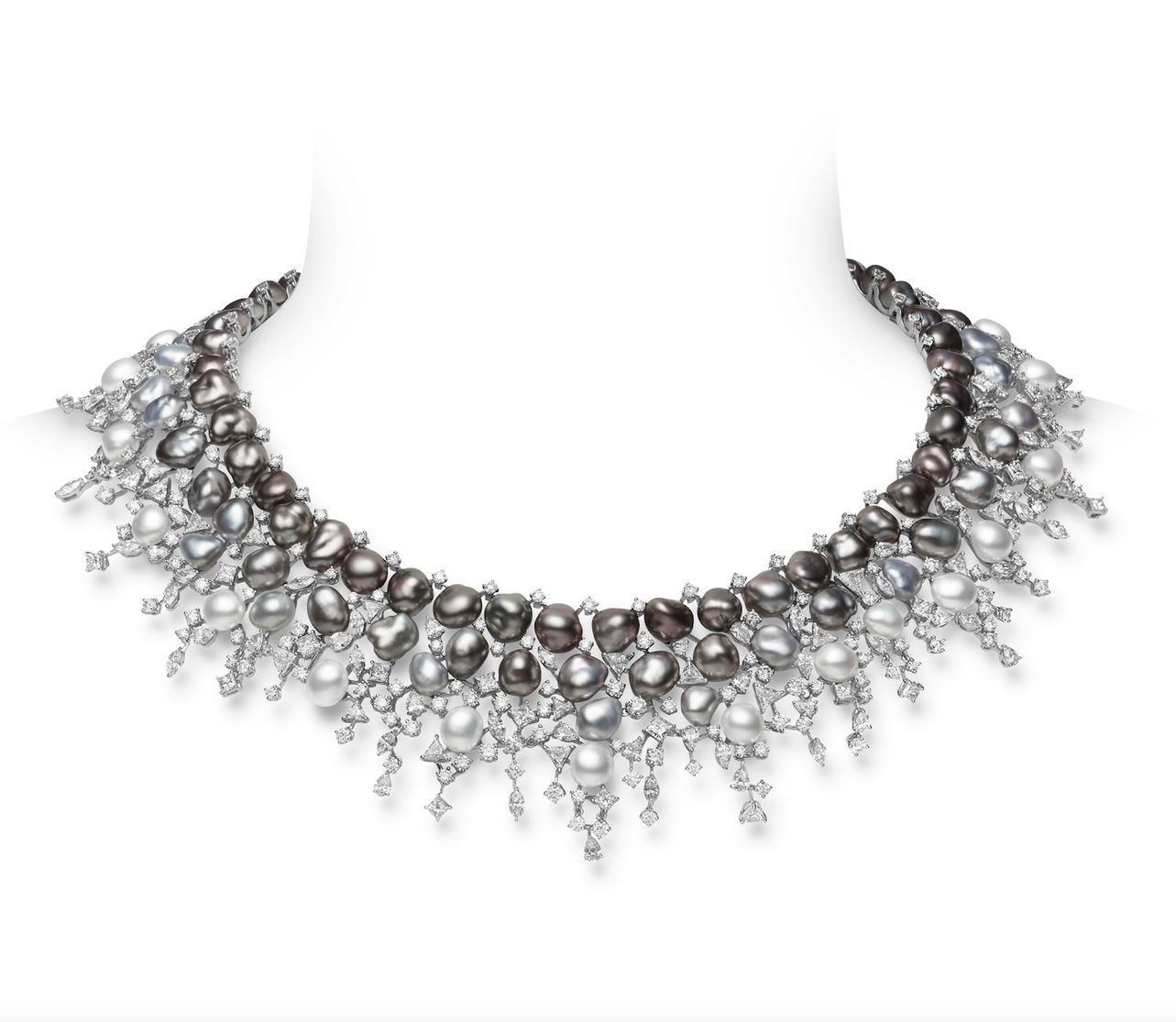 Necklace in 18K White Gold, Black South Sea Cultured Pearl, White South Sea Cultured Pearl, Diamond
Meanwhile, the magnificent necklace and earrings, which feature black and white South Sea cultured pearls, take inspiration from the bokashi blurring technique in ink painting, lending an overall painterly effect.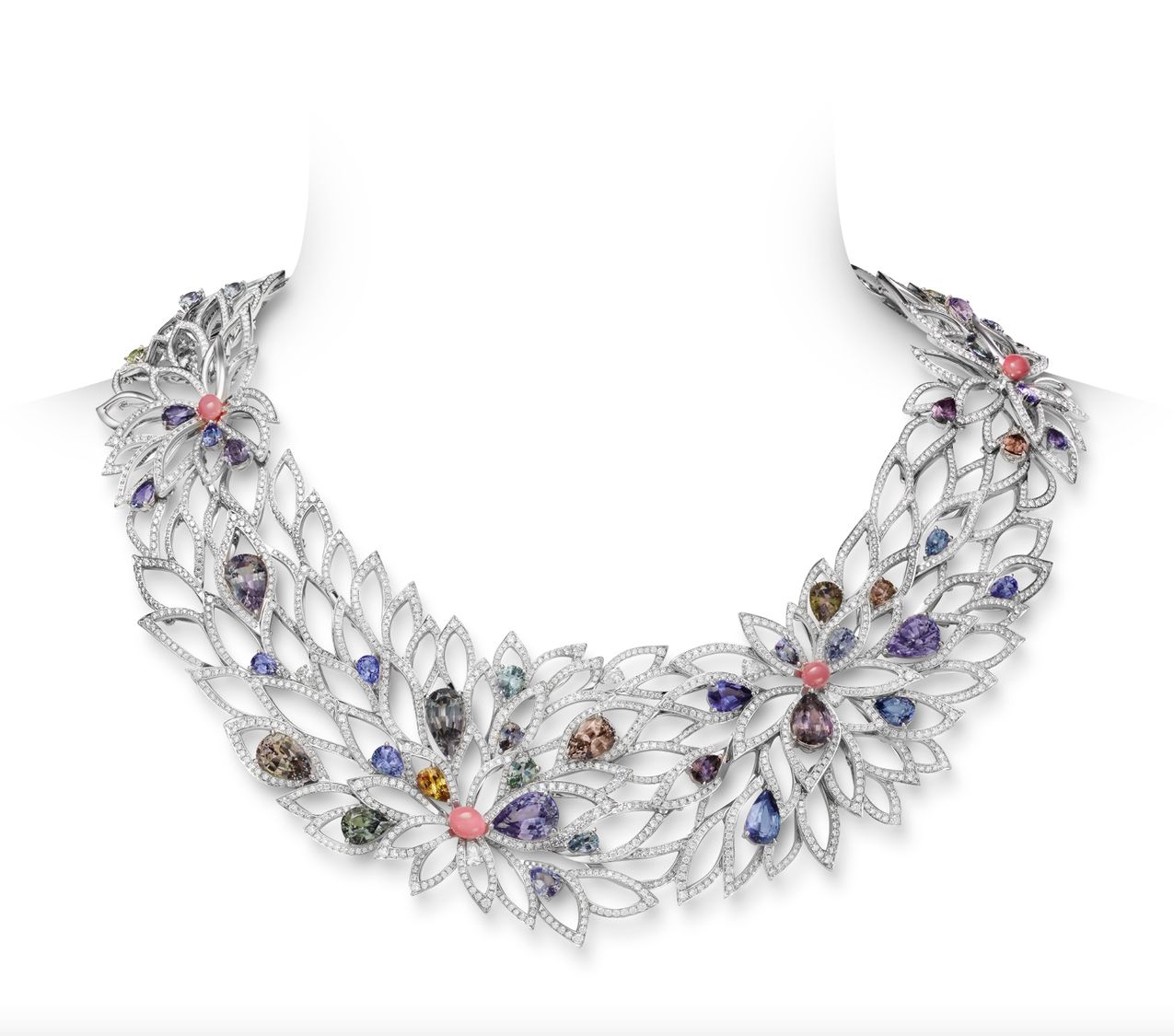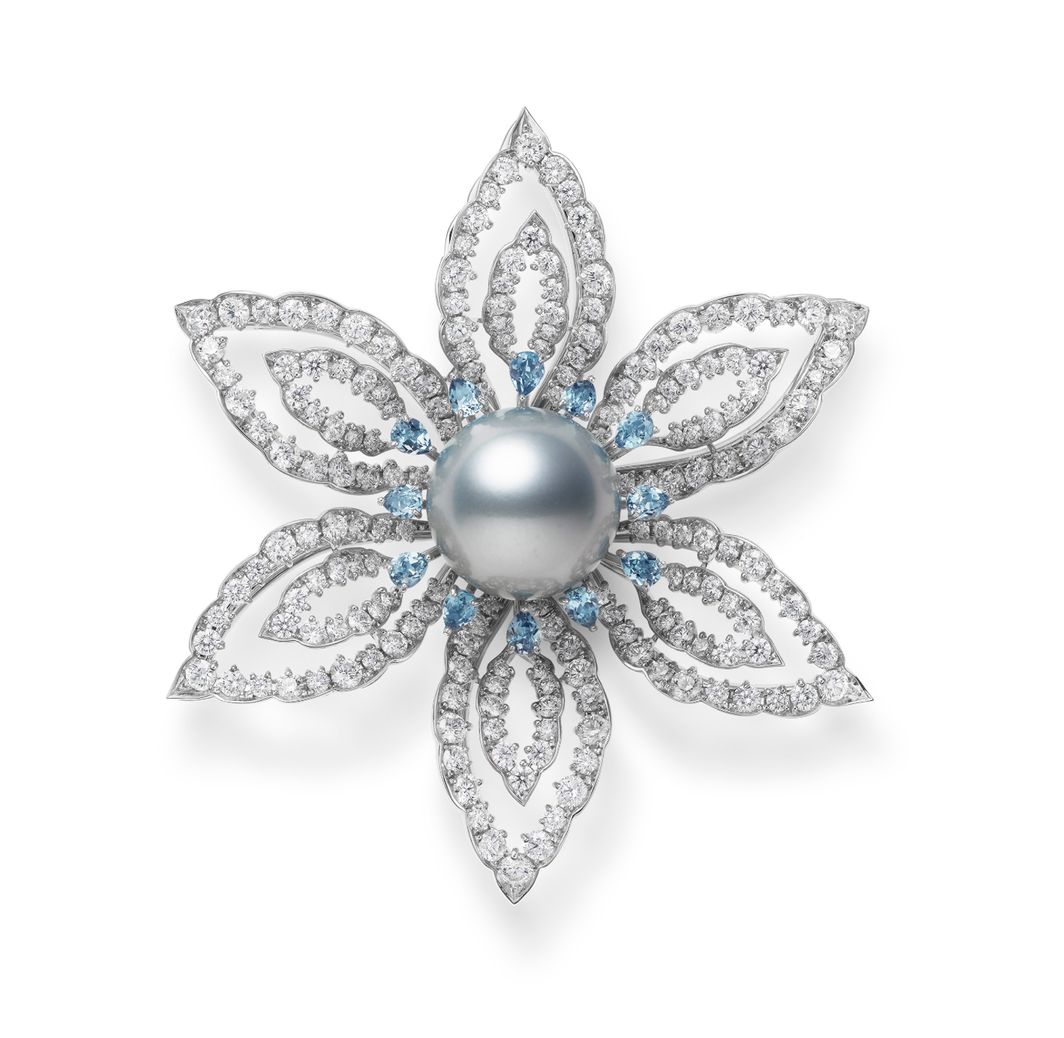 Top: Necklace in 18K White Gold, Natural Pearl (Conch), Zoisite, Diamond
Bottom: Brooch in 18K white gold, Black South Sea pearl, Aquamarine, Sapphire, Diamond 
Flowers play an important role in Japan and in Mikimoto's design language. This is apparent in a light and airy statement necklace that uses openwork techniques, calling to mind mujinagiku or raccoon chrysanthemum. As for the colourful chrysanthemums you see displayed everywhere in the Fall, these are reimagined in two brooches and a ring, decorated with myriad pearls and diamonds. The dynamic design of the pieces conveys the beauty and vibrant energy of the flowers, slowly blooming towards the sun.
Then there is another dramatic necklace and matching earrings studded with Akoya cultured pearls, opals, tourmaline and diamonds inspired by the stylized wave pattern, seigaiha (blue ocean waves), which was originally used in China and later introduced to Japan. The addition of the opals also adds a mystical glow while evoking modern sensuality.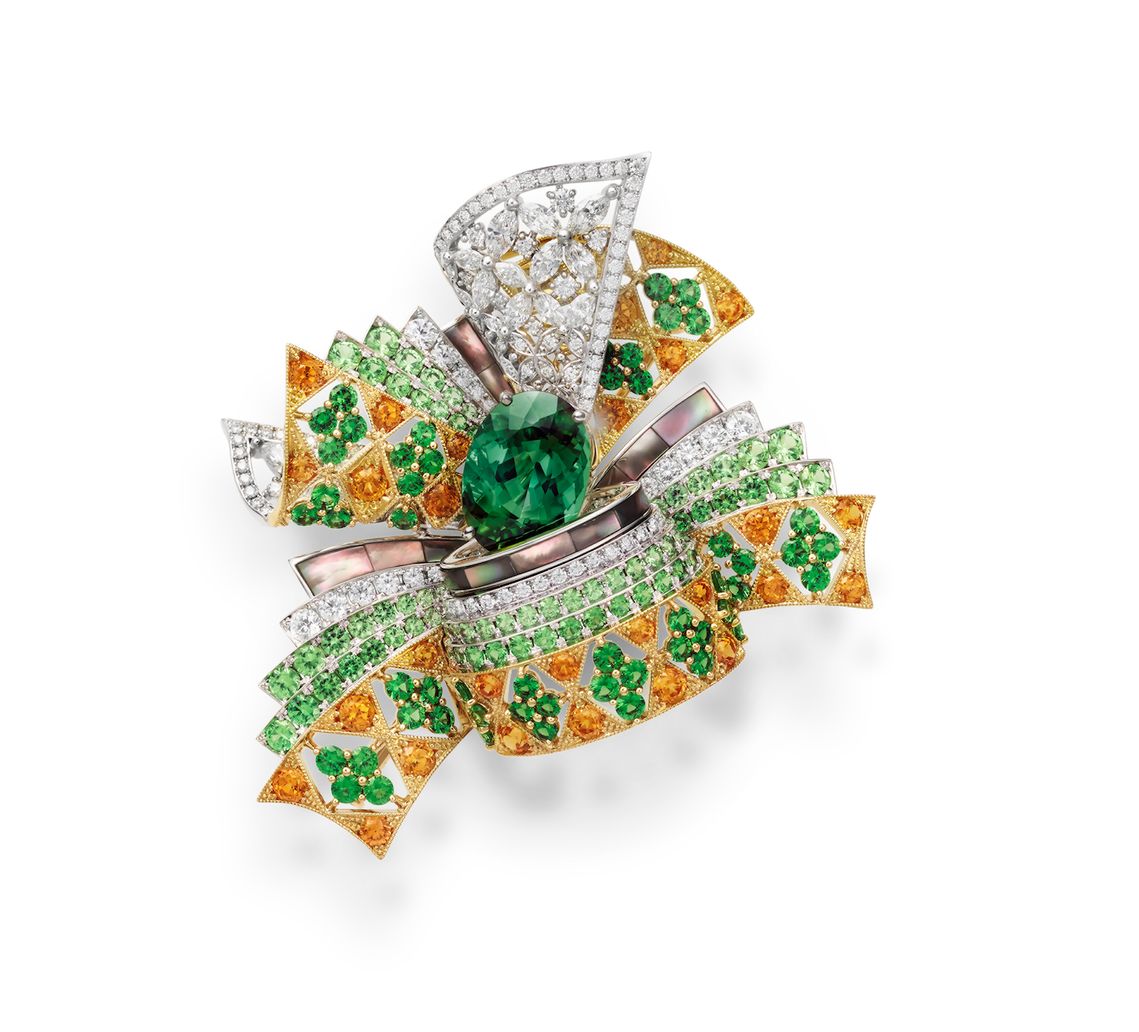 Top: Brooch in 18K White Gold, 18K Yellow Gold, Tourmaline, Garnet, Diamond, Mother of Pearl
Bottom: Brooch in 18K White Gold, 18K Yellow Gold, Peridot, Sapphire, Garnet, Diamond, Coral 
A pair of colourful, geometric brooches take their inspiration from jūnihitoe (twelve-layered ceremonial kimono) of the Heian Period, as illustrated in The Tale of Genji. The designs capture the flowing lines created by multiply layers of fabric in various colours and patterns.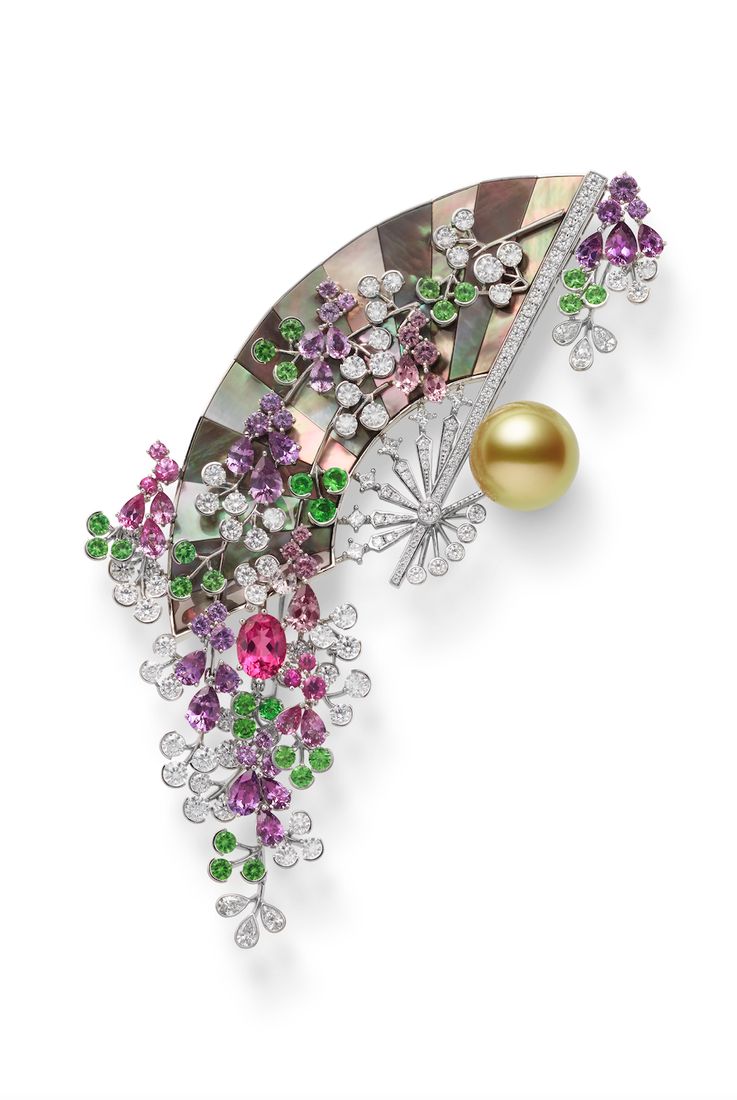 Brooch in 18K White Gold, Golden South Sea Cultured Pearl, Sapphire, Spinel, Garnet, Diamond, Mother of pearl 
Finally, we have another brooch that is decorated with three important motifs: A fan, the moon, and the Japanese bush clover. Delicate, traditional, yet refreshingly modern, the piece evokes the fresh, crisp air of autumn evenings.