The contemporary Quatre collection from Boucheron just got cooler with the addition of Bleu de Paris – a new iteration of the famous four stacked rings. Denim blue now joins the signature codes of the Quatre ring.
Repetitive patterns and grids, reminiscent of details seen in Parisian buildings, streets, and structures, embellish the unisex design. The Quatre collection, launched in 2004, was an homage to the architecture of the city with the design drawing on Boucheron's architectural codes (Grosgrain, Line of Diamonds, Double Godron, and Clou de Paris).
The Quatre Blue necklace looks lovely with all shades of denim. After all, it did provide the inspiration for this new line. The Tie Necklace has a jewellery clasp that slides along the gold chain – the Quatre motif combines three necklaces in one: A long necklace, choker, and tie necklace.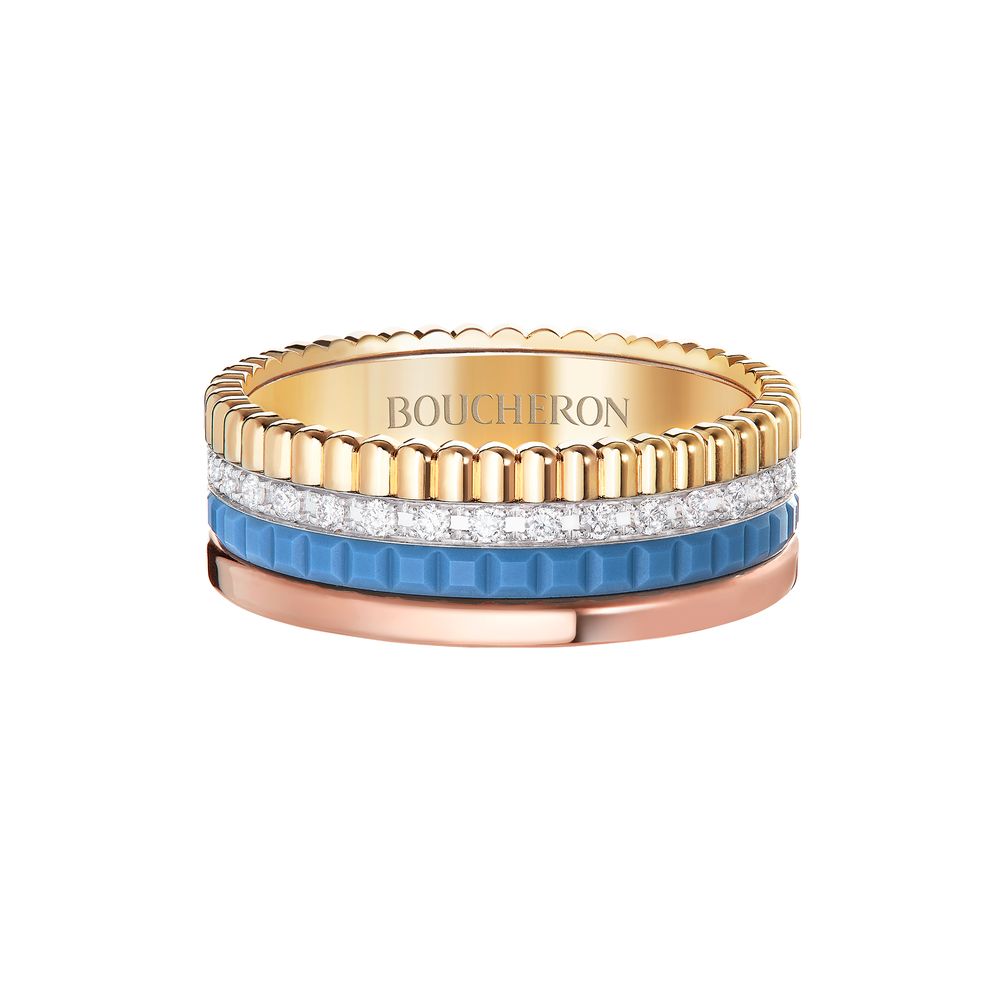 Top: Quatre Blue Edition S ring paved with diamonds, with blue PVD, on white, pink and yellow gold
Bottom: Quatre Blue Edition pendant set with one diamond and blue PVD, in white, yellow and white gold
The Quatre Blue rings can be worn as a pendant on a gold link chain. The frosty blue ring is hyceramic – a more malleable version developed by the Maison that enables the material to be textured – and the pattern resembles the cobblestones lining the Place Vendôme. The blue hyceram line contrasts with the three strongly structured lines in pink gold, yellow and white gold accented with diamonds.
(Related: Paris Haute Couture Week goes virtual)
Boucheron's Styling Tips
With the Quatre Blue pendant, you could go for a sober total look, pants + shirt, or a jumpsuit gathered at the waist with a wide studded belt, just to play with the signature motifs of the collection. For a finishing touch, create a wrist party with Quatre bracelets.
Just like jeans, this sliding Tie-Necklace offers many possibilities: Slip it under the collar of a white shirt like a tie, wear it in the scoop neck of a bright blue sweater, let it caress your bare back in a sweater dress, or wear it as a long necklace with a simple fitted top.
Wear the Quatre Blue ring with a ruffled silk blouse over high-waisted denim, a super-chic suit with white sneakers, or bring out the contrast between a straight jean and a baroque abundance of jewellery. Stack up Quatre bracelets or rings, to experiment with colour variations for a graphic and distinctly contemporary look.