Paris Haute Couture Week is one of the most important weeks in the global fashion and jewellery industry's calendars. However, this year's unfortunate events threw a curveball at everything. In addition to fashion shows having no choice but to go digital, the Parisian world of high jewellery followed suit and went virtual for the first time.
The jewellery industry was in luck as some of the leading brands, whose teams have been hard at work even when faced with such unprecedented situations, managed to complete works to be showcased. Brands then decided to take their launches online – through creative e-presentations, Instagram live sessions, and Zoom events. Here's a rundown of what caught our attention.
Contemplation by Boucheron
Contemplation by Boucheron is literally like grasping a piece of sky, following the movement of a cloud, watching a raindrop fall, being mesmerised by a feather's swirling flight, and seizing the intangible by revealing the fleeting beauty of the natural world.
Fenêtre sur Ciel necklace from Boucheron Contemplation collection crafted in white gold, titanium set with mother-of-pearl, diamonds, tanzanites, lacquer, aquamarine, and rock crystal
"For years, I have wanted to capture the ephemeral, to convey the poetry of present moments, the purity of the sky, light effects. The jeweller's art is about stopping time in its tracks, making instants eternal when, by their very essence, they are not", says Claire Choisne, Boucheron's Creative Director.
Avant le Frisson from Boucheron's Contemplation collection crafted in white gold, titanium and set with diamonds
A total of 67 pieces makes audiences reflect on the small pleasures in life with a sensorial approach, as well as admire the brand's technical mastery. From pieces that capture the sky in an airy mystery material to jewels that quiver with the slightest touch using titanium threads, the collection is full of surprises and wonder.
[Sur]Naturel by Cartier
Design elements derived from flora and fauna have always played an important role in Cartier's jewellery. This year, the maison took the route of abstraction in nature in the most surreal way.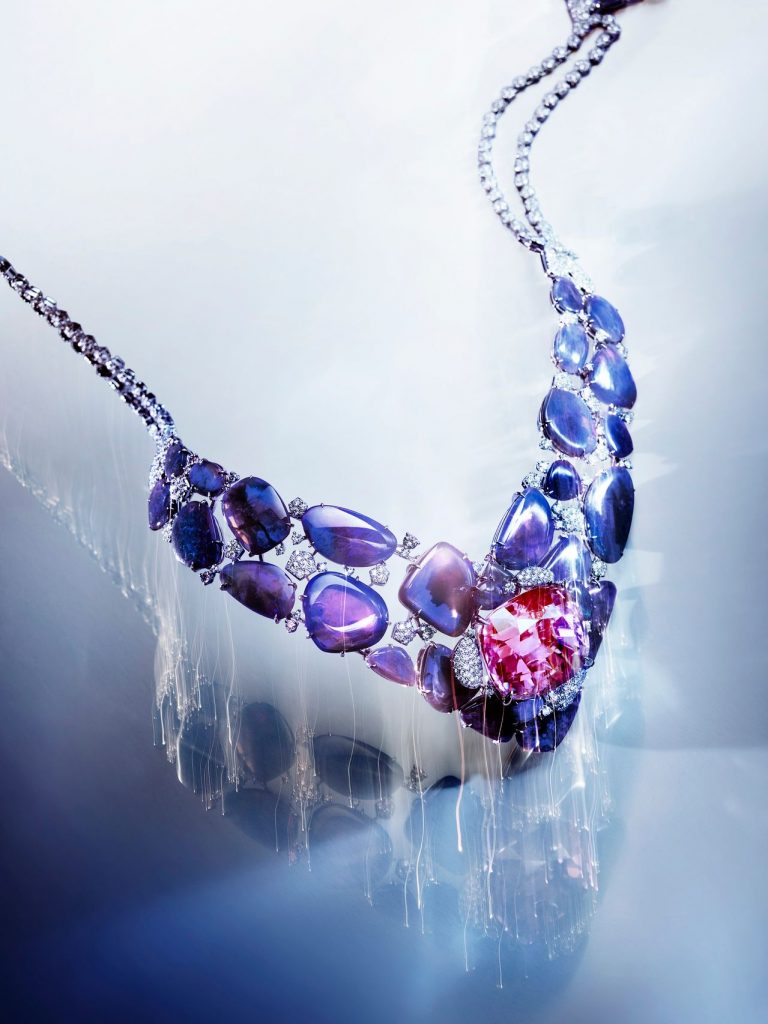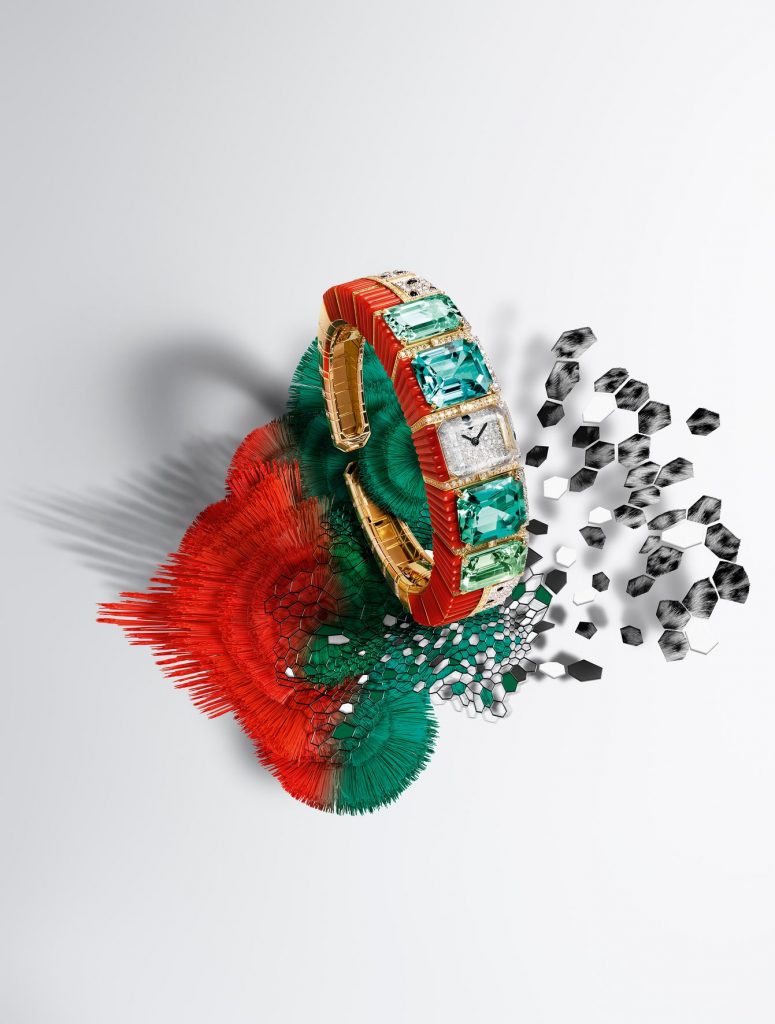 Top: Hemis necklace from Cartier's [Sur]Naturel collection set with opals, kunzite and diamonds
Bottom: Panthere Tropicale watch from Cartier's [Sur]Naturel collection 
Using the most dazzling gemstones and an impressionist design approach, Cartier makes us re-look at the beauty of Mother Nature. With over a century-old association with the panther, the Hemis necklace reinterprets panther fur through the use of irregularly shaped opals and an intense pink-purplish kunzite sitting in the centre. The Panthere Tropicale watch sits somewhere between the animal and the organic, with coral on one side and diamonds and black onyx the other.
Opheis necklace from Cartier's [Sur]Naturel collection set with emeralds, onyx, and diamonds
Other pieces include the Opheis necklace that reinterprets the crocodile, Sinope necklace depicting water, and the Tillandsia necklace taking inspiration from its namesake plant.
Wings of Light by Piaget
Piaget launches Wings of Light, taking us away on a bejewelled journey to a fantasyland of magic and mystery, romance and rarity,. Enchanted Flight, Magnificent Haven, and Ecstatic Dance are three chapters within the collection that take you on a flight of imagination through the tropics; reaching a tranquil oasis of wonder where the setting sun glows as embers.
Top: Emerald and diamond necklace from Piaget's Wings of Light collection
Bottom: Watch from Piaget's Wings of Light collection
The Majestic Plumage set from the Enchanted Flight series looks to vibrant and colourful bird feathers, realised through high levels of craftsmanship, chromatic creativity, and skilled marquetry.
The Magnificent Haven series recreates a magnificent oasis, cascading rivers, fierce waters, and quiet pools with shades of blue, and dense jungles with rich emeralds. Finally, the Ecstatic Dance series plays on the golden hour of the setting sun with rubellites and pink tourmalines glowing like hot coals, while rose gold is chosen to reflect the warmth of the tones of the sunset.
(Related: Welcome to the Piaget Virtual Salon)

Perspectives by Chaumet
Taking jeweled dreams on angular routes, Chaumet's Perspectives draws energy from architecture. The high jewellery collection has been divided into six series: Skyline, Lux, Lacis, Ondulation, Mirage, and Labyrinthe.
Yellow Gold, emerald and diamond necklace from Chaumet's Perspectives collection
Skyline evokes a skewed graphic horizon and features a hero necklace in yellow gold, set with diamonds and emeralds, prominent with angles and harmonious curves. Lux pays a tribute to polychromatic domes of the Italian Renaissance, with gemstones like garnets, opals, sapphires, turquoise, and more. Lacis suggests stone latticework and narrow streets with a maze of diamond and metal.
Ring from Chaumet's Perspectives collection
Inspired by deconstructivist architecture, Ondulation breaks free from the laws of perspective, while Mirage is an ode to constantly moving structures with the layering of diamonds and sapphires. Finally, Labyrinthe plays with right angles, circles, and harmonious contrasts of black onyx and colour.
Lydia Courteille
This season, Lydia Courteille takes us on a long and impressive Caravan journey.
Using symbols, folk tales, and an astounding inventory of gemstones, she travels through time and civilisations, countries, and empires – from Turkey to Little Armenia, from Mesopotamia to Persia, from the road to Samarkand to the Great Silk Road; guided by the best travelers like Herodotus, Marco Polo, and Jean-Baptiste Tavernier.
Top: Earrings from Lydia Courteille's Caravan collection
Bottom:Black Saxaul-inspired earrings from Lydia Courteille's Caravan collection
Overall, the collection depicts fairy tales and magic with Aladdin's lamp rings and crystal ball bracelets, alongside Zoroastrianism fire rings that ignite forgotten cultures and colourful treasures. One of the favourites would be the black Saxaul Plant necklace and earrings duo, which takes us on a desert journey across Middle and Central Asia