If you haven't splurged on birthstone jewellery (sapphires) for September, here are some lovely designs to choose from. With blue sapphire embellishments and accents, these fine jewellery pieces also make a great gift for the upcoming holiday season.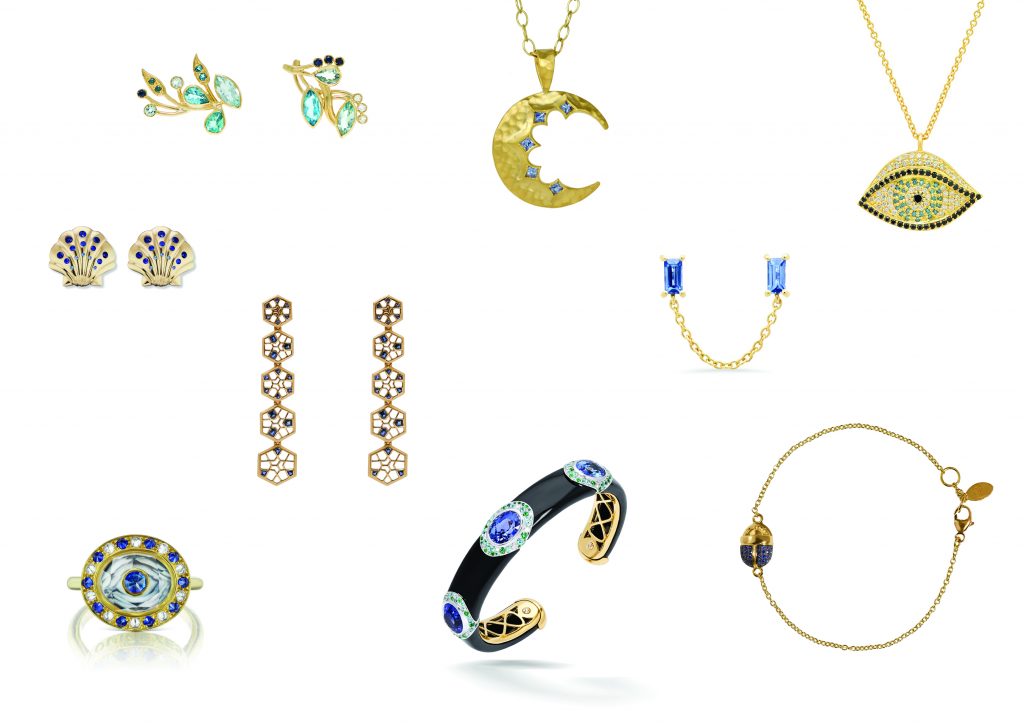 Larissa Moraes Jewelry, Cathy Waterman, Established, Brent Neale, Van Gelder, Eriness,
Ana Katarina, Marina B, and Pamela Love
Collage by: Niyati Mendapara
Set with Burmese natural unheated oval sapphires, Lalli, a one-of-a-kind bangle in yellow gold and titanium from Marina B, features a medley of pavé diamonds, pavé emeralds, and paraiba tourmalines.
(Related: Marina B – Guy Meets Girl)
Selim Mouzannar's Beirut collection is a poignant range. Although his home city, which inspired the collection, has been torn apart by the recent explosions, the Beirut collection – an homage to the designer's heritage – shines bright still. The deep blue velvety Ceylon sapphires, set in soft pink gold, evoke the blue hues of the Mediterranean Sea. "I set them on my most popular collections, Beirut and Istanbul."
Nam Cho's Happy open rings are an update to the jeweller's signature reverse set stone designs. "These are fun and feel-good rings and can be worn on their own or mixed for an even bolder effect," she adds. "Synonymous with the purest form of luxury, there is nothing like a rich blue sapphire – a stone I've worked with from the start. Blue sapphires are modern and easy to wear, like a pair of jeans. I love the dichotomy – a cool gemstone that is both luxurious and casual at once." The spiky gems add tactile dimension, an elegant edge that is sophisticated and sublime.
Vram's Chrona Chandelier earrings – part of his Moment 3 collection of the Continuum line – is influenced by ancient forms and geological processes. "I want to put the pieces to feel at home in a context before or after the existence of humans — prehistoric or post-apocalyptic." Crafted in 18k white gold with black rhodium plating, the earrings are set with oval and radiant cut blue sapphires and round brilliant cut diamonds. The designer's particular affinity for sapphires, he explains, is due in large part to the gemstone's versatility. "The range of available colours (including these scrumptious shades of light blue) and the durability of the material makes them perfect for creating subtle and intriguing shading effects." The black rhodium plating, explains Vram, provides contrast that enhances the experience of colour by providing a neutral canvas. This effect is especially powerful when paired with evening wear.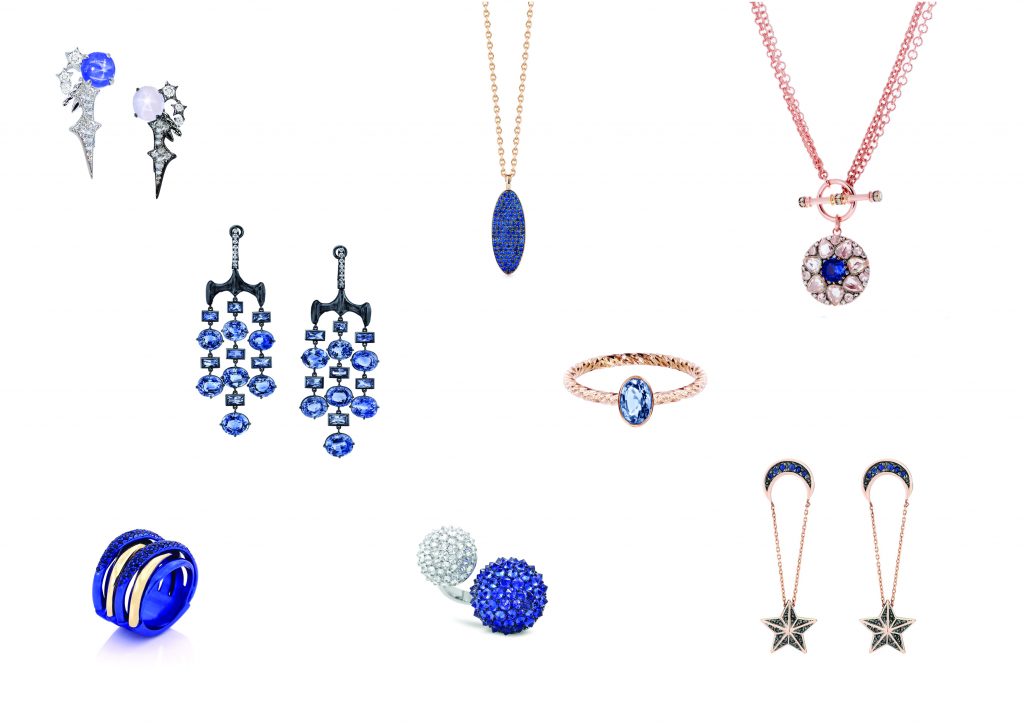 Simone Jewels, Walters Faith, Selim Mouzannar, Vram, Phoebe Coleman, Faraone Mennella, Nam Cho and Samantha Tea
Collage by: Niyati Mendapara
Simone Ng's delightful star sapphire earrings, for her brand Simone Jewels, is a tribute to the late actress Hedy Lamarr. "She co-invented the signal hopping technology used in Wi-Fi. These earrings are created to celebrate the star she is with celestial designs and a pair of very special star sapphires."
(Related: Jewel Talk with Simone Ng)
Cathy Waterman finds sapphires calming. "It reminds me of the vastness of the skies above us." Sapphire gems, she explains, are believed to promote strength, clarity, and health. "So, I have used it in this design and also because it is just plain beautiful and suits this moon and stars piece from the Into the Heavens collection." Waterman's Crescent Moon pendant is hand hammered and accented with blue sapphires.
Blue sapphires remind Samantha Tea of a beautiful clear night sky. Celestial inspiration is key to many of her works. Her Nima Star earrings, featuring the moon and three-dimensional stars in rose gold, are sprinkled with blue sapphires and black diamonds. The combination of the delicate crescent and the dangling star encrusted with gems make them a "perfect homage to the beauty of a night sky."
Vincent van Gogh's masterpieces continually inspire Larissa Moraes. "I love his use of colours, the strength of his brushstrokes and the themes he chose." One such artwork, Vase with Irises, became a muse for the designer's collection. To depict the myriad shades of blue seen in the canvas, she turns to blue diamonds, blue sapphires, apatites, and topaz (London, Swiss and Sky blue).
The Lytton Collection from Walters Faith is all about texture, say Mollie Good and Stephanie Abramow. "We juxtapose flat, high polished gold against entirely paved surfaces." Their Lytton pendant is set in blue sapphires against rose gold. The duo has been creating new charm designs upon discovering that their clients love to personalise their jewellery. "Charms make a great addition to existing collections."
Pamela Love is often drawn to the deep hue of blue sapphires and has used these blue gems to embellish her Scarab Collection. The motif draws on a personal piece of jewellery. "My mother gave me a scarab charm when I was younger. I had it hidden away for a while and when I found it again, I became interested in the scarab as a symbol and began to research," she adds.
The Love Locket ring by Ana Katarina is a talisman of "eternal love." Encased in a carved quartz crystal lies a hand-carved blue agate eye cameo. The quartz is surrounded by reverse set blue sapphires and diamonds. "The cameo is created by a master carver, who has brought out the colours and depth within the layers of the stone," she adds. On the side body of the ring is engraved the mantra 'Close Your Eyes To See,' while the word 'LOVE' is carved onto the yellow gold on the back.
Brent Neale's whimsical clam shell jewels have an ombré of blue sapphires in gypsy setting. "I love the effect of the stone floating in the gold. I also love all the various shades of blue! Anytime we can work an ombré into a design, we do." About the design, Neale says: "The clam shell was part of a collection that was inspired by Botticelli's Birth of Venus. I loved his scale in that."
(Related: Bringing Artemis to life)
"Blue sapphires have always been a favourite of mine, not least because sapphire is my birthstone, but because of the beautiful different shades they come in. Traditionally, sapphires symbolised sincerity, truth, and faithfulness," says Phoebe Coleman. Her Aphrodite blue sapphire engagement ring is inspired by Ancient Greek Literature and the craft. "Greek jewellery often features textures created by granulation and bold shapes with intense detail." The oval sapphire, set in rose gold, in a smooth bezel is simple and bold; the textured band lends both contrast and interest.
Nikki Erwin of Established turns to symbology for inspiration. "I always loved the meaning and idea behind the evil eye but never found the right piece out there for me. I designed mine very methodically in the detail and stone to feel like it's looking directly at every eye it caught." The Evil Eye pendant in yellow gold has blue sapphires and diamonds and "with a dash of black diamond to frame, shape, and pop."
Faraone Mennella's Lizzy ring is made with yellow gold, sterling silver, and blue sapphires. Referencing the damaged, coloured glass in Mughal palaces, Van Gelder's Jali Collection hexagonal pendant earrings are randomly set with gems such as blue sapphires. Erin Sachse, founder of Eriness Jewelry, finds her inspiration in the everyday woman. Her minimalist stud features blue baguette sapphires linked on dainty chains – an effortless way to style the ear.