If you are an August baby, you are spoilt for choice — choose zingy green peridots or sensuous spinels. A relatively new birthstone for August, the spinel has remained one of the most under-appreciated gem, with emperors and monarchs often mistaking it for a ruby. Not surprisingly though, some of the world's most famous 'rubies' are actually spinels. Spinels appear in myriad colours – ranging from orange to intense red, vibrant pink, and various shades of purple, blue and violet through bluish green.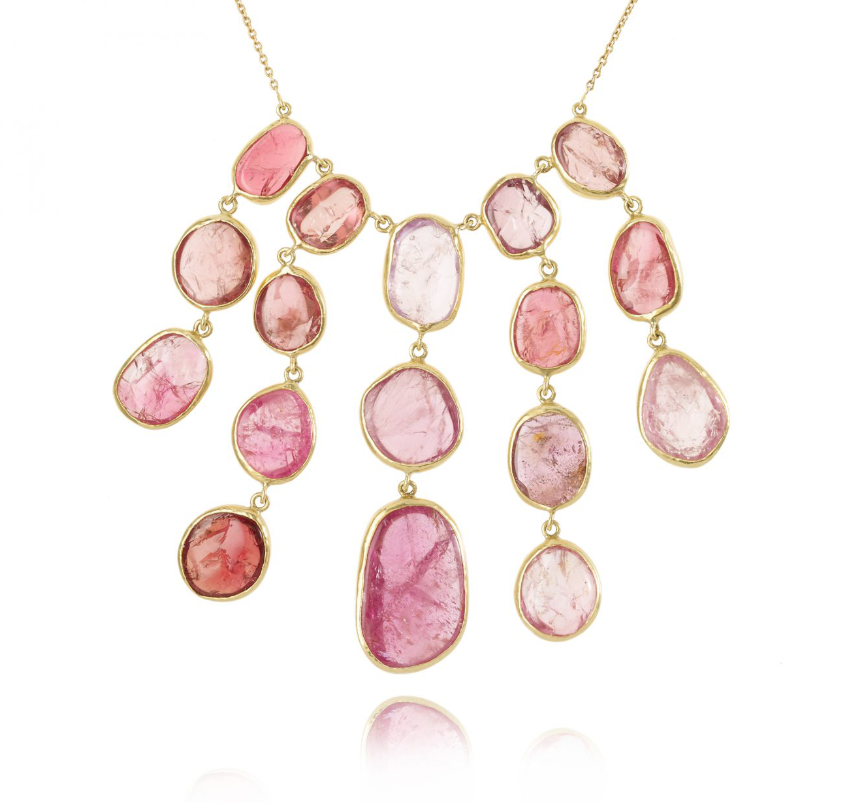 Pippa Small Spinel Necklace 
In this jewellery edit, we have pulled up hot pinks, salmon pinks, blush tones, black and more. Take your pick:
For Pippa Small, spinel is a stone of hope and revitalisation. "The name spinel comes from the Greek word for spark, and is believed to bring good energy and repel negative thoughts for its wearer." Small's 18K gold necklace features 17 old hand-cut spinels sourced from the ancient mines of Mogul in Myanmar. "These spinels were hand cut with a wonderful uniqueness to each stone; the stones are delicate like cherry blossoms and each gem is a different shade," she adds.
Get glamorous with Caratell's spinel jewels. Michael Koh's passion for crafting original works has earned the brand the status of a cult-favourite of sorts in Singapore. Koh taps into wondrous nature for his Dream Tree brooch-pendant that features a hot pink pear-cut spinel. A miniature diamond swing adds an element of whimsy, as it hangs on a tree that bears pastel, tapered baguette diamond branches.
Add a pop of colour and glitz with jewellery brand Calla Lily's gorgeous pieces. Founder and creative lead Emily Tan uses rare cushion-cut Tajikistan pink spinels for a pair of earrings, inspired by layers of flowing fabric that fans out with radial lines.
(Related: Peridots – A Primer)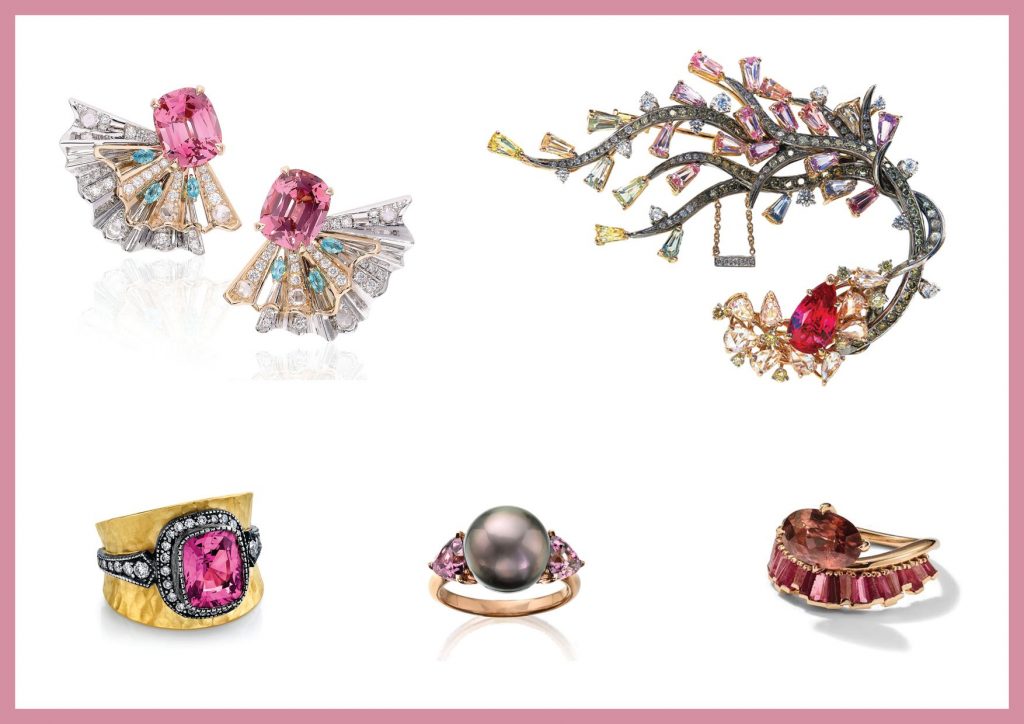 Clockwise: Calla Lilly, Caratell, Arman Sarkisyan, Assael, Nak Armstrong
Collages by Niyati Mendapara
Art Deco architecture and New York's cityscape provides inspiration for a pretty pair of spinel studs by Sorellina. "They are directly inspired by the Chrysler building, which you can see from our office window. Spinels are my sister's favourite stone and I sourced these just for her," says Nicole Carosella, co-founder of Sorellina.
Jennifer Rush's totem pieces for her brand, Rush Jewelry Design, are references to artist Louise Bourgeois and the Personages sculptures that reflect the artist's relationship with friends and family. The Totem spinel pendant is constructed from bronze and 22K gold. "Spinels are some of my favourite gems; I love the wide range of colours and the saturated stones. I personally love the way they contrast with yellow gold," says the designer.
Fancy cigar bands? Arman Sarkisyan has one that's perfect for August. The designer uses a spinel as the hero stone in his 18K yellow gold cigar band that sports oxidized silver and diamond as key accents. Intricate hammered texturing adorns the band's surface.
If you prefer understated designs and also love pearls, Assael rings are just the thing. In a simple setting, a Tahitian natural colour cultured pearl is offset with a pair of trillion-cut purple spinel. The ring is made in 18K rose gold and is also available in white gold.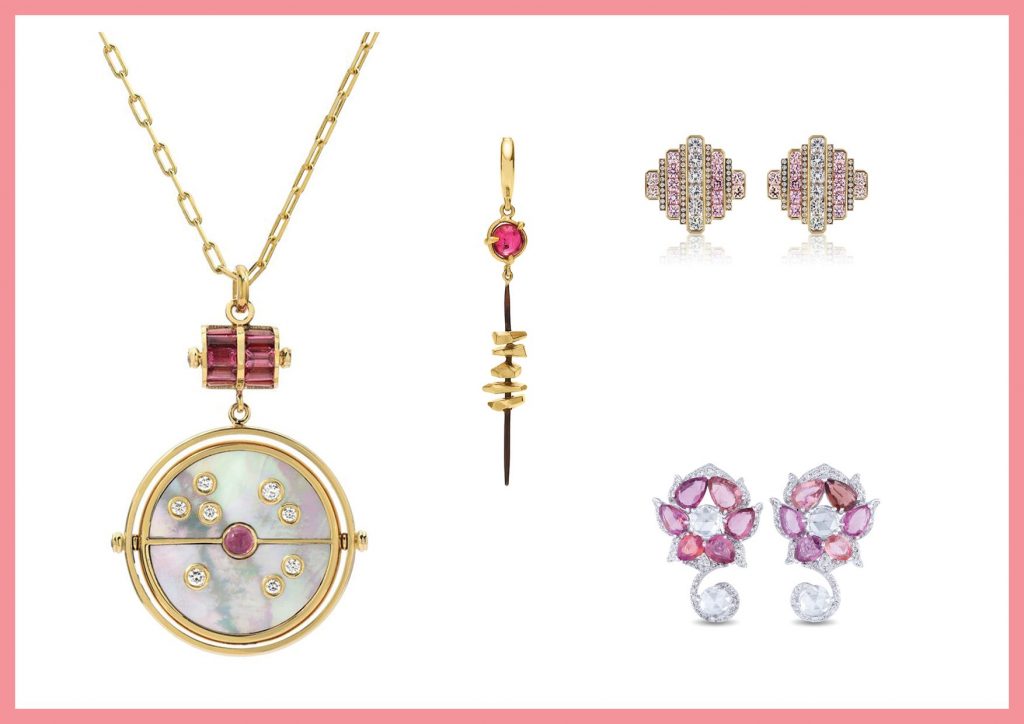 Clockwise: Retrouvaí, Rush Jewelry Design, Sorellina, Amrapali
Amrapali's Mughal-inspired diamond and spinel blossom earrings are a winning choice. Spinel is a beauty in its own, says Tarang Arora, the brand's creative director. "Spinels have found their own space because of their intrinsic colour – their range of shades makes them very fascinating to use in jewellery designing."
Inspired by the "nostalgia of a grandfather's pocket watch" and the idea that "a woman's intuition guides her as her own inner compass," Retrouvaí's Grandfather Compass Pendant has a white mother-of-pearl inlay set in 14K yellow gold with white diamonds and pink spinels. "This was one of my original collections," says founder Kirsty Stone.
What better way to show off your love of spinels with Nak Armstrong's earrings and rings set with soft pink, salmon pink, or black spinels. Architectural, organic shapes, irreverent designs, and artfully set stones are a mainstay of his jewels. Armstrong's distinctive pieces also feature tapered gems, fabric inspired ruched and ruffled shapes, as well as lasso forms. "Colour sets me on fire and spinel comes in some of the most glorious colours, so whenever I can use it, I'm thrilled. In this case, it brightens and adds texture to the other reds and pinks of the red zircon and rubellite. In the ruched pieces, I find it more interesting to mix or ombré colour," explains the designer.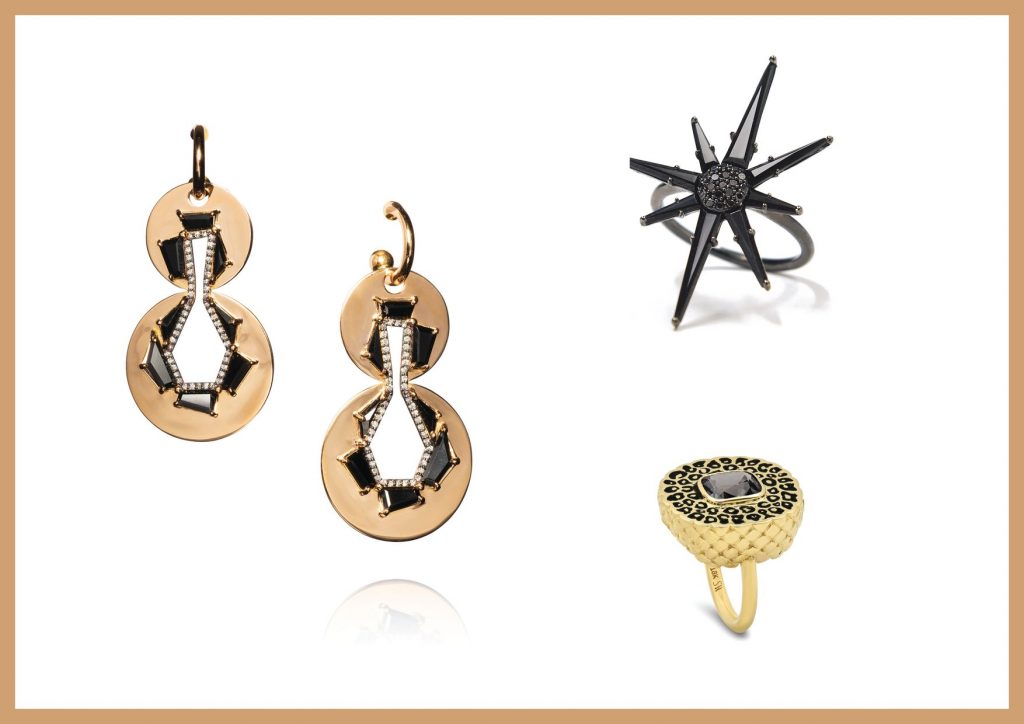 Clockwise: Nak Armstrong, Bondeye Jewelry, Sig Ward Jewelry
If you love animal prints, you will adore Sig Ward's animal capsule series that is inspired by her love of nature and animals. The central stone in her Leopard enamel ring is a purple spinel, while black French enamel is used to accent the animal print on 18K yellow gold. "The challenge was to create the patterns in enamel and give the gold a texture to resemble animal skin," says the founder of Sig Ward Jewelry, whose design aesthetic could be best described as "contemporary with a nod to vintage glamour." What's more, she is donating 20% of the sale from this capsule collection to animal conservation.
Celestial inspirations shape up the black spinel and black diamond Hera ring by Bondeye Jewelry. Crafted in 14K oxidised white gold, the statement ring has a sharp, asymmetrical look. "As an August baby myself, I've always been obsessed with black spinel's shiny, slick, almost liquid-like look. It's unlike any stone I've seen or worked with, and it's a perfect complement to fill in Hera's jagged edges," says Jessica Klein of Bondeye Jewelry.